---
Daughters of India.
CHAPTER I.

AROUND THE FIRESIDE.
THE "Four" were seated in a semi-circle before a wood fire that burned brightly in the wide old fireplace in the living-room of the bungalow at Pathankot. The night was damp and chilly. The month was January.
The Miss Sahiba and the Little Sister had arrived on the midnight train only one week before, from the beloved home land. The Dr. Sahib and the Mem Sahiba had been in this new mission station one month. They had come to India nearly forty years before, and the stories they had to tell of those early days were thrilling. The Dr. Sahib had opened up station after station to the gospel message. His dark eyes glistened as he said that evening: "This will probably be the last station that I shall have the privilege of opening for my Master. Let us see what we can do for Him in this large, almost untouched field. Our town and the villages in the district are mostly inhabited by idol worshippers of a very ignorant type, but I like the appearance of the people. They meet one with such open, frank countenances, and listen so earnestly to the message given them. I find them very different from the Mahommendan people farther north up the Pindi side, who used to greet us with dark looks, when we preached the gospel of the Son of God."
A wave of homesickness passed over the Miss Sahiba as she sat looking into the bright fire. Her thoughts were now back in old Zafareval, where she had spent her first term of service among a people who had become very dear to her. Would the people of Pathankot ever be quite the same to her? Oh, it was hard to learn to love the people of one place, and then be sent to an entirely new field, where not only the people were different, but their customs and language, too, were often quite strange. But she would take up this new work cheerfully, as did all the brother and sister missionaries, who, like herself, often had to enter new fields of labor. She well knew that she was in the place He had chosen, and this stupendous work of winning idol worshippers to the pure worship of one God could be accomplished only as she was surrendered to the power of the Holy Ghost. She had been praying earnestly for this life of surrender.
She had realized this need anew, as she had stood that afternoon before the temple in the market place, watching the worshippers come and go. The temple was a low structure of masonry built beside a deep well. A great peepul tree threw out its branches over it and the well. Two "holy men," clad in ashes and long matted hair, sat on the stone wall at one side, receiving as their right, the humble worship of some village women who stopped for a few moments on their way home from market. The women next peeped reverently into the shrine, which contained a few stone images, threw in a handful of fragrant jessamine bloom which had been purchased for this very purpose, then with lighter hearts started on the long, toilsome walk back to their village homes. This was all the worship they knew.
The Miss Sahiba thought of the "one hundred girls" back in the Sialkot school and of their bright, beautiful lives, showing such a contrast to the lives of these poor, misguided women. She remembered that nearly all of the "one hundred" were now in homes of their own, and, like herself, would daily have the privilege of telling the less favored sisters of Jesus who died for them. Oh, it had been a rare privilege to help train that little band for the great white harvest field–and now she was glad she had been sent to Pathankot. The need was great.
The Little Sister was tired tonight. These first days in India were so full of new and strange things, that her head ached as she thought of the experiences of the day. Pathankot was her first home in India, and did she not even now love it? She was delighted with the lovely panorama that was spread out before her whenever she stepped out on the wide veranda at the north side of the bungalow. Low, green hills covered with waving fields of wheat stretched away to the north. These merged into the foothills of the mighty Himalayas, and these again reached out until they joined the massive mountain sides that culminated in the snowy peaks which pierced the blue sky one-third way round the Pathankot horizon.
No artist could adequately bring out the wonderful hues taken on by these peaks at the time of sunset. Tonight, as the sun sank behind the traveler's rest house up on the old fort, she had faced the mountains and found them all aglow with the brightest of rosy hues. These gradually faded, until the snows were covered with the softest of pink veils. Slowly this faint tinge of color died away, leaving only a steely grey hanging in the starlit evening sky. How she longed for the friends in far away America to enjoy with her this wondrous scene. But would they, too, have this terrible feeling of loneliness as they looked into the brown faces all about them, and heard voices, not one word of which they could understand? She was not sorry she had come to India. By and by she would understand a little, and the loneliness would pass away.
She already loved the girls. When that slender, shy young girl had slipped up so quietly that morning as she stood on the veranda, watching the red birds at play in the cactus hedge, and handed her such a lovely, fragrant rose, did she not feel her heart going out to her, as one near and dear to her? The girl had said in her sweet Punjabi tongue, "We are so glad you have come to us." The Little Sister did not understand the words, but she did understand the smile of welcome and gave a bright one in return, which won for her a true friend.
Oh, the good a smile can do in winning one's way into the homes and hearts of a people in a strange land! A smile from one whose heart is full of love to Jesus always brings a blessing.
A lady missionary in the north who always met every one with a bright, happy smile was known throughout that part of the country as the "Smiling One," and her visits, the women used to say, brought good cheer.
The Mem Sahiba now spoke, and the three who looked into her calm, beautiful face with that faraway look knew she was thinking of early days in India, when her dear little ones were beside her. Three were in Heaven, and six were over the seas in the home land.
I remember so well some of the journeys I used to make through this part of the country, when taking my children from the awful heat of the plains to the cool breezes of the mountains we see so near. How my heart would ache as I looked into their pale, wan faces! I would urge the men who were carrying them to hurry on rapidly, while I thanked God for the life-giving breezes to be found a little beyond and higher up. It was usually dark when we passed through Pathankot.
Little did I then forsee that in our old age, their father and I would be sent to open work in this old town, while they, grown to beautiful womanhood, and strong manhood, would be working for our Master on the other side of the world. I am glad we have been counted worthy to do a little more for India's dear people.
"Yes, I know it will seem hard to work and live in this idolatrous community," she said in reply to something the Miss Sahiba had said about missing the fellowship of the Christians. "We have become accustomed to our hundreds of Christians in the old mission districts of Sialkot, Zafarwal, Gujranwala and other places, but a beginning must be made by some one, and I can remember the time when we had no Christians come out to meet us in those districts, as we drove from village to village."
"How many Christians are in this district?" the Little Sister asked.
"Only a few," answered the Dr. Sahib, "our catechist and his family here in the town, an aged minister and his three children in Madhopur, that town at the head of the large canal, and a few families in the village of Sujanpur. These are the only persons out of the 200,000 in this district who love the name of Jesus."
Here the Miss Sahiba interrupted. "I'm so thankful for Ruth, the catechist's wife. I am sure she will be a great help in opening up work among the women of the town. She is so happy over our coming. She sat beside me as I unpacked a box this afternoon and told me how she had prayed and prayed for missionaries to be sent to Pathankot. Tears of joy filled her eyes as she said, 'It seems too good to be true that you are really here.'"
"Can't we go out soon and visit the Christians in Sujanpur?" the Mem Sahiba enquired.
"I hope so," said the Dr. Sahib, thoughtfully. "I am afraid their spiritual and moral condition are both at a low ebb. One of their number was in to see me today and he said they were baptized many years ago, and since that time had had very little instruction."
As the fireside group broke up that night the Miss Sahiba was filled with sorrow as she thought of the many lonely bands of Christians here and there, in their large mission field, who were famishing for lack of spiritual food, because the workers were so few.
At the close of an evangelistic service in a small town in America, where two hundred and sixty had been gathered into the fold, a short after-meeting was being conducted, and the earnest evangelist was urging the new converts to unite at once with one of the four good churches in the town, and so place themselves under spiritual instruction. A returned missionary who was present at the meeting said to a sister missionary, "If this was a village in India, do you know what would happen to the new converts?" "Yes," she replied. "They would probably not hear the message again from their missionary for one whole year."
The people of Sujanpur had not always had the yearly message.
---
CHAPTER II.

PLEASE OPEN A GIRLS' SCHOOL.
A FEW mornings later, when the Miss Sahiba and Ruth were out in the town becoming acquainted with the people, they turned down a street which led to the railway quarters. The first house in the line was occupied by the Station Master. Here they decided to stop. As they stepped upon the enclosed veranda, a dignified, portly Brahmin came out and gave them a hearty welcome, saying, as he opened the door to admit them into his house, "I am so glad you have honored my home with your presence–I had heard that you and the Dr. Sahib were stationed here. This news gave me great joy. Well do I remember that kind Sahib. When I was a poor little ragged boy in the city of Gujranwala, where he then lived, he saw how much I desired an education, and persuaded my stingy relatives to allow me time to attend school. He made my fees as light as possible.
"I will show you the Bible which I studied in the boys' high school." From another room he brought out a small copy of an English Bible and handling it reverently, added, "I read portions of this daily. You will ask, perhaps, why I am not a Christian. I do not feel able to bear the disgrace that would assuredly follow an open avowal of my belief, but I do love the teachings contained in this Book. When my son is ready to enter the high school I shall go back to Gujranwala, so that he may continue his studies in a Christian institution, where the fear of God is taught. Oh, these government schools where no religion is taught are going to be a menace to our country some day.
"Now I want you to meet my wife and daughter." He went to a door that opened out on an enclosed yard and spoke to a woman who was preparing the mid-day meal. Before coming into the room she waited to array herself in a bright, clean muslin veil. This done, she slipped in quietly and was introduced to the Miss Sahiba as the mother of Kartar.
"Where is your daughter Kartar?" the Miss Sahiba asked. "May we not see her, too?"
"Certainly, certainly," was the reply; and going again to the door, the Station Master called: "Daughter, come in and meet your Miss Sahiba."
A little vision of loveliness now appeared at the door and came straight to the chair where the Miss Sahiba sat. A slender, graceful little maiden, fair of countenance, was the daughter of the home. She was dressed daintily in soft muslin draperies. No second glance was needed to show that Kartar was a much favored Hindu girl, that she was the idol of her father's heart. His eyes gleamed with fond pride, as he now looked down upon her.

CHIEF OF POLICE.
As she stood there quietly with down cast eyes, not saying a word as became a well-bred Hindu maiden, the Miss Sahiba, touching her gently on the head, said, "What would you like me to do for you, Kartar?"
Great was her surprise when the sweet-faced girl turned, caught her hand, and cried out so earnestly:
"Oh Miss Sahiba, please open a girls' school in Pathankot. I do want to be taught. My brother goes to school, and I would go, too, if only we had a school for girls. My father says there is a school for girls in his home city, where hundreds of girls are taught to read and write and sew. If you start a school I will help to fill it with girls. Don't you see how many are out there in the street playing?"
"Yes," said the father, "and these poor things learn nothing but evil. This town is a wicked place." Then with a tone of disgust, continued: "The people are only cattle, and they desire to remain cattle."
"Oh," thought the Miss Sahiba, "if this man would only forsake all and follow Jesus, whom he professes to love, what could he not do for his poor, benighted neighbors?"
This, she felt, was another call to earnest prayer. She knew and felt the awful need of Pathankot's people. In her daily rounds she heard, and saw, that which sent her home every evening with an aching heart.
Into the darkness of darkest heathenism the little girls of Pathankot had opened their baby eyes. In darkness they had lived and in thick darkness died. Must it continue so? Would the Master be pleased to use her in lighting a flame that would break the spell of darkness that lay over the six thousand inhabitants of the town? If only that were all! What of the two hundred thousand in the outlying villages to whom she had been sent?
With a little sad reflection she now remembered how some well-meaning friends in the home land had said to her:
"Why go to India? There is enough work to do here at home."
Oh, that the voices from this one place alone might reach their ears and cause them to stop and pray the Lord of the harvest to thrust forth laborers into the great white harvest field!
Into the streets she and Ruth again went. Many of the women were out enjoying the bright sunshine of that winter day. They were seated on the housetops in groups, spinning, sewing, gossiping. The children filled the streets below. They played beside the evil smelling, open sewers. They drank in with their keen little minds the foul speech that dropped from the roofs, where the women said things not fit to be heard by any one. They learned evil from the boys as they quarreled in their games. Not one sight or sound to lead these precious little lives to have a pure, uplifting thought.
"Just think, Ruth, this old town has never had a girls' school," said the Miss Sahiba, as they tramped along over the rough brick walks. "Do you know how old it is?"
"It must be an ancient place," Ruth answered; "you remember that bright-eyed old lady with hair as white as snow, whom we met in the home of the Chief of Police the other day? She said Pathankot was an old town when she was a little girl, and she must be a hundred years old."
The Miss Sahiba laughed as she now said, "Ruth, you Punjabi people always think a person is a hundred years of age when the first grey hairs begin to appear. My dear sister, this town is hundreds of years old, as we can see from its appearance. A Scotch missionary who lives in Chamba and who is well versed in the history of all this mountain region says that Pathankot was the residence of a Rajah long before the British invasion. That Rajah's descendants now live in Nur Pur, sixteen miles east of us, and are reduced to poverty. It was a son of the direct descendant whose wedding party passed through the town last week. Their poverty was shown by the presence of only one elephant in the retinue.
"Yes, Pathankot is an old, old town, Ruth, and its people have lived and died without Christ."
"But you will start a girls' school?" Ruth enquired, pleadingly. "How anxious dear little Kartar is to be taught, and my Maryam should be in school, too. It was a girls' school that led me to know and love Jesus."
"How was that Ruth?"
"I can't tell all the story now for it is a long one. I was a Brahmin widow's only child, and I was stolen away from my home one day by a wicked man, who carried me many miles from my birthplace, and sold me to a man and his wife to be a servant to them. After a time I ran away and wandered into Amritsar, where a kind Christian man found me and placed me in a girls' school. I remained there until I was married."
"I am more than willing," said the Miss Sahiba, "to start a girls' school if the way opens. For the accomplishment of this purpose several things would be necessary–a building, teachers, money and most of all, girls willing to be taught."
"You came to Pathankot in answer to prayer, Miss Sahiba, and let us pray every morning about the matter of a girls' school."
By this time they were passing some large, two-story brick buildings, the homes of the wealthy Hindus of the town. "We must try and get in here some day with our message," the Miss Sahiba said. "I know it will be more difficult to reach the wealthy high caste people, than the poor of the land." They soon came to the outer edge of the town, where stood a few humble cottages made of sun dried brick.
"Oh, please do come into my home!" a voice cried, just as they were passing an unusually attractive little mud house. They looked up, for the voice seemed to come from the roof. They saw, peering down at them from over the edge of the roof, a woman's face, with a sweet, pathetic expression, which could not be forgotten. They were very willing to respond to the invitation and said, "Open your door and we will come in."
The little woman hastily descended by way of a mud stairway, which was built in a wall of the tiny court yard, and drawing aside a heavy wooden bolt from the door, let them in.
Her face fairly beamed with joy as she hurriedly dragged a cot from an inner room, spread over it a white sheet, and asked her guests to be seated.
"I am so glad to see you," she exclaimed. "This morning I had two or three good omens, and I knew something good would happen today, and it has, beyond my wishing even, for it brought you."
"And why, sister, are you so glad to see us?" Ruth asked.
"Just wait until I have given you something to drink, then I'll tell you," was the reply.
The Miss Sahiba always dreaded this ordeal of eating and drinking in the homes of the people, and whenever possible, she would find an excuse for escaping the experience, but when the first visit was made to a home, there was no use in making an excuse, the dose must be taken. If not, their eastern hospitality had been despised and one had lost a friend.
A glass tumbler was removed from a brass tray. A handful of earth was caught up deftly from the floor, and with it the glass was carefully scoured. Then it was rinsed. A little cupboard in the wall was opened, and a vessel dark with the smoke of ages, was taken out from a tiny recess and a liquid, thick as cream and thoroughly flavored with smoke, was poured into the glass. The fresh milk of the morning had been slowly simmering for hours in the smoke-filled recess in the wall. A lump of moist brown sugar was put into the glass and gently stirred by the little woman's fingers. The drink was now ready and must be taken. Oh, the poor Miss Sahiba, who never cared for milk at any time, and to take a big glassful of this mixture!
Her surprise, however, at the willingness of the Brahmin woman to let her drink from one of her own cups, in part helped to overcome the aversion she felt toward the drink, and swallowing it hastily, she said to the woman:
"Sister, why is it you, a Brahmin, give us to drink from one of your drinking vessels?"
"Oh, I'm broad-minded," she laughingly retorted. "It is this way–no other Hindu was present, so I could do as I pleased. I have no faith in the foolish observances practiced by our Hindus, but I have to be careful and not allow myself to be seen deliberately breaking our religious customs, for then I would become an outcast, no better than a pariah in the eyes of the people. But now I must tell you why I have such great joy in seeing you. You teach about one–Jesus Christ–do you not?"
"Yes."
"I thought so; well, when I was a little girl living in another city, I one day heard someone telling about Him. It made a deep impression on my childish mind, and ever since–I am not young any more–I've longed and longed to know more about that wonderful teacher, but no one ever came this way who could tell me about Him."
Oh, the pity of it–no one had ever come that way who could tell her of Jesus' love for Pathankot's unsaved women, and yet for over thirty years a certain strong, and wealthy denomination had had an especial responsibility for bringing the news of salvation to this district.
Drawing up a little stool, she sat at the feet of the Miss Sahiba, and like one almost famished, drank in the words told her, exclaiming every now and then, "It goes straight to my heart. Yes, this is what I've wanted all these years." Then bowing her head, softly whispered to the only God she knew:
"Ram! Ram!" "Thanks. Thanks."
Before the messengers of the cross left her home that day they learned something of her pitiful life story. She was born in one of the large, brick houses they had passed on the way over. Her family was well-to-do. When eleven or twelve years of age she was married to a Brahmin lad about three years her senior, whose people lived in the same street. He was kind to her, and when two sons came into the home, she felt she was truly favored of the gods; but one cruel day the husband died. She wept until she almost ruined her eyesight. Her relatives proved unscrupulous, and she, being young, ignorant and a widow, could not defend her rights. The result was that one day her home was taken from her and she and her little boys were without a roof to shelter them. Down in this street she found a poor hut, almost in ruins. This she pluckily determined to make their home.
At night time she and the children would take baskets and steal quietly away to a pond which is beside the "burning place," and bring back clay with which to build the walls.
"It would be a terrible disgrace," she said in that conversation, "for a Brahmin woman to be seen doing coolies' work, so for this reason I worked away under cover of darkness until I had enough clay for the walls. By day light we erected the walls, until you see what we now have, this home. It is a sorry looking place, I know, when compared with what I had to leave, but it has been a shelter to me and my boys.
"I educated them as well as I could, and now they are both earning a little money. By and by I hope to have enough to get them married, then there will be joy and life in the home again. It is so hard to have to live alone, especially so for a Brahmin widow. I could tell you stories of the way our women are treated until your eyes would not cease from weeping. Better by far, some widows say, if the Sarkar–British government–would still allow us to ascend the funeral pyre and perish in the flames with the body of the husband, than to live on and on, and endure what we do. But why sadden your heart with more of my troubles?
"Please tell me once more that story of the woman at the well and how your Gurn taught her. Wonderful condescension for a Gurn to teach such a woman!"
On the way back to the bungalow the Miss Sahiba's heart was full. She felt how inadequate the few missionaries were to cope with the gross darkness that hung like a pall over the town and district.
---
CHAPTER III.

THE COMING OF THE FAMINE ORPHANS.
THE mission had wisely planned that its lady missionaries should always be sent two and two, the Scriptural way, to the various stations, but, as not infrequently happens when the band is depleted, or a new station opened, there is only one to step in and fill the gap, or hold aloft the banner of the Cross in the new field.
By reason of circumstances over which no one had control the Miss Sahiba was obliged to spend a few months of three successive summers alone in Pathankot.
The long, hot summer days glided away swiftly, for every hour was full, from five o'clock in the morning until the shadows of night fell. The hours of the forenoons were spent in house to house visitation in the town, and sometimes a village welcomed a visit from the Miss Sahiba and her Bible reader. In the silence of the summer afternoons, when the whole Punjabi world was asleep–even the little birds had their siesta–the Miss Sahiba had a little quiet time for study and correspondence with the home folk far away, who liked to get fresh news from the mission field.
But the loneliness of the Indian nights, who can describe? The atmosphere was too stifling to permit one to sleep indoors. The thermometer for days had hovered around one hundred degrees in her bedroom and out on the shady side of the house it had crept up to one hundred and twenty degrees. When the gong over at the court house rang out ten times, and darkness had settled down over the hot, palpitating town, she would lock all the doors and toil up the steep wooden stairway which led to the flat mud roof and spend her nights there.
Sometimes a breeze would blow down upon her from the way of the mountains, and how deliciously cool it felt to her hot head! The stars, shining with unusual brilliance, how friendly they became! The chirp of the myriad insect world sounded good to her in the silence of the night. She had lived so long in the Orient that the rhythmic beat of the village tom-tom, instead of setting on edge each nerve in her weary body, as it once did, now only helped to lull her to sleep. Now and then a sky rocket would shoot up into the dark sky, and she would know that wedding festivities were in progress not very far away. It was a long time, however, before she learned not to give a nervous start when a pack of jackals surrounded the house and set up blood-curdling cries.
Sometimes Ruth and Maryam would slip away from their uncomfortable home in the town and spend a night on the roof of the bungalow.
One evening the Brahmin widow made a surprise visit. She slipped away from her home, coming in a roundabout way through the fields, so that none of her neighbors might have knowledge of the visit. "If they should learn of it," she said, "I would probably lose my caste, and would be obliged to come and stay with you always. If it were not for my two boys I believe I would make a complete break with the old life. There is nothing satisfying in it. Sing to me, now; sing of the Great Teacher who died to save poor sinners. I am hungry all the time for His words."
The cool breath from the mountains did not always come; there were times when all night long the "loo," the red-hot wind from the westward, blew strong and steadily. One such night, when sleep refused to come, the Miss Sahiba's thoughts went back to former days, and a great longing came into her heart once more to have the Punjabi girls around her, as she had in those blessed days in old Sialkot. She prayed that some might be sent her who could be trained for the Master.
A few days later a letter came from Emma Dean Anderson, who lived many miles across the country in the station of Pasrur. The letter said, "Day and night I feel a burden resting upon me. I believe God is calling me to the famine country. The suffering down there is terrible. If I go and bring back some of the orphan children, how many could you take?"
"Surely this is the answer," thought the Miss Sahiba. "How many shall I tell her to bring me?"
Her heart said, "Take all she can bring," but knowing the limitations of her accommodations in this new station she felt it would not be wise to bring too large a number into their crowded quarters. Those who came, would have for the present, to live in her room.
She wrote by return post, "Bring me six."
After a fortnight of waiting word came that Miss Anderson had gone down to the scene of India's awful suffering and was returning with a carload of famine orphans. A telegram came at the same time with this message:
"Go to Gujranwala for your girls."
Hurried preparations were made and the train of that morning was taken. That same afternoon at four o'clock the local passenger train drew leisurely into the pretty station of Gujranwala and the Miss Sahiba was met by her friend Miss Corbett. She was glad, indeed, to exchange the box-like, intermediate compartment, with its suffocating atmosphere, for the comfortable, two-wheeled cart, and the drive to the Ladies' House. This was soon over, and she was ready to see her little girls. Miss Corbett had told her that Miss Anderson, who had passed through on the preceding day on her way to Sialkot, had left five, instead of six girls. One of the six had died on the hot journey up country.
In an enclosed school yard, where Miss Corbett had fifty or more village girls under instruction, the Miss Sahiba found her girls. She was only partly prepared for the sad sight that met her eyes. She saw five little skeletons with skin drawn tightly over the bones, black eyes, big and deep set in little wizened old faces. And these were her girls!
One was too weak to arise, three stood with uncertain steps looking anxiously for food. One of these kept feebly crying, "I'm so hungry, oh, I'm so hungry," and the pity was that out of the abundance one desired to give them, they were so diseased that it was not safe to give them more than a few spoonfuls of liquid food at a time.
The youngest of the band, Sundah, who was a little stronger than her mates, came running toward the Miss Sahiba with a sweet, winning smile, and stretching out her thin, little arms waited to be taken up. She was not more than four years old and her baby heart was hungry "for a little bit of love." She crept right into the Miss Sahiba's heart that day.
As she looked at these poor little victims of famine that evening, the Miss Sahiba began to realize how much Miss Anderson had endured in order to rescue more than two hundred of them. For the sake of the starving ones for whom her Master had died, she had been willing to risk her life; and because of that sacrifice rich fruitage would come and His kingdom be enlarged.
After a week's visit with Miss Corbett and her faithful band of workers and girls, the Miss Sahiba felt she must return to her home and work in Pathankot. There was another day journey through the heat, and the children with her this time to be fed many times during the day.
Glad and happy was she to reach Pathankot again, with its thick groves of mango trees, where the girls could play a little later when they should grow well and strong. She thanked the Lord of love most earnestly that night for sending a few of His little ones to her.
The girls required constant care day and night, for many weeks. The Miss Sahiba fought bravely for their lives through all the ills that followed those long months of starving, and their ravenous eating of leaves and roots. Dysentery and skin diseases almost defied the remedies used, but she gave herself cheerfully to their care.
In the end prayer and pains prevailed and they grew comparatively well and strong.
It was beautiful to see their minds develop.
They learned to pray long before being able to speak the Punjabi language with ease. One evening after worship, Maku said, "Miss Sahiba Jee, no one back in my country knows your way of worship. They never heard the name of Jesus."
"Perhaps you have been sent up to this country, dear, to learn of Him so that you may go back someday with the message."
"Oh, I hope so," she replied, tremulously.
The Miss Sahiba knew then that the orphan girls must often be homesick for their own land, and people, and language.
"Tell me, children," she said another evening, when they were gathered about her chair for a little talk, "tell me about the famine and how you were rescued."
Devalee spoke up quickly and said, "I know what happened to Sundah. She told me today." Poor Sundah! Her head fell, for she felt ashamed to have her little tragedy told out before all the girls. "Her mother sold her to a man for a handful of flour. The poor woman was starving, but Sundah was hungry, too."
"How did Sundah get away from the man to whom she was sold?" was asked by one of the girls.
"Oh, she ran away and Miss Anderson Sahiba found her and brought her along with the rest of us."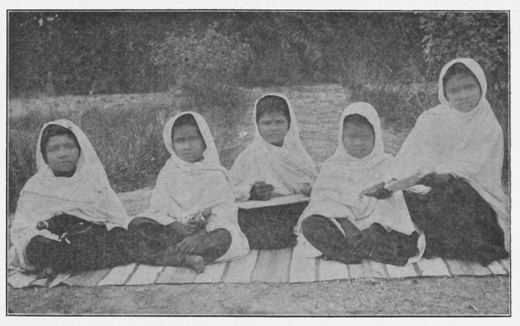 THE FIVE ORPHAN GIRLS.
Maku now added, timidly, "We were all so happy one time in our village home, with each other and with plenty to eat and wear, then the rain ceased to fall, and all the green things died. The rivers and wells ran dry, and cattle and people began to die. One day my mother fell dead at the door, dead from hunger. My father went out into the parched fields to search once more for some roots for his starving children. He was too weak to return to his home, and died where he fell out in the field that day.*
"My brother and I wandered away after that in search of food and water. Everywhere we went we saw the dead and dying. It seemed to us that the whole world was starving. When at last we could scarcely crawl for weakness some one carried us to a famine relief station and there that beautiful lady, Miss Anderson, found us and brought me to you. I don't know where my brother is. He may have died on the way up country."
Poor little Somlee began to cry when asked to tell her story. The Miss Sahiba, knowing that it was probably too pitiful for words, said, "Never mind, Somlee, you are in a home of plenty now. Grow well and strong and be a bright light for Jesus. He has saved you that you may serve Him."
After the evening prayers, when the good-nights were being said, Sundah came up close beside the Miss Sahiba and whispered, "We do love Jesus and we love you, too. We will try to be good girls."
Going out a little later to make the usual rounds before seeking rest, the Miss Sahiba, as she looked on her dear girls, sleeping peacefully in their accustomed places on the wide veranda, knew it had paid to take them into her heart and home and thanked God for them.
The people of the town showed a friendly interest in the girls from the first, but it was a long time before some of them could disabuse their minds of the idea that the Miss Sahiba surely had some mercenary motive in caring for them.
Many times was the question asked, "How much did you pay for them, and how much will you get for them?" Some said, "When you were taking orphans, why did you not choose boys, they would amount to something, but girls why, they will only be a trouble and expense to you. We know. Just wait until you have to arrange for their marriages and you will see how expensive it will be."
To all this the Miss Sahiba replied. "The girls came to me as a gift from God and my only interest is in training them to know and love Him."
The majority of the townspeople, however, said, "It was a good deed you did, a splendid work of merit, in saving these poor things. Surely no other than a Christian could look with affection on such miserable little objects as these girls were when they first came to you."
Some of the neighbors showed their good will by remembering the girls on their feast days. They would send large baskets of well-cooked rice and savory dishes of meat curries, and not a few of the wealthy families sent heaped-up trays of rosy-cheeked mangoes.
For all these tokens of friendliness on the part of her non-Christian neighbors the Miss Sahiba was exceedingly grateful. She was glad they were willing to count her a neighbor.
In the Autumn, when the Little Sister came down from the mountains, the Miss Sahiba was able to secure for her growing family an old building down near the railway quarters. The walls of the house were made of sun-dried brick, and the roof was thatch. It was in bad repair. The whole place was infested with rats, fleas and white ants. Lizards and snakes were too numerous for peace of mind. As many as seven snakes have been seen chasing each other across the back yard, and many times in the early morning they have been seen running over the veranda where the girls slept. A daily injunction was:
"Girls, look carefully before stepping on the floor, lest you tread on a snake!"
A few repairs were made on the house and by and by it assumed a more homelike appearance. Although it was never comfortable, it gave the needed shelter until better quarters could be obtained.
Early one morning the following April the Miss Sahiba saw through the glass door a constable standing on the veranda. On going out she saw that he was accompanied by two girls, apparently ten and eleven years of age. With a deferential salute the man addressed her, saying, "I found these two girls in a wheat field eating the ripe grains of wheat. They told me that they had come from the famine country and that all their friends are dead. I took them to the Chief Magistrate of the district and he, having heard of your interest in such girls, sent me to you, hoping that you would receive them and care for them."
For a few moments only was the Miss Sahiba perplexed with certain questions which surged through her mind: "Who are they? What kind of girls are they? They are large to be roaming alone over the country."
Looking intently at the two forlorn figures standing silently before her, her heart was filled with pity and she remembered what the Master said one day to His disciples in Capernaum, "Whoso receiveth one such little child in my name receiveth me."
Turning to the man she said:
"Thank yon, Constable Jee, for bringing them to this place of safety. I will keep them."
Thus Kishnee and Rukmonee were introduced into the "family of girls," as some of the people termed the Miss Sahiba and her little flock. Not once has there been a regret that these two lonely ones were taken in without question that spring morning.
Then Hussan Bibi came!
It would be impossible to give an adequate description of this bright, wayward strong-minded child, who was brought against her will from the streets of Sialkot city. She coaxed and threatened by turns the kind motherly Christian woman who brought her over to Pathankot. She was a Mahommedan orphan girl, who was found wandering alone in the great city, and being given over by officials to Miss Morrison, she decided to send her to Pathankot for training. The child, who was not more than six years of age, stoutly resisted the good woman's entreaties not to make a scene on the long railway journey, and at every opportunity screamed out loudly, "I won't be a Christian. I'm a Mussulman!"
The poor woman knew that if the suspicions of the fanatical, inflammable Mahommedans on the trains were once aroused they would at once conclude that here was a case of a child of the faithful being kidnapped and would perhaps try to get the little one away from her. So whenever the train stopped at the large stations she would purchase pieces of luscious sugar-cane, fruit and sweetmeats and try to pacify her fractious little charge.
The first intimation the Miss Sahiba had of her arrival was a series of screams and thumps out on the front veranda. There she found her old friend Rajji struggling with a child who was using all the energy of lung power she could command to free herself from the woman's hold.
"What have you brought me, Rajji," the Miss Sahiba inquired in surprise, as she was joined by the Little Sister and the girls, who all came running to the door, hearing such a confusion of strange sounds.
"Dear Miss Sahiba," Rajji said, still keeping a good hold on the little girl. "You have known me ever since you came to India and you have seen what a sad, hard life I've had to live, but I can truly say I never spent such an anxious night as I've just passed in bringing this little one to you. Surely I've had the time of my life with her, but Miss Sahiba, she doesn't know any better and I'll pray that you may be able soon to teach her good ways, but it will be a hard task."
Rajji could not remain long, for she could not be spared from Dr. Maria White's hospital, where she filled so acceptably the post of nurse.
For a few hours Hussan Bibi allowed herself to be entertained by the other girls, who tried so hard to show her that they loved her, and would count her a sister, but the roving, rebellious spirit came upon her again, and she ran away. The watchman was sent after her. He found her down at the railway station and when he succeeded in capturing her, she pulled out a little copper coin worth half a cent and said, "Please take this and let me go."
She succeeded several times after this in slipping away and each time she was brought back she would cry out, "I will not be a Christian. I hate Christians."
The Miss Sahiba was at her wits' end. How could she gain the little child's love and confidence? She was so young in years and yet had such hate in her heart toward Christians. Some one must have poisoned her mind by telling her horrible tales about Christianity. Then a happy thought came to her mind. She remembered a unique custom of the land and determined to try this on the unhappy child.
When a daughter is dearly beloved, the idol of her parents, they call her Puttar, which means son. Calling Hussan bibi to her side, the Miss Sahiba said:
"Puttar, why are you so afraid of us? We love you, dear child, and no one is going to compel you to become a Christian."
Hussan bibi looked up with a wonderfully sweet and surprised expression and said, eagerly:
"Am I really your Puttar? Oh, I am so glad. I will try to be good." She gave the Miss Sahiba's hand a tight squeeze and ran off to the girls with her good news.
"Girls," she said. "Listen, you are only betian–daughters. I am Puttar."
They were not in the least envious, but rejoiced that a change had evidently come over the wilful child.
Hussan bibi's roving disposition never returned. From that hour she was a changed person, although not perfect by any means. Her babyhood and young childhood days must have been spent in vile surroundings. She had so many bad habits to overcome. Perhaps the worst was the habit of lying. She struggled so hard to overcome this sin. At first she had not the least intention of telling the truth, then it was noticed that in telling of some occurrence she would stop, hesitate, and shaking her curly head, would say, "No that part is not true, it is this way," then go on carefully to the end of her story.
Maku came up to the Miss Sahiba one day after Hussan Bibi had been with them a few months and said, "Last night when we knelt down to pray, Hussan Bibi came and knelt beside me and said, 'Sister Maku, please teach me how to pray.'" The seed had taken root.
Not long after, at the time of evening prayer, Hussan Bibi voluntarily led in prayer and her first little spoken prayer was that she might be enabled to entirely overcome the sin of lying and be known as "truth-telling" Hussan Bibi. Less than seven years of age, this little waif, picked up from the streets and rescued from evil companionships, had in so short a time learned to have fellowship with her Saviour.
Say not there is no power today in the Gospel of Jesus Christ.
---
* An Anglo-Indian poet has said of such a death:
"Dead in the very field his fathers owned,
"Across the footpath leading thro' the grain,
"Anear the little tank all roughly stoned
"And walled-in for the precious drops of rain:
"Dead lay the farmer!"
---
CHAPTER IV.

HOW THE BUILDING WAS SECURED.
THE nearest missionary neighbors were found in Gurdaspur, a station twenty-three miles due west of Pathankot.
As this town had no place of learning for its girls and the Christians had heard of the Miss Sahiba in Pathankot, starting a class for her orphan girls, they asked her to take three of their girls into her home as boarders and give them the same privileges that the orphans were enjoying.
She had converted the wide front veranda into a school room. This was the beginning of the Avalon Girls' School. On rainy days the bedroom was turned into a classroom.
One morning Kartar came over from the railway quarters with a bright, new Urdu primer in her hand and said she wished to join the class. After a few days she had persuaded seven other little Hindu maidens to come with her. Side by side sat the Christian and Hindu girls on the same long piece of matting, swaying their bodies back and forth as the way of the East is while they learned the mysteries of the long Urdu alphabet.
The Hospital Assistant, a Mahommedan, who had charge of the government hospital which was found up the road a short distance from the Miss Sahiba's place of residence, sent word one day that he would like to place his youngest daughter, Tajwar, in her school. His request was willingly granted. A few mornings later he brought her over himself, and as he gave her over to the Miss Sahiba, said, "I want you to teach her the Bible. That is the kind of instruction the younger generation needs."
Tajwar–the Crowned One–was from the very beginning of her school life deeply impressed with the teachings concerning Jesus. The Miss Sahiba often wondered if the father would be altogether pleased it he knew that his daughter was taking her turn in prayer with the Christian girls. One of the sweetest pictures in memory's gallery, and one deeply prized by the Miss Sahiba, is that of the kneeling figure of dear little white-robed Tajwar, with her eyes closed and her face turned upwards with an expression of perfect love and trust, while the senior missionary led in earnest prayer at one of the Wednesday evening meetings. The children are so easily won for the Master.
It was not long until Tajwar had persuaded a brother, who was eleven years of age, to attend the weekly prayer meeting. There he learned to love Jesus. A year later this bright-eyed boy was stricken with pneumonia, and on his dying bed sent for the Miss Sahiba to come and pray for him. After his death, a New Testament and several tracts on Christian truths were found hidden away among his boyish possessions, and in a little journal which he kept, references were made to the beauty of the Christian religion. The father and mother kept all this a secret from the bigoted neighbors, but they plainly told the Miss Sahiba they felt their dear child had died trusting in Jesus.
Twenty-three girls were now attending the verandah school. In a marvelous way help had come, which enabled the Miss Sahiba to engage two teachers for the growing classes, thus leaving her time free for the instruction of the women in the town and near villages. Some of God's dear children in faraway Avalon, whose hearts had been touched as they considered the needs of India's precious daughters, wrote, offering to send funds for the support of two teachers. This offer was accepted with deep gratitude. It was only an earnest of what followed.
A building in the heart of the town seemed the next imperative need for the growth of the school, a building which would be accessible to all the girls who would like to attend the school. "Surely," thought the Miss Sahiba, "the people will understand this. I've only to let them know my need and they will readily grant me the best house in the town for this blessing which has come to them."
She had not taken into consideration all the indifference that comes from generations of satisfied ignorance, nor the hostility that was steadily growing in the Punjab in the hearts of many who had united themselves with the new sects of modern Hinduism. Outwardly the people all seemed to wish her well. It was when she began a search for a building that their indifference began to appear. They had an excuse ready to offer for each vacant house she desired to rent.
A Mohammedan woman in those days said to her: "I'll just whisper the truth to you. Our people are afraid of your religion. That is the reason they refuse to rent, but don't be discouraged, just keep on making friends with the women. When you have them on your side they will find some way of convincing the men that it would be expedient to give you what you desire." The Miss Sahiba was fast learning what a power the women are in Indian life, and how, if they were Christ's, India would be practically won.
She had no idea of giving up, even tho' discouragements met her on every street. "Be not weary in well doing," she remembered.
The father of Kartar–the Brahmin, and the father of Tajwar–the Mohammedan, both enlightened, fair minded men, representatives of the two great religions in India, were types of the best that is to be found in the old faiths. These two proved staunch friends of the girls' school, and worked nobly in its behalf in those days of beginnings. They did much among the people by moral suasion. The latter often said to the men of the town, "You may just as well give the Miss Sahiba the building she wants, for in the end she will win. Mark my words! My hair and beard are snow white. I'm an old man. Here is what I've learned by experience–
"Wherever a missionary plants his feet, there he stays.
"These missionaries have come to stay in Pathankot. A school will be established for the girls, by the grace of Allah. A church will be erected, and doubtless some of our people will become Christians." Some of the bigoted ones on hearing this bold prophecy, gnashed their teeth and said in reply: "Who knows whether you have not already joined the infidels!"
The untiring efforts of these two friends finally seemed to avail. The Miss Sahiba received word one day that the leading men of the town were going to meet that evening in the home of the Dr. Sahib and would like to have her present at the meeting. Wonderingly she went to the bungalow at the time appointed. She found two sides of the living room occupied by representative men of the town.
The station master and doctor were both there with happy faces. They had worked hard to secure this meeting. The one European of the town was also present.
Kashi Nath, the leading merchant, whose store boasted a few English tinned goods, corn flour, tapioca, biscuit, etc., had come to this meeting "But why?" thought the Miss Sahiba, for she knew he belonged to the Arya Somaj, a sect which is violently opposed to all missionary effort.
Four Hindu money lenders, all closely related, tall, lean men, with keen, alert countenances, sat side by side waiting for the meeting to be called to order. A prominent landowner, a Sikh, graced the occasion. A few other Hindus of the better classes were also there.
All arose and bowed politely as the Miss Sahiba entered the room. The object of this unusual gathering was then made known. A lengthy paper was read, which had been signed by a large number of the influential citizens. In it was a request that the Miss Sahiba would look favorably upon their petition. They had heard of her interest in their womenfolk and little girls, and now would humbly petition her to start a school in the town which all the girls might be able to attend.
Pathankot was far behind the times, but they hoped a new era had dawned, when it would take its place beside the more progressive cities of Lahore, Sialkot and Gujranwala in the matter of female education.
The Miss Sahiba thanked them kindly, and told them she would be glad to comply with their request to open a school for their daughters, but she would have to ask them to help secure a building where the school could be held. They looked anxiously at one another, to see who would be the first to suggest help in this delicate matter. Finally, the Sikh spoke: "Brothers, you know that vacant house on Brahmin street, the one now owned by Luchman Dass, the money lender who lives out in Sujanpur? It seems to me that would be a suitable building for the school, and the location is fine for our girls."
"Yes," assented the others heartily, "the very thing; we will speak to Luchman Dass, and we feel sure there will be no difficulty in securing the building."
Fruits were now served and, after a few more complimentary remarks, the men returned to their homes and shops.
The Miss Sahiba went back to her humble home that night with joy in her heart. A home for her day school was in plain view. She could see it being filled with the neglected little girls of the town. What a change the school would make in their lives!

THE DOCTOR'S DAUGHTER
During the afternoon of the following day strange rumors began coming to her ears. The father of Maryam–the only Christian man in the town, came out to see her, and brought news that caused her great anxiety. Two Aryas, from the city of Amritsar, sixty miles distant, having heard of the proposition made by the townspeople to start a girls' school, had come over with all speed and were now out on the streets preaching against the movement. "They are most bitterly denouncing you and all other missionaries," said the Christian. "They are telling lies, but the people believe them. They threaten to excommunicate every Hindu who gives the school the least countenance. They say your object is to destroy the faith of the fathers, and to cause the well-born to join the band of outcasts."
"Is there no one," the Miss Sahiba asked pathetically, "who is saying a good word for our cause; who stands up for us against this onslaught?"
"Only the station master, Miss Sahiba, Jee; he is out in the street, too, pleading for the girls' school. He answers the objections so well that often the Aryas are at a loss what to reply. He said to them: 'It is you who are undermining old Hinduism by your pernicious advanced thought and loose ideas of morality. Whatever good is found in your teachings you have stolen from the Bible of the Christians."
"Who sent word to the Aryas?"
"I've found that out, too," the Christian continued, "Kashi Nath, the wily Hindu, the turncoat, was present at your meeting only as a spy. He went straight from the bungalow to the railway station and sent a telegraph to Amritsar, telling of the meeting, and asking that two Arya preachers be sent over immediately to help undo the mischief."
"Let us not be cast down, brother," said the Miss Sahiba, trying to speak cheerfully, "all will yet come right, tho' the discouragements are many."
Later in the evening the European came over and offered to help in every possible way to secure the building. "No more dependence can now be placed on the Hindu men who offered you the house which belongs to Luchman Dass," he said to the Miss Sahiba. "Those two bigoted men have thoroughly frightened the Hindus, and they will not now lift a finger to help you."
"You would like the building, would you not?"
"Yes, indeed," she replied, "if I had a house of my own down among the people I believe I could win the women."
"I have a suggestion, then, to offer. You know that I was born and bred in India, and so am well acquainted with native ways."
The Miss Sahiba had no doubt about this, for it was commonly reported in the town that the European Sahib knew their customs better than they knew them themselves. He had married a beautiful young Hindu woman of the mountains, and by this act had cut himself off, practically, from his own people. They had two daughters, now twelve and fourteen years of age, who had not had any schooling, and it was of their welfare he was thinking as he threw himself whole-heartedly into the matter of the girls' school.
"Luchman Dass is an old friend of mine. He lives out a few miles from town, in Sujanpur. About ten o'clock tomorrow forenoon some of our Hindu friends of this town will go out to his village. They will tell him that they have learned that you are going to ask him for the rent of the Pathankot house. They will not tell what part they had in giving the information to you. Oh, no! And they will explain that he must not on any account rent it to you. When he asks why, they will threaten him with excommunication if he dares to do it. Now, my plan is this: I will drive out to Sujanpur at six o'clock in the morning, and have all arrangements completed, and be away before the arrival of our friends. You give me six months' rent in advance. I will give him this sum, taking a receipt for it, and I will have him give me a paper, duly stamped and signed, which will ensure you the house for one year. After that period of time you will have no more trouble in securing buildings to rent."
"What if the Hindus should go out tonight to warn him?" the Miss Sahiba anxiously asked.
"Oh, no danger of that; our old East never does anything in a rush. They will not leave town before ten o'clock tomorrow forenoon."
The next morning the Miss Sahiba, hearing the rumble of wheels, looked out and saw the European driving rapidly past in a two-wheeled native cart. He was on the way to Sujanpur. Would he be successful in outwitting the Hindus who had so sadly disappointed her? Oh, how she longed to gain the confidence and goodwill of all the people, and to convince them that she was there for their good only.
The early morning visit of the European surprised Luchman Dass. He had not yet gone to his shop to begin the day's work of lending money to the poor at an exorbitant rate of interest. His people had been for many generations before him usurers.
"What good fortune has honoured me with your presence this morning?" was his greeting, as the European entered the low reception room.
"We are old friends, Luchman Dass," was the reply; "I have it in my power to do you a good turn and that, you know, is what a friend should do. You now have an opportunity for bestowing kindness upon others, and that will, doubtless, bring you a good deal of merit. At the same time it will, I believe, profit you financially. Do you understand?"
"Say on, say on," said Luchman Dass, who was now full of interest, for a mere mention of money puts new life into the mean, crinkled little soul of a Hindu money lender. The European then recounted the meeting held in the bungalow, and how his house on Brahmin street had been suggested as the most likely site for the girls' day school, which was to be opened by the Miss Sahiba.
"You don't mean that I shall believe that my Hindu brothers in Pathankot have met and asked that Miss Sahiba to start a girls' school! They want their girls educated! What are we coming to?" he exclaimed in great astonishment.
"Why not?" replied the European quietly. "You yourself know how backward our town is in the matter of female education. Our citizens are quick to see what will be of an advantage to them, and they have unanimously decided to have this school. Will you help?"
He then placed sixty, shining silver 1 rupees on the table under the avaricious Hindu's eyes, and said slowly: "The Miss Sahiba has sent these to pay the rent in advance for six months."
After a little more parleying the bargain was made. A contract was drawn up, and a receipt for the rent money was given; also a stamped paper giving the house on Brahmin street to the Miss Sahiba for one whole year.
By twelve o'clock the European appeared at the Miss Sahiba's door, and gave her the papers which made the house she so desired hers, and also gave a hurried account of his morning visit. "On my way back from Sujanpur I met three of our Hindu men on their way out," he said. "They will be too late. Luchman Dass will doubtless be in this evening to see you. Those men will give him a terrible fright, and he will plead with you to take back the rent money and give him the papers. You will know how to deal with him, but don't be persuaded to break the contract. Tell him to be a man and remain firm."
Toward evening he came. He was dressed in pure white muslin, white coat and trousers, and twelve yards of soft mull twisted neatly about his head. He had gold rings in his ears, and gold-embroidered sandals on his feet. The Miss Sahiba invited him inside and asked him to be seated. He looked around nervously as he took the proffered chair, fearful lest a brother Hindu might be within hearing distance and overhear what he had to say.
"I've died today," he said in a loud whisper, "my troubles have killed me." Punjabis die in this way many times daily.
"Why, Luchman Dass, what calamity has befallen you?" the Miss Sahiba asked, sympathetically.
"Oh, my people! You know what Punjabis are like–just donkeys, nothing more! See in what an embarrassing position they have placed me, and how untrue to you. They offered my house to you for rent, and my friend, the European, came out this morning and completed the bargain."
"Yes," said the Miss Sahiba. "I have all the papers, and I now thank you, Luchman Dass, for your kind help. I am sure this school will prove a great blessing, and you will be glad to know that you have a share in it."
"But, Honoured One, you do not know all. How can I explain to you the perfidy of my people? On my knees, with my face in the dust, I humbly beg you to free me from my bargain."
The Miss Sahiba, fearful lest the action might follow the words, said hurriedly, "But why all this distress?"
"Those ignorant ones," he continued, "who are altogether empty of wisdom, came out to my village shortly after the European Sahib left. They said that I was not to let you have my house on Brahmin street, that if I did they would put me out of the Brotherhood, they would not eat nor smoke with me. My children should remain unmarried, and when I died no one would carry out my body to the 'burning place.' These, and many other words not fit for your ears, they said to me."
"How could they treat you so badly, Luchman Dass, after all their protestations of interest in the girls' school only two days ago?"
"Miss Sahiba Jee, haven't you lived long enough in our land never to trust our people's word?"
"What did you say to them?" was now asked.
"Oh, I gave them abuse such as is our custom, and with many dire threats they left me. I made all possible speed, and have come to you for advice."
"Luchman Dass," began the Miss Sahiba, "you are a man of business. You have made a bargain with me. I must ask you to stand by it, and show the people of our town that all Hindus are not cowards. Our people really want this school, and in the end will respect you if you remain true to your promise. All this excitement has been caused by an enemy in the camp, and two evil men from the outside. By and by our people will forget all about it, and you will have great honour for having so nobly helped to promote female education in Pathankot."
His self-esteem began to return, and before long he was telling the Miss Sahiba that in his wife's family there was one educated woman, and how, since her husband's death, she had been able to support herself and daughter by teaching. He left, promising to be brave, but added, "Just to be on the safe side I'll take an outside path on my return to Sujanpur, and will not show my face in this town for many days."
That evening the Miss Sahiba said to her girls, "We must be more earnest in our intercession for the dear people of Pathankot who are living in such thick darkness. The enemy of our souls is fighting the entrance of the light."
---
1 Three rupees in one dollar.
---
CHAPTER V.

THE PLAGUE.
THE cleaning of the rented house created great surprise and curious comment among the inhabitants of Brahmin street. Some of them felt this matter of cleanliness was a personal insult.
The Miss Sahiba learned of it in this wise: One day, accompanied by two of the teachers and some of the girls, she went down to the house for the purpose of giving it a thorough cleaning before opening her school in it. The small-sized, hard burnt bricks in the walls proclaimed the building to be of the remote past, for no such bricks are burnt in the present day kilns. The wide cracks in the walls showed it had passed thro' some severe earthquake shocks. The Miss Sahiba told the girls, who were inquisitive as to its age, that it was probably one hundred years old. "I should say it was," exclaimed one of the teachers, as she surveyed with dismay the accumulations of dirt and refuse in every room and each corner of the court.
With a hearty goodwill all made war on the dust of ages. The little lizards looked on with startled eyes at the invaders of their cosy, cobwebby retreat.
One room, which had its walls and ceiling covered with scenes from the life of Krishna, was considered beautiful by the girls, and they decided this room should be set aside for the special use of their Miss Sahiba. The stories of this bad god and his thousands of wives had no effect on the school girls, for they knew nothing concerning them. Their color-loving eyes were attracted only by the brightness of the pictures on the walls.
While the dusting and scrubbing were being carried on vigorously the Miss Sahiba noticed a dark shadow on the floor before her and, looking up, saw a woman perched on the very edge of the roof which surrounded the court, looking down on her with a dark scowl on her face. She was the next-door neighbor. In India that means a person whose wall is joined to the wall of your house.
The Miss Sahiba had seen the woman a few times before, but had had no opportunity of making friends with her. She thought now would be a good time to begin.
"I wonder," she began, "when this house was last cleaned! It seems so full of dirt."
"Cleaned! Full of dirt!" screamed the irate woman. "Until you came no one considered this house dirty. A Brahmin's house in need of the scrub brush and lime to cleanse it! Whoever heard of such talk? Dirty, indeed!"
"But I can tell you it is considered unclean now by every Brahmin since it has been polluted by the touch of a Christian."
This was not making a friend very fast, so the Miss Sahiba tried gently to change the subject. By and by she was rewarded by seeing a softer look creep into the hard face, and when the Miss Sahiba left that evening the Brahmin woman said: "I might have had a worse neighbor than you."
The twenty-three school girls enjoyed the half-mile walk that lay between the thatched cottage on the outside of the town and the building in the heart of the town. Every morning, seven o'clock, found them in their places in the quaint old rooms, which were now neat and clean. A bees' nest, found in one of the cupboards, was left severely alone. A monkey used to swing down from the branch of a nearby tree and make faces at the girls as they sat quietly in their writing class.
Sundah could not repress the laughter that came bubbling up every time the monkey made a grimace. "Perhaps he is angry," she would say, "because we do not worship him as the Brahmins did who lived here before us."
Rukmonee, who dearly loved pets of all kinds, one day became the happy possessor of a naked baby parrot, which fell down from somewhere.
Standing in the idol-decorated room of gay colors the girls loved to recite in concert with good strong voices: "Thou shalt not bow down thyself to them, nor serve them."
Several new girls joined the school as day pupils, but the children of those who had asked for the school were not allowed to attend. They were under ban and dared not ignore it, at least for a time.
The women had been forbidden by the men to listen to the gospel story, hut often when the men had gone away to their shops or farms, they would slip into the school and ask that the children might stop work for a little while and sing to them the songs that they heard ringing out from the old building every morning and evening. Never before had God's praises been heard in those old streets.
Oh, friends in the home land, if you could only plant a girls' school in the heart of every town where darkness now reigns, what a center of love and light it would become!
The school went on happily for a few months in the rented building, then one day a break came.
The Miss Sahiba was following her little flock of girls down the narrow, brick-paved street one morning when she saw, lying at her feet, a dead rat. Could it be? Was this the messenger of plague? Oh, she hoped not. Perhaps a cat had killed this rat, and someone had thrown it into the street. A Brahmin, she knew, would not have killed it. A little further up the street lay another, and then still another before the school door was reached. Her heart was sad and heavy.
Plague had evidently reached Pathankot.
She spoke to the Brahmin woman who, by this time, greeted her in a somewhat friendly manner, altho' the Miss Sahiba always felt there was that in her which could not be trusted. She mentioned having seen the dead rats.
"Oh, that's nothing," retorted the neighbor, "rats have to die some time. One died in my house last night, and I picked it up with my hands and threw it out. Of course, a Brahmin should not touch any dead thing, but I had heard what you English people say, that no one should touch a dead rat lest he take the plague and die, so I thought I would try and see what would happen to me."
"Sister, I'm sorry you were so rash," said the Miss Sahiba wearily. "I try to help you all, and I tell you the truth, and you will not believe. Have I not told you many times that the doctors who are on plague duty have warned people not to touch a dead rat? that wherever one is found to quickly pour kerosene over it and burn it?" Then she smiled, as she remembered how earnestly the doctor who had inoculated her and her girls had said, "If a rat should be found on your best rug, never mind, pour on the kerosene and burn it up."
"I am inclined to believe," said the woman, "that if there is such a thing as the plague, your English doctors cause it themselves by the medicine they put into people's arms."
The day dragged on so slowly, but at last the lessons were all over, and some of the homes had been visited. The Miss Sahiba kept her doubts and fears from the girls. She said to one of the teachers, "Have the girls take all their books home tonight. We may not get back to this house for a long time. I'm afraid the plague has come."
"God forbid," cried the teacher in anguish.
The plague official on duty had told her that even tho' the "awful sickness," the plague, was all around Pathankot she need not be alarmed for the safety of her girls, and might continue going into the town until rats should begin to die in the streets; but when you see them dead, as you value the lives of your girls, do not return to that place, for the plague has come.
The next day, with sad hearts, the lessons were resumed on the old front verandah of the thatched cottage. On the third day the rats began to die there.
What should she do? The way was growing darker. There was the Little Sister, who was never very strong, to think about, and the dear girls and teachers must be protected. Oh, she thought, if only we had a nice, clean school home, all our own, for a place of refuge at this time!
She went up to the bungalow and consulted with the Dr. Sahib. He advised her to leave immediately the old house, which was so full of rats. "Better camp out under the trees," he said, "tho' the sun is hot, than remain longer in that grave danger. But I have a better plan than that. I will get two small tents for your girls and teachers, and you can have them pitched near the south side of the bungalow, where we will give you a room, and there you may live until the plague passes by."
The first few days of camp life were much enjoyed by the girls, but as the days grew into weeks, and weeks again into months, and still the "death sickness" kept steadily on, and the heat grew more intense, the girls became almost despondent at times, and felt, as some older people expressed themselves: "It may be the whole town will die ere this foe depart."
One-half the population fled from Pathankot during the early days of the siege, carrying the germs of death with them. Of the three thousand who remained death claimed five hundred victims.
The Miss Sahiba went down into the town one day to visit the women. She stopped at the Brahmin widow's door and rapped. A neighbor woman called out, "She is not at home, but if you can wait, I think she will soon return." She was not long in coming, and the Miss Sahiba, who was waiting for her on the street, noticed how tired and weary she seemed to be, scarcely able to drag herself along.
"Where have you been, and what have you been doing?" she asked the widow, as she drew nearer and greeted her with a pathetic smile.
"I've just been helping some of my poor, unfortunate neighbors who have plague in their homes," she answered quietly.
Then followed a sad recital of heartlessness, selfishness and cruelty, such as can exist only where idolatry flourishes. The Brahmin woman, with the light of Jesus beginning to break in upon her soul had gone out day after day to help the sick and dying. Many times had she gone in and given help to a plague-stricken person who had been forsaken by all his family and left to die alone. She had heard the faint cry, "Water, water," full many a time from dying persons, and had gone to them fearlessly, with a refreshing drink from her bright, brass lotah. She had lanced the bubos of the stricken, she had poulticed their boils, and the dead she had prepared for the funeral pyre. She stood and served when strong men quailed and fled.
"Do you know, Miss Sahiba?" she asked in the conversation, "who it was that first died of the plague in our town?" "Yes," was the reply, "it was the woman who lived next door to my school She died two days after I closed the school, and oh, sister, the poor woman was not prepared to die. When I warned her to be careful she laughed and said boastfully: "The plague won't catch me!"

"TRUTH-TELLING" HUSSAN BIBI.
"I knew her well," interposed the little woman. "She died a horrible death. I heard about it afterwards. Perhaps you do not know that she was my sister-in-law, and the chief person in depriving me of my home and property, and Miss Sahiba, I've so often longed to tell you that the house you rented is the one in which I was born. I was so glad when it came into your hands for this good purpose, but I dared not mention it at the time, as all our Hindus were in such a state of excitement and so angry over Christians coming into a place where only Brahmins had lived.
"When my sister-in-law died she was all alone. No one would go to give her even a drop of water in her last terrible agony. Her body lay uncared for three days in that awful heat. (It is the custom to have the funeral a few hours after death. It is a necessity in the hot climate). No one from her own caste would carry it away. Finally the chief of police, who is a Mohammedan, and my foster brother, sent the Hindus word that if they did not arrange for the disposal of the body he would send Mohammedans to do it. That, you know, would have been a lasting disgrace to the whole community, almost as bad as being carried out by the outcasts. Some of the caste of money lenders having heard it whispered that large sums of money, and rich jewelry, were hidden in the house, went to the home and had the body removed to the burning place. They also took charge of the money and jewels.
"Many people say plainly that the coming of the plague is a punishment sent on the Hindus because of their treatment of you in the school matter."
The Miss Sahiba also learned of the death of Kashi Nath from plague.
On her way back to the bungalow that evening she heard the voice of mourning in many homes. A great depression, like a thick mantle of darkness, had fallen upon the land.
A few mornings later the Miss Sahiba heard the sound of music, and it made her glad. It sounded to her ears as the music that is played at wedding festivities. She said to a Hindu, who had just come up:
"Hark! I hear wedding music. Surely, the sickness is abating."
With a voice which long since had lost its happy ring, he said sadly:
"The music you hear is not the music of the wedding party, it is the music of death. An old man in that little clay cottage which you can see thro' the branches of the banyan tree, if you but stood a little, died this morning of plague. The musicians are playing his funeral dirge."
"Oh, Miss Sahiba," he cried, "when will the scourge be lifted? My heart is sick for music and song and laughter again. Even the little birds forget to chatter. The ripened grain in the fields is rotting because the reapers are all dead. May it not be that the Creator of the Universe is punishing us because of our sins? Perhaps His intention is to slay all His creatures by this sickness. Yesterday thirty people died. It is getting very close now to you, but we all believe you will be kept in safety.
"I often think of what I heard you say one day in our town, when a company of us had gathered to listen to the talk you were giving about Jesus. I was listening earnestly. You said you believed that the great sin of India today is that of ignoring the claims of Christ. Thousands know He is the Saviour but are afraid to openly confess Him. I knew when you said those words they were true in my case. I read your Bible every day, and sometimes I try to pray. Oh, if it was only easier to make a public confession!"
It is true that India today has a great company of secret believers in Jesus Christ. Who in America, where it is so easy to join the company of the redeemed, are praying for these, who, if they come out, and are baptized, must literally forsake father, mother, wife, and children and brethren, and all gy possessions?
---
CHAPTER VI.

THE MISS SAHIBA'S JEWELS.
THE Christians who lived on the Mission Compound, the missionaries in the bungalow, and the girls in their canvas home, were all kept in safety during the four months' siege of plague. 1 They realized the truth and comfort of the promise of the Lord: "A thousand shall fall at thy side, but it shall not come nigh thee."
When life began pulsating again in the streets of their town, how good it seemed, but it would be a long time before the place would be as of old. So many familiar faces had gone, never to return. Street after street had been deserted, and showed only rusty locks on closed doors, which would never be opened by their former owners, and many of the clay houses, thro' neglect, would soon fall into decay.
"All things work together for good to those who love God." This promise was repeated many times to the girls in those dark days by the Miss Sahiba, and she was willing to wait for the blessing that would surely come out of this sore trial. It came sooner than she expected.
A deputation of Mohammedan men waited on her one morning shortly after the cessation of the plague, and said: "We have watched your work in our town, and we believe it is Allah's will that you should help us. Our Hindu brothers deceived you, and many people say their treachery is what caused the visit of the plague to our town. Be that as it may, we have now come to ask you to open your school in the Mohammedan portion of the town. If you will look upon this request with favor we will give you the best house our town affords, and we will fill your school with our girls."
The best house! She knew that place well. In the days of searching for a house how often had her eyes turned to that roomy, two-story building, with longing that she might have it for her school, but she had long ago ceased to expect it. Now it was being offered to her by the very people who had viewed her with suspicious eyes only a short time before.
They were true to their word, and the Miss Sahiba, believing this to be of the Lord, transferred her school furniture from the building on Brahmin street to the comfortable and centrally-located, building among a people who were now friendly to her and her work.
She was glad to see that those of the Hindu neighbors who had escaped the "sickness" seemed sorry to have her leave their street. Some of them told her privately how they longed to have their daughters educated by her, but admitted that caste ties were too strong to be ignored, and that if they did as they desired they would surely be put out of the brotherhood.
The first day of school in the new building saw the rooms simply swarming with girls who wished to be taught. A few little boys also begged for admittance. The mothers and aunts and other women relatives flocked in by troops to see this strange new thing–a girls' school.
It took many days to bring order out of chaos, and to reduce the motley throng into anything like a semblance of order, but it was finally accomplished and the Miss Sahiba found that she had sixty new names on the roll of those who wished to become pupils.
They all began with the alphabet, and as each one studied aloud, in a sing-song manner, at the highest pitch of her shrill voice, it was not strange that the deafening roar which proceeded from that "best house" caused the passersby to stop and exclaim "Whoever heard such a noise? What kind of people have moved into this house?"
The Miss Sahiba was not disturbed by the sounds. They were as sweet music to her soul. She knew that this confusion of sounds meant that many little girls would now be brought under the sweet influence of Christianity.
The new day school was only a few minutes' walk from the thatched cottage, and very convenient in every respect for the Miss Sahiba's work.
While her heart was being cheered by the opportunity she now had of sowing the seed in so many hearts and homes in the town, she was made to further rejoice by her seven dear girls who had been rescued from the famine coming to her one day and saying: "If you think we are ready, we would like to be baptized and taken into the church."
Was not this that for which she had so often prayed?
On a beautiful Sabbath morning a few weeks later the "Seven" stood before the congregation, which had met in the thatched cottage–for Pathankot as yet had no church home in which to worship. They answered earnestly and reverently the questions which were asked by the Dr. Sahib concerning the faith that was in them.
How beautiful they looked to the Miss Sahiba as they stood there so quietly, dressed in plain print dresses, and white muslin veils draped gracefully over head and shoulders! They seemed to fully realize and appreciate the step they were taking. As they sat down beside the Miss Sahiba that same hour to partake for the first time of the Lord's Supper she felt her cup was running over.
Such seasons are always precious to those who love the Lord, and this occasion was one whose memory would always bring joy. She knew in part from what the girls had been saved. Little Sundah, who sat the nearest to her, looked up into her face with a sweet smile, Sundah's baby hands had been taught by a heathen mother to bring offerings to the big black image of Ganesh, the god with an elephant's head. Her forehead had been pressed many times into the dust at the feet of that hideous image. And now she was sitting with Christ's people and promising to give her life to the service of Jesus.
Dear friends in the home land, are you doing all you can to suffer India's little ones to come unto Him? They are so willing to give Him their little hands, and feet, and lips, as well as their hearts' love, if some one will only take them up and bear them to Him.
Two women and one man from Sujanpur united with the church that day. The European, his wife and two daughters, had also become members. The church in Pathankot was growing.
That evening the Miss Sahiba heard the sound of laughter on the verandah, and stepping outside found Sundah fairly dancing for joy, and repeating to herself: "I'm so happy, oh, I'm so happy!" She looked reprovingly at the little maiden, and said: "Sundah, what do you mean by all this noise and excitement?"
"Oh, Miss Sahiba Jee, don't you understand? I am a Christian, that is why I am so happy!"
Then was the Miss Sahiba rebuked herself. The dear child had not known with what faith she had been classed before her baptism. She knew she had broken off from the worship of idols, but as she had not been received into the church formally, did not know whether she could be called a Christian or not. Now she knew she was a member of the household of faith, and her childish heart was so full of joy she could not help giving expression to it. Sundah was not more than seven years of age.
Oh, that those who find Christianity so full of coldness and formality might have an experience like Sundah's.
The hour of evening worship brought their hearts very close to their Saviour. They felt His presence with them. Hussan Bibi asked that she might be allowed to recite the twenty-third psalm, which she had finished memorizing that very evening. Having repeated it without one mistake, she sat down proudly beside the Miss Sahiba and said: "When I've learned a little more may I not be baptized, too?"
"Yes, indeed." was the answer, "perhaps the little Puttar will be ready to come into the church by the next communion season."
Little did the Miss Sahiba then foresee that there would be no more communion seasons on earth for Hussan Bibi, that before another such blessed time should arrive this little trophy of grace would be taken from her into the presence of the Lord she now loved.
During the summer Hussan Bibi, who was not strong at any time, had repeated attacks of malaria. These weakened her already delicate frame. The Miss Sahiba was obliged to leave her girls for a few days in July, that she might attend a committee meeting of the Mission in a distant city. When she returned she found the little girl dangerously ill. She hoped it was only fever and cold, but the sickness soon developed into a plain case of double pneumonia. The good old friend of the school, the Mohammedan doctor, did all he could to help her. The girls prayed earnestly that if the Lord was willing she might be spared a little longer. Day and night all took turns in caring for the little Puttar, but Hussan Bibi was not to remain with them longer. This precious jewel had been polished early for the Master's crown, and the Miss Sahiba would not withhold it longer from Him. In her delirium she would sing the ninth psalm, which she so dearly loved, to her favorite tune, Sweet Hour of Prayer.
It was early in the morning when the spirit took its flight. This was the first break in the school, and the empty place brought tears to the eyes many days.
The Miss Sahiba was thankful for the presence of her friend, Miss Corbett, at this sad time. She had come over for a few days' visit and rest. It was lonely as it was.
The little body was prepared for burial by wrapping it in a white winding-sheet. There was no coffin in Pathankot. The Miss Sahiba started in agony of spirit when she remembered that there were not enough Christian men to carry the body out to the cemetery, which was a mile distant, for burial. The one Christian man could not bear the burden all alone over that long distance. There were no hearses, either, in Pathankot. She knew the Hindu and Mohammedan neighbors could not be asked to help, for they would be defiled by touching the Christian dead.
She went again to her Lord in her trouble, and asked for help.
Two Hindu and two Mohammedan men soon came and said to her: "We are going to ask you for the privilege of carrying your dead to the place of burial. We may suffer a little for this act, which is against our religious customs, but we are willing to bear the consequences. You have been kind to us in our times of sorrow, and now we are going to stand by you and see the little girl laid away with respect shown to the body. She is, after all, one of our own color and nation."
They came at evening time. Tenderly they lifted the little body and bore it away, followed by the Miss Sahiba and her friend, the weeping girls and Mohammedan doctor, down the long shady avenue to a new plot of ground, which had lately been purchased for the Christian dead. As the sun sank, a great ball of fire, behind the distant rice fields, tingeing them with crimson and gold, the body of sweet Hussan Bibi was laid away, to await the glad resurrection morn.
---
1 In the Punjab province alone 58,857 died within the space of seven days, and in the whole of India in six months' time 1,060,067 died.
---
CHAPTER VII.

THE EARTHQUAKE.
ON the morning of April 4, at the early hour of six o'clock, in the year 1905, a portion of the Junjab was visited by one of the most severe earthquakes that has ever been known. In a few seconds' time 20,000 lives at least were wiped out of existence. On that fateful morning, which dawned so clear and bright, the missionary clans of the United Presbyterian Church were gathering into Sialkot for their Jubilee celebration. Just half a century before a lonely band of three, Dr. Andrew Gordon, his wife and sister, had begun a work in that strange eastern city, which had grown and prospered, until the Christians now numbered thousands. It seemed fitting that the fiftieth anniversary of the founding of the Mission should be properly celebrated.
The missionaries kept coming into the station all day long, and each, as he came, had some new thing to tell concerning the awful earthquake of the morning. No lives had been lost in the Mission stations on the plains, but the silence from the mountains was ominous. From the general direction of the shock the Dr. Sahib, who arrived during the middle of the afternoon, said he was afraid bad news would be received from the mountain region; then he told of his own almost miraculous escape from death in the railway station at Lahore. He had come into the station about midnight from Pathankot, and had to wait there till morning for a train that would take him on to Sialkot. At half past five he had a cup of tea, and was quietly sitting in the men's waiting room waiting for the arrival of his train, which would be about seven.
A porter opened the door and said: "Sahib, your train is coming; let me carry your roll of bedding and satchel out." The Dr. Sahib, without noticing that the porter had made a mistake, for it was only a few minutes to six, arose mechanically, and followed him outside to the edge of the platform. He then noticed the mistake, and was just beginning to speak of it when a rumble was heard, and the great iron girders above began to creak, and the platform beneath to rock violently, until many of those who were standing became so faint and giddy they sat down on the brick floor. Then a terrific crash was heard, and it seemed for a moment that the whole place must have given way. Dust blinded the eyes, and the confusion was terrible. It was soon discovered that an immense tower, weighing many tons, had toppled over by reason of the shock, and had fallen on the roof over the men's waiting room, and the whole mass had crashed right thro' two stories into the room from which the Dr. Sahib had just come. It was filled to a depth of twelve feet with iron, stone and mortar.
The hearts of the missionaries were lifted to God in thanksgiving when they realized how their beloved senior missionary had been saved from a fearful death.
Back in Pathankot, which was only forty miles from the center of the earthquake shock, some damage had been done, and the violent rocking of the earth sent terror-stricken people out into the streets. The Mem Sahiba had been confined to her bed for a few weeks by reason of a severe illness. Tho' now too weak to arise she felt her life was in danger if she remained inside, and she made a great struggle to gain the outside. Trembling in every limb, she reached a door and stepped outside to a place where a young tree stood, and held to it for support until help came to her. The chill of the early morning air and the nervous shock left her in a weakened condition, and this undoubtedly hastened the end of this devoted servant of the Lord.
The girls of the Avalon school were no longer living in the old, white, ant-eaten thatched cottage, but had moved into a new one-story building, which had been erected only a few rods below the bungalow where dwelt the Dr. Sahib and Mem Sahiba. Here they dwelt happily with their Miss Sahiba and the Little Sister in the school home which had been made possible by the kind friends of Avalon, who were already supporting two teachers in the school.
After the shock they looked carefully over the new home to see if it had been injured, but they found no cracks.
Along late in the afternoon the girls were startled by a man crying out as he passed by on the great white road which comes down from the mountains:
"Dharmsala is fallen! Dharmsala is fallen!"
They understood that some terrible calamity had overtaken that lovely mountain resort. This messenger had traveled by foot fifty miles in order to reach Pathankot, where he could send news by telegram to the outside world concerning the awful disaster of the morning.
Bridges and telegraph wires had all been laid low, and the only way to get word down to the plains was to send it by a messenger on foot. From Pathankot the sad news went out over the wires that nearly one hundred Europeans and Christians had lost their lives in the earthquake at Dharmsala and Kangra, that a few hundred soldiers of the Gurkha regiment had been killed in their barracks, and that thousands of people living in villages in the Kangra valley had been destroyed.

THE FIRST AVALON GIRLS' SCHOOL BUILDING.
The mountain roads in many places had dropped out of the mountain sides, and those who were still alive were unable to reach the plains for help. The government made strenuous efforts to hasten food and relief to the sufferers.
The Miss Sahiba, on her return from Sialkot, accompanied by an English lady missionary, left at once for the stricken place. The first day they traveled thirty miles over a fairly good road. They spent the night at a little place called Shahpur. Here they found Major-General Walter Kitchener, of the Jullunder division, and brother of the Commander-in-Chief, Lord Kitchener, who had just arrived from the plains with a large number of sappers and miners. On the morrow they would begin the work of repairing the roads and bridges, also of exhuming the bodies in the town of Kangra. The General was exceedingly kind to the ladies, and gave them three strong commissariat mules for carrying their tents and supply of food. The next morning he walked two miles up the road with them and, on leaving, turned to the Miss Sahiba and said: "How do you know that we British people appreciate what you American missionaries are doing for India?"
"We don't know," was her reply.
"Well, we do, we do," he said earnestly. Then, wishing them Godspeed in their undertaking of bringing help and sympathy to the poor sufferers, the fine old soldier turned back to his camp, and the ladies walked on with sad hearts, for they had now entered a scene of awful desolation. Not one house had escaped; even the roadside walls of stone were all levelled to the earth. Coming up to a place where a village had once stood, filled with a peace-loving, happy people, they now found the ruins of stone and mud huts mingled together. A woman sat beside one of the heaps weeping bitterly, weeping for her husband and children, who had all been crushed to death when their house fell. She had been down at the spring getting a jar of water at the time, and had escaped. Nature still rejoiced, even tho' the inhabitants of the land were in deep sorrow, and the Miss Sahiba almost wondered at the sight. All about them was the bright sunshine, waving fields of golden grain, magnificent shade trees, the fragrance of flower-laden fruit trees, and bright-plumaged birds. But for a distance of two hundred miles, far up the valley, and on into Kuln on the Simla side, nothing was to be heard but the weeping and sobbing of a stricken people. It was pitiful and pathetic to watch the survivors trying to erect little huts for a shelter, as well as trying to dig out the dead bodies of loved ones. Sometimes the ladies passed by six and seven bodies, which had just been removed from the ruins. Animals, as well as human beings, had been destroyed, and the smell from the decaying bodies would have made an ordinary journey thro' that valley an impossibility, but the ladies scarcely noticed it, so great was their heartache because of the suffering people. The Miss Sahiba found herself many times sighing this lament:
"Oh, my poor people; how long must you suffer? First the plague, carrying off its tens of thousands, and now this earthquake, with its ruin and desolation!"
They walked twelve miles that day over a road that seemed at times impassable. In the evening they came to the town of Kangra and, as the Miss Sahiba caught the first glimpse of that place, she sat down and wept. For twenty years she had known that picturesque town, built on the sides and summit of a beautifully-rounded hill. In the center of the town stood a golden temple, which was said to be two thousand years old. It lay a glittering, broken mass, as she clambered up over it trying to gain the top of the hill. On the way up, as she toiled painfully over the debris, she passed a poor, half-naked Hindu man, who was weeping bitterly, and he called out to her in passing: "She is dead, too! Oh, how she loved us!"
The Miss Sahiba stopped and inquired whom it was he was lamenting.
"Oh, it is the Mem Sahiba Daueble, the German missionary lady, who lived here nearly forty years. Her words have come to pass. She used to tell us that unless we left off idolatry and repented of our sins some terrible calamity would befall us. It came, and she had to perish with the people. Oh, how she loved us!" Then, with a fresh outburst of grief, he told how all his own family had been killed.
The tent was pitched that night beside the ruins of the missionary home, where Mrs. Daueble and two fellow missionaries had lost their lives. On that very day their bodies had been taken out and buried in the cemetery below, in graves which had to be dug with bits of broken slate.
A little below their camping place a fire was lighted that night, where the bodies of more than a dozen Christians were burned. There were not men enough left alive to dig graves for the dead. Scores of fires dotted the valley that night, and the Miss Sahiba knew it meant the villagers were performing the last sad rites over their dead.
A detachment of troops arrived in Kangra a few hours before the ladies, and began at once the gruesome task of exhuming bodies that had lain buried for six days. One of the first to be taken out was the body of a beautiful young Hindu woman, who still lived, tho' unconscious. On being exposed to the fresh air she gasped for breath. A drink was given her, then she expired. Six days alive under fallen walls and broken timbers!
After doing what she could to help the Christians in Kangra, the Miss Sahiba felt she must go up to Dharmsala, which was ten miles distant, and 3,000 feet higher. The English lady said she would remain a little longer in Kangra. Bidding her good-bye, the Miss Sahiba started off alone, but on the way was joined by the Dr. Sahib, who could not rest until he had seen Dharmsala again. It was a place very dear to his heart. Some of the Mission cottages he had erected, and two of his little ones lay buried among the pines in the lovely cemetery.
Not one building did they find standing, save old "Eagle's Nest," which stood at the highest point of the civil station. It was built on a rock.
The Miss Sahiba made her way first to the German Mission house, where a German lady lived who had charge of a small boarding school for girls. She found great difficulty in recognizing the place. All about her lay piles of ruins. By and by she came to a little white wooden gate, which looked familiar. This was the place. The pile of ruins in front was where the Mission house had stood. She stepped carefully over broken slates and glass, over protruding timbers and slippery stones. At the back of this pile she found a tent, and in it her German missionary friend.
"I'm so glad to see you, and thank the dear Lord for sending you," was her greeting, as the Miss Sahiba lifted the curtain and stepped inside. "You are the first white woman I have seen since the earthquake, but before we visit, let us have prayer together." After the little talk with the Saviour they both loved she told her story.
On the morning of the earthquake she was lying awake, waiting for the clock to strike six, before arousing her fourteen girls, who were sleeping on the opposite side of the house. She felt a terrific jar, then a crash came, and she was pinned to her bed by heavy beams and slates from the roof. She could not move a finger. At first she was choked by the dust. When that cleared a little she called to her girls, one by one, to come and help her. Little did she know that her precious schoolgirls, the fourteen Indian daughters, were all crushed to death, not one having escaped. After three hours of waiting she heard footsteps on the ruins, and a man's voice was saying: "Our poor Miss Sahiba is surely killed, too." He stepped on her foot, and by this time she could move it a tiny bit. He noticed the movement and cried out:
"Miss Sahiba, are you alive?"
"Yes," she answered, "and please be quick and get me out of this place."
Another man came, and the two worked faithfully, and soon had her extricated.
Then she learned of her terrible loss.
All she said to the Miss Sahiba concerning it was: "I do thank God for the earthquake. My loss, it is true, is great, but my girls were ready to die, and I believe they are safe in the home above. I am thankful for the earthquake, because it has broken down so many strongholds of idolatry. There was the golden-roofed temple in Kangra destroyed. It had thousands of worshippers every year."
"Yes," said the Miss Sahiba, "and nearly one hundred priests and worshippers who were sleeping there that night met their death when it fell."
"Hundreds of little temples and wayside shrines were also destroyed, and the idols are lying scattered over the hillsides. Oh, God will bring glory out of it to Himself," said this brave, hopeful missionary of the Cross.
Leaving this friend, the Miss Sahiba went out to visit other sufferers. An English tea planter, whose wife she knew, was seated beside his fallen home, with a face white and drawn. He was away at a brother tea planter's the morning of the shock, and narrowly escaped being killed while there, as that house fell, too. He fairly flew over the four-mile road to his home, only to find it a pile of debris, and his beloved wife buried under it. He did not get the body out for two or three days.
Another Englishman, the Deputy Commissioner, was out in camp at the time, and his wife and three children were all killed in the Rest House. The fine old Colonel of the brave little Gurkhas lost his wife and two beautiful young daughters.
So it was, heartrending tales everywhere, but the Miss Sahiba remarked that in the very throes of this awful calamity she heard not one word of complaint or murmuring from either Englishman or Indian.
When she and the Dr. Sahib returned to the Pathankot home they found the Mem Sahiba had grown much worse, and was now alarmingly ill. Dr. Maria White, the beloved senior doctor, who had been such a blessing to suffering ones in the whole mission field, came over at once, and said the Mem Sahiba must be removed to Sialkot, where she would be nearer medical aid.
Hastily a few things were packed and the long journey undertaken. As the Mem Sahiba was carried on a stretcher thro' the streets of the town to the train, the people stood respectfully looking on, knowing that there was little hope of her recovery and return. They said with tears: "She was making preparations to again visit her children in the home land, and now Death is near her." The more pious exclaimed: "May the will of God be done!"
Loving hands ministered to this honored and beloved missionary, and all the skill of a wise physician was brought to bear upon her disease, but the Lord's time had come, and one morning, just a month after the earthquake, Mrs. Barr, for she is the Mem Sahiba in the little book, heard the summons to appear before her King. She had finished a long and beautiful life of service for dear India's women. When she knew the end was near she dictated a message for her children. She told them how she had longed to see them once more, and how she had made preparations for the journey to the home land, but the Master had another journey for her to take, and she was glad to do His will. She also said: "It pays to do the Master's work."
Surrounded by many of those who loved her, she passed away that early May morning, as calmly and serenely as she had always lived.
Her missionary daughters counted it a precious privilege to trim the casket and grave for this beloved one who had been such a sympathetic friend to them in the ofttimes lonely Indian life.
The Indian Christians came in large numbers to the funeral. An earnest middle-aged pastor said at the services, which were held in the chapel of the Girls' Boarding School: "I was only a boy sixteen years of age when I became a Christian, and was cut off from all intercourse with my own people. (He belonged to a high caste Hindu family). I grew so homesick at times that I believe if it had not been for Mrs. Barr's loving sympathy and help I would have gone back to my Hindu relatives. She treated me as tho' I was her own boy. I can never forget what I owe her."
An aged Christian arose and said, while the tears streamed down his face: "God surely loves India, when He permits the dust of His saints to remain here." One after another arose in that solemn hour and recounted her good deeds and gave God the praise.
Her body was laid away in the old cemetery in the corner of what has long been termed the South Compound. This was the Mission's first burial place, and here the dust of many precious workers await the day when the trumpet shall sound and the dead in Christ shall rise first.
The bungalow in Pathankot had lost the one who had made it a haven of rest for all who sought its shelter. The husband was bereft of his life-long companion, and just how true she was in that blessed relationship he knew full well. The children over the seas mourned a mother who never for a moment forgot them, even tho' duty kept her separated from them. And the people of India were deprived of an ambassador from the Lord, who had brought to them the message from the King of Kings.
She had been willing to be separated from home land and children that her less favored brothers and sisters of the Land of the Punjab, who were living without Christ, might be brought to know His love, salvation and power.
Who can say that such a sacrifice has not paid?
---
CHAPTER VIII.

GOING TO THE CONVENTION.
ONE morning in midsummer the blue-turbaned postman brought to the Miss Sahiba's verandah, along with the usual budget of letters, a large package of papers which, on being opened, disclosed a few hundred gaily-colored posters. These contained an earnest invitation to all who loved the Lord Jesus, or who wished to learn more concerning Him, to attend the Third Annual Convention for the deepening of the spiritual life, which was to be held in Sialkot ten days during the month of August.
In the same mail some little white slips were received, asking for special prayer to be made for the convention, that large numbers might respond to the invitation to attend and that the Spirit of God might be manifest in great power.
This convention had grown out of the deep spiritual movement which had touched the Punjab in some places nearly a decade before. Two conventions had been held in Sialkot, and so great was the blessing received, and the impetus given to the church, that a committee was appointed for the purpose of arranging for its being held annually. Already earnest hearts were looking forward to the time when they should meet for a third time in old Sialkot for prayer and praise. At the two former meetings the attendance had been about three hundred. It was earnestly desired that the number might be greatly increased.
After prayers that evening the Miss Sahiba determined to put the matter of "special prayer for the convention" before the girls, and have them decide whether they, in their exceedingly busy lives, could get in some more praying for the meetings. She well knew they would pray earnestly for the convention at the time of worship and at their own private devotions, but she felt uncertain concerning the additional praying.
Their studies each year were becoming more difficult, for they were now working up to the high school standard, and as the school increased in numbers, so did the housework consume more time. The girls did all their own cooking, sweeping and bed making, as well as much of their sewing. They arose at five o'clock every morning. Before leaving the dormitory for the kitchen they would kneel down beside their cots for a few minutes' quiet prayer, and some would take time to read a few verses before going out. They said it seemed to make things go better in the kitchen, and that meant a good deal on a June morning, temperature 100, with a smoky fireplace and more than a hundred cakes to bake.
Immediately following breakfast came morning prayer in the dining room. This time was not cut short. By seven o'clock all were in line outside the gate, to march two abreast down to the day school in the town. There each girl had, in addition to all her other lessons, half an hour's Bible study.
The most precious hour of the day was when they gathered into the large, roomy study at evening time for worship. The Miss Sahiba had been enabled to have a large addition made to the first building, and it was ready not a day too soon for the needs of the growing school. At this time they always sang. Sometimes it was in English, and how sweet that was! Again, it would be in the Hindustani tongue, but oftenest in the dear Punjab tongue, and that was sweetest of all. A chapter would be read, and explained, and questions asked. Then came the requests for prayer. There was often one, which had been sent in by a non-Christian neighbor, asking the girls to remember her at evening worship. The sick were not forgotten; the Mohammedan schoolmates and the church in India were remembered always, and someone nearly always said: "Oh, God, please bless the people in America who are helping to educate the girls of our land."
When the morrow's lessons had been learned and the last girl had gone out from the study, and the light had been extinguished, the Miss Sahiba could often hear girlish voices praying in the dimly-lighted dormitories, or out in the open courtyard. They were praying ere they lay down to sleep.
Was it any wonder the Miss Sahiba thought: "Surely it is well nigh impossible for my girls to find time for more praying in these full days of school life?"
But she showed them the posters, told them of the coming convention, and read to them the little white slips.
"What do you think about the request, girls; can you do it?" she quietly asked.
No one spoke for a few minutes, then one looked up and said: "Let us have time to talk it over among ourselves, then tomorrow evening we'll let you know."
The next evening they came in with their usual bright faces, and sat down in their accustomed places on the rough matting. Worship over, the Miss Sahiba said: "Well, girls?" and they understood. Rukmonee spoke for them. She said: "We have thought of one way, and only one, by which we can do this praying. If you will allow us to arise at four o'clock in the morning we will give from that until five in praying for the convention."
"Would she allow it?" Her heart was full of thanksgiving for the dear children's solution of the problem of extra time.
"Yes, girls; all who wish to do so may come into my room at four in the morning and spend that quiet morning hour in intercession for God's blessing to be poured out upon all who come up to the Sialkot convention."
From that time on, until the beginning of the convention, the Miss Sahiba was awakened almost every morning at four by the patter of footsteps on the wooden stairway, and a band of girls would slip into the room and, seating themselves quietly, would kneel with their heads touching the floor. One after another would they pour out their hearts before God. They believed God would hear them when they cried unto Him.
Vacation time came ten days before the opening of the convention, and the girls who had homes had gone to them. Some of these were planning to go to the convention with their parents. The orphan girls said nothing of their desire to go, but the slight tremor in the voices when they spoke of the convention, and the wistful look in their big brown eyes told their story more eloquently than words.
Sialkot was 180 miles distant by railway, and the fare for so many girls would be a larger item than the school could afford to bear.
Just a few days before the time for going a sum of money came to the Miss Sahiba, which could be used for this purpose. She hastened out to where the girls were seated with their sewing and embroidery, and said: "Girls, I have good news. You may all go to the convention." A glimpse of the joy depicted on their faces would have been enough to repay the one who had sacrificed in giving that money. How they thanked the Lord for answered prayer! They had been praying about the matter of going to the convention.
The one extra suit of clothing each girl had was washed, a lunch of sweetened, unleavened cakes baked in oil was prepared, and a sheet and blanket for each one rolled up neatly, and on the appointed morning all were ready in good time to go down to the station for the train which would carry them to that blessed place of prayer.
Arriving on the station platform they were taken to the car which bore the words, "Women Only." It was filled with Hindu and Mohammedan women and children. There was a flutter of excitement when the dozen Christian girls, so neat and clean, entered the compartment. Some of the passengers, fearing defilement, gathered their skirts around them closely, and crept nearer to the place where a few gaudily dressed, but unsavory high caste women sat. Others of the passengers pressed around the girls and, full of curiosity, plied them with questions.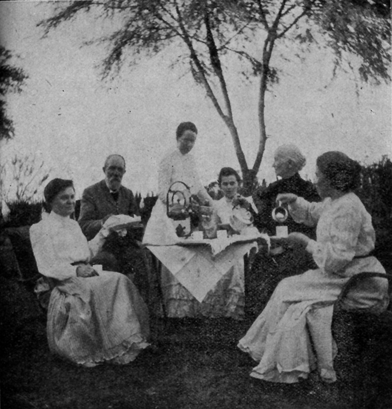 THE PATHANKOT BAND, 1904.
The girls had girded themselves with the armor of God, and so were able on that all-day's journey to witness for Jesus before scores of unsaved women. They had their Bibles and Psalm books with them. They read and sang and talked until some of them were hoarse when they stepped from the train at Sialkot station that evening.
Many of the women passengers, as they left the train on that day, turned to the girls and said:
"Never before have we had such a beautiful day. You have told us of things of which we had never dreamed. You have shown us there is hope for poor women, for you are of our own nation and if you have this, surely we can, too."
The girls said, "Oh, Miss Sahiba Jee, we have had such a lovely day, telling our sisters about Jesus."
The Miss Sahiba remembered that first day's journey with the five little starved girls, and thought as she looked now into the faces of these same dear girls, "Oh, the riches of the grace of Jesus Christ toward these little ones!"
The sun was setting in splendid glory as they left the station and started to walk the mile that lay between them and the convention grounds. A heavy shower of rain had laid the dust and every clean, little leaf on the great shisham trees that lined either side of the highway glinted and sparkled from the refection of the sinking orb of day. The girls, as they noted the clear, shining splendor of all nature, felt a great desire in their hearts to be washed from all defilement caused by sin, and prayed that the rays from the Sun of Righteousness might make their lives to sparkle and shine for Him.
The Miss Sahiba, who was a member of a committee appointed to care for the women and girls who might come alone to the convention, had gone over two days ahead of time. She expected that she and her girls would be first on the grounds, but great was her joy when she found that her brother missionary, Rev. W. T. Anderson, from old Zafarwal, with more than a hundred of his people, were there before them. His people were all from the country. They were hard working, and all were poor, earning not more than five and eight cents a day, and there were many mouths to feed.
Some were farmers, some day laborers, while others were teachers and preachers.
They came to this convention with their wives and children, for all were hungry for more spiritual food, and they were willing to deny self that they might receive it.
The Miss Sahiba went out among them in their camping place and had a good visit while they cooked their supper out in the open. Many years before they had been her people and she rejoiced to see how they had grown in the spiritual life. Some of the men had walked thirty and forty miles to reach the convention, while the women and babies were jolted over rough roads in clumsy ox-carts. A few of the carts had stuck fast in the quicksand while crossing the river Deg. When the missionary drew near he heard the sound of singing–the men were singing Psalms as they struggled to lift the heavy wooden wheels out of the treacherous sands of the river bed. The missionary said:
"Shall I stop and help you?" One of the number called out, cheerfully, "Oh, no, you have much to do in Sialkot; you hurry on and tell the people we are coming. Well get through some way." And they did.
This was a good beginning for the convention and the Miss Sahiba now expected that at least eight hundred or nine hundred would come. That number came, and still they kept coming, until every place was full and overflowing, for the accommodations were not great. Some came a distance of one thousand miles to the south. A band of seven from Central India had a journey of seven hundred miles. Many traveled hundreds of miles.
Different denominations were represented. Episcopalians, Presbyterians of many shades; Alliance people, Methodists and others came joyfully together.
English, Scotch, Welsh, German, Canadians, Americans, Bengalis, Hindustanis, Pathans and Punjabis all sat side by side for ten days in most blessed fellowship and communion with their dear Lord. The Lord makes His people one when they allow Him.
The first Sabbath evening meeting began at five o'clock. Hundreds filed into the chapel hall and took their places in an orderly manner on the matting, which was used in lieu of seats. There was no room for benches or chairs. The wide front veranda was also packed with people. The speaker, who had not been announced beforehand, was a Welsh missionary from the province of Assam. He had traveled over hills and plains, on foot and by railway, one thousand miles to reach the Punjab for this meeting. He stood in the open doorway and spoke. Very seldom was the pulpit occupied during those days. The speaker stood where he could find a few feet of standing room. The sermon lasted only twenty minutes. The subject was, "Can God trust you with power?"
Oh, how that question pierced its way like an arrow into every listener's heart! The speaker said, in part:
"Some of you have been praying for weeks for power, for more power. Have you thought how you would use that power if God gave it you? Can He trust you just now with it? It may be a pastor is in this audience, who, if he had that power and souls were being brought to the Lord would take all the glory to himself and would rejoice and be glad when people would say, 'What a powerful preacher; conversions wherever he goes.' It may be some one is before me, who, if he had this power, would use it in accumulating wealth for himself and God would get none of his time and no glory from his life. Oh, I fear God cannot give us power because we are not worthy of trust, and yet how He wants men who can be trusted." Then the speaker sat down, but no one arose to leave. A great hush fell upon the people. By and by a sob burst forth from a pent-up heart, then another, and another, until a great sobbing wave was passing over that large audience, which had received God's message with open hearts. Men, women and children fell down on their faces before God and wept over their great selfishness and pride, their lack of love and earnestness in His work and told Him how unworthy they were of trust and how they desired above everything else to be made fit to receive power.
Then followed an awful time of heart searching. God's Spirit fell upon the people, convicting them of sin. Sins long hidden away in memory's gallery, where it was hoped they would never be revealed, were confessed in that room before God that night. Each soul seemed oblivious of the presence of any save its Maker.
It seemed to the Miss Sahiba, who was seated beside her weeping girls, that this must be something like the great and terrible Judgment Day, when all secrets shall be revealed.
The chairman once cried out, in agony of soul, "Oh, God, do Thou control this meeting! I don't know what to say. If Thou wouldst have us stay here all night, make us willing to remain."
The Miss Sahiba remained until one o'clock, then thinking it was best to take her girls back to their resting place, slipped out quietly, followed by them Some others left at the same time, but there were men and women who remained in that room until daylight dawned, and God dealt wondrously with them.
Thus the meetings continued for ten days and ten nights. There was little preaching, but prayer abounded, and many hours were spent in praising God.
Each afternoon a special meeting was held for the women and girls in the large sitting room of the mission bungalow. One afternoon a very earnest talk was given on the way God was using women and girls in the present revival in India. This talk was also heart-searching. When the speaker sat down he said, "Now let us have a little time for testimony." Quickly one after another arose and told how she had been brought to have a new vision of God's purpose concerning her life and asked the others to pray for her. Finally a young woman, who was seated in the farthest corner of the room, arose timidly and with her voice choked with tears, said:
"I want to tell what God has done for me during the hour we have been sitting here. He has sent love into my heart for my husband."
A lady missionary, who was seated beside the Miss Sahiba, gave a sudden start, as she heard this testimony, then hiding her face in her hands, listened quietly while the young woman continued:
"I came into this room hating my husband. For nearly one year I've refused to live with him. I have not tried to love him. I have not even asked God to give me love. I've been a cause of sorrow to my kind missionary friend. She has pleaded with me for the sake of Jesus to try and live happily in my home, but I would not listen. And oh, I've brought disgrace on the name of our Saviour, whom I've promised to love and obey. I've been a great sinner," and sobbing, she sat down.
A little later in passing along a certain path, the Miss Sahiba saw a group of three seated on the grass under the shade of a tree. They were praying. She recognized the young woman of the afternoon meeting, and the lady missionary. The man, she thought, would be the woman's husband.
That evening the missionary told her the story of the two unhappy lives, and also said that after the women's meeting, the young woman came to her and said, "Please take me to my husband, but, oh, I'm afraid he will not forgive me." On their way across the lawn, they met him coming toward them. God had been dealing with him. It was not long until all three were thanking God for what He had done for them, and for the home which had been torn by dissensions and hatred. Now it would be a place where the Master would love to dwell.
Six months after the convention, the sister missionary wrote the Miss Sahiba:
"I've just been out in B.'s village. You remember what God did for her at the Sialkot convention. You will be glad to hear what I saw in that home. I do not think I ever saw truer joy than I found there. The husband and wife seem devoted to each other. Their place is filled with the spirit of prayer and praise. The condition of the congregation where B.'s husband preaches is quite different from what it was one year ago. The people are praying now. B. is doing a beautiful work among the women and she wears the happiest smile all the time.
"Oh, dear sister, if Sialkot convention had done nothing more than just what it did for this one family it would have paid a hundred times over, but, oh, praise God, it touched hundreds of homes, and its sweet influences are so deep, and far reaching, that eternity alone will reveal all the work of God which was done in those ten days."
---
CHAPTER IX.

THE "POWER" HOUSE.
ON the afternoon preceeding the date of the opening of the Third Annual Convention in Sialkot, the Miss Sahiba found a little leisure from her duties in the women's quarters, and slipped away to the prayer tent, which was being used by those who had purposed in their hearts to be Intercessors, until a room which was set aside for this purpose near the chapel hall should be prepared. A prayer room was now considered of more importance to the success of the convention, than a dining hall, or comfortable sleeping quarters.
In the tent she found four men engaged in earnest prayer. One was a Scotch missionary, and two were Americans. These three men were representatives of three of the large Missions in the Punjab, and they were leaders in the great evangelistic work in North India. Was not she now let into the secret of their great usefulness and powers? They were men of prayer.
The fourth man was of the humble poor of the land. One look into his plain, brown homely face revealed the fact that this Intercessor was a Christian, from the very lowest class of society in India, and his clothing, which did not consist of more than six yards of the coarsest cotton cloth, proclaimed him a very poor man. The Miss Sahiba knew that his monthly wages would not be more than $2.00, and that his presence at this ten days' convention meant real sacrifice, for his wages of six and two-thirds cents a day would cease while he attended these meetings.
Another look into his face, and the Miss Sahiba felt herself held by an irresistible power. The man's eyes were closed, his hands were clinched, and great cords stood out on his face as he prayed. She was looking into the face of one who was agonizing in prayer, one who had entered into fellowship with his Master in His sufferings. Oh, how that Punjabi brother prayed for the salvation of India's people, how he pleaded in the name of his crucified Lord, that He would, for His own glory, come in great power to that convention and convict men of sin and lead them into righteousness! He was alone with his God in that little tent. His soul had entered into the very secret of the presence of God, and the Miss Sahiba as she looked on in grateful wonder, knew that this brother was realizing the blessedness of sweet fellowship with Jesus.
She could only remain for a little while in that sacred place of prayer, but she afterward learned more of this Intercessor. He had come up to Sialkot not to be seen or heard, not even to listen to man's voice, but simply to be hidden away in prayer and supplication while the convention should last.
She also learned with deep interest a little of his life's story. He was born a Chuhra, the lowest caste, in a village ten miles distant from Sialkot. He had been led to Christ, when he had attained manhood, by the earnest efforts of a Christian worker in the Scotch Presbyterian Mission. He had been living the ordinary life of a nominal Christian for several years. He had renounced as false the worship of his god of mud. He attended the Sabbath Day services. He had given up many evil habits. He nearly always spoke the truth, and he showed more concern for the welfare of his wife. He had been taught that even though she was only a woman, she too had a soul which needed salvation. He loved to listen to the reading of God's word, and he sometimes prayed.
Then a change came. A Christian Endeavor convention was being held in his neighborhood and he was able to leave his work for a little while to attend some of the meetings. The Spirit of God was manifest there and this man felt his heart deeply stirred. He began to say to himself–
"I'm not fit to be called a Christian. I've done nothing for my Saviour, who has done all for me."
He wept over his cold, indifferent life and asked God to cleanse him and fill his heart with love to Jesus. He went back to his home, and to his humble service as a wage earner, but he began now to lead a life of prayer. When the day's toil was over, he would enter the little mud hut and kneel down in prayer, while his wife was preparing the evening meal. He had said to her, "I've no money to give the Lord, I have no education and cannot go out and preach, but it may be the dear Lord will teach me how to pray, and let me be a watchman on the walls of Jerusalem."
One evening as he prayed the light of God's glory appeared in that poor little hut, and it was manifest to him, to his wife and to a few of the neighbors. The Intercessor fell upon his face and worshiped God who had so graciously revealed His presence to him, and went out that night, as one of the missionaries afterwards said, himself a living flame of fire.
He now gave all his spare time to prayer. While others in the village played, and sang, and gossiped, and smoked, this servant of God interceded with tears and crying for the unsaved of the world for whom Jesus suffered the terrible agony of the cross.
When the Prayer Room was ready for use it was not left unoccupied day or night during the whole convention. There were some who slept only as they caught little snatches of sleep in that room, while others prayed. One request which was offered perhaps more than any other was, "Oh, God, keep us from slumbering when we should be watching and praying."
So great was the power of God's Spirit felt in that room, and so marvelous the answers to the cries of God's children, that some termed it the Power House, and power truly went forth as these devoted ones watched and prayed.
One day two young men went into this room to scoff and jeer. They sat down near an open door. Soon one of them fell upon his face and screamed aloud, as a remembrance of his sinful life came upon him, and he cried out to the others, "Oh, pray for me, that I may obtain forgiveness. The weight of my many sins is crushing me." Before they left the room both those young men had given themselves to God and went out with a new light on their faces.
A young college student went into the prayer room with a heavy heart. He loved the Lord Jesus, but he did not feel willing to follow Him all the way, nor to bear the cross as Christ was asking him to do. In a few months his college course would be finished, and he would obtain his degree. He would then be ready for any good appointment that might present itself. There was a certain government position, which he had ardently hoped to receive, and that very morning he had received word that there was a vacancy to fill and he would be accepted for it, at a salary of $40.00 per mensem, with rapid promotion in view. What more could he desire? But that same morning another offer had come to him. A missionary had come and said:
"Dear brother, I've been looking for an earnest young college man who loves the Lord Jesus to fill the post of teacher up in a bigoted Hindu city to the north, where Christ is not known. We can only offer a salary of $10.00. Will you go?"
The young man knew that his aunt, who had been as a mother to him, was even now praying earnestly that he would give his life wholly to the service of the Master, and be willing to live a life of poverty that Jesus might be glorified, but his ambition had been to become a government official, where the remuneration would be good, and occupy a position where he would receive honor from man. He had said to himself and to his aunt:
"I'll make money and give to Missions," but the aunt's reply always was, "Jesus Christ wants you."
The battle was now being fought in a corner of the prayer room. By and by he looked up with tears glistening in his eyes, and a look of victory on his intelligent face. He arose and went into the chapel and told the hundreds who were gathered there of the victory won, and how he was going to become a missionary of the cross and would go as a teacher to the Hindu city where the need was great.
Once more the assembled throng lifted up their hearts in shouts of praise and thanksgiving to the One who had caused this young disciple to overcome.
One book could not contain all the wondrous things that were accomplished in and through that prayer room.
In the women's prayer tent, like victories were being won for the glory of Jesus and the results of what took place in those two places of prayer are being seen and felt all up and down the Land of the Five Rivers today.
A white headed Bible Reader, who had found Christ in middle life, and who had belonged to a high caste Mohammedan family, went back to the homes of her city from that convention, with such new found zeal, that the shut-in wealthy women exclaimed, "Our teacher has of a truth been with Jesus."
A pastor of a village congregation reached his home at midnight after the convention. His heart was all on fire and he could not wait until morning to tell his people about it. He called his elders together, and they met in the church. He told them what God had done for his soul. Their hearts were touched, and they began to pray. Before a new day dawned the whole congregation had assembled and a revival meeting was in progress, where indifference and a spirit of criticism had for long prevailed. By the end of the year nearly 300 were ready to unite with that church.
It was twelve o'clock the last day of the convention, which was Sabbath day. The Miss Sahiba was seated on the floor in the chapel hall with 700 or 800 other worshippers, who had already been there for several hours, listening intently to the messages that came from many parts of India, for this last gathering was a testimony meeting. The wide verandah in front was full of convention people, while a tent, which had been pitched in front of the verandah, was packed to its utmost. On the outskirts stood a fringe of non-Christians, pressing forward to catch every word that was said. They, too, felt the power that was present, and a few of their number had received baptism during the convention. Many times were they heard to say:
"We never before saw anything like this."
By and by, a speaker who was standing on the verandah addressing the people, stopped in the middle of a sentence. The Miss Sahiba heard a faint murmur of voices out there, then suddenly all who were seated on the verandah arose and the strains of–
"Ye gates lift your heads and an entrance display
"Ye doors everlasting wide open the way"
floated in. The next lines were taken up by the audience inside, then by those in the tent and it seemed to those who listened that in very truth,
"The king of all glory had entered in state."
Outside they sang:
"What king of all glory is this that ye sing?"
And from the inside rang out triumphantly–
"Jehovah of Hosts. He of glory is king."
Surely those who were present that day had a foretaste of the glorious triumph which is awaiting our king.

THE CHRISTIAN PUPILS IN THE AVALON GIRLS' HIGH SCHOOL.
The preaching ceased. Praise had come to take its place, and it could no more be stayed that day, than can the waters of Niagara as they roll in such awful power and majesty over the great precipice.
The singing continued all afternoon. At intervals through the night, sweet sounds came to those who rested, or who prayed. The next morning at eight, as the convention closed, the bands of Christians went down to the railway station singing praises to God, and those who had come from country places made sweet melody as they traveled slowly by foot and by ox cart across the green and level plains back to their quiet village homes.
It was Sabbath evening before the Miss Sahiba learned how this wonderful outburst of praise had started at the midday meeting.
A man of the Church of England, who had been a Christian for thirty years or more, had come up to the convention as a newspaper reporter. Quietly and patiently he had sat throughout the ten days' long sessions, taking notes of the proceedings. On that Sabbath forenoon he was seated on the verandah, leaning against a pillar, pencil and paper in hand. A missionary who sat next him noticed that the pencil dropped from his hand, that his eyes were closed, and that he seemed to be laboring under great emotion, but he supposed it was only some deep truth which had laid hold of his heart, and was holding him in its power.
After a short period his eyes opened. They were full of tears and a strange wonder. He tried to speak but could only whisper. He succeeded in attracting a Christian brother to his side and to him he whispered:
"I have a message from God. Deliver it at once. God says:"
"Do not preach anymore. Sing my praises!"
This man arose and said to the speaker:
"Stop, a message has come through one of God's servants, telling us to praise God. Let us sing."
Then it was the Miss Sahiba heard the voices singing:
"Ye gates lift your heads."
The brother afterwards told a chosen few of the vision he had, a vision of angels praising God. Hs said they stood by thousands just in front of the chapel hall. A voice came to him, saying:
"Tell my people not to talk any more, but just to praise me. I am being praised by the heavenly hosts, but, oh, I want my redeemed to praise me!"
And the brother in great fear cried out, "Oh, Lord, I'm a sinful man, the people will not listen to me." A second and a third time the command came, then the vision passed away and the man in weakness and trembling gave the message. The people obeyed gladly, and sang and sang in praise the sweet songs of Zion.
Oh, surely their voices blended that day with the heavenly hosts in singing praises to the Lamb who is worthy!
Six months later, one day in the chilly month of February, eight persons met in the beloved Scotch missionary's home in Sialkot, to make plans for the next Sialkot convention. One of the number was the brother who had had the vision. From seven in the morning until ten at night this committee conferred with the Lord and with one another concerning arrangements for the Fourth Annual Convention. As the clock struck ten that night the Scotch missionary, with a beautiful light on his face, said, "I'm sure that, even though we are very weary and need rest, we want to listen to our brother, Waris Din (the man of the vision), tell us what the Lord did for him after the convention."
Modestly this servant of the Lord arose and said:
"First of all, I want to tell you that I now always realize the presence of the Lord with me. It was not so before. I lived far away from my Lord, pleasing myself first. I loved money. I came by that naturally, for my father and my grandfather were both money lenders. I found it a greater pleasure to accumulate and lay by money than I did to read God's word and pray, but I have become a new man since the Sialkot convention. When I went back to my village in the new canal district, I found that something strange had happened to me. Whenever I simply spoke the name of Jesus, I felt a strange moving in my heart, and the tears,–well I could not keep them back. The people to whom I spoke were also melted to tears, and, oh, dear brothers and sisters, the Lord has let me see souls saved. There is something else I must also tell you.
"One night I was walking along a certain path, and I overheard two Christians talking. One said, 'I believe the revival in Assam is a genuine work of grace, because the people are paying their old debts.'
"I stopped and said to myself, 'Oh, Lord, that is your message to me. I'll pay my old debts. Remind me please of each one.'
"I went home, sat down on the floor, and made a list of all the debts the Lord brought to mind. Oh, I was so ashamed of what the list revealed! There was a photographer's bill of many years unpaid. I had forgotten all about it. I owed our Mission twenty rupees and the missionary from whom I had received the money was dead. The list was long, and it took much money to make it right, but I can truly say, that I had greater joy in withdrawing money from the bank to pay my old debts, than I formerly had in depositing on interest. It took many weeks to finish this task. When every debt had been paid, I was so happy. I said to the Lord, 'If there is anything else in my life not pleasing to Thee show that to me, too.'
"Then I remembered that I still had some bitterness in my heart toward my son who had married contrary to my wishes. I could get no rest until I had journeyed to his home and told him that I forgave him, and wanted his forgiveness. A wonderful work of grace grew in that home from this meeting.
"There was one thing more the Lord had for me to do.
"In going along a road another night, I heard a voice say so distinctly:
"'Waris Din, go down to Ajuala and speak to your Christian brother who lives there.' Instantly I answered, 'Oh, Lord that is hard to do, we have not been on speaking terms for twenty years. He may not be willing to forgive me, but if you want me to go, I'll obey, for I must please Thee now in all my ways.'
"I reached the village at midnight. The outer gate was closed and I knocked on it. From within came a voice,
"'Who is there?'
"'Your brother Waris Din stands without.' I answered, while a fear was in my heart lest I might be unwelcome.
"To this came the reply–
"'Brother Waris Din, it is now late. Go to the guest chamber, which is open, and I will see you in the morning.'
"In the guest room, I found a man on his knees beside his bed and groaning as he prayed. I knelt down beside him and the Lord let me help him in his trouble. Then I knew why I had to take that midnight journey. Next morning my friend met me with open arms, and all our differences of the past vanished away as does the mist under the rays of the morning sun."
As the brother sat down the wife of the Scotch missionary looked into his face and asked earnestly:
"Waris Din, do you always obey God?"
Simply as a child might have answered he said, "Oh, Mem Sahiba, I do not dare to disobey God. For thirty years a veil hung between us and I could not see His face. I cannot now live without the light of His countenance shining on me."
Then the wife of the missionary turned to the Miss Sahiba and said, "What would not you and I give tonight to be able to say as does this brother, and with all his sincerity, 'I do not dare to disobey God?'"
Waris Din had learned to live always in the "terrible crystal" of God's presence and this also grew out of the "Power House."
---
CHAPTER X.

A MIDNIGHT PRAYER MEETING.
A QUIET little gathering for "women only" had been arranged by the Christian workers in the old Sikh city of Amritsar, and invitations were sent out to the four large Missions of the Punjab, asking all women who could, to come up to their city for a five days' waiting on God in prayer.
Tents for their accommodation had been pitched on a beautifully shaded lawn, which faces the fine old buildings of the Alexandra Girls' High School. Dining tents were placed conveniently near, and food could be secured at the rates of 16 cents daily, or at 8 cents, or even as low as 4 cents. The caterer was a devoted Christian woman of India. All the speakers were women, so this gathering was in every respect a woman's meeting.
Doctors, teachers, zanana and district workers had responded to the call from among the missionary force. The Girls' Schools sent head mistresses, teachers and some pupils. Pastors' wives and village teachers were found in goodly number, while not a few of the quiet home keepers had left the family cares for a few days that they, too, might sit at the feet of Jesus in company with other sisters and learn what He would have them to do in order that His kingdom might be quickly extended.
In all two hundred of the women of the Punjab met together.
The first meeting was presided over by Lady Harnam Singh, a true daughter of India. Her father was a noted Indian pastor in the Presbyterian Mission, and in her girlhood days she was married to a young man who belonged to an ancient royal family, and who stood next as heir to the throne, but who had given up all this worldly glory and power that he might become a follower of Jesus, whom he had learned to love. He chose Jesus as his Sovereign rather than himself sit on an earthly throne. His wealth was not all taken from him, and he and his wife had been enabled to travel over many parts of the world.
This woman of culture and many attainments presided over the meeting with such simple dignity and grace that she quite won the hearts of all the Christian sisters.
One little group of women from a distant city, in the bounds of the United Presbyterian Mission, attracted the attention of the Miss Sahiba from the first day. The leader of the band was the wife of the district missionary of that place. She had brought with her seven village women and their babies, for they could not be left behind. For the first time she had left her own precious little girl of two years at home, for she knew all her time and strength would be required in helping her "seven" with their babies. She was willing to deny self that these sisters might have an opportunity of growing in grace. She longed for them to become "cleansed channels," through which the blessing could flow to their multitudes of sisters living in the barren wastes of heathendom.
Two tents had been set aside for prayer. Every afternoon this missionary and her band of seven could be seen going into a prayer tent which was close beside the Miss Sahiba's tent. In every way this earnest sister devoted herself to the help and comfort of her women. She slept in their tent and helped to take care of the fretful babies. She sat on the ground with them at meal time, in the 4-cent dining tent, and ate the same coarse food they had. She accompanied them to all the meetings.
On the fourth day of the convention the theme was the Cross. Even the most indifferent listener was touched that day, and all hearts were melted. They had a look into the face of their crucified Lord, and pride and coldness fled away ashamed.
That night, as the Miss Sahiba rested quietly in her little tent, with some of her own dear school girls around her, and her sister in the work, Miss Laura Cleland, for whose sympathy, prayers and loving help she has many times thanked the Lord of love, she heard a sound of weeping and voices speaking softly over in the prayer tent. She slipped across the way, lifted the curtain of the tent and went inside.
A dim light burned in one corner. In the center of the tent knelt the devoted missionary mother with her face bowed to the earth, praying for her women, and they were all prostrate before God, pouring out their hearts before Him in humble contrition because of their sins. They were telling the Lord how their family cares had seemed an excuse for not telling others the good news. How their coldness and indifference had driven some away from the dear Lord, how they had said they were ignorant women and could not teach, but that day they had seen Jesus on the cross, and they knew now their sins had helped to cause Him that awful suffering. When they reached that point they sobbed aloud, for they had had a vision of what Calvary really means. The Miss Sahiba knelt down beside them, and the memory of the confession and consecration of that devoted band of India's daughters at the midnight hour will always be as sweet fragrance to her soul.