"Chapter VI." by Edith Durham (1863-1944)
From: High Albania (London: Edward Arnold, 1909) by Edith Durham.
CHAPTER VI
THE PROKLETIJA, SHALA, AND SUMA
"Ah, 'tis an excellent race, and even under old degradation,
Even under hodja and Turk, a nice and natural people."
AS far as Okolo it was easy going; there we lost over an hour waiting for our escort, who was waiting for a mule, which was waiting for a man, who was unavoidably delayed because, &c. &c. By the time we got to the mountain-foot it was hot. It had not occurred to me before that it was possible to find a way over what looked like a wall at the end of all the world, but I followed the Padre, who rode the Moslem's horse, and we started up a steep, very steep trail that zigzagged over masses of loose rock and boulder that had crashed down from the mountain above. The higher we got, the steeper was the track that crawled on a narrow edge. I wondered each time we turned a corner where my beast would find footing for his four hoofs, and the loose stones bounded into space.
About half-way up is a great cavern formed by a mass of overhanging strata, and blackened by the fires of the wayfarers who rest here. We dismounted. Above us rose a cliff with sprawling pine trees here and there. Nevertheless, except that the trail crawled along edges with a sheer drop, and was very narrow, it was not bad, for pine logs laid across it in all the steepest parts made a rude staircase. We climbed it on foot, and the mules followed; the Franciscan was by this time enjoying himself extremely. He flew ahead, reached the top of the pass, and roused the echoes by yelling a demoniac laugh of his own invention till the mountains rang with gigantic mirth. I struggled up the rocky steep, happily believing that we were at the top and only had to trot down into Vuthaj, and turned the corner to find the Franciscan, his brown habit girded to his knees, rejoicing in front of a wall of snow, some twelve or fifteen feet high, that blocked the pass. I was astonished–Marko aghast. "Oh, it's nothing; you wait and see!" cried the Padre. He proposed the local drink–snow beaten up in milk–which, by the way, is very good–and mixed some. We started again, and scrambled up on the top of the snow. It was thawing in the sun, soft and very heavy. I was wearing native raw-hide opanke, and was soon wet half-way up to the knee. The dazzling snow-slope cut sharp against the sky. A few yards more ploughing upwards and we should be really over the pass; but we got to the top, and, behold, a white desert of snow–a deep, snow-clad hollow, a sharp rise, snow-peak over snow-peak–snow as far as could be seen. The Franciscan gathered his skirts around him, squatted, gave a yell, and shot down the slope, and ran round and round at the bottom in wild circles like a playful dog, shouting German and Albanian equivalents for "Oh, let us be joyful!" The mules tried zigzagging, gathered speed rapidly, and landed in a heap. So did I. Marko was indignant. "Why didn't you tell us there was snow?" he asked.
"Because I knew you would not let her come, and now she is going to Vuthaj! Going to Vuthaj," he sang. "Oh, there's lots more of it! I don't suppose we shall arrive till late in the evening. We aren't half-way yet."
"But you said six hours!" said Marko.
"I said six hours if you went very fast! and in this snow, of course, you can't."
We ploughed on up the next slope. The hollow was a sun-trap. I clawed and slithered on the molten surface, sometimes going in knee-deep. My feet were dead with cold, and the sun was scorching my back.
We came out on a hard snow level, mounted, and rode over a considerable piece–much to my relief, though a bit risky. The snow, where it had in places melted away from the side-walls of rock, showed twenty and more feet deep. Then came another long slither through wet snow, ankle-deep. Getting off the snow on to terra-firma took time, as in places it was thin, and it was possible to fall through into deep holes between the rocks.
We got down into a valley where grass sprouted through puddles of snow-water among great boulders, and halted to feed man and beast.
There came a long descent on foot, zigzag through magnificent beechwood, and out into the valley below. Along this we rode cheerfully, passing a small lake, very blue and deep, but made, I was assured, entirely of snow-water, and dried up in the summer. We were now in the Forbidden Land, the Prokletija. Marko was anxious; the Padre carolled gaily–sang "The English are going to Vuthaj," and became more and more festive.
In all that happens in the Balkan Peninsula there is more than meets the eye. I now learned the wheels-within-wheels that worked this expedition. A certain Austrian some time previously had given dire offence to a native of Thethi, and blackened his honour. The said Austrian had tried to get to Gusinje, and failed. It was believed that if an Englishwoman got farther than he had, he would be most intensely annoyed. I was a pawn in the game of annoying Austria. Nor was the game to be so easy as had been said.
A halt was called. I was told that I figured as the sister-in-law of one of the party, and that I must take off my kodak and fountain pen, as they were not in keeping with the part. Also, though the people of Vuthaj mostly spoke some Serb, I had better remember that I was in a Moslem land, and hold my tongue.
I was not at all pleased at this, as I had meant the expedition to be all above board. But it was far too late to go back–nor did I want to. Bound not to risk a blood feud by indiscreet conduct, I acquiesced unwillingly, and on we went, still descending the stream.
The valley opened and widened, and there lay the scattered houses of Vuthaj, spreading up the mountain-side, over whose flank ran the track to the other forbidden city, Plava.
Vuthaj valley is rich with green pasture, large, well-watered fields, and large, well-built kulas, with high, shingled roofs. In the midst stood a small mosque, with wooden minaret. There it all lay in the afternoon sun. My kodak was thrust into my hand. "Quick, before any one comes! You are the first foreigner as near as this!" Click!–and the camera disappeared again. My escort now all became silent and anxious. Folk came out, and stared at us doubtfully. The Padre hailed an acquaintance, and was well received. We dismounted, and were led to the kula of the owner of the horse–the man we had met at Okolo.
It was a fine house, the best in Vuthaj–gaily painted with horses, a large crescent and sun, and many other objects and twiddles, in a wide frieze below the roof. And it was two storeys high, above the ground floor. As had been agreed upon, I followed my three men humbly and at a slight distance, my eyes discreetly downcast, only taking mental notes asquint as I passed.
We went through a high gateway into a walled yard–which stank, and enclosed a smaller house and a stable–and were led upstairs into a fine room on the upper floor of the big house.
A goat-hair matting covered the floor with gay red rugs upon it. A fretwork and carved screen on one side formed the front of sundry cupboards and niches. The walls were clean white-wash, and the hearth open. A showy European chiming clock stood on a carved bracket, and a smart paraffin-lamp hung from the ceiling. All glass either comes from Scutari by the same route as I had, or comes up from Cattaro viâ Montenegro and Gusinje, as does everything else imported. How it arrives intact is a marvel–but Wedgwood used after all to send his china on mule-packs not so very long ago in England.
The head of the house received us most courteously. Of course it was not etiquette for him to take notice of me. I sat on the floor in a corner as bidden, held my tongue, and looked on.
The room was light, for the windows on the yard side were large. Some millstones lay handy, to fortify them at a moment's notice. The shutters were well chip-carved.
We were in a fine Moslem stronghold in the Prokletija, the Forbidden Land.
The sick swarmed in to consult the Padre, who was kept busy writing prescriptions and brevets, marked with a cross and beginning "Excellentium crucis," for which there was great demand. And quite a crowd came merely to look at us, for I was said to be the first foreign female and the first female dressed alla franga, in Vuthaj; and the first foreigner of any sort that had come right into Vuthaj.
The housemaster made and handed round coffee and tobacco incessantly. The room was crowded with tall, lean men, few, if any, under six feet–many over–all belted with Mauser cartridges; the Mauser tale was true. The men are of a marked type–very long-necked, often very weak-chinned, with a beaky nose that gives an odd, goose-like effect. I saw this type later among the Hashi and Djakova Moslems. Many were weedy and weakly in appearance, but swagger in bearing. I wondered if this marked type were produced by constant in-and-in marrying on the female side. The costume increases the long, lean appearance. The tight trousers are worn very low–only just to the top of the pelvis–and the waistcoat exceedingly short, so that there is an interval of twelve or eighteen inches between the two which is tightly swathed in sashes and belts, sometimes three broad ones, one above the other, with spaces of shirt between. This gives an extraordinarily long-waisted look, as of having double the proper number of lumbar vertebræ.
The Franciscan suggested that we should go for a stroll, but it was negatived firmly. We were to stay on show, and write prescriptions. The air was stifling; often as many as thirty visitors crowded the room, and stared.
The Franciscan had boasted, just previous to reaching Vuthaj, that he would walk me down to Gusinje, and that we should start back to Thethi about noon next day. But he had reckoned without his Moslems. In a lull in the prescriptions he whispered to me that we must stay all next day at Vuthaj. If we persisted in leaving perhaps we should be fetched back. What did I think? The headman next in importance to our host wanted us to pass the next night at his house. I agreed to stay.
Much talk of ghak followed. Our house was in blood with that just over the way, within easy gunshot, and they had been peppering one another from the windows; whence the millstones. The centre hole in a millstone serves admirably to fire through. Their new Mausers had been "blooded."
They fell into blood thus. The other man's haystacks had been burnt; he accused our house. A council of twenty-four Elders had tried the case, and acquitted our housemaster. Over-the-way persisted in the charge, and, on various pretexts, had the case twice re-tried, always with the same result. Our house was exasperated with the constant re-trying. A free fight took place, and one of Over-the-way was killed. They fired at each other's houses many days. Our house had spent over 600 piastres in cartridges. Now a fortnight's besa had been given, and the case was to be shortly re-tried. Our housemaster lamented bitterly the conditions that made such things possible–the absence of a decent Government and the amount of money that had to be wasted in weapons for self-defence. "Where there is no proper Government, the bad rule," he said.
He was in sad earnest in his desire for better things. Nor need one go as far as the Prokletija to find folk with unrealisable ideals. As he had received us and had spoken so freely, I whispered to Marko to ask him presently whether the district would permit a railway to cross it. He said his house would welcome one, but admitted that some would oppose. The district is one of the most fertile in Albania, specially noted for cattle and horse breeding. With a good road or a railway, he said, they would soon be rich. Now they could only sell their corn to their next neighbours, and send their horses down in droves through Montenegro to Cattaro (whence they are mainly shipped to Italy)–a long and weary tramp.
I looked at the room full of long, lean cat-o'-mountains, and wondered whether it would benefit anybody–let alone themselves–to turn them all into fat corn and horse dealers.
"Civilisation is vexation,
And progress is as bad,
The things that be, they puzzle me,
And Cultchaw drives me mad."
More visitors streamed in. They sent for rakia, and in consideration of our feelings, drank the first glass ceremonially–"Kiofte levduar Christi " (May Christ have praise). I know no Christian village anywhere that would be similarly considerate of Moslems.

A theological discussion began. One of the guests had a friend who had been to Jerusalem and heard on good authority that Christ had not been crucified, but had gone straight to Heaven, and that another had been crucified in His place. The Franciscan, in a whisper, asked me if he should argue the point and improve the occasion. I said, "Don't. They have received us as their guests, and we must not make trouble." And the subject dropped.

It was now 10 P.M., and we had eaten nothing since noon. But still we continued to attract spectators who came, gazed, and commented and threw cigarettes at me, all of which were duly collected and smoked by Marko and the Franciscan. A man–a most weird creature, with dark eyes, a great pallid face and clean-shaven skull–came in with a tamboora and played and sang interminable ballads, his lean fingers plucking strange trills and wonderful shakes from the slim, tinkling instrument. The room was foggy with tobacco smoke and reeked of humanity. I rocked and dozed in my corner. The Franciscan whimpered pitifully, "Oh, I am so hungry." Marko looked careworn. At last the women–who had long been peering at us through the door-way–came in, unveiled as are all the mountain Moslems–and laid the sofra. They fingered me curiously, and spoke freely to many of the men, brought the ibrik and soap; we washed, and I was invited to eat with the men of the house, and Marko and the Franciscan. The head dealt round wooden spoons, and gave us each a huge chunk of hot maize bread. The women set a large bowl of boiled lamb and pillaf (rice) on the table. Some one recounted that the former Padishah, Abdul Aziz, used to have twenty-four fowls stewed down daily to make the juice for his pillaf to be cooked in.

The company fell on the soup, and the meat–in an incredibly short time–was left high and dry. Our host then tore it up with his fingers, and flung a lump at each of us. The Franciscan, as honoured guest, was given the head, and politely threw it back. It passed backwards and forwards, and they finally tore it in half–"honours were divided." I was helped last with what was over. They ate like wolves, tearing off the meat, bolting great lumps–apparently whole–and flinging the bones behind them. Eating boiling-hot, greasy mutton that slips and scalds, and will not be torn to convenient mouthfuls by one's unaccustomed fingers, requires much practice. In a few minutes all was cleared. The shoulder-blade was held up to the light, and gave good omen. The empty bowl was whisked away, and one of kos (sour milk) followed–a dish which is poison to me, though I am assured that it is not only wholesome but is used as a "cure." I made up by chewing maize bread laboriously. The kos was finished before you could say "Jack Robinson." I doubt if the whole meal took more than fifteen minutes.

Meanwhile the visitors sprawled on the floor in heaps, drinking black coffee, and the harsh voice of the singer and the thin, acid notes of the tamboora rose and fell amidst the buzz of talk. The women came and removed the sofra, and we washed. There seemed no signs of bedtime. The Franciscan and I were both dropping with sleep, and woke one another up at intervals. It was past eleven when the last of the visitors uncoiled his length from the floor and strolled off.

Then the women came and spread the mattresses. I had expected to be sent to sleep in the women's quarters, but after a long debate it was considered proper to put me in one corner and place the Franciscan across it, and to arrange the six men of the house and the men who had come with me, in a row on the other side of the room. The Franciscan–believing, as most Christians do, that the Moslem faith can be distinguished by its peculiarly unpleasant smell–was pleased with this arrangement and remarked cheerfully, "How lucky for me! You do not stink."

It was nearly midnight when we were all arranged. I dropped asleep as soon as my head touched the mattress. And at 4 A.M. in came the housemaster with a clatter, made a terrible noise lighting the fire and making the morning coffee. Every one began to arise and shake themselves. I was sick with unsatisfied sleep, and knew not what to do. Squinting from under my cover, I perceived the Franciscan still slumbering sweetly and decided to sleep again. But the populace, though having nothing particular to do, was bent on Daylight Saving. Soon the room was crowded, as it was the night before, all coffee-drinking, in the cold grey dawn.

Sleep was banished. At seven o'clock, somewhat rested, I arose dishevelled, and asked Marko for the little packet of soap, comb, toothbrush, and towel, that had been rolled in my coat and strapped behind my saddle–all I possessed in the way of toilet apparatus. Alas! at the top of the pass some one had rearranged the saddles, and the bag was lost. I was depressed at the idea that for the next ten days I was doomed to go uncombed and untoothbrushed, but Marko was truly delighted. He thanked God and rejoiced whole-heartedly. "Now we shall get away alive. We have had our misfortune!We've lost something. And," he added cheerfully, "you don't want the things. A toothbrush!" In England a toothbrush is no great rarity, but the gods of Albania had possibly never before received such a rare and precious gift, and may wait long before acquiring another. At any rate, propitiated they were.

The Franciscan, who had also arisen and shaken himself, now told me he had been definitely forbidden to take me to Gusinje or go himself. I wanted to go quite alone and chance it, and believe it would have been possible, but as my men insisted they would follow, and it would certainly have got them into trouble, I dropped the cherished scheme.

The Franciscan then asked leave to go for a stroll. A great debate ensued. Then a large company came out with us, and walked some hundred yards to a plum tree. Here we were told to sit down, and sit we did, encircled by our escort. And after half-an-hour we were taken back again.

Incarcerated once more in the room upstairs and left with instructions to stay there, Marko became very anxious. "You would come," he said; "now we are prisoners, and God knows what will happen."

I was obsessed with the idea of seeing Gusinje–harped only on that, and thought of nothing else.

The Franciscan looked odd and anxious, but industriously kept up rather forced merriment.

Dinner was the same as supper. We were again left alone, and. told to wait till the other house was ready for us. So I went to sleep, and Marko whiled away the time by blaming the Franciscan for getting us into this mess. When I was waked at three o'clock, and told the horses were ready, they were both cross and depressed.

We were escorted downstairs. Our host, courteous and dignified to the last, said good-bye at the gateway, and pointed out how the angle of the wall had been whipped and chipped by Mauser balls in the recent fight. Some men of the house walked with us, and handed us over to men sent to meet us.

Our new host was in his "country house," for the purpose of pasturing his flocks. It was in the valley along which we had come.

When we had gone a short way, the Franciscan told the men to go on with the horses, and said we would follow. No objection was made. We climbed a rocky hillock in the middle of the valley, and followed its ridge till we could see round the corner.

"Is there light enough to photo?" he asked.

"Photo what?" said I.

"Gusinje!"

And there across the fertile plains, half-buried in trees, lay the little town about two miles away.

I had by now given up all hope of seeing it and stared amazed.

"Childe Roland to the Dark Tower came," flashed most inappropriately into my mind, for the spot was sunny, cheerful, and verdant. The river serpentined towards it. The plain was scattered with little white houses.

It was five years since I had first tried to see this Promised Land and now I had to be satisfied with seeing it from the heights. But I had seen it at last.

One of our escort came to find us. He explained now why we had been kept shut up. News had reached Gusinje that a foreign Giaour was in the neighbourhood, and a suvarri had been sent to reconnoitre and arrest. But our gallant host had been loyal–had kept us concealed, and only sent us out when the coast was quite clear.

The sun was setting as we turned from the hill. It was almost dark when we reached our new quarters.

The scene within the house was magnificent. It was nothing more than a huge, rudely-built stone cattle-shed–vast, cavernous–lighted only by a pile of blazing logs. Great curtains of cobweb hung from the smoke-blacked rafters above. The walls and the posts that bore the roof glittered with cartridge-belts and brand-new Mausers, the weapons of the four-and-twenty tribesmen gathered to meet us. The ground was thickly strewn with heaps of newly-cut bracken. An Homeric meal was served on many sofras. The twenty-four men-at-arms, brave, with heavy silver chains and silver-mounted revolvers, couched like panthers in the ruddy glare, was a sight to remember. Two serving-men held flaming torches aloft, by the light of which we tore and worried the seethed lamb. The roof rang with laughter, song, and the tamboora. The door was shut and barred, the fire was roasting hot, and the smoke almost blinding. The warriors, replete with fat lamb, sprawled on the ferny beds. The women squatted in a far corner and devoured the remains of the feast, then performed their prayers, rising and falling, genuflecting and prostrating, dim figures through a curtain of coiling smoke. The men prayed not, nor genuflected, but lay down to sleep in a long row, packed close under sheets of felt or their own hooded cloaks.

The house-master came and put me and my two companions in a row, spreading a large yorgan over me.

"With respect," said the Franciscan, gazing wildly round–"here one gets lice!" It was a point I could not be bothered to argue. I shoved my coat under my head and slept at once, waked frequently by the poor Franciscan whining miserably: "Ah, I sleep so badly! I think always of these lice. I think I feel them now."

Before four the women were already making the daily bread, wrestling with the dough in a big dug-out trough as the grey dawn struggled through the chinks in the roof. The atmosphere of the yet unopened house was asphyxiating. I strode over the bodies of the sleeping men and hurried to the door. Marko followed, rousing up our guide and sending him to catch and saddle the mules. We had meant to start at five. We did not. The Franciscan had gone to sleep, at last, in spite of his fears, and now nothing would make him arise. When we brutally woke him, he said he was going to sleep again, and did so. By the time he emerged and was ready, a large party of excited men had arrived from Gusinje. A noisy parley ensued. No stranger, they said, ought to have been admitted into the district. Marko became very anxious, and was sure we should be detained. The leader of the party had me asked if I had "anything written that showed where treasure was hidden." Countless treasure was buried somewhere near. I was not to take it. After a long hour's pow-wow they trooped off back to Gusinje, and as soon as they had turned the corner we mounted and rode quickly away. Nor was it too soon, for men were sent out from Gusinje two hours later to capture us.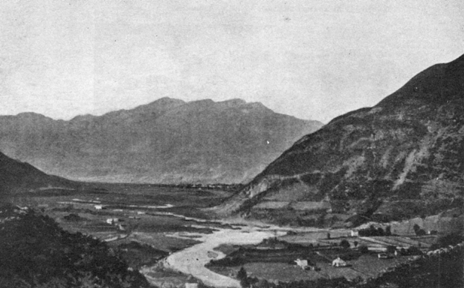 VALLEY OF GUSINJE.
At the top of the pass, flocks of sheep and goats trailed single file over the snow in long dark line, the first up from the plains. The drovers shouted that if we wanted mutton we could look for a sheep that had fallen over the precipice–they had no time to lose–must be over the mountains before sundown.
This inspired my party. We hurried on, and at the top of the zigzag, where the edge dropped sheer away, the faint cry of the wretched beast rose from the depths. Our guide lay flat, craning over and clinging to the pine roots, and saw the sheep on an inaccessible ledge below. A rifle-bullet killed it, and a shower of rock dislodged it. At the bottom Marko, the Padre, and I waited while the other two mutton-hunted and returned triumphant with the bleeding carcase. A great disembowelling took place at the river's source, and there wandered up a ragged old man, who collected the coil of slippery guts in his arms and begged–if we did not want them–that he might have them to make soup. We left him asquat on the stream bank, washing his treasure-trove. That night we supped off shot sheep. And this is the story of how I did not get to Gusinje.
Of the origin of the Gusinje people I learnt only that they derive from many stocks; that before turning Moslem they were Orthodox, and had never been Catholic. Also that they can almost all speak Serb as well as Albanian. Which all points to a possible Serb origin, though much intertribal "sniping" now takes place between them and the Montenegrin border tribe, Vasojevich.
Of the even more remote and reserved folk of Plava, on the mountains above Gusinje–who have driven away more than one Turkish Governor and troops–it is said that part derive from the Catholic tribe of Hoti (I had this from a Hoti man), but that others, who are "very impudent and defiant," are "very, very old," and a long time ago were called Pagani. I asked what was the religion of these Pagani, but my informant knew only that now they are Moslem. The word had no meaning to him. It would be interesting to find if they passed straight from Paganism to Islam. It is not impossible.
I left Thethi early next morning from Lower Shala with two fine white mules, and their owners, who lived in a kula, high on a crag. The trail along the left bank of the Shala River is good, rising higher and higher on the mountain-side. About half-way our two men suggested a halt at a big kula –for water and a rest–a great rude four-square tower, with a stone staircase outside to the first floor.
The xoti i shpis (lord of the house), a tall, lean, eagle-eyed old man, welcomed us to his eyrie.
A wooden ladder led up inside to the top floor–the family dwelling-room, where thirty-one human beings lived together under the autocratic rule of the old man. The sickening stench of crowded humanity was heightened by the presence of two large sheep, penned fetlock-deep in manure, on one side, and two small loopholes were the sole means of light and ventilation. Fresh brushwood was cast on the half-dead embers of the hearth in the centre, and the dense resultant smoke temporarily overcame the other odours. The heat under the stone sunbaked roof was suffocating.
The house-lord, as is etiquette, himself made coffee.
There was a confused din of squalling children. Three, all under two years old, alternately made staggering rushes to the edge of the unguarded trap-door–and were rescued just in time to prevent their committing suicide in the depths–and rushes to obtain refreshment from the breasts of their mothers, which were conveniently exposed.
The men listened eagerly to the questions which the house-lord showered upon us–on the injustice of the Government, the miserable state of the Christians–the hopelessness of any improvement so long as the Turks governed–what did I think and advise? I said the first thing to do was to check the blood feuds.
The old man looked up keenly. "Have you a King in your country?" he asked.–"Yes." "Can he read and write?"–"Yes."
"And he makes war on his enemies?"–"Yes."
"Well," said the old man firmly–"we are all poor men. We have no school, we know nothing. If your King, who can read and write, kills his enemies, why should not we poor men kill ours?" This sentiment was greatly applauded. "If one man shoots another man in your country, what does your King do?"
"He sends the suvarris to catch the murderer, a medjliss is made to judge, and he is hanged."
This the old man considered a dirty trick. Shooting is far better. As for trusting the arrest to gendarmes–every one knows what gendarmes are! They would catch any one, and swear he was the man. Nor had he any opinion of a medjliss made by the Government. He knew what governments were. I assured him our medjliss was conducted justly. He replied, "Why spend all this time when it is far more convenient and satisfactory to shoot your enemy yourself?" I told him that in our land people do not carry guns always. He could not understand how in that case a man could protect himself from horse-stealers from over the border. Nor could he realise a state of society where such things do not happen. It filled him with respect for my King, who, he opined, must have killed vast quantities of thieves to have produced such a result. And he begged me to tell my King of the sad state of Albania, and ask him what could be done. If he were really very rich, and would do a lot for the country, perhaps he could be King of Albania too. The great thing was to get rid of the Turks. Any of the Seven Kings would be better than that.
So deeply interested was the old man that he begged us to stay till to-morrow to discourse on these subjects. The extreme filth made this unthinkable, but I left regretfully, for the shrewd old man, with the extraordinary dignity and state with which he offered hospitality and the unhesitating obedience that his subjects all gave to his stern commands, was a human document worth studying. In flocks he was wealthy, his kula fit to stand a long siege, and he had goodly store of wine and rakia. The family lived in one room simply because it was comfortable and convenient, and not from necessity, and, lastly, the sheep lived with them because they bring fertility.
We drank many noble sentiments in strong rakia, among them the health of my King, and I rode away.
The Padre of Abate, the church of Lower Shala, was away, but his servant put us up. In the evening we sat out under the trees, and discussed Shala affairs with them that came to see us. They seemed much pleased with their reputation for a high death-rate. Four men had been killed a few days before in a quarrel, but that, said some one, was nothing. "Sometimes we shoot a lot all in one day. Once," and he roared with laughter at the mere recollection, "twelve were killed for one of these"–he dropped a cartridge from his belt to illustrate his tale. A man missed a cartridge from his belt, or said he did–at any rate it was not there–and accused the man next him of having picked it up. He denied it. The first man shouted "Thief!" the second, "Liar!" The whole company present took sides and a battle ensued. "Every one was shooting and shouting, and when we left off there were twelve dead and a whole lot wounded. Oh no! we never found the cartridge. Very likely he had left it at home."
As an instance of the detailed way in which local history is handed down, I noticed with interest that all the names of the killed were given, though the affair took place a dozen years ago. Peace be to their ashes! The manner of their death still is a joy to their tribe.
We left for Shoshi early next morning, walked down a steep descent to the river, which we crossed on a high wooden bridge protected by a shrine to St. Antony. Following the right bank of the Shala River a little way, we struck up the hill through most magnificent chestnut forests. Shala, under better law, might be a happy valley. It has a superlative water-supply, springs that bubble crystal-clear from out the rock; it is well timbered, and such cultivable land as it has is very fertile. Nor is there any lack of pasture for flocks. We passed many big kulas, and the fields of sprouting maize were all guarded by wooden crosses painted white.
Descending, we crossed a small stream, a tributary of the Shala River, ascended, and arrived at Kisha Shoshit, the church of Shoshi.
The Franciscan (a Tyrolese from the Italian-speaking district), who has spent a large part of his life with Shala-Shoshi, has been collecting and transcribing manuscripts from the churches, and painfully putting together details that throw light on the history of the country. But so many churches have been burned, with all that they contained, that records are few. The earliest he showed me was of 1648, and recorded the assassination that year of five Franciscans; one at Podgoritza.
The Podgoritza Moslems–renegade Serbs and Albanians–were famed for ferocity. Under Montenegrin rule a curious thing has happened. When the town first became Montenegrin a very large part of the Albanian inhabitants retired to Turkish territory. Since then Albanians have been slowly and peacefully reconquering their lost town. The Moslem left, but the Catholic tradesman has taken his place. Almost all the trade of Montenegro is in his hands, and he it is, chiefly, that is employed by the Italian tobacco company there. For the Montenegrin has no genius for trade. Podgoritza is the richest town in Montenegro, but the money is mostly in Albanian hands. The conquered is eating up the conqueror.
According to local tradition, it was to Shoshi that the hero, Lek Dukaghin, came on fleeing from Rashia. A rock–Guri Lek Dukaghinit–that stands high on the hillside across the valley, marks the spot where he first stayed.
Next Sunday was Whit Sunday. The little church was crowded. Many had come a four-hours' tramp.
And always when I went to mass I asked myself fruitlessly, "What does their religion mean to these people?"
That they place great importance on its symbols there is no doubt. The cross is a sort of a charm, marked on bread, planted on every hill, scratched or painted on every door, set on the gable of roofs, worn round every neck, and tattooed on the hand, arm, or breast of the greater part of the Catholic population as a protective charm. But of the real teaching of Christianity they seem to have no idea. The Jesuits have, unfortunately, made an appalling and revolting series of pictures, showing the tortures to which the sinful mountaineer will be subjected, and with these strive to terrify him into obedience. Of Deus caritas I fear he has heard little.
And the pictures defeat their object. When I once heard a man threatened with hell-fire for taking his sister-in-law as concubine, he replied, "We should not be so cruel, and God is not crueller than we are."
The Padre of Shoshi has great understanding of and sympathy with his people. I heard more than one tale of how in mid-winter he had risked his life, fighting his way through snow and swollen torrents, to reach a dying man.
The congregation filed out into the sunshine before I had come to a conclusion about them.
On the space in front of the church a great medjliss took place. The Elders sat in a circle on the ground or on stones. The subject of debate was the case of the child who had been shot at Ghoanni by the Shoshi man. Shoshi, to its credit be it said, was violently indignant over the affair, and public opinion ran so high that the ghaksur had not dared to remain in the tribe, but had fled. The medjliss now was held to decide whether his house should be burnt as punishment.
Many were in favour of this. The difficulty was that there was no law under which this could be done. The blood had been taken outside the tribe, therefore was not a crime against the tribe, and not punishable by it. The duty of vengeance lay with the dead boy's family. All agreed that if they liked to come and fire the house, Shoshi would not oppose them. But, as the near relatives were a crippled father and a child, they were incapable of executing justice.
The question caused great excitement. The burning of the house would entail passing a new law to punish a man for a crime against another tribe. This would mean an entire reconstruction of the code, and nothing less than considering. themselves as a nation, and not as detached tribes.
I asked whether it were not possible at least to pass a law to punish any man killing a child not of age to bear arms.
It was pointed out that if Shoshi did so, and neighbour tribes did not, Shoshi would be at a disadvantage. I asked whether the punishing in this particular case could be trusted to the Turkish Government, but was told that the man had fled none knew where, so that he could not be given up, and that to invite Turkish soldiers in to burn a Shoshi house would be a bad precedent.
The question was discussed for two days, and was undecided when I left.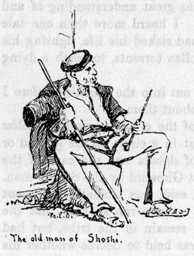 The proceedings of the medjliss were very orderly, save for the great noise; usually a man was heard out with few interruptions; only now and then several shouted at once. Most of the time the case was argued by two men–one on each side–the others assenting or dissenting, but not breaking into the debate. A fine old man, one Nik Lutzi, said to be an hundred years old, the headman of all Shoshi, was one of the chief speakers. Lean, shrunken, but full of life and energy, with a heavy grey moustache and a flintlock pistol, he sat alert and emphatic, thundering his views with a great voice.
I looked on all the afternoon till the meeting broke up. There was an odd fascination about watching the expounding of Lek Dukaghin's law, close to the spot where he is said to have first settled.
According to custom, male blood of the tribe can be taken so soon as the child's head has been shaved. For this reason, I was told, mothers with one little boy sometimes delay the shaving a little. But it is not thought correct.
Popular feeling now seems to be in advance of tribe usage, and it is to be hoped child-blood will cease soon to be liable for vengeance. Till free from the risk of blood, children can never be sent long distances to school.
From Shoshi a fairly good route took us by Chafa Kirit, over the mountains that form the watershed between Shoshi and Lower Pulati, to the church of Kiri, and thence down to and across the river Kiri, tame and shrunken by summer drought. A short ascent on the other side, a descent to cross a tributary stream took us to the church of Suma by about seven.
The priest was away, the house locked up, but we had not long to wait for quarters. A fine young man came down, and asked us to be his guests. The house was a stone one of the shed pattern, one long, windowless room; three men and two women were its inmates, and all at once set to work to make ready for us. One man hurried off, cut great bundles of walnut branches, and made me a springy and deliciously scented couch on the ground just outside the door, where I rested luxuriously. Another rushed to the rising ground above the house, and yelled aloud to the four quarters of the compass: "We have guests; a man from Scutari, two from Shala, one from Shoshi, and a strange woman." The cry echoed around. The house was in blood, and this was to warn all whom it might concern that to-night was "close time for shooting." A house with guests in it is exempt; and again, as the light faded from the sky, rang the warning yell, "We have guests." For it is in the gloaming that the blood-hunter seeks his prey.
Thus had they fallen in blood: The young fellow who had invited us had been engaged from infancy to a girl. When she was ripe for marriage, her father sold her to another; the youth had never even seen the girl, but this was of no moment, his honour was blackened. He went forth and shot a man of the girl's family, and cleansed it; now the family of the slain man hungered for the blood of him or his. He looked on the situation with grim satisfaction, for he knew he had acted righteously.
I lay and listened to the tale while the three men, intent on feeding us sumptuously, slaughtered a kid on a hurdle by the doorstep and were busy cleaning and quartering it.
Just as they were bloody to the elbows–dan! rang a rifle and phew-ew sang a bullet close over our heads from behind the corner of the wall. Down fell the flaying-knives; the three snatched the Martinis that hung handy from the stone brackets by the door, and dashed off in hot pursuit. A yell of laughter followed at once. A neighbour with a strong sense of humour had fired, just for a joke, to make them jump! I lay on my walnut leaves, for I was tired and had not bothered to get up, and enjoyed the joke hugely.
With Marko's help I explained that girls in England were very apt to break off engagements in a light and casual manner, even when the gentleman was their own choice, and to take another, and that no shooting took place. The man had to put up with it, and find another if he could.
They were horrified. The jilted one cried loudly that such creatures could not be called men; such cowardice was incredible. The girl's father ought to be shot for letting her behave so. He could make her obey if he chose. They agreed that this was what one must expect if women were allowed opinions.
It was dark by now. We went into the house and lay round the central fire on couches of fern while the kid was transformed into four courses–soup, chunks of liver and kidney roasted on a spit, boiled kid, and kid baked with herbs. By this time it was past ten, and I was asleep, and had to be waked to eat. And I was asleep long before the lively party had picked all the bones. We all slept on the floor except the head of the house, who slept in a little room, or rather box, of hurdle, hung like a swallow's nest upon the wall and supported below by a post. The house was remarkably clean, and the two women very neat and gay. Hearing from Marko that I liked milk, they had a large bowlful ready for me when I woke in the morning. And it will be long before I shall forget my hospitable and gallant hosts who took me in and gave me of their best, and who lived up to their code, counting their lives as nothing when it was a case of keeping honour spotless. It is by no means every one in a "civilised" land who is prepared to do this.
From Suma we rode up to the top of the mountain ridge that ends in Maranaj, the square-headed mountain conspicuous from Scutari, and saw a wondrous panorama of all Scutari Lake, the parched and yellow plain, and the mountains, peak beyond peak, fading into infinite space in a dazzle of sunlight.
Down we went to the Kiri again, where it pours from out the valley, and the ruins of Drishti stood sharp against the sky on the summit of the hill beyond.
The spell of the wilderness was upon me, and even Scutari seemed too civilised, but we did not enter it in a wholly commonplace manner, for our two men, who had come all the way from Thethi and served us excellently, suddenly announced that for private reasons they dared not enter the town. I fancy Shala owed the Government money, and they feared lest their beautiful white mules should be seized. We had to unsaddle at a kavana outside, and find a man to carry harness and saddles into the town. We had sneaked out in the grey of the morning; we trailed in at even by the back way.
The first news was that the opinion of the Vali need no more be considered. Nor that of Ezzad Bey, the commander of the gendarmerie. The soldiery, sick of waiting for pay long deferred, had peacefully revolted, stacked their arms, and refused to do more drill till things were righted. It was rumoured that the pay had stuck in the Vali's pocket, and that his position was most precarious, and Ezzad Bey, the tyrant of Tirana, had "left for his health," and was travelling abroad–political fever, it was said.
He had, it would appear, had rumours of the approaching events, and withdrawn to a safe place till he knew "which way the cat hopped."
And all this was the cloud no bigger than a man's hand that heralded a mighty storm–but as yet we knew it not.
This chapter has been put on-line as part of the BUILD-A-BOOK Initiative at the
Celebration of Women Writers.
Initial text entry and proof-reading of this chapter were the work of volunteers
Karin Armstrong and Jim Fritzler.