"Chapter VII." by Edith Durham (1863-1944)
From: High Albania (London: Edward Arnold, 1909) by Edith Durham.
CHAPTER VII
DUKAGHINI–DUSHMANI, BERISHA, NIKAJ, SHALA
"The thing that hath been is that which shall be; and that which is done is that which shall be done."
A FEW days in Scutari sufficed to reply to a very belated correspondence and gather an idea of what had been happening in Europe, also to have the girths, crupper, and breast-strap of my saddle looked to–for one's life may depend on the strength of a couple of buckles–and I was ready to start again for the wilderness.
The Vali's opinion, after his recent humiliation, was considered of no importance, so leaving the town righteously and as bold as lions–with two very good horses and an excellent kirijee –before 6 A.M. we were well on our way to Shlaku.
Following up and then fording the Kiri, we struck up country by a narrow shady lane, near Muselimi, rich with great clusters of wild purple clematis. Green and steel-blue dragon-flies flashed in the sun, and countless big scarlet-winged grasshoppers danced in dizzy round, whirring harshly. All nature seemed full of the joy of life. The maize grew fat and luxuriant in the well-tilled fields. There were great fig and olive gardens, and the few vineyards looked flourishing. This, some years ago, the best wine-growing land of the district, was devastated by Phylloxera, and replanting has but just begun. It belongs partly to Moslems and partly to Christians. The desolate stony wastes that now border the Kiri were similarly rich, but floods have torn down all the soil and left ruin behind.
We ascended the valley of a small tributary, and cultivation ceased. The low hills of crumbly red soil are fairly clothed with vegetation and the track good; but neither a house, nor a beast, nor a soul was to be seen, nor any sign of man. Higher up was some cultivated ground, and some men hard at work making an aqueduct, leading water from the stream through a channel they had banked along the hillside and bridging a gap with dug-out wooden troughs on trestles.
To the right of the track, on a wooded, hill, stand the ruins of an old church, Kisha Shatit. Deserted churches throughout Albania often stand in thick woods, as some superstition prevents even the Moslems from cutting wood near them.
The ruins are large. The remains of a tower still stand, and walls of large buildings, said to have been a bishop's palace and a monastery, cover all the hilltop. Within the church lay heaps of human bones, for the natives have grubbed up all the floor in vain search of hidden treasure.
A rude altar, built with sticks and boards against a tree, showed where mass is still served once a year. It is not known when the church fell into ruin, but it must have been long ago. The present church of the district is at Mazreku, hard by, and is included in the diocese (but not the district) of Pulati.
At the top of the hill we were hospitably entertained by the owner of a small house. Marko had expected to find an acquaintance here, but he had gone the way of many a maltsor (mountain man), and had been shot a year or two ago. Half the house–it had been two cottages in one block–was a heap of ruins: burned for "blood." Its owner, our host's cousin, had fled.
We rested under a large mulberry tree. A most primitive ladder, like the bears' pole at the Zoo, served as a way up it, and the kirijee feasted largely on the sickly-sweet white mulberries.
From here onward the country was barer and barer, rocky and waterless; the houses were few and wretched. And we came to Kisha Shlakut (Church of Shlaku) about five in the evening. The village–some dozen scattered houses–is called Lot Gegaj.
The priest was absent–had been sent for up country.
I have been in many melancholy spots, but Lot Gegaj is one of the worst. All around the parsonage was a desolation of huge slabs of rock. It splits in narrow strata, and the cleavage is so sharp that it appears machine-cut–the remnants of a giant factory of roofing slabs. Only the scantiest vegetation manages to cling in the crevices. Deep down below flowed the Drin, turbid and yellow, half empty, with bare tracts of shingle on either side, but still flowing rapidly between the forbidding flanks of the grim valley. I thought of the Lake of Ochrida, whence Drin springs, of the squalid dens of misery on its shores, of fever-stricken refugees and putrid gunshot wounds in the spring of 1904, after the Bulgarian revolution, till Drin seemed one of the rivers of Hades, and its waters flowed only to mock the parched and starving heights.
Three months' unbroken drought, destined to last three more, had already brought the people to dire straits. It took two hours to fetch a small barrel of water to the church, and other houses were much farther away. The wretched, half-starved goats and sheep were driven to water once in twenty-four hours. Shlaku tribe consists of about three hundred houses, all Christian. It is an offshoot of the tribe of Toplana. A third of it lives by charcoal-burning, the others by keeping goats. There is very little cultivable land.
One sample of the life of grinding misery will suffice. A man–most honest and hard-working–supported himself, his widowed sister-in-law, and her child, by charcoal-burning. Weekly, he took as much as he could carry, and drove a loaded donkey down to Scutari, exchanging the charcoal for the maize upon which they lived. But he fell ill, and entrusted his donkey to a neighbour, who ill-treated it, and the wretched beast died. Ill, he crawled to Scutari with all the charcoal he could carry, but it was no longer enough to buy the week's food. Only by spending a whole day in the town and begging scraps of food, which he carried home, could they manage to live. A Scutarene took pity on him, and gave him enough maize to sow his little field. He sowed it, but the cruel drought killed almost the whole of it. The sickly, under-fed child and its mother–who was crippled with acute rheumatism–could do nothing to help in the charcoal-burning. And thus do folk in Shlaku drag out a miserable existence.
If this luckless family would turn Moslem they would almost certainly have their wants relieved. But this they will never do. Some poor wretches came and prayed me to tell them where they could find water. They did not mind how deeply they must dig, if I could only tell them where. And they were woefully disappointed.
I left Shlaku, glad to escape the sight of misery which I could not relieve.
A Shlaku man came with us as escort, and put on a clean shirt and gold-embroidered waistcoat, to accompany us worthily. We started by a sharp ascent, up the shoulder of the big mountain, Tsukali, bare at first, then covered with the low scrub beech which is cut for charcoal, and came into the most magnificent virgin forest of monumental beeches–miles and miles of it–great straight silver trunks some hundred feet high, giants centuries old.
Our luckless horses had had no drink since noon the day before, and we made for the nearest spring. It was a mere trickle, and the dug-out trough was empty. But by clearing the channel of beech leaves, and letting out some water that had collected above, enough was obtained in twenty minutes to give them each a drink.
We tramped on through beech leaves, sometimes knee-deep. Only the swishing of our feet in the dead leaves broke the heavy silence of the forest. In one place some one had thrown down a light, and long arms of black ash sprawled up the slopes, the fire crawling smouldering, without bursting into flame. A thin column of blue smoke showed a live spot. My men would not trouble to try and stamp it out, saying that if no wind blew it would be all right. And thus are acres of forest burnt every year, when the dry season has set in.
High on the mountain we suddenly came out to a fine grassy plain, where two men were busy haymaking. On all sides it was walled in by beech forest, and up above towered the bare peak of Tsukali.
The men came up most kindly with a large jar of cold water, and spread hay for us. We lay in the shade and ate and drank, and they told of the dangers of the forest in winter–endless, trackless, shrouded in snow,–how a woman and child who tried to cross it last December never came out again. Vainly were they searched for many days, and their remains were only accidentally found in May, in the depths of the forest, when the snowdrifts melted.
Marko, talking to the two men, referred to them as "brothers." The elder burst out laughing. "Brother! That's my son!"
Even Marko was surprised. "How old are you?"–"Thirty-one." "And your son?"–"Fifteen. I married young, I did. They wanted another woman to do the work of the house, so they bought me one. They said I was quite old enough, and you see I was." He roared with laughter.
I asked how old his wife was when they married. "Twenty-five," said he, and added it was a great bother, "for now she is very old, and no good at all. I must get another somehow."
The boy was a fine-grown specimen. They were both of the small, dark type prevalent in all this part of the country so far as I saw. Grey and blue eyes are very scarce here.
The characteristics of the small, dark type are: round head, face short and rather wide across the cheekbones, brown hair and eyes, varying in darkness to almost black; eyebrows level, often nearly or quite meeting over the nose, which is usually short and straight, maybe slightly aquiline, but never has the long, drooping point characteristic of the fair type of Maltsia e madhe, and the fair people of Montenegro, Bosnia, and Central and South Albania. The hair on the face is sparse and straggly; that on the head grows very low on the forehead, and there is often a distinct trace of hair along the temporal bone to the outer end of the eyebrow. This small, dark Albanian type differs markedly from the large, dark type of Montenegro, in which the skull is extremely wide at the temples and cut straight off at the back, and the individual is tall, broad, and heavily built.
I fancy there is no Slavonic admixture at all in the small, dark Albanian type. There are certainly no Slavonic place-names in the parts where it predominates.
We descended on foot through the forest–cool, green, and silent–and came out suddenly on to scorching rock under a blazing sun. The descent was steep and bad at first, and then came a "saddle" even worse, where the horses were dragged along with difficulty. The heat was intense, and the men, parched with thirst, called a halt in a patch of shade. To make sure of obtaining water, they yelled to all points of the compass that a priest was dying of thirst on the mountain-side. A most charitable youth climbed up from his house–half-an-hour distant–carrying the largest bottle-gourd I ever saw, wrapped in a wet cloth and full of cold spring water (far too cold, I thought, to drink in such heat), and a tin pot. My men drank till I thought they would burst. One drained the tin pot seven times (considerably over three pints), and said he felt much better. Half a potful was enough for me, which surprised them. The men of the Balkan peninsula all have an incredible capacity for water-drinking. Thus revived, we started again, Marko and I by a "short cut" impossible for the horses, which were sent around by the water-bringing youth.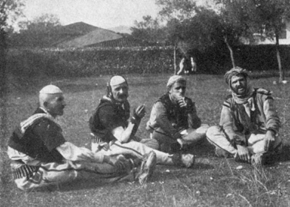 SHALA MEN.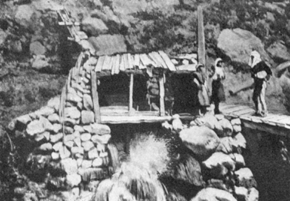 ORDINARY PATTERN MILL, SHALA.
The "short cut" was a path some twelve inches wide along the face of a cliff. Barring the fact that there were some hundred feet to fall, there was no difficulty about it, but the reverberation of heat off the wall of rock was awful, and to avoid being sunstruck I hurried along as fast as I could in spite of Marko's imploring shouts behind me, "Kadal, kadal" (Slowly).
Then came a very deep descent, and we saw the church of Dushmani far below on a little green oasis, and lower still the river Drin, all walled in by grim, iron-grey ramparts of rock.
Dushmani–consisting of two bariaks, Dushmani and Temali–is one of the wilder tribes.
It is part of the district of Postripa. Postripa consists of Mazreku, Drishti, Shlaku, and Dushmani. Ecclesiastically all are included in the diocese of Pulati, but are not properly part of the Pulati group. Dushmani takes its name from Paul Dushman, a chieftain of the fifteenth century. Dushman is a Turkish word, meaning enemy–possibly a nickname given him by the Turks. The tribe is wholly Christian.
The bariak of Dushmani consists of a hundred and sixty houses. Of these no fewer than forty were, at the time of my visit, in blood within the tribe. As for external bloods, they were countless.
Dushmani believes in Lek Dukaghin as the One-that-must-be-obeyed, and that he ordered blood-vengeance. The teaching of Christ, the laws of the Church, fall on deaf ears when the law of Lek runs counter to them. But they believed vaguely in the symbol of Christianity, for I found, on asking, that most men had a tiny cross tattooed upon the breast or upper arm. Then, in case of being found dead in a strange place, they would be certain of Christian burial.
Yet many of the grave-slabs in Dushmani churchyard are rudely scored with mysterious patterns in which the sun and crescent moon almost invariably occur, and the cross seldom–the symbols of the pre-Christian beliefs that still influence the people. I vainly and repeatedly asked for their meaning, but only met the old answer, "Per bukur" (For ornament). No other graveyard yielded me so many of these, but I could not hear that the sun and moon were ever a tattoo pattern here as in other parts.
Bones, and fragments of them, were strewn all over the place. The explanation was that a huge feast has to be held before each funeral. Any one in the tribe can come to it, and, owing to the long distances that folk have to journey, it is very late before the interment takes place. It is, therefore, often half dark before–when the feast is over–the relatives of the deceased dig the grave, and they dig heedlessly anywhere, digging up the former remains. There appears to be a great prejudice against digging the grave some time before, as various unlucky things may happen to it. No one may step across it, nor may it be left empty–something made of iron must be placed in it–was all that I could learn.
One of the tribe bloods has lasted for five generations. The chief man in this feud–grey-eyed and fair-haired, but with the other physical characteristics of the local dark type–lamented his position bitterly. Five generations were too much. The quarrel had had nothing whatever to do with him, but he was liable to be shot for it after all these years. I asked why he did not pay blood-gelt and compound the feud. He replied indignantly that his side was the innocent one, so why should it pay?
The Franciscan–priest of Dushmani–laughed heartily. "They are all innocent!" he said, "every one of them, according to their own account, and all at blood with some one or other." He added that because of "blood" they would very rarely come to confession. His own servant, for example, had killed three.
This youth was entirely delightful. Bubbling over with animal spirits, full of jokes, and most good-natured, he was wildly jealous of his honour, and had an almost tigerish thirst for blood. His instincts were primæval, and he rejoiced in his exploits so whole-heartedly that I could not but sympathise with even the bloodiest.
Aged two-and-twenty, dark, slight, active as a cat, with wide cheekbones and a sallow skin, he was no beauty, but his cheerful smile and his naughty, sparkling eyes, as he told his tales, made up for all deficiencies. He was one of the happiest creatures I ever met. He had drawn his first blood at the age of twelve, which is certainly something to be proud of. A Moslem derided Christianity in his presence, whereat he had at once whipped out his revolver and fired. The Moslem, slightly wounded, returned the fire at once, but missed clean. The little wild-cat then rushed in, fired four shots into the Moslem, dropped him severely wounded, and got away unhurt. As he sat asquat, with his rifle across his knees, he rolled with mirth at the mere recollection. After this exploit, it was thought as well that he should leave the scene of action for a while, so he went to Scutari, where–of all things in the world–he took service with a Moslem family that was unaware of his past history. Here he was so well fed and had such a fine time, that some of the priests in Scutari were afraid he would be persuaded to turn Turk. This struck him as peculiarly humorous. The idea of his being anything but a most exemplary Christian was too ridiculous. A fellow who has shot a Moslem at twelve turn Turk!! One of the Jesuits, intent on rescuing him, talked to him in the street and got him to walk to the Jesuits' school. Several came and spoke to him. They said he should live there; they would feed him just as well as the Moslems, and teach him how to read and write. He saw the other little boys. The door was shut. He felt like a fox in a trap. Never, never, could he bear such a life. But he was afraid to say so, lest they should refuse to let him out. He said, instead that his Moslem master owed him a napoleon: might he go and fetch it first? He would come back at once.
"And as soon as I was safe outside the door, I ran for my life and got away to the mountains. Oh, I kept out of the way of Jesuits, I can tell you! If I had stayed there, I daresay I should have been a priest by now–perhaps in this very parish! I am a good Christian–always have been and always shall be. No schools for me; I don't want to read or write–it is no use whatever."
I asked what would be of use.
"What we want," said the Primæval youth, "is a new Government–a good Government that would do something for us, a good King; any one so long as he is rich and not a Turk; your King, now–why can't he come?"
"You would not like it if he did," said I. "He would not allow you to take blood any more."
"What would he do?"
"He would send his suvarris to catch you, and you would be hanged."
This took every one aback.
"But if a man owed me blood?"
"Then you must tell the Governor, and the suvarris would catch the man and he would be hanged. You must not take the blood yourself."
"That would not clean my honour," said the Primæval one; he pondered. This idea of a Government was quite new to him.
"The King of England is very good," he suggested; "if he knew about the man that killed my cousin he would pardon me."
"No," said I.
"Well," said he resolutely; "after all"–he grasped his throat and squeezed it experimentally–"hanging is not much–one would die quickly. I would shoot my man first, and then your King could send his suvarris and hang me if he liked. I should know that my enemy was dead, and one must die some day."
"Your body must," said the Franciscan, "but your soul will not–what of your soul?"
"My soul? When I am dead, what does it matter to me?–my soul can fly wherever it likes!" He flapped his hands airily to illustrate his soul's departure, then he roared with laughter. "Do you know," he asked, "about the maltsori (mountain man) who was dying? He said to the Blessed Virgin: 'I know that I am much too bad to go to Paradise, but I pray you to put me there just to spite the devil; it will annoy him extremely.'" He was wholly content with himself and quite irrepressible. "I often think," he added cheerfully, "we maltsori will really find it very hard to get to heaven. When the Last Day comes, we shall have to have the most awful fight with Christ!"
And this was the man who had shot a Moslem for speaking ill of Christianity. Later in church I watched him, quite fascinated, as he robed the priest, lit the candles and censer, and assisted at the altar with incomparable precision and decorum. What ideas had he inside that shaven skull, on top of which a great shag of dark hair stood upright grotesquely?
Said the Franciscan, half apologetically, as we came out, "I must have a servant of some sort, and they all owe blood; what is one to do?" What indeed! And the Primæval one, his church duties over, squatted on the balcony and washed cartridge-cases, setting them to dry in the sun previous to refilling.
He had sworn a few weeks' besa, with a man to whom he owed blood. Yesterday he had visited his foe and been handsomely treated in the way of victuals and drink. To-morrow the besa expired; he would be liable to be shot, and was looking forward joyfully to the renewal of hostilities. He gave no quarter and expected none; avenging a blood gave him the same sort of satisfaction as winning a race at Henley, or scoring heavily at a cricket match, does to his contemporaries in England.
Nor, looked at from an unprejudiced point of view, is there much difference between them, for man-hunting is undoubtedly the finest form of sport, and he played the game quite honourably and according to rule–generously even, for he had once plunged into the Drin, saved an enemy from drowning, and afterwards sworn peace with him for evermore.
Talk ran all on ghak. A neighbour house had been in blood for fifteen years. The man had abducted his wife from another tribe, she coming willingly to escape marrying the man to whom she had been sold as a child. Her father's family and that of her betrothed had been at blood with her husband's ever since, and he never went out without three or four comrades.
In a like case, the man and his wife had fled from the wrath to come, and are living safely abroad, but the three families wage continuous war at home, and twenty-five men have already been shot: "Not a woman but a devil for the mischief she has caused," said the narrator. My suggestion that the blame attached to those that had bought and sold her was incomprehensible and quite new.
A remarkable characteristic of all the mountain tribes is that they have almost no amusements; games I asked for vainly, and I never saw a dance but once. The singing of national ballads is the only pastime. Even children seem to have few games, and almost never to play them. The traditional wrong and its avenging is the chief object on which the mind is fixed; the Bariaktar of Dushmani had not yet taken a blood, as was his duty, and had fallen into dire contempt. At a recent medjliss he had tried to speak, and was told that until he had cleaned his honour his opinion could not be heard.
The besa, once given, is inviolable; its power is terrible. It compels a man not only to avenge a wrong done to a friend with whom he has sworn besa, but also to any stranger whom he has sheltered for the night, and this law has to be obeyed to the uttermost.
A certain family was at blood with a man, but one member of the family made it up with the enemy–temporarily, at any rate–and swore besa with him. This included a vow to protect each other. His own brother then shot the family foe dead; by the terms of his besa, he who had sworn it was bound to avenge the slain, or be for ever dishonoured. He shot his own brother and cleaned his honour, and came to confess, wild with grief, weeping bitterly and lamenting the deed which a cruel fate had forced upon him. He believed it was the only way.
Nor is this an isolated case. It is related that not long ago a Montenegrin–a criminal wanted by the Government–fled over the border and refuged in the mountains of Shala, where he was given shelter and hospitality in a certain house.
The Montenegrin Government offered a sum of money, a revolver, and a rifle, as reward for either handing him over alive or producing evidence of his death. During the absence of the head of the house, his younger brother, tempted by the reward, shot the guest and claimed and obtained the reward. The house-lord returned, and the murder was discovered. "What did the Prince of Montenegro pay you?" asked the elder brother sternly. And, when he was told, replied, "He has not paid you enough! Take that." And, drawing his revolver, shot him dead on the spot. He too lamented the deed, but said that the honour of his house must be maintained. It had never before betrayed a guest, and should never again. And in such a case the house-lord is rightly held to have administered justice only.
The days slipped by pleasantly at Dushmani, livened by song and hospitality and tales. Shlaku, the neighbouring tribe, was very angry with the men of Temali. Dushmani and Temali had a huge contempt for the brains of Shlaku. Shlaku men were all fools, they said, and boasted they would prove it.
The priest of Shlaku went to a meeting at Scutari, and was to be away a week or so. A Temali man thereupon stole or borrowed a complete priest's dress, tonsured his head, and went to Shlaku. Telling the servants at the priest's house that their master had been taken ill at Scutari, and that he had been sent to replace him for a time, he took up his quarters there,–said he was a foreigner,–spoke but little and badly, and sat pretending to read a foreign paper. Soon–he said–he would know the language better, and then would be able to hear confessions. The simple people were completely taken in, and received the new priest very well. The impostor took care to clear out in good time, and Temali sent derisive messages to Shlaku asking, "What about fools now?" Shlaku, furious, vowed to shot the sham priest if only they could catch him.
The Primæval youth laughed inordinately, and regretted only that the sham priest, who was his cousin, had been afraid to confess Shlaku, as then Temali might have learned all Shlaku's secrets, which would have been highly delightful. That the sham priest was now liable to be shot was only part of the joke.
Infant betrothals, as usual, cause many grim doings. Two bright, neatly-dressed women came and talked to Marko and me. They were sisters from the neighbour tribe of Merturi. One was married in Dushmani. The other was an Albanian virgin. Having been sold by her father to a man to whom she absolutely refused to go, she ran away at night, but did not get beyond the tribe land. The men of her family all turned out and hunted for her as for a wild beast, captured her in a wood, bound her hand and foot, and took her home. Here she was tied to a log, but at night she gnawed the bonds at her wrists, freed herself, and again escaped, this time reaching the house of her brother-in-law in Dushmani. He sheltered her, and has kindly given her a home with him; and as she has sworn virginity before witnesses she is now free.
In Pulati and the whole of the group of tribes that call themselves Dukaghini, an Albanian virgin cannot inherit land, as is the case in the Maltsia e madhe, where, if a man leave no sons, the land goes to his daughter should she have sworn virginity, and only after her death to the nearest heir male.
In Dukaghini, the land passes to the next heir male, but should a daughter of the late owner be an Albanian virgin, the heir must pay her yearly out of the estate 300 okas of maize, 18 okas of rakia, and 30 of wine; and she can enforce payment by appeal to the council of Elders.
The council consists of the Bariaktar and a number of heads of houses, except in tribes which have formed at Deilmia and have an elective head. For small affairs twelve to twenty-four are enough, according to the importance of the case. For matters affecting the whole tribe, a full council of all the chief heads must sit. These fix the price of articles to be sold within the tribe, and in case of necessity forbid the export of foodstuffs. The neighbour tribe of Toplana had just forbidden the export of maize owing to the prolonged drought, and had fixed its price and that of cheese. It had also decided that Toplana folk should not come to the feast of St. John the Baptist, the patron saint of Dushmani, which was to be held shortly, because of the large amount of "bloods" between the two tribes. In the wilder tribes of Dukaghini no general besa is given for Church festivals, and those who come–unless protected by a private besa and in company with one or more of the tribe visited–do so at their own peril.
The evening of the twenty-third of June was quite exciting. The Primæval had spent most of the previous evening filling blank cartridges to greet guests. The Franciscans of Berisha, Shoshi, and Toplana arrived in turn. Each hailed him of Dushmani from a distance, and greeted him with revolver shots. Out we rushed, the Primæval dancing and shrieking like a demon, with a revolver in each hand, both of which he fired at once. We had the liveliest supper–four Franciscans, Marko, and myself. The Padre of Toplana had brought a wonderful attendant with him–an elderly, most wiry creature, brave in a red djemadan, gayer and even more voluble than the Primæval. The two, who were supposed to wait at table, were inimitable–entered into the conversation, corrected their "masters," smoked, joked, laughed, and had drinks. Old Red Coat talked every one down, and boasted incessantly of his own merits, the chief being his stainless honour. He had shot four men in its defence, had his house burnt down four times, and flourished greatly, and was ready any day to shoot four more. He had rewarded his Martini for its part of the work, with four silver coins driven in between the stock and the barrel. He got on very well with his Padre–was not his servant, but his comrade. Outside, crowds of guests were arriving at various houses near, from Shlaku and Berisha and distant parts of Dushmani, all greeted by volleys of rifle and revolver shots, to which the Primæval replied with a revolverful of blank, and Old Red Coat with ball cartridge out of window, and both with piercing yells. And the little brothers of St. Francis sang songs at the top of their powerful voices. I thought how dull London dinner-parties are, and wondered why people ever think they would like to be civilised. This was as good as being Alice at the Mad Hatter's Tea-party. And so passed the Eve of St. John. No bonfire-burning took place, and I was assured that the custom is unknown in the mountains, though practised by some of the Scutarenes, which seems to show that it is not an Albanian custom, but brought in from abroad.
A great crowd came to church next day. There were stacks of rifles outside, and within their owners sang "Et in terra pax hominibus." The Padre of Berisha preached. I could not understand him, but reflected he could have no better subject than "The Voice of One crying in the Wilderness."
After mass there was a rush for the shooting-ground–the mark was a white stone, and the range short. The Primæval hit often, and a man with a Mauser every time he tried. Those that missed were very close. But it was not difficult, for I hit it myself, with the Primæval's beloved Martini, which he pressed upon me, adorned as it was with silver coins, to reward it for the lives it had taken.
Drunk with noise, excitement. and the smell of burnt powder, he drew out the hot empty cartridge-cases and breathed in their odour with ecstasy, gasping, "By God, it is good!" It was like blood to a tiger, and made him wild to kill his cousin's murderer, who had got safe away a year ago, was now in prison in Scutari on another charge, and to be released soon. I asked why he did not tell the Scutari authorities of the murder and let them punish him, but was told he would only get ten years, "and he deserves shooting, as the poor deserve bread." At this tense moment a rumour spread suddenly that the enemy had been released, and had been seen coming to the feast.
The Primæval dashed off with Martini and revolver, in spite of the shouts of the Franciscans, but it was a false alarm, and he returned unappeased and disappointed–his enemy was still in prison. "Never mind," said he, "he must come out some day." And he sat and nursed his Martini, crooning a song, in which he addressed it as his wife and his child, for he wanted no other–his life and his soul—"Not your soul," said the Padre sharply. "All the soul I want," said he, incorrigible. His "well-beloved" had cost twelve napoleons, the price of an ordinary wife, and he spent eighty guldens a year–exactly half his income–"feeding" it.
The company discussed weapons. The accuracy and repeating power of the Mauser were admitted, but its bullets were too small to be of any use. "They just go through you and don't hurt. You can go on fighting all the same."
A Mirdite had recently taken part in a general squabble, and walked home a long distance. He drank the usual cup of black coffee, and was about to drink a second, when he uttered a cry, collapsed, and died shortly. It was found that he had been shot clean through the body (through the stomach, I believe, from the account); the wound had closed, and there was scarcely any external bleeding. Presumably he was unaware that he had been hit.
To prove the harmlessness of small bullets, a man clapped his right hand against a tree and begged me to fire through the palm with a Mauser pistol; it would make no sort of difference to him. He was quite disappointed at my refusal.
The afternoon passed in paying visits–sitting on heaps of fern in dark dwellings, drinking healths in rakia, chewing sheep-cheese, and firing rifles and revolvers indoors; a noisy joy that peppers oneself and the refreshments with burnt powder and wads. In one yard two girls were slowly turning a whole sheep that, spitted lengthwise, was roasting over a large wood fire. It was stuffed with herbs and sewn up the belly, and of all ways of cooking mutton, this is the most excellent.
By night-time we were all too sleepy to do much sing-song. The Primæval had emptied all his cartridges, and was again busy refilling them.
We had passed a true Albanian day, said the Padre of Toplana:
"Duhan, rakia,
Pushke, dashtnia"
(Tobacco, brandy, guns, and love). I suggested that dashtnia should come first, because maxima est caritas. But they said, not in Albania.

And so ended St. John's Day.

I had meant to go to Toplana, but was told it would be impossible for horses; the tracks were too bad. The heat was intense, so I gave up Toplana for the time being, to the grief of Old Red Coat, who, having taken a vast fancy to me, pressed me to stay as long as I liked at his house, and go out shooting every day. When he left he actually kissed my hand, and announced loudly that I ought to be extremely proud. For a man to show such a mark of respect to a woman was, he believed, rare in the annals of the human race.

I planned a route by Berisha, meaning to take Toplana on the return, and was advised not to start till the Padre of Berisha had returned home.

The feast did not go off entirely without blood. A man was shot dead on the way home in a quarrel, and a Dushmani man wounded accidentally. Some one fired off a blank cartridge close to him, and blew the wad into his fore-arm. It was a nasty ragged hole, full of burnt paper and rag, and his shirt-sleeve was bloody; but he paid not the smallest attention to it. As for cleaning it, he and his friends jeered at the notion. They all had bullets in them, they said, and a wad was nothing. He shoved the thumb of his wounded arm into his cartridge belt to steady it, and rushed off down the mountain with his friends, singing loudly.

We started to Berisha a large party, as the Padre and the Primæval came with us to see us safely over the Drin–the frontier of their territory.

The way down was very bad–all loose, flat stones that slipped and slid. I was well ahead with the Primæval when I heard a terrible cry behind me. Poor Marko had fallen, and was lying with his leg twisted under him. "Compound fracture," thought I, and hurried back in about the worst fright I ever experienced. Luckily it was only a sprained ankle, but that was enough. My pocket-knife was sharp as a razor; we soon had the boot off. I took the puggree off my hat, tore it in strips and bound him up tightly. Then we were in a great dilemma. To climb back was impossible; so was carrying him; so was riding. If we could only get down to the river, we could ride the rest of the way. Supported by the sturdy young :Franciscan, he slowly hobbled down in great pain.

Drin ran swift and yellow, and on the farther bank were the Padre of Berisha and a number of his men, who had long awaited us. For the accident had lost us an hour and a half.

On our side the river were many Dushmani men, ready to ferry us over, stark nude, and bizarre in the extreme, for each had an inflated sheep-skin fastened on in front by loops round his arms and legs.

A Berisha man, similarly adorned, crossed the river to us swiftly, lifted high out of the water by his float, and using his arms as oars. A great noise began, but as I was busy bathing Marko's foot in the cold river, I paid no heed. Our men, meanwhile, were inflating six sheepskins, and lashing them to a hurdle with green withies. They inflate the skins by simply taking a long breath, and blowing hard into one corner. The big skin is taut in a few moments. I believe they could blow out a motor tyre.

The horses were stripped and driven in by a Dushmani man, who plunged in with them. The current whirled them away down stream, to the terror of the kirijee, who cried that if a drop of water got into their ears they would at once sink and drown. They landed a long way down the other side. A terrible shouting was going on. The kirijee crossed first. He laid flat on his belly on the hurdle, with his legs tucked up, as it was short. The saddles were piled on his back to keep them dry. The Berisha man plunged in with him, grasping the hurdle and propelling it with powerful leg-strokes. It was the kirijee's first trip of the sort, and he screamed aloud with fright, but was landed cleverly not much lower down. The Berisha man came back for me. I said farewell to the Franciscan, who laid me on the hurdle and shoved me off. I had strapped my camera on my back to keep it out of the water. Away we went–it was better than any watershoot–and landed just at the foot of the rock on which the Padre of Berisha stood. He hauled me up. The sweat stood on his brow; he was girded with a cartridge belt, had a large revolver in it, and his Martini in his hand. "Has the Padre his revolver?" he asked, as he pulled me up, "and cartridges–plenty of cartridges? They are going to shoot. Oh, my God, what a mess we're in! I ought to be reading mass in the village, but I didn't dare leave them. God knows how many would have been shot." He slipped a Browning pistol from the pocket in his sleeve (Franciscan habits are delightful garments, all made up of secret pockets) into my hand. "They don't know it's mine. Shove it in your belt." I took it, but was mainly occupied balancing on a high rock, and trying to kodak the next hurdle trip. He dashed down among his men, some dozen of whom, sullen and fierce, were dodging from cover to cover, rifle in hand. The Primæval was rushing and dancing wildly about on the other side. The two parties howled at one another. "It is all his fault," cried Padre Berisha, shouting to the Primæval to shut up. "They all want to shoot him. He'll be shot in a minute, my God! My people think it their privilege to bring visitors over. When the first one went over, that mad fellow called him bad names, and told him to go back, and leave the job to Dushmani. The men here are furious. They want to shoot the Dushmani who brought the horses over. Good God! they are sending Marko over with him now! And he swims so badly–ah!" Poor Marko was whirled far down stream, quite out of range of my camera. Padre Berisha howled over the water to Padre Dushmani to get off with his men–another minute or two and shooting would begin. We hurried down to meet Marko, who, poor fellow, was landed among an awful pile of rocks, which he had to climb over.

The Dushmani men plunged back at once, and soon they were all lost to sight among the bushes.

The Berisha men, balked of their prey for the time, and sulky as bears, turned their attention to us. "In the first place," said the Padre, "this woman is my friend, and in the second, she can shoot very well." He then ordered them to come to mass. We turned to scramble up the steep bank; they followed growling. It was short, luckily, and Marko got up with help. We came to a small house and entered the yard. The people brought us out seats, but were in a state of excitement. A number gathered, and the Padre and Marko argued with them long and loud. One tall, long-faced man was stubborn as a rock. The honour of Berisha had been wounded, and nothing but blood would heal it–that of the Primæval in particular.

We were still on the bloody edge of things. Only the moral influence of the Padre had swayed them to come to mass instead of staying to massacre, and it was obvious that they were sorry they had come.

I said I had come a very long way to see them as a friend; had visited a great many tribes that had been pleased to see me. If Berisha did not want me, I would go back again. I did not wish to make any unpleasantness. "They will be quieter after mass," whispered the Padre, "wait here, and I will go and make ready."

The noise reduced itself to growling undertones, and we were served with coffee, which I thought a good sign. The Padre summoned us shortly to the upper room of the next house. It was a pitch-dark den, lighted only by one brilliant ray of sunlight through the roof that fell on the flour-bin–which the Padre had dressed as an altar–and some tiny flickering tapers stuck on the stone wall behind it by melting their ends. Dinner was cooking in a hooded fireplace. Two goats were tethered in the corner.

The congregation, some twenty men, squat cross-legged in the darkness–their minds filled with vengeance–sang loudly. The sunlight haloed the yellow hair of the bullet-headed, bull-necked Padre–a man more stubborn even than his wild flock. A very ragged man assisted at the altar, and mingled the wine with water from a coffee-pot. The goats bleated loudly, two children toddled about squalling, and over all the great voice of the Padre thundered sonorous. He raised the chalice, glorified in the one bar of golden sunlight. It was incomparably magnificent. I was upon a quest, and saw the Holy Graal. He aspersed us with a bunch of basil dipped in a bowl that was a dug-out lump of wood.

We arose, and an old woman hurried up to get flour from the bin that had just served as an altar. While dinner was cooking we sat outside, and the whole argument began again. There was the payment for the ferry. If the ferry were the privilege of Berisha I would gladly pay, just as if Dushmani had not assisted. This they flatly refused. They did not want money, but their honour, and would take payment only for the two transits they had made. Dushmani had taken part of their job; and for this insult no money could pay. The offer, however, pleased them. They absolved me of blame. But the next question was whether, as I had come in such a manner, I ought to be well received, or even received at all. Perhaps I was a friend of the Turks. They wanted no friends of the Turks in their land. The Padre said I came from a Christian country, and was a friend of the Catholics. They decided that my having come to mass was a point in my favour.

He then said that at the feast he had seen me shoot with a Martini and a Mauser. Which was another. They wanted to see the Browning–which was still in my belt–and be shown how it worked. This was highly embarrassing, as I had never had one in my hands before. "Show them," said the Padre in German, and hastily explained what to do. I drew out the magazine successfully, to their extreme interest. This won their hearts. Once on this congenial topic, all went well. Child-like, they forgot their injuries over this new toy–a strange woman, with a new kind of weapon–and invited me very heartily to stay for a whole year.

The Padre then begged that my coming should not be made a cause of bloodshed with Dushmani, that they should not talk about the episode in the tribe, but that it should be considered closed. They all shook hands on it with us and agreed; but added cheerily that it really did not matter, as they had already so much about which to fight Dushmani.

We parted the best of friends. Marko and I rode up the bed of the Lumi Berishet, as it was a better route for riding than the mountain path taken by the Franciscan. Then a very steep pull up the hillside took us to his house and the tiny church of Alshiché.

The fame of my arrival, of course, spread. No foreign woman had ever been seen before in the land; and next day a number of Heads came to visit me. They questioned me closely about my land and its Government, and, as soon as they were assured I was neither Moslem nor Orthodox, were most friendly, and highly flattered at my having come so far to see them. They were sorry only that I had not brought a lot of soldiers to make a new Government.

"These are our worst enemies," said one, tapping his rifle. "Bring soldiers, take away our guns, make a good Government, and we will obey."

Nor, if they believed in the Government and were fairly treated, would the mountain tribes be very difficult to govern. They have the most wonderful power of obedience where they believe obedience due, and usually obey their house-lord absolutely. There is, for example, a very large group of four houses here which is governed by four brothers, who are now but very distantly related to most of those under them; but they expect and receive entire obedience for no other reason, that I could ascertain, than that the ruling power belongs to that branch of the family.

We had a long sitting to debate both the question of "blood" and of "sisters-in-law," and told them that the King of England disapproved most strongly of both practices, whereon they again requested that he would send soldiers. Blood feuds, they said, were almost all the fault of women. Women were very wicked (here the Padre agreed).

Sometimes they were very disobedient, and you had to beat them a great deal. A man must order his wife three times before he may beat her, and then if, for example, she still refuses to go and fetch water, what can he do but beat her? I suggested that, perhaps, she was tired and the water-barrel was heavy. "Oh no," was the reply, "they are quite used to it." Also, if a man tells his wife not to answer him, and she does, he must beat her, or she would go on talking. Of course, only a woman's father or husband may beat her.

Wife-beating, said I, is punished in England by imprisonment–the King disapproved of it also. This staggered every one–even the Padre. That a wife could be so wicked as to tell the Vali, and let him send suvarris to catch her husband, was beyond belief. Said one, "Near Ipek there has been a feud for thirty years about a woman who refused to marry the man to whom her parents had betrothed her. Peace was only made two years ago, and blood-gelt paid after twenty-two men had been shot. All because she was disobedient. That is why women should be beaten."

Said another: "A Berisha girl was betrothed to a man, and refused to go to him. She ran away with a Temali man, and the priest there married them. Now all three families are in blood, and the first betrothed, who had paid for her, wants his money back. Her father will not give it, and says it must be got out of her husband. The husband says, why should he pay for his wife when, most likely, he will be shot before he has had her any time? It has only just happened, and a lot will be killed before it is finished. She ought to be well beaten."

Then, to convince me of the innate wickedness of woman, and the harm of letting her have her own way, I was told–


THE STORY OF THE WOMAN WHO WAS THRICE MARRIED.

This woman was a Devil. God! what trouble she has made! She is of Ipek, and the daughter of a rich house.

The house-lord is a rich man. He has shot eight Turks, two Catholics, and six Orthodox–and has paid for the lot. He is so important that he counts as twelve witnesses in a trial. But he has been married for years and has no child. Now his wife is forty, and will never bear one. He wanted to marry again, and found a girl and had paid twenty-five napoleons for her. But the Bishop of Prizren heard of it, and sent three priests to forbid the marriage. He was surprised, and said he only wanted a son. The priests threatened him with excommunication, so he obeyed.

Well, this girl who made such trouble was the daughter of his brother, who, thank God, has sons enough–so the family will not die out. She was very beautiful–a great big woman. When she was quite a girl you would have thought she was twenty-five.

Her father sold her as a child to a man in Ipek. But when she was only fourteen she said–the young Devil–"He is not brave. He has never shot a man. I won't have him, and you shan't take me to him alive."

She was to go to him at sixteen, and refused. She said she would not have him, but would marry one of her cousins. The cousin was not a very near one–so not forbidden by the Church; but forbidden by our custom. My cousins to any generation are my brothers and sisters.

Her father was furious, said it was a deadly sin, and drove the cousin from the house. But he came at midnight with his brother and fetched the girl, and they got away to Hoti. There, as they had been living together some weeks, the Padre married them. Her parents and her betrothed were furious, for they held the marriage as incestuous. They could not come to Hoti themselves, but offered to pay twenty-five napoleons to any one who would go and shoot her husband, and within a year of marriage shot he was, and his brother too. She had borne her husband a son, and went with the babe to Scutari. She was very beautiful, and a Moslem wanted to marry her. The priests heard of it, and feared she would turn Moslem. They persuaded her to go back to her own people.

She returned with her child to Ipek, but dared not go to her father, and took refuge with the Franciscans. Her father came and demanded her. He said she had dishonoured the family, and he must shoot her. The Franciscans refused to give her up till he had sworn to spare her life.

She went home. But she was a Devil. She would not live without a man, and wanted to be married again. Her father wanted to give her to the man to whom she was first betrothed. And there was no reason why she should not have him. Really he is very brave, and has now shot four men–(Here I could not help laughing. The narrator was surprised, and asked why?)–He said she belonged to him, and he would marry none other. She said he never should have her–she would run away with another cousin. Her father, in haste to prevent another scandal, found a man for her–a nice man, aged forty. She said he would do, and they were married. And that very day she said he was too old, and for three whole weeks she refused to have anything to do with him. She was a very wicked woman.

Two years she lived with him, and bore him a daughter. Then he died, and she was again a widow.

Her first betrothed was now in blood with her family for marrying her to the man of forty. There had been a good deal of fighting. But he wanted to stop the feud and marry her. He said he knew she was a beast and a Devil, but she belonged to him, and have her he would. But she wouldn't. She ran off with a man of twenty-five–very beautiful–and they were married. She is only twenty-five herself. God knows how many more she will marry!

Her first betrothed is still in blood with her family, and both are in blood with her husband's family. Ever so many have been shot, and plenty more will be. Now you see that I spoke truly when I said all evil comes from women. They are Devils.


Nor will I mar such a fine tale with superfluous comment.


We debated the ethics of wife-beating almost daily during my stay, and neither side was converted. It led to–


THE TALE OF THE MAN WHO COULD UNDERSTAND BEASTS AND BIRDS.

A certain man was gifted with the power to understand the talk of beasts and birds. But on condition only that, should he ever tell that which he heard, he would drop down dead.

One day he overheard the donkey talking to the horse. The donkey's remarks were very funny, and, as he came from the stable, he laughed.

"Why are you laughing?" asked his wife.

"At something the donkey said."

"What did the donkey say?"

"You know I cannot tell you. I should drop down dead."

But she was wicked, as all women are, and she only answered: "What did the donkey say?"

And all day and all night she gave him no peace, and he had neither sleep nor rest, for still she asked: "What did the donkey say?"

Worn out at last, he could bear no more: "To-morrow I will tell you," he said. He called his little children and said good-bye to them, and told them he must die tomorrow. They cried bitterly and begged, "Oh, mother, do not kill our dear father!" But she answered only, "I want to know what the donkey said."

So the poor man went out to take a last look at his yard, and there he saw the cock standing on tiptoe, flapping his wings and crowing as loud as he could.

"Oh, you wicked bird!" cried the dog, "How can you laugh and sing when our dear master, who is so kind to us, must die to-morrow?"

But the cock only crowed the more: "Laugh!" said he, "I shall die of laughing! Look at him–the silly fool! He has only one wife, and cannot manage her; while I have fifty, and keep them all in order!"

The man heard this. He picked up a large stick, and went back into the house. "Do you want to know what the donkey said?" he asked. "Yes," said his wife. Then he gave her a good beating. "Do you want to know what the donkey said?" he asked. "Yes," said she. So he beat her again. "Do you want to know what the donkey said?" "Yes," said she. So a third time he beat her till he was quite tired. "Do you still want to know what the donkey said?" "No," said she, and they lived very happily ever afterwards.


Poor Marko meanwhile was dead lame, his ankle badly swollen. Native treatment consisted of frequent and hot fomentations with a thick decoction of ferns, Ceterach, and Trichomanes nigra boiled with wild peppermint. I prescribed rest, though he pluckily declared he was ready to push on at any cost rather than delay my journey.

A friend in need is a friend indeed, and I cannot sufficiently thank the young Franciscan who made us welcome to stay in his house till Marko was on a fair way to recovery. His parish is widespread, and, together with Merturi Gurit, included three hundred houses. Berisha and Merturi Gurit are a bariak of Puka. The people of Berisha and Merturi (the tribe on the other side of the Drin) claim to be the oldest tribes of the mountains; and, in spite of the frequency in these parts of the small, dark type, persist that the fair type is the true Albanian. One thing seems certain, for most tribes tell a similar tale, and that is, that for the most part the men, who fled before the inroads of the Turks, took shelter in the mountains and are the founders of the present tribes, found on arrival a dark population, which they conquered. In some cases they intermarried with them, and in other cases evicted them. The fact that the older inhabitant is always stated to have been dark is a proof that the new-comer must have been fair. As a whole, all the tribes that trace origin from Rashia are darker and smaller in type than those of Maltsia e madhe, who say they come from Bosnia.

Berisha holds strictly by the laws of the mountain. It is not represented in the Djibal at Scutari, but is under the Turkish Kaimmakam of Puka.

Blood-gelt in Berisha must be paid within two years. The sum varies from six to seven chesé (purses)–that is, from about £21 to £25,–may be paid in instalments, and need not be in coin. Martinis are often taken in part payment. One purse must be also paid to the Elders who judge, and one to the Kaimmakam of Puka. But the representative of the Turkish Government seldom gets a fee.

Berisha is all Christian, but in the neighbourhood of Ibalje are many Moslems. The Christians there built a small schoolhouse, started by the energy of some of the priests. This vexed the Moslems much, and little more than a year afterwards it was burnt one night by the border Moslem tribe of Krasnich. The Christians believed that the Krasnichi had been summoned to do this by the wife of a certain Moslem who angered them greatly by always making game of the Christian faith. Had she been a man, they would have shot her; but women are not shootable, so they burned her husband's house. He, being a Moslem, appealed to the Turkish Government, which had taken no notice of the burning of the Christian school. The Government then sent 300 Nizams to investigate the affair. The Christians were condemned to pay 150 napoleons, but had not yet paid it, and did not mean to. Further trouble was expected, and feeling ran high.

Berisha was in blood with Krasnichi, in blood with Dushmani, and greatly in blood also within the tribe; And, as befits a primitive land, is full of things magical. I was asked to give my opinion on the magic imprint of a man's hand. We scrambled down one blazing afternoon to some houses, near which the underlying rock thrust its bare bones through the thin soil.

The house-lord and many men came out, and showed me upon the top of a rock the so-called hand, and lower down a rounded pit, said to be the print of a mule's hoof. Only the very wildest imagination could see any resemblance in either case. A man watching goats had accidentally laid his hand in the upper mark, and found it fitted. Search had then revealed the "mule's hoof." Then, in this desolate, bookless land, where nought but bloodshed breaks the monotony of the slowly dragging hours, these people gave their minds to interpreting this "writing on the stones," and decided that long years ago, when the rocks were soft, a certain man had hidden a vast treasure beneath them. To mark the spot he made the hand-print, and as he leaned to do so, the mule on which he was mounted trod into the soft lump below. The question I was to unravel was how to get at the gold. They waited anxiously. After some consideration, I said I did not think the marks indicated gold at all; but this did not satisfy them, and at their earnest request I "wrote" the marks in my sketch-book, and promised that if any priest or hodza in England succeeded in explaining the mystery, I would let them know.

They then led me eagerly to a greater marvel, in a hollow not far off. It was carefully covered with planks, and was merely an ordinary trough, roughly hewn from a block of stone. Beyond all doubt the work of human hands, it might have been made at any time, in any land that had stone. But it was believed to be supernatural, very precious, and also fraught with meaning. No man had made it. It had stood there for a thousand years–so their grandfathers and great-grandfathers had reported. It belonged to the days when the Jews ruled the land. I said decidedly that the Jews had never ruled the land, which gave very great satisfaction.

The tale that the Jews once ruled Albania is fairly widely spread. It refers, most probably, to the tradition that there was another religion in the land before Christianity; and as it was neither Christian nor Moslem, the people have decided it was Jewish, as they know of no other. It is highly probable that in the remote mountains Paganism flourished to a fairly late date.

There was no reason why the trough should not have been there when the ancestors of Berisha arrived. But why it was thought to conceal treasure I know not.

As we returned to the humble huts and partook of sheep-cheese and rakia, I remembered that many of the tribes of my own land believe in planchette and table-turning–consult palmists and globe-gazers, are "Christian Scientists" and "Higher Thoughters"–and reflected that all the training of all the schools had but little removed a large mass of the British public from the intellectual standpoint of High Albania, whereas for open-handed generosity and hospitality the Albanian ranks incomparably higher.

Marko's ankle was much better, and he vowed he was fit to travel; but it was not well. A rideable track was absolutely necessary. Toplana and Merturi were both out of the question; so was return to Dushmani. The Padre recommended Nikaj, and generously insisted on coming to see us safely over the Drin–the frontier of his territory, lest at this ferry, too, there might be trouble. This meant a six hours' tramp for him, and as many more back–twelve hours' toil to help a stranger guest. The only available mule belonged to a family excommunicated for a sister-in-law affair. They were extremely anxious to lend it, but the stern Franciscan preferred to suffer rather than have any truck with sinners.

We started at 4 A.M. The first ascent was very steep, and I felt very sad for the trouble I was giving. But the Padre tramped well. Once up on the top, the way was excellent–by Merturi-Guchesit, and through a great beech forest along the mountain-side. Far below on the left flowed the Drin, with the rugged, arid mountains of Toplana beyond.

Toplana holds a sinister record; its annual death-rate from gunshot wounds is double that of most other Christian tribes. It is a very old tribe. Shlaku and Gashi are both offshoots of it. Shlaku and Toplana are both small and Christian; Gashi, all Moslem, is reported to be rich, and consists of 800 houses. Its territory is as yet almost entirely unexplored.

We role through the forest–by the way lay a great rock. A maiden, who was so holy that she was almost a saint, had vowed that she would carry it to the church of Berisha. Miraculously aided, she bore it a long way; but here in the forest she heard a shepherd fluting, and she looked upon him, and he was fair and comely. Then she forgot the heavenly things upon which her mind had been fixed, and earthly thoughts seized upon her; the rock fell from her shoulders, and when she strove to pick it up she found her strength had gone, and there lies the rock to this day.

Between Merturi-Guchesit, and Apripa Gurit, we passed a splendid kula, Kukdoda, with a great stone watch-tower, all loopholed, and with many of its stones signed with a cross. A second smaller house and a hurdle maize-shed stood in its yard.

At Apripa Gurit, near the Drin, we halted for lunch by a spring. An excommunicated family lavished attentions on us, cut fern for us to sit on, brought rakia, and did its best to soften the heart of the Padre. The house-lord, a very old man, begged the Padre earnestly to confess him. "Only when you put a stop to your son's living with his sister-in-law," said the Padre. The son (whose sins were being visited on the father), a remarkably fine young man, wearing a handsome silver chain, was quite impenitent. He had found a girl, and had arranged to marry her in a year; till then he was going to live with his sister-in-law, and would make it up with the Church afterwards. All the family supported him in this arrangement; they were so decided about it that I wondered whether the real object of it were to beget a child that should rank as that of the deceased brother, but that I could not ascertain. They were uneasy about the excommunication, and offered the Padre first thirty, then fifty guldens, or beautiful candles or pictures for his church, but he was as stubborn as they. The confessional, he said sternly, could not be bought; when his terms were complied with, he would gladly receive them all back–there were eighteen of them, I think–and not till then.

Meanwhile the ferrymen had been summoned. So far, our way had been easy, but the descent to the river was very bad indeed–a crumbly cliff. Marko managed it by sitting and slithering. The horses came down all of a heap, sending such a shower of stones flying that we had to take cover behind the rocks.

The trapa, two very rough dug-outs lashed together with withies, and propelled with the rudest wooden ladles, was under the lee of a rocky promontory; the stream was swift and strong. Stark naked men with inflated sheepskins bound before them, pranced about the shore, and played like kittens. One started with our two horses, creeping out to the tip of the promontory, and then whirling away down stream, striking out violently, yelling to the horses, steering and guiding them. They got over safely a long way down, and it was our turn next. I said good-bye to the Padre, nor could I thank him enough, for, as Marko truly said: "If we were the King of England he could not have done more for us."

The crazy contraption was half full of water. We piled ourselves and the saddles on the centre plank. Three men–one stark naked–guided the affair to the end of the promontory; there the current caught us, whirled us round like a straw, and spun us along, the water slopping over the gunwales. The men paddled madly; we sloped across the stream, and cannoned against a lot of boulders–two of the crew leapt out, hung on to a rope that was a long, dried trail of vine, swam in with it, hauled–the trapa swung round, grounded in a shallow, and we scrambled ashore.

The naked man then went back to fetch his best clothes and put them on, as he was to guide us to Nikaj. The rest of the journey was most painful. There was no track. The guide had never taken horses that way before. There was nothing for it but walking, and instead of getting better it got worse. Poor Marko suffered so horribly that I regretted having come a hundred times, but it was too late to go back. A thunderstorm fell, too short to do good to the parched land, but enough to make the surface greasy for climbing, and Marko twisted his foot again.

We arrived at Gianpepaj a melancholy party, to be received by a dismayed Franciscan, whose house was half ruined.

Out of sight is out of mind. In the heart of the wilderness, where more than elsewhere it is urgently necessary to teach the people and save them from Moslem influence, the condition of the churches and the priest's houses is often a disgrace. "Nikaj," said a priest bitterly, "is a land abandoned by God and man."

The tribe is of mixed origin, and consists of some three hundred houses, so widely scattered over a wild country that the one Franciscan in charge struggles vainly with a hopeless task.

Twenty of these houses trace origin from Kilmeni, and are intermarriageable with the others, which are an offshoot of Krasnich. Krasnich, according to tradition, stems from Bosnia. (See under Hoti.) In olden days, when Krasnich was still Christian, shepherds–led by one Nikol–drifted here from Krasnich, and settled. This Nikol had a daughter who was very ugly, and had but one ear; he failed to find a husband for her, and she bore a son by a gypsy. This son was accepted by Nikol, and from him are descended a hundred of the Nikaj houses. They are called Tsuraj, and are not intermarriageable with the other houses of Krasnich origin because they descend from Nikol's daughter. This is the only case of descent traced through a daughter that I have found among the North Albanian tribes. The very small, dark type common in Nikaj and Nikaj's notoriously thievish nature are popularly ascribed to this union. The fair, aquiline-nosed type is scarce. Nikaj is under no Turkish official, and (as does also Merturi) owes nominal alliance to the famous chieftain of Krasnich, Shaban Benaku.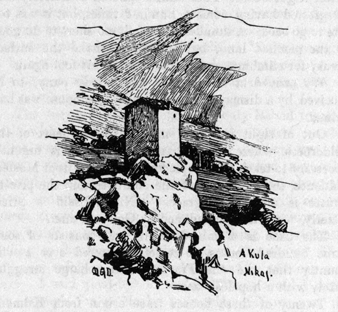 Practically it is without any form of government. The wild population does not even obey its own council of Elders. Wretched, abjectly poor, clad often in rags that are barely enough for decency, lean, dark men prowl the wild valleys, knowing no rule but that of their own most primitive instincts. And in that forlorn land it was fated that I should stay.
Further travelling was made impossible by poor Marko's foot. I paid off the kirijee and horses, and dismissed them.
"God cast you into Hell," said a priest to me afterwards, "that you might tell of it in England–that you might cry to every Catholic in England: 'Save these people!'"
The tribesmen received me extremely well. Few things please them more than almost endless pow-wows and arguments. The only thing that they objected to about me was my straw hat. They had never seen one before, and frankly said it was foolish, useless, and ugly. When I discarded it, and tied my head up in a towel and a pocket-handkerchief, in imitation of a tribesman, and then squatted cross-legged on the ground among them, they were quite childishly delighted, and ready to pour out the tales of blood and horror that are part of the dull routine of their lives. Here is the story of how Nikaj fell into blood with Shala. Krasnich is Moslem, and always at blood with one or other, or all, of the Christian tribes. Some six years ago the Krasnichi wished to kill a certain Shala man, but could not come at him. So they bribed a Nikaj man–a known bad character–to do the deed, promising him sixty napoleons. He waited till the Shala man came to Nikaj on business, and then traitorously offered to be his escort back–an escort being necessary. When they were actually within the Shala frontiers, the Nikaj man let his victim get a few paces ahead, and shot him in the back. He then rushed in to cut off the head to take as evidence. The poor wretch was not dead, but too severely wounded to defend himself. Desperately he seized the knife blade with his fingers, which were cut to pieces. Finally, the Nikaj hewed his head off, put it in a bag, took the dead man's Martini also as proof, and started for Krasnich to receive the blood money. But the head seemed to grow heavier and heavier till, as he afterwards told, he thought it weighed a hundred okas, and he hid it in a hole in the rocks, and went on with the Martini. This, in turn, grew too heavy for him, and he arrived in Krasnich quite exhausted.
Meanwhile the headless body was found at Shala, and the hacked fingers told of the horrible struggle. All Shala was furious. Nor was the body identified till it became known that a certain man had gone to Nikaj and never come back. The body was buried hurriedly, with no funeral ceremonies, for the loss of the head is accounted the most terrible disgrace. Nikaj, when charged with the crime, was as furious as Shala, for even among the very wildest tribes the besa is held inviolable, and the Nikaj man, by breaking his, had put himself beyond the pale. Nor has he ever dared return, but is said to be living with a Moslem tribe. The Nikaj men begged Shala not to hold them responsible for the crime, but Shala thirsted for vengeance, and the two tribes have been in blood ever since. The head was found a year afterwards by some shepherds, and buried with the body. The Martini was not found till nearly two years had passed.
In cases of blood vengeance it is not correct to take the weapons or any other property from the body of the slain. The slayer kills to clean his honour, not in order to steal.
In the Maltsia e madhe weapons are never taken. But they are by some of the wilder Dukaghini tribes–Berisha and Nikaj among them.
Nikaj is now in blood with Krasnich too, and is also greatly in blood within the tribe. And for tribe bloods, as usual, all the blame was thrown on the women. They run away from their husbands and live with other men–they are devils, in fact, for, of course, the husband and the other man must shoot each other. A large proportion of the children were, they said, illegitimate, because their proper wives bolted. But they admitted frankly that they beat and generally maltreated their wives, and that the women had no choice whatever as to whom they married. I maintained that under these circumstances they naturally bolted. Any one would–I would myself. This shocked the Franciscan, who protested, "But they are in matrimonio." Once in matrimonio, the worthy man seemed to think it should be impossible for the poor woman, even when married to a stranger, for whom she had no affection, to fall in love with anybody else.
Experience in the tribes had proved to him that matrimony was the root of nearly all evil. The thing of which he was quite certain was that both he and I had acted very wisely in abstaining from it. He quoted St. Paul, in Latin, in support of this view. And the fact that I had sworn no vow, and had yet managed to escape, interested him much.
Even the Laws of Lek are not always obeyed in Nikaj. The paying of blood-gelt does not always stop a feud. In a recent case the feud had ceased for years. But when the son of the man who had ended it grew to be fifteen years old, and was now head of the family, he declared that as the family honour had been sold when he was an infant, he was not bound by the oath, so went forth with his gun and shot a man of the other house. And the feud began again.
Nor is the law of Albanian virgins always respected. A hideous example was told me.
An old couple had no sons, but had two daughters; both, with their father's consent, wished to remain unmarried. The other men of the family were very angry at this, as they wished to make money out of the girls. They sold both for good prices, and carried them off by force. One was handed over to an old man, helpless, and forced to cohabit with him. She consented to being legally married–probably not daring to refuse–but she hated him. Seeking means of escape, she made the acquaintance of a youth in the neighbourhood, and promised to marry him if he would free her. When it was time to go to the forest to fetch firewood the youth offered to go too and help. On the way the couple let the old man walk ahead, and when they came to a precipice shoved him over, and returned saying they had missed him in the wood, and could not find him. They fled together into another tribe, and the body was not found for some days. They are now married, and as it is believed that the woman threw the old man over, no blood-vengeance has been taken.
Nikaj, of course, swarms with devils; a very large proportion of the women have dealings with them, and work much ill.
A Moslem magician–a most wicked man, who is in league with all the powers of evil–arrived at Nikaj while I was there, and had the impudence to come and ask for hospitality and quarters at the church-house–to the not unnatural wrath of the Franciscan. Both he and Marko believed him to be so desperately wicked that they would not allow him to come anywhere near me, though I declared I was sure he was only an impostor, and that I should like to see his tricks. They were not tricks–he was known to have sold his soul to the Devil, and summons his aid by standing on one leg and kicking the other violently behind him till he streams with sweat and is exhausted. He then reads the future and folks' fortunes, and thus does much harm, for all that he says is diabolically inspired, and people believe in him, and act accordingly.
I remembered that the tribes near Bond Street are credulous enough to support many magicians, and that there is no fiery and earnest-minded Franciscan to chivy them away. Perhaps when the Albanian Mountains are completely and successfully civilised, the women of Nikaj that now "deal with the Devil," will edit the Fortune-telling columns of the Albanian Gentlewoman. Great, indeed, would be the blessings of Progress if any one knew whither they were "progressing."
Then Marko told a perfectly authentic tale of–

A DEAL WITH THE DEVIL.
A certain man had dealings with the Devil, and did so much evil that at last the Pasha threw him into prison. One day the Pasha had many guests, and bethought him that he would summon the magician from prison to do some tricks. Duly brought before the company, he asked for a large bowl of water. This being given him he performed sundry charms over it, and asked the guests what port they would like to see: "Malta," said they. They looked, and there they saw Malta quite clearly–land, houses, sea, and a steamer in the harbour just about to start. "Have I your permission," said the magician to the Pasha, "to depart in that steamer?" "Certainly," said the Pasha. The magician put his foot into the bowl of water, and at once disappeared and went to America on the steamer. In America he had more than ever to do with the Devil, and had a wicked servant who aided him.
One day when he had prepared a quantity of magic liquid in large bottles he ordered his servant to kill him, cut him up, and bottle him. The servant refused. He then wrote many letters to all parts of the world, and bade the servant post them: "I shall kill myself" he said; "you must cut me up and bottle me. Put the bottles in the cellar, leave them for nine months, and tell no one; I shall answer the letters myself. After nine months you must open the cellar, and I shall come to life again." He killed himself, the servant bottled him; some time elapsed, and then answers to the letters began to come, written by the magician himself. The terrified servant gave information to the authorities. The cellar was opened, and it was found that the pieces had actually begun to come to life. Had the nine months been completed there is no doubt that the scheme would have succeeded, and this wicked man would have lived again; but the authorities ordered the pieces to be destroyed, and that was the end of him.

Except myself, none of the horror-frozen audience doubted this marvellous tale. "With the Devil," I was told, "nothing is impossible." Magic is used by wicked Moslems to pervert Christians. I was told the following, which took place at Scutari, while I was up in the mountains on my first tour:–
A Turkish officer lodged in the house of a Christian who had a daughter, a young woman twenty-five years old; they went out walking together. One day, when thus out, he put her into a carriage and drove her to a Moslem house, and told her parents that he was going to marry her. The parents declared that she had been forcibly abducted, and appealed to the Archbishop and clergy. They all demanded her restoration of the Government. The girl, it seems, had already declared her willingness to turn Moslem and marry the officer; the Church protested, and she was given back to her family, which, to make sure of her, sent her straight off to relatives in Podgoritza (Montenegro). There the whole mystery was explained; the charm by which she had been bewitched was found hanging round her neck and removed. She at once ceased to wish to be a Moslem, and was perfectly cured–it had all been done by magic.
My kind host feared always that I must be bored. Life to him was a dull monotony of feuds and raids, to check which he daily wore out his soul in vain, but to me time in no way dragged.
Relations between Krasnich and Nikaj were very strained. At night, watch-fires twinkled on the Krasnich mountains, and talk ran on horse-raiding and cattle-lifting. Krasnich had shut its territory to Christians, and barred the route to Djakova, where Nikaj buys such extra things as it needs. Nikaj is three days from Scutari, an almost impossible journey to make with flocks and return with maize. Save stinking and savage Djakova, most Nikaj folk have never seen a town, and that but seldom. One man told me that he went to Scutari and Djakova each once a year. When fighting had seemed imminent in the spring, over the captured Franciscan, Djakova cut off Nikaj's gunpowder supply.
Thus things simmered and sizzled. Shala had a besa with Krasnich; but Krasnich harried some Christian villages near Djakova that are descended from Shala. Shala recognises them as blood relations, and does not intermarry with them, and therefore claimed the protection of the besa for them. Krasnich refused to recognise them as Shala. Shala thereon said the besa was "off," and raided Krasnich at night, stealing three mules. Krasnich does not border with Shala, so sent three Krasnich men to accuse Nikaj of having fed and sheltered the mule-stealers on the way. Ten Nikaj and the three Krasnich made a sitting in a circle at the foot of the big wooden cross, and argued the affair for hours. Nikaj loudly protested entire ignorance of the affair, and told them to go to Shala.
A day or two after, Nikaj went a-raiding to Shala, and lifted two fine horses. Shala then sent over delegates, and complained that it was not fair. The horses were not Shala horses, but belonged to some Kilmeni men who were guests, and had come under besa to pasture beasts. The horses were under besa therefore, and must be restored. To this Nikaj merely replied airily, "Another time don't leave horses belonging to guests straying about." The two horse-stealers, however, offered to sell Shala the horses for five hundred piastres apiece. Shala was enraged. They wrangled long, and put off further debate till to-morrow.
Next day the two horse-thieves–one a fairish man, with a hooked nose, small head, and very weak jaw, and the other a forbidding, dark youth, with a handkerchief bound over one eye, low types both–came in hot indignation to the church-house to complain to the Franciscan and ask his advice. In the night, Shala had stolen the two horses back again, and got safely over the border with them. The Franciscan, Marko, and I, all three shouted with laughter, "Bravo,Shala!" The two thieves were hurt. They told, in all innocence, of the pains they had been at to get the horses in the first place, and now they had been robbed. It was most unfair; the horses were theirs. Nor could the Padre make them see it in any other light; for, by the law of the mountains, robbery from another tribe with which no besa exists is rather a virtue than a crime. If Shala had the right, Nikaj argued, to take the horses back, then Shala must restore the mules just stolen from Krasnich. A delegate came over from Shala to debate this nice point, and asked pertinently, "Are you in besa with Krasnich? If so, we return the mules."
As Nikaj was badly in blood with Krasnich–had barely a week ago refused to have anything to do with the mule affair–the proposition was unanswerable.
Shala withdrew, leaving the poor horse-thieves very crestfallen, and all Nikaj so angry that possibly by now the comedy has ended in tragedy.
People came to see me almost daily, bringing gifts of honeycomb or rakia, all praying me to get them a new form of government. It was in their power, I said, to start a better government at once. They had but to consult the Franciscan before deciding to shoot, and to follow his advice. They replied: "How can we obey a man with a cord? He has no soldiers to force us. We must have soldiers to make us obey!"
They were at liberty, too, in their medjliss, I urged, to make new rules. "What is the use?" they said; "you can spend weeks making a new law; but the first time it is broken, some one says of the guilty party, 'Oh, but he is my cousin.' Then you would have to fight all his family. By your plan we should kill each other more than we do now."
I strove to explain that in England we governed ourselves with a medjliss. But this was beyond even Marko and the Franciscan. "You have a King," they said; "when he says some one must be shot, he is shot. Without the King, no one could obey the medjliss." The King, they maintained, was very rich, and had soldiers and suvarris, who forced the people to obey him.
I said that we paid for the police and soldiers ourselves; but that any nation could be so foolish as to do that they refused to believe.
There they sat–dark, ragged, voluble, conscious of their own misery, vaguely desirous of something better–and clamoured to me for a King.
I looked at them with awe; for I saw them through a vista of thousands of years. The river of evolution had left them stranded–waifs of a day when men had not yet learnt to form a nation, and had whirled me and mine through all the ages–through tribes, principalities, kingdoms–washing, as it went, the Divine right off kings, and hurrying us none knows whither. We have even got back to a medjliss to the ruling of which we object–as does Nikaj.
They waited further advice. I tried again.
"You say you all want a good government." "Yes, they all did." "Then why do you not try to keep the laws that you already have?" They all assured me that they wished to; but that they could not because of the bad people. I asked if there were more good or bad in the tribe. The great majority, they protested, were all good. All those present certainly were. Then, said I, they could force the bad ones to obey. For example, they could punish all the thieves–thieving is said to be a weakness of Nikaj. This was impossible, said a "good" man. He himself, of course, would not think of stealing, but suppose his cousin stole a horse, he could not possibly allow his own cousin to be punished.
They could not unite for the benefit of the tribe except when attacked from without, nor could they see that it was desirable. One's own blood came first. It was a case of "house" against "house," and in all the tribe there was no one with sufficiently marked individuality to sway the rest for good. The old Bariaktar, a man of much force of character, celebrated for his eloquence, had done much good, but was now past work. This fine old man paid me a special visit. He bore his eighty years well, and his grey eyes were still keen. He had an aquiline nose and strong jaw, and his thoughts were all for the saving of Nikaj. He had done all he could for it. Now he was old, and could do no more. If he were but younger he would come with me, no matter what it cost, and go straight to the house of the King of England, and tell him all the misery of the land and beg him to save it. Or he would have exchanged blood with me, and then as his sworn probo I should be bound to help him. He was sure I was of sufficiently noble family for him to exchange blood with me.
He did not speak for himself or his family. It was for the country he wanted help. Thank God, he had no crimes on his soul and was in blood with no one. And all five of his sons were alive. Four were married, but the fifth, though twenty-five, was not. "And it is my own fault. The first four brides were all bespoken unborn. But for my youngest son I thought there was no hurry. Now all the maidens of good family are born betrothed. And I must have one of a good family. Good blood is what I want for him. A woman of bad stock causes endless trouble. It is not a question of price. I would willingly pay a few napoleons more for good blood." He was looking, he said, for a suitable widow, and he repeated that the price did not matter.
The old man was celebrated for having fifteen years ago settled a most difficult quarrel between Shala and Nikaj which had cost much blood. Twenty-four sat to debate the case, squabbled endlessly and came to no decision. Only the old Bariaktar spoke never a word. Asked why, he said he would not waste his words, as he knew they would neither listen to him nor take his advice. Pressed to give an opinion he rose to his knees, as the custom is, and spoke for twenty-five minutes so clearly, so forcibly, and so eloquently on the subject that his advice was unanimously taken and peace made.
The Franciscan asked him to stay for dinner. But it was a Saturday, and though I had said repeatedly that fast food was quite enough for me, a little piece of meat had been prepared for my dinner. The mere sight of cooked meat on a Saturday would have shocked the old man severely and made a scandal throughout the tribe. It was arranged, therefore, that I should eat apart. This pleased the old man greatly, for it is in accordance with mountain custom that men and women should not eat together, and he expressed a high idea of my modesty.
Nikaj believes itself to be pre-eminently Christian. But nearly every member of the tribe drops his baptismal name and calls himself by a Turkish one–Said, Suliman, Hussein, &c.–though they hate the Turks.
A youth who had drifted in to see me remarked, quite casually, in general conversation, "My brother shot a Gashi man yesterday," much as an English lad might say "I met old Smith the other day." I asked "Why?" "Because he spoke against the Christian faith," said he solemnly. And all thought the Gashi had been rightly shot.
It is said, I know not with what foundation, that at one time Nikaj was Orthodox. If so, this would indicate that its parent stem Krasnich was Orthodox, which is of much interest, since the two kindred tribes of Vasojevich and Piperi in Montenegro are Orthodox, and the name Krasnich has a very Slavonic ring about it (Krasan, beautiful). But Nikaj must have early become Catholic if the tradition be true that there was formerly a Benedictine monastery not far from where the present church stands, and that it was burnt by the Moslems.
Nikaj believes itself to be Christian, and shoots Moslems freely, but, in spite of the penalty of excommunication, sells daughters to the Moslems of Gashi. Moslems will pay thirty napoleons for a Christian girl, and will take even the blind and ugly ones. The girls are often bound and handed over by force. Sometimes they run away, and a blood feud is started.
The old Bariaktar talked the tribe into passing a law to burn down the house of any man selling his daughter to a Moslem. But it was never enforced.
Of the three hundred houses of Nikaj, at least fifty have widows of brothers or cousins as concubines.
Nikaj, obeying not the laws of the Church to which it boasts that it belongs, and incapable of sufficient internal organisation to enforce even its own tribe laws, struck me as the most degraded native type that I met. Degraded, I say, because it seems very possible that the refugees in these isolated spots have not stood still, but have relapsed. For in Nature nothing stands still; it either develops or atrophies.
And as they very rarely come to church, it is hard ever to gather them together for any instruction or information. Part of the Tsuraj stock live at the top of an almost perpendicular cliff that rises up from the river.
To ascend it by the short way on foot is three or four hours' hard climb; by the mule track it is a good six hours'. To work with such a parish is entirely beyond the strength of one priest.
On Sunday more than twenty men flocked to the church-house before mass. With Marko's help we discussed the usual subjects, while the Padre made ready the little chapel below. But at the sound of the first notes of the church bell, the company arose and all filed off. They had come to see me and not to attend mass. The congregation in the wretched, poverty-stricken little chapel consisted only of the Padre's servant, one or two women and children, Marko and myself.
When we came out of the dark, chilly, little place into the sun, back came all the crowd as eager as ever for an argument with me.
I started, with a view to stirring them up, by saying that when I told people in England that they sold their daughters to Moslems, had several wives (sisters-in-law, &c.), dropped their baptismal names and took Turkish ones, shot one another, stole within the tribe (which they admitted with grins), never came to church, and broke the rules of the Church, no one would believe they were Christians. They persisted that they were, and chorussed that they shot Moslems whenever a decent chance occurred. As for the wives, one of the company, who was excommunicate for having two, protested with great earnestness that the second was his cousin's widow. She had three children to bring up, so must stay in the house; his honour therefore compelled him to cohabit with her. She, of course, could not be allowed to marry outside the house; but she was only twenty-four, and to force her to live single would be so wrong that, in spite of the commands of the Padre, he could not do it–it would not be honourable. He deplored the ban of the Church, but family honour came first.
Of the Turkish names I could get no explanation, except that they liked them, and, as they could not be baptized by them, took them afterwards. To the question why they should shoot Moslems, but like to imitate them, they could give no answer; but it amused them. As to selling daughters to them, they frankly admitted it was a question merely of price. They would always sell to Christians if they paid well. Marko begged them to consider their souls' future. One man argued ingeniously. He denied all responsibility about his soul. The Padre said God had given him his soul. "Very well, then, it is God's business to look after it. I never asked Him to give me a soul." To Marko's suggestion of eternal torture, he replied that the torture of his soul would not affect him after he himself was dead, and that it would be extremely unjust of God to torture his soul for sins that his body had committed. His poor soul had done nothing at all. They all seemed to regard the soul as something quite apart from their own identity–possibly as the sort of bird that flies from the mouth of the dying in cheap religious prints. "When I am dead, it does not matter to me what becomes of my soul," was the general idea. Two things only did they consider important–to keep the fasts and to be buried in consecrated ground. The only reason I could get for the desire to be thus buried was that the churchyard was theirs, and they had the right to be buried where they pleased. But the churchyard was the most neglected and desolate that I saw in any Christian tribe. Rough stones only marked the graves; none marked with a cross or any other symbol. Nor did they seem to attach value to a funeral service. The rule of the Church is that no man who has gone out with the known intention of taking blood, but is killed himself, may be buried in consecrated ground, for he has died with the sin of intended murder on his soul. Recently a man had gone to kill an enemy, but was himself mortally wounded. The Padre hurried to confess him. He persisted only in regretting that he had failed to clean his honour, and died impenitent. The Padre therefore refused burial in the churchyard, but the tribe came and buried him there. Orders were then sent peremptorily by the Bishop that the body was at once to be exhumed, and exhumed it was, and buried elsewhere. This made a considerable sensation and much displeasure, and it is possible that it will not have the intended effect.
Church services have no meaning for many of them, and therefore no influence. One woman actually came into the church when the Franciscan was serving mass, walked straight up to the altar, and said: "Padre, I want you to write a letter for me." He took no notice of her, so, as he was raising the chalice, she caught hold of his arm and repeated her request much louder. His servant then, to her surprise, led her out. I could not find that they believed in anything really but "the Canon," and "there are no soldiers to force us, so we can do as we like," summed up their code.
But they can be faithful to their own sworn word, and at times scrupulously honest. The odd, old man, the priest's servant, had once gone almost without food for four days, to his master's horror. Left in charge of the house with plenty of food in it, he had eaten only some broken scraps. The rest, he said, did not belong to him, and he did not know if he might touch it.
He had a peculiar sense of humour. Roaring with laughter, he told that he had had a very funny thought. "Suppose a cow fell from the cliff opposite. It would be broken all to pieces. Every man would run to pick up a bit for supper. Then suppose, just as they got there, the bits all joined into a cow again and ran away!" The thought of their disappointment tickled him so hugely, he could scarcely tell it for laughing.
The tribesmen love a joke. It is usually a tale of a successful swindle. Thus: A man bought a donkey at the bazar and led it away. Two thieves followed him. One slipped the halter from the donkey, and went off with it. The other put the halter on his own head, and followed the man. When the first thief had had time to escape with the donkey, the second began to pull and groan. The astonished man looked back, and found the donkey gone and a man in its place. "Where is my donkey?" he asked. "Alas!" cried the thief, "I am that luckless being. A wicked magician turned me into a donkey for fifteen years. The time has just come to an end. I have nothing and know not where to go." The kind man then released him, and gave him some money.
Half-way up the cliff whence the cow was supposed to fall, a treasure of gold is fabled to be hidden. But it cannot be found, for it is amanet –trusted to the Earth, who will not yield it till certain unknown conditions be fulfilled.
A good plan, in such cases, is to sprinkle the earth overnight with flour or wood-ash. If, early in the morning, any footsteps be found on it–those, for instance, of a goat, a dog, a bird, even a man–such a creature must be sacrificed on the spot, and the Earth will yield the treasure. It is useless to dig unless you know the requisite spell.
A man once went to bury gold in a forest. But a woodcutter hid and watched him. He of the gold laid it in a hole at the foot of a tree, saying, "O Earth, do not yield this till two mice drag a cart round the tree." He went away believing his gold safe; but the woodcutter caught two mice, tamed them, taught them to draw a little cart, and drove them round the tree. Then he dug and found the gold. Without the mouse trick, he might have dug vainly for weeks.
The heat wave that had hung over the thirsty land for months, broke in a deluge. Thunder crashed continuously, hurled back and forth from one mountain to the other. "Drangoni is fighting the dragon!" These frightful fights take place in mid-air. Kulshedra (the dragon) strives to overwhelm mankind with floods and torrents, Drangoni beats it back with thunder. When a child is born with a feather under its arm, it is a sign he will be a Drangoni. His mother must not tell of the feather, or he will die at once. Most likely St. George was a Drangoni. The Drangoni is always male and Kulshedra female. A male animal can be a Drangoni.
Poor Marko's ankle had been on our arrival very bad–enormously swollen, and with signs of inflammation up to the knee.
Local opinion was that three strong men ought to pull it out till it went "pop" and was cured. I knew it was not dislocated, and feared lest they should persist and set up such acute mischief that Marko himself might go "pop." Finally, we set a crowd of leeches to pasture off him. Disgorging leeches is certainly a messy job, but I was surprised to find the disgust it caused to various men who dropped in, blood being the fluid by which they were accustomed to cleanse their honour.
When not a leech was left to cry "More," Marko, limp and depressed, took the blackest view of life, but the inflammation was checked and the swelling reduced.
More rough climbing was out of the question. As soon as he was fit to travel, we started for Shala (so as to return to Scutari slowly by the easiest route), with two good mules and two Nikaj men as guides.
The track up the mountain was good enough for Marko to ride all the way. We reached a fine grassy plateau–the source of the Lumi Zi, a tributary of the Nikaj River–hidden in a great beech forest. Here our Nikaj guides, who were dull-witted, let the mules escape while watering them, and lost much time. Then on, always mounting through miles of forest till we came to its edge, and saw the peak of the mountain rising up beside us with startling abruptness, a glaring razzle-dazzle of raw white limestone, no leaf or twig upon it. The people call it Mal-i-bardh, the White Mountain. We were on the top of the pass–Chafa Nermandjesh–some five thousand feet high, the frontier of Nikaj and Shala. The descent to Abate is easy. Our guides delivered us safely at the church-house, but rather late, as one of them was an important Head, and, with the engaging Nikaj peculiarity of doing just as he pleased when there was no one to force him, he sat down and held long parleys with every one we met on the way, taking no more notice of us than if we had not been there.
Shala is lucky in its young Franciscan, a keen, active man, who has for eight years been working hard to amend the law of blood; and has succeeded in restricting it so that now only a member of the house actually concerned may be shot, and that house only burnt. Previously any relative however distant was liable, and four or five innocent houses were sometimes burnt, merely because they were related. So far, this new law has been kept–a step, though small, in the right direction.
But for blood, and the awful destruction of property following, Shala would be rich. When I was there, it had been at once in blood with Shoshi, Plani, Nikaj, Skreli, Krasnich, and Gashi–not to speak of blood within the tribe–but had just sworn besa with the Christian ones as a protective alliance against the Moslems.
Shala, like Nikaj, is very fond of Turkish names, but forbids the selling of daughters to the Moslems, and burns the house of any one doing so. It steals girls freely from Nikaj, founding many blood feuds. And though honest within, the tribe enjoys of all things raiding across its borders. A Vuthaj man had just been in search of a "lost" cow. Shala, having eaten it, denied all knowledge of its whereabouts.
Now Shala was all agog to go to the feast of St. Bonaventura, at Shoshi. The tribes do nothing by halves; their hospitality is lavish beyond belief. One man near the church had killed two oxen, five sheep, and three goats, and expected guests to eat the lot. By early dawn nearly all the male population, and very many women, were off to Shoshi in their best clothes. If Krasnich had made a raid, there would have been no men to oppose them.
They returned on the fourth day, having enjoyed themselves hugely, fired a fabulous number of cartridges–we had heard the rattle as of a small war–and eaten roast meat for two solid days. Shoshi had been eaten out of house and home; had spent on powder, rakia, and food some 30,000 francs, it was said, in entertaining some fifteen hundred guests. A yearly affair on that scale is more than a tribe can stand. Shala promised not to go to the feast of St. Bonaventura next year, on condition Shoshi does not come to the feast of Shala's patron saint, St. John Evangelist.
Wild yells suddenly announced that the Archbishop was in sight. He, too, had been celebrating St. Bonaventura at Shoshi. Out we rushed to greet his Grace with the hail of bullets the occasion required, as he rode uphill, followed by my gay young friend, the Padre of Thethi, firing return volleys.
How we all fitted into the small house I do not know, but it was managed, and the party was most lively.
We were all, as is the national custom, drinking rakia before supper, and I was being taught the correct complimentary phrases to accompany each glass, when the servant dashed in to say a man had been shot just outside. The Padre seized his bag and dashed out to give absolution if there were yet time, but the man was dead–shot from the back, right through the left breast and the leg.
Not one of us had noticed the two rifle-shots, though quite near the house, for there had been a fusillade all day, on and off.
The man was dead. We went back to supper, and talked of blood and sudden death, of the miserable state of the mountain tribes, owing to the prolonged drought; the hopelessness of remedying social and material conditions under the then existing Government. And over all the poverty, crime, and ignorance hung the shadow of a greater horror–the dread of a combined Moslem attack on the Christians. A doleful evening enough.
Next morn brought the details of last night's murder. The youth had been shot by his own second cousin, with whom he lived in a communal family house, for his own house had been burned for blood, but he had some fields. He was twenty-three years old, had shot two men–one only the year before–and had not confessed for five years, so could not have Christian burial. His relatives, however, came at once to the church-house to beg the Padre for sugar for the funeral feast.
The two had quarrelled over irrigation rights. The deceased had, that day, rightly claimed the water for his fields. The other diverted the stream to his own lands, and as his cousin stooped over the channel to reopen it, shot him twice from behind.
Torrents of rain fell next day–water enough for all. Judged from the lowest standpoint, the slaughter of the youth was totally unnecessary. I waited with interest the judgment of the tribe.
The development of the case was amazing. As the blood had been taken within the family, there was no outsider to avenge it. It was a crime only against the head of the house, and he alone had the judging of it. As he decided to publicly forgive the murderer, the tribe had no power to inflict any punishment. So the murderer dwelt as usual with the rest of the family in the communal house. He, as well as his victim, had had his own house burnt for blood previously.
As a member of the family, he was present all day at the funeral feast, and looked at his victim's corpse in the grave apparently quite unmoved, while the death-wails of the mourners echoed round.
Public opinion by no means wholly approved of the affair. But it was eghel–it had to be. God must have meant him to die, or why should only two bullets have killed him? Many men recover even from ten–if it be eghel.
I urged that the case was a disgrace to the tribe, and a law to deal with such should be passed; but was told that no law interfering with the rights of a man in his own house would ever be obeyed, even though passed. The mountains do not approve of "grandmotherly legislation." Nevertheless, there was a feeling that the murderer had acted scurvily. The best way for him to reinstate himself would be for him to shoot some one else–not a near relative. His ground could then be confiscated for a time, and his goods destroyed. He would be liable to be shot, and in this new feud could clean his honour.
News of the murder was sent at once to Scutari, and the officials there would duly claim some forty napoleons as their fee.
The majority of blood-takers, said the Padre, die quite impenitent, saying they would rather go to hell with their honour clean than to heaven dishonourably.
As at Nikaj, I found they declared that their souls were not responsible for the deeds of their bodies.
Shala, like the other tribes, declared that, in spite of shooting, it had a large excess of males. The excess of females in England always astonished them. One man ingeniously explained it. "England does not need so many fighting men. Very many women prefer to be virgins, whereas very few men do. Therefore God has arranged to satisfy all tastes!"
On July 18th came great news from the outer world. The Vali of Scutari had been dismissed, with all his entourage –the soldiers had again struck for pay–he had been in office but six months. Hot on this came rumours that the same had happened in Prizren and Salonika. A planned and prearranged revolution in Turkey was an almost unknown thing. The wildest hopes flew through the mountains. Something was going to happen. Who knows? Perhaps the Turks will be driven out!
Life went on as before. I spent my time with the children. Some were in charge of beasts. Most merely killed time by fooling aimlessly about, till one punched another and a general squabble took place. They rarely, if ever, played an organised game, and, if they did, never stuck to it long. When I asked for children's games I was told, "They have never been to school. How can they know games?" In truth, from childhood upward, the chief topic of talk and interest is the family blood, and who has killed whom.
In all the mountains I saw but four games, and two of them only once. One is an elaborate form of Cat's Cradle called Kamb-e-Pulat (Hen's Foot). It ends with a three-toed figure like a bird's foot. The string is wound round the feet as well as round the hands. The second is Knucklebones, played with pebbles.
The other two were played only by boys. A boy stands on all-fours with his back well arched, while one boy dodges over, and a second under, him. The object of the upper boy is to butt the under one "behind" with his head. If he hit this mark he wins, and the butted boy has to form an arch. If he miss, he strikes the top of his head violently on the ground, which causes roars of laughter. I had seen this game previously in Montenegro. But it was quite new to Marko, though he is Albanian and has travelled much in the mountains.
In the fourth game a boy guards a ball within certain limits, while the others try to kick it out. When kicked out, the defender of the ball must throw it at the kicker, who, if hit before he reaches a place of safety, becomes guardian of the ball. The ball was made of a tight bundle of fern, so gave little sport.
A cheeky boy of fifteen suggested that I should buy him a wife. Wouldn't he make her work! Now he lived with his grandfather, and they had no woman–he had to make all the bread himself.
He pointed out a girl near who, he said, was sold to an ugly old man. She threw stones at him indignantly, but he persisted. She knew only that she was sold, and would be sent next year–to whom she had no idea. She and her sister lived with their widowed mother. Her father and uncle had both been lately shot. Her mother had gone to the Shoshi feast, and had not yet returned.
She went back to her hut, and presently the most pitiful sobs and wails recommenced. Her sister had taken their only goat to graze on the hillside. A viper had bitten it in the tongue, and it was dead. The two sang death-wails. "Oh, my goat, my goat, my only one! Some have so many goats–why has the serpent taken our only one?" Their weird cries resounded till they sobbed themselves exhausted. Not only was the goat's milk an important part of their living, but they dreaded that their mother would beat them on her return.
This was easily remedied. I sent the price of a milch goat. The relief, coming unexpectedly after a night of despair, produced torrents of tears. And the gratitude of both girls and mother was touching in the extreme.
This people is a strange mixture of violent emotion and apparent insensibility. The way in which women will weep on the grave of a brother killed years ago is heartrending to witness. Men speak with deep feeling of a murdered son–but the shooting continues.
A hideously raw version of the Pot of Basil story was told me by a Franciscan in whose parish it took place. A widow had one son. He was shot in her presence and his skull shivered. She collected his scattered brains and kept them in a box to weep over–all she had left of him.
We left Shala for Thethi, where I met again the fine fellow who had piloted us to Vuthaj. He had been there since to buy maize, and reported, had it not been for the old Moslem whose guest we were, we should have been caught. He had purposely kept us shut up, as a spy was seeking us from Gusinje. After we left he was asked by the authorities why he had not at once reported our arrival, for he knew no strangers were wanted in the district. He gallantly replied that it had never been the custom of his house to betray a guest. That he knew I was a foreigner, but that I had behaved perfectly well. He took what guests he pleased, and would shelter me again if I required it.
To all my hosts, Christian and Moslem, I owe more than I can ever repay. I can only hope to show the line of pure gold that lies beneath an outward rugged nature.
There was difficulty in finding mules for our journey, as all Thethi was going to the high pastures to celebrate St. Veneranda. We started finally with the two men and mules that had taken us before–we undertaking to halt at Skreli for the feast.
The track over Chafa Shtegut is exceedingly steep, but so well made that, except for the very top, which is cut in steps, it is rideable the whole way. The lower slopes are fine pasture. Above is rock and scrub. The descent on the Boga side is easy. I was glad, when I saw how very precipitous this pass is, that I had not attempted it when full of snow. A slip might mean a fall of a thousand feet.
Passing through Boga, where the priest offered us all possible hospitality, and upbraided us for not stopping the night, we reached Skreli by the same track as before. It was my third visit there, so I felt quite at home.
We celebrated St. Veneranda next day. The church was packed with all Skreli in its best, for no outsiders were present. They come only for the patron saint of the tribe.
Coming straight from the heart of Pulati, I was much struck with the difference in the physical type of the people–finer, better built, and a very much larger proportion with grey eyes and fair hair. We were in the priest's house after service, when a fierce quarrel took place outside, between two men. The most awful noise ensued. One man dashed up into the room with us. The other howled insults from below. Our man, who had a Mauser, rushed to the window, and was just about to fire when two women, who were on the landing outside, hurled themselves on to him and struck up the rifle. The man below aimed up with a Martini.
Women may not be shot, so one hung on to the Mauser man, while the other leaned out of window, as also did I. The priest ran in, and made him give up the Mauser. The man below was running wildly up and down, aiming upwards at the windows, yelling and threatening to shoot, while the priest, seated cross-legged right out on a window-sill, commanded him to stop. Two men threw themselves upon him and tried to disarm him by force. It was an exciting moment–the three locked tightly together fighting like hell-hounds for a loaded rifle, its owner livid with rage, his eyes glaring madly as he yelled like a wild beast. They mastered him. He rose snarling and impotent.
The priest descended, and gave him a severe talking to. He consented at last to go home, and slunk off, two others going with him–he, reluctant, turning back often, and vowing he would return and shoot.
Our mules were waiting, saddled and ready. We left for Rechi, meeting its priest on the way. He was bursting with news, fresh from Scutari.
There was a rising all over Turkey: Shemsi Pasha shot at Monastir–Osman Pasha captured–rumours of a new Government. We roared with laughter at an Austrian newspaper, which described Shemsi as an "unblemished character," but contained little more definite news; and we opined that now the ultimatum which Maltsia e madhe was about to send in for the removal of the detested Shahir Bey, from the post of Sergherd of the mountains, was likely to be listened to. The bitter plaint of all the tribesmen, their urgent appeals for help against the Turk, still rang in my ears. It seemed that the "something" that "must happen some day" was upon us–that the psychological moment, as the novelists call it, had arrived. We were in the saddle early next morning, and soon at Scutari. It was the 27th of July. Scutari was all astir with the news of the Constitution. What? when? how? where? why?–no one knew. No Consulate had any official details. All that was known was "Constitution."
This chapter has been put on-line as part of the BUILD-A-BOOK Initiative at the
Celebration of Women Writers.
Initial text entry and proof-reading of this chapter were the work of volunteers
Henry Passenger, Jim Fritzler, and Kelly Hurt.