"Helena Coleman" (1860-1953) by John Garvin, (1872-1934)
Garvin, John William, ed. Canadian Poets. Toronto, Canada: McClelland, Goodchild & Stewart, Publishers, 1916. pp. 205-212.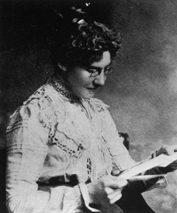 Helena Coleman
The poet's claim to fame depends very largely on his or her mastery of outward form or technique, on skill in phrasing, in emphasis and in sonority of verse. Measured by such canons of taste, we have no hesitation in saying that Miss Coleman's style singles her out at once from the latter-day lamp-poetry magazine versifiers. Her command of rhythm is very pleasing, and because of her love of Latinized English, reaches a certain degree of opulence which cannot fail to give any lover of cadence great delight. Yet in spite of her love for colour and sonority our new poet is at all times eminently clear. . . . . Miss Coleman has much in common with Mathew Arnold. Just as he did, she knows how to combine concreteness of colour, with a certain noble simplicity and restraint of style, and like Arnold, she likes best of all to devote her thought to the deep things of the soul. . . . . She knows life in its sadness, gladness and beauty, and sings of it in relation to Nature and to God.–PROF. W. T. ALLISON, M.A., PH.D., in the 'Canadian Magazine.'
AS Miss Coleman's poems appeared for years in the Atlantic Monthly and other periodicals, under a nom de plume, a few intimate friends only knew the real name and personality of the author, prior to 1906. In that year appeared her Songs and Sonnets, published under the auspices of the Tennyson Club, Toronto.
It was recognized at once that Canada had a new poet of distinctive merit; and the first edition was soon followed by a second. The critics invariably ranked the forty-four sonnets in the book as work of high quality,–spontaneous, rhythmic, noble; and indeed this form of verse seems to suit most adequately the finer instincts of her genius. The lyrics quoted are also beautiful.
A daughter of the Rev. Francis Coleman, a Methodist clergyman, and his wife, Emmeline Maria Adams, she is a descendant through her mother of John Quincy Adams, sixth President of the United States, and the reputed author of the "Monroe Doctrine." She is the only sister of the well-known geologist, Prof. A. P. Coleman, Ph.D., F.R.S.
Miss Coleman is a Canadian by birth and education and a resident of Toronto. She travels quite extensively–was in Germany when the Great War began–but in the summer months is found most frequently at Pinehurst, her lovely island and cottage in the Thousand Islands, where the fresh air and the beauty of nature renew her health and inspiration: and where, as a gracious hostess, she entertains congenial friends.
More Lovely Grows the Earth
MORE lovely grows the earth as we grow old,
More tenderness is in the dawning spring,
More bronze upon the blackbird's burnished wing;
And richer is the autumn cloth-of-gold;
A deeper meaning, too, the years unfold,
Until to waiting hearts each living thing
For very love its bounty seems to bring,
Intreating us with beauty to behold.
Or is it that with years we grow more wise
And reverent to the mystery profound–
Withheld from careless or indifferent eyes–
That broods in simple things the world around,
More conscious of the Love that glorifies
The common ways and makes them holy ground?
To a Bluebell
I WATCH thy little bells of blue,
So delicate of form and hue,
And when I see them swing and sway
I listen for the chimes to play;
But dull has grown the mortal ear,
And I can never, never hear
The dainty tunes, but only guess
Their music from thy loveliness.
Dost thou announce the day new-born,
And ring the changes of the morn,
And summon for an early mass
The little peoples of the grass,
That they may give fresh meed of praise
For sun and rain and summer days?
Dost thou the moon's late rising tell,
And sound at eve a curfew bell?
When drowsy bees go loitering,
And butterflies are on the wing,
Dost beat the merry music out,
And swell the rhythm of the rout?
Dost ever some faint message sound
For all the wee folk of the ground,
Of those far mysteries that lie
Beyond their ken in earth and sky?
Keep thou thy silence, fairy bell,
Thou art no less a miracle;
No less a rapture thou dost bring
Because we cannot hear thee ring;
For they who give attentive ear
Must catch thy silvery cadence clear,
And know a joy no language tells,
When in the heart there sings and swells
The music of thy magic bells.
Indian Summer
OF all Earth's varied, lovely moods,
The loveliest is when she broods
Among her dreaming solitudes
On Indian Summer days;
When on the hill the aster pales,
And Summer's stress of passion fails,
And Autumn looks through misty veils
Along her leafy ways.
How deep the tenderness that yearns
Within the silent wood that turns
From green to gold, and slowly burns
As by some inward fire!
How dear the sense that all things wild
Have been at last by love beguiled
To join one chorus, reconciled
In satisfied desire!
The changing hillside, wrapped in dreams
With softest opalescent gleams,
Like some ethereal vision seems,
Outlined against the sky;
The fields that gave the harvest gold–
Afar before our eyes unrolled
In purple distance, fold on fold–
Lovely and tranquil lie.
We linger by the crimson vine,
Steeped to the heart with fragrant wine,
And where the rowan-berries shine,
And gentians lift their blue;
We stay to hear the wind that grieves
Among the oak's crisp russet leaves,
And watch the moving light, that weaves
Quaint patterns, peering through.
The fires that in the maples glow,
The rapture that the beeches know,
The smoke-wraiths drifting to and fro,
Each season more endears;
Vague longings in the heart arise,
A dimming mist comes to the eyes
That is not sadness, though it lies
Close to the place of tears.
We share the ecstasy profound
That broods in everything around,
And by the wilderness are crowned–
Its silent worship know.
O when our Indian Summer days
Divide the parting of the ways,
May we, too, linger here in praise
Awhile before we go!
Prairie Winds
I LOVE all things that God has made
That show His ordered care and might,
But most, I think, I love the wind
That blows at night.
It holds so much of mystery,
Like that in mine own restless heart–
Brother to me and well-beloved,
O Wind, thou art!
Across these unresisting plains
It sweeps at times with force sublime,
And always like the wraith it seems
Of happier clime.
For in the South its home has been,
A sun-kissed, warm and fertile land,
Where Nature pours her treasure from
Unstinting hand.
Through fields of rustling corn it came
And acres broad of bearded wheat,
Past hillsides clad with evergreen
And orchards sweet.
It rifled scent from clover fields
Where harvesters have been at work,
And ruffled little running brooks
Where mosses lurk.
It bears the note of piping frogs,
The stir of tender, untried wings–
Of lowing kine, and homely sounds
Of barnyard-things.
O barren land! what dost thou dream
Beneath these surging winds that bear
The echoes of a life which thou
Canst never share?
Dost thou not long to break thy calm–
To know that living, sweet unrest?
And feel the tread of busy feet
Upon thy breast?
To hear thy children's laughter voiced
In myriad tongues, and know that when
Their day is done within thy breast
They'll sleep again?
O silent land! the winds that blow
Within men's hearts and fan the fire
Of hidden hopes and show the soul
Its own desire,
Have come to me from distant shores
And borne in broken whisperings
A tale that thrilled me like a tide
From rising springs.
The full-pressed wine of life my lips
Have never tasted, yet is known,
My heart, though held in bondage, leaps
To claim its own.
I know my lawful heritage,
Although I stand on alien ground;
I know what kingship is, although
I go uncrowned.
At night when inner tempests blow,
And sleep forsakes my weary eye,
I love to hear the wind without
Go storming by.
It speaks my own wild native tongue
And gives me courage to withstand,
As if a comrade came to me
And took my hand.
I love all things that God has made
In earth or sea or heavens bright,
But most I love the prairie winds
That blow at night.
Enlargement
AROUND us unaware the solemn night
Had hung its shadowy mantle, while we sought
To find each other by the roads of thought;
I felt thy orbit nearing, and a light
Streamed suddenly across my inner sight,
Effulgent, incommunicable, fraught
With some constraining tenderness that caught
My quickened spirit to its utmost height.
And lo! I saw as with the eyes of two,
In that swift moment when thy soul touched mine,
The walls of being widened, and I drew
Near to the portal of a nameless shrine,
A sudden blinding rapture pierced me through,
And in that instant earth became divine.
Day and Night
WHEN in the affluent splendour of the day,
To heaven's cloudless blue I lift my eyes,
Thrilled with the beauty that around me lies,
My heart goes up on wings of ecstasy;
But when Orion and the Milky Way
Reveal the story of the midnight skies,
And all the starry hosts of space arise–
Mutely I bow in reverence to pray.
And so with life; the daylight of success
Rounds earth and pleasure to a perfect sphere,
But in the night of trial and distress
The quickened soul to vaster realms draws near,
And o'er the borders of our consciousness
Foretokens of the Infinite appear.
Beyond the Violet Rays
BEYOND the violet rays we do not know
What colours lie, what fields of light abound,
Or what undreamed effulgence may surround
Our dreaming consciousness above, below;
Nor is it far that finite sense can go
Along the subtle passages of sound,
The finer tonal waves are too profound
For mortal ears to catch their ebb and flow.
But there are moments when upon us steal
Monitions of far wider realms that lie
Beyond our spirit borders, and we feel
That fine, ethereal joys we cannot name,
In some vast orbit circling, sweeping by,
Touch us in passing as with wings of flame.
As Day Begins to Wane
ENCOMPASSED by a thousand nameless fears,
I see life's little day begin to wane,
And hear the well-loved voices call in vain
Across the narrowing margin of my years;
And as the Valley of the Shadow nears,
Such yearning tides of tenderness and pain
Sweep over me that I can scarce restrain
The gathering flood of ineffectual tears.
Yet there are moments when the shadows bring
No sense of parting or approaching night,
But, rather, all my soul seems broadening
Before the dawn of unimagined light–
As if within the heart a folded wing
Were making ready for a wider flight.