"Better Than That!" by Lilian Gask (1865-)
From: Folk Tales From Many Lands. retold by Lilian Gask (1865-). Illustrations by Willy Pogany (1882-1955). New York, T.Y. Crowell & Company [1910] pp. 60-64.
---
OSEPH was one of Austria's greatest Emperors, and many trembled at his frown. The monarchs of other lands paid court to him, and he was the envied of all; but he often grew weary of the cares of State, and longed for a more simple life than he could live in his palace. His greatest pleasure at such times was to leave his nobles, and wander unattended, so plainly dressed that he might have been one of his poorer subjects, through the streets of his grand capital. Sometimes he would go for a ramble in the surrounding country, finding in the company of the wood-folk, and the rustling of the forest leaves, far more delight than in the gorgeous functions at the palace.
One Sunday in autumn, when the trees had donned their richest garb of red and orange, he determined to go for a long drive, and taking an unpretentious buggy and one of the fleetest horses in his stable, he set off by himself.
Though the sky had been cloudless when he started, and the people he met were dressed in their best, as if bad weather were out of the question, the wind blew up from the rainy quarter, and before long a sharp shower made him raise the hood of his buggy. The citizens now were hurrying to shelter, and he too thought it well to return. He had not driven far upon the homeward road when a soldier accosted him, little guessing to whom he spoke.
"I beg your pardon, sir," he said, "but I thought that perhaps you would give me a lift, as I should not inconvenience you. My uniform is a new one, and I don't want to get it spoilt."
He was a fine, handsome young fellow, with a frank and open face. The Emperor was much taken by his appearance, and invited him to jump in. In a few minutes they were chatting together as if they had been well acquainted, and the soldier treated his new friend to a glowing account of a pleasant day he had lately spent with an old comrade.
"He gave me a famous dinner, I can tell you," he concluded, and the Emperor, much amused, inquired of what this had consisted.
"Guess," cried the soldier, chuckling with delight at the recollection of his feast.
"Cabbage soup, perhaps?" questioned his Majesty with an indulgent smile.
"'Soup,' indeed!" the soldier exclaimed with much contempt. "Better than that; you must guess again."
"A calf's head, then?" said the Emperor.
"Better than that, even!" was the laughing answer, and the same reply was given when the Emperor suggested a big slice of ham.
"Much better than that!" cried the soldier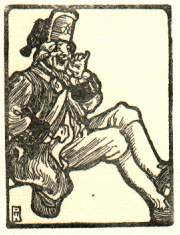 triumphantly. "I had a roast pheasant, and one that I shot myself on his Majesty's estate, for my friend is now one of the Emperor's gamekeepers. It was delicious, and no mistake."
His companion made no reply, but the soldier chatted away quite at his ease, telling him of the aged parents who were so proud of him, and the dear little "Greta" who would one day become his wife.
"Where do you live?" inquired his Majesty as they neared the city. "The rain has ceased, but I should like to drive you home."
Much gratified by this further kindness, the soldier thanked him warmly, and begged that he would tell his name.
"Ah! it is your turn to guess now," remarked the Emperor. "Who do you think I am?"
"Perhaps you also have something to do with the army?" hazarded the soldier with a searching look. The Emperor nodded.
"You are a private soldier?" was the next guess.
"Better than that," the Emperor smilingly returned.
"A Lieutenant, then?"
"Better than that!"
"A Colonel?" stammered the soldier, beginning to feel alarmed.
"Better than that, I assure you."
"Perhaps, then, you are a General?" the man said timidly, and then, in desperation, as the Emperor shook his head, he suggested, "A Field-Marshal?"
"Better than that!" said the Emperor once more, and the soldier turned pale with terror.
HEN you must be his Majesty himself!" he gasped, and would have sprung from the buggy if the Emperor had not prevented him.
"We will keep to our bargain," he said, and insisted upon driving him right up to his home. On the way he gave the young man some good advice that he never forgot, and ended by saying, with a kindly twinkle in his deep-set eyes: "And be careful in future not to kill pheasants before first obtaining the owner's permission, or to tell tales of your friends to the first stranger who comes your way."