"The Four Seasons." by Lilian Gask (1865-)
From: Folk Tales From Many Lands. retold by Lilian Gask (1865-). Illustrations by Willy Pogany (1882-1955). New York, T.Y. Crowell & Company [1910] pp. 193-203.
---

ERE was not a prettier cottage on the borders of the forest than that which was the home of Clare and Laura. A beautiful rose-tree clambered all over the little house, thrusting its clusters of small pink blossoms through the open windows, and nodding to Clare as though to say: "You are as sweet as we are, and the sun shines on us all."
The roses did not nod their heads at Laura, for she was as ugly and wicked as Clare was lovely. Her face wore always a heavy frown, which her mother's reflected; for Laura was her favourite child, and she could not bear to see that her second daughter, for whom she had no spark of love, should be so much the more attractive of the two.
Nature had been very kind to the little Clare. The roses had given their delicate colouring to her soft cheeks, and her pretty eyes were just the hue of a purple pansy. The red of the crimson berries that glinted among the evergreens when winter came, was not more vivid than that of her lips, and her hair had the sheen of yellow corn when the sun is smiling on it. Laura could not look at her without a pang of envy, and longed to drive her away from home.
One bitter day in winter, when a waste of snow surrounded the cottage, and frozen icicles hung from the roof, Laura asked her mother if Clare might pick some violets in the woods for her.
"'Violets'?" exclaimed the mother, "at this time of the year? Why, you must be dreaming, child! There is not a single flower in all the forest!"
But Laura insisted that Clare should be sent to seek for the flowers, and, loath to refuse her anything, her mother did as she was asked.
"Do not come back without them, or it will be the worse for you," Laura called from the doorway, as she watched her little sister go shiveringly down the pathway that led to the forest. In its depths, she knew, there lurked gaunt grey wolves, and these were fierce with hunger.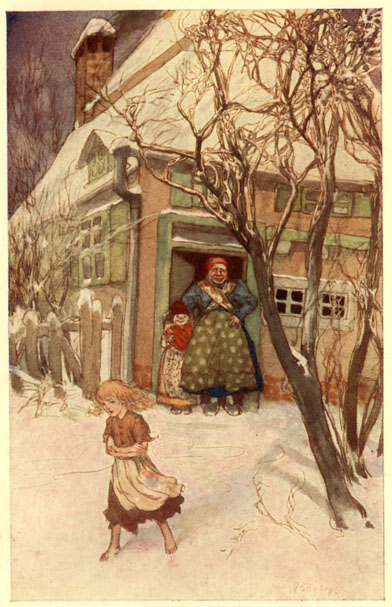 "'DO NOT COME BACK WITHOUT THEM!'"
[300 dpi]
Clare knew this too, and her heart was faint with fear as she passed through the grove of fir-trees. A cheery little robin hopped down from one of the branches, and sang a few bars of his winter song as if to comfort her; she had gone but a few paces further when she saw the red of his breast repeated in a glimmer of ruddy light in the distance. She hastened towards it, and found it came from a huge fire, round which were sitting twelve strange men. The faces of all were kindly, but while three had long white beards and snowy garments, three had golden beards and long
green garments, three had auburn beards and yellow garments, and yet another triplet, with long black beards, were dressed in violet. One of the three whose hair was frosted looked up as she approached.
"May I warm myself at the fire, kind sir?" she asked him timidly, and making room for her at once, he asked her why she wandered in the forest in such bitter weather.
"I was sent to pluck violets for my sister," Clare explained, "and I dare not go home without them, or she would be very angry."
At this her questioner turned to one of the three men who were robed in purple.
"Violets are your concern, Brother May. Cannot you help the poor little thing?" he asked. "She will be frozen to death otherwise, for to-night 'twill be colder than ever."
"To be sure I will," said Brother May, laying a gentle hand on Clare's fair hair; and taking the staff from the white-haired man, he poked the fire.
This was the signal for a most marvellous change in the forest. Ice and snow disappeared, and the air became soft and balmy. Birds sang in the branches overhead, and flowers sprang up as if by magic round the path which Clare had trodden. She filled her hands with fragrant violets, and thanked the brothers for their help.
"You are welcome, dear child," they cried; and the old man took back his staff again, and in his turn poked the fire. Once more it was winter, and Clare hastened home to the cottage as quickly as she could.
Both Laura and her mother were surprised to see her, for they had made sure that she would lose her way. Laura snatched at the violets, only to toss them aside, and was so unkind for the rest of the day that Clare sobbed herself to sleep.

EXT morning she was again sent out in the snow. This time it was to seek wild strawberries in the forest, and her sister's look was so full oŁ meaning as she said, "Do not come home without them!" that the poor little maiden trembled with fear as well as with cold as she entered the gloomy wood.
The same friendly robin fluttered across her path, and, following the direction in which he flew, to her great delight she saw again the ruddy glow of the fire. The twelve strange men were still seated round it, and Brother January took her by the hand.
"Why are you here again, poor child?" he asked her gently. "It would surely be wiser for you to stay at home while King Frost reigns over the land, for you are young and tender, and his grip is very cruel."
"I had to come, sir," Clare explained. "My sister said she must have strawberries. We gathered some in June last year."
Brother January turned to a companion dressed in flowing yellow.
"Strawberries are your concern, Brother June," he said. "It is for you now to come to the aid of our little friend."
"I will do so with pleasure," said Brother June, taking the staff held out to him, and giving the fire a vigorous poke. At this, the winter disappeared, the trees sprang into full leaf, and crimson berries were seen amidst the creeping tendrils of the strawberry-plant.
Clare gathered as much of the sweet fruit as she could carry, and once more thanked her friends with a grateful smile.
"You are welcome," they cried in chorus, and as Brother January took back his staff the winter once more spread its mantle over the earth.
Instead of being grateful for the delicious fruit that Clare had brought her, Laura was more vexed than ever to find she had not been eaten by wolves. Her mother too looked at the poor girl angrily, and sent her out to the barn, as if she could no longer bear the sight of her.
Clare was barely awake next morning when she was told that she must go to the forest and bring home some apples for her sister Laura, who had a fancy for them.
"But it's so dark, dear Mother," cried Clare in terror.
"Make haste and go," was the only answer, and as quickly as her numbed fingers would allow her, Clare finished her simple toilet and started on her way.
HE robin was still asleep, with his head tucked under his wing, but a tiny wood-mouse poked out his head from his nest in the foot of a hollow tree, as he heard her footsteps upon the frozen snow.
"If you walk straight on, you will find your friends," he squeaked, and Clare thankfully followed his directions. Before long she was warming herself before the glowing fire, and the brothers were asking with much sympathy why she had been again sent to face the cold.
"'Apples'!" cried Brother January, when she had told them. "Ah! it's your concern now, Brother September."
Forthwith September poked the fire, and, lo and behold! it was cheery autumn, and the ground was strewn with crimson and russet leaves. A tree of wild apples close beside her was laden with fruit.
Brother September turned to the child with a kindly smile. "Gather two of them," he said. Clare picked two of the largest and finest, and when she had done so, September handed back his staff to January; he stirred the fire, and ice and snow reappeared.
Laura made no effort to disguise her disappointment when Clare brought her the two apples. She ate them, however, and finding their flavour most delicious, commanded her to fetch her hood and cloak. In spite of all that her mother could say to dissuade her, she declared that she would go to the forest and gather some for herself.
"I shall find much finer ones than those you brought me, you greedy creature!" she said to Clare as she flounced away, refusing her gentle offer to go with her.
The sun shone brightly on the sparkling snow, and she took the same path that her sister had done. The robin glanced at her from his bright dark eyes, but he did not attempt to sing. He was frightened by something he saw in her face; it was the spirit of greed and envy.
After wandering about for some time, and, to her great disgust, finding nothing whatever in the way of fruit, Laura at last caught sight of the fire, with the twelve little men sitting round. Without a word of greeting, she pushed her way into their midst, and held out her hands towards the glowing embers.
"What do you want?" asked Brother January, somewhat nettled by her rude manners.
"Nothing from you!" she answered roughly, scowling as she spoke. The old man poked the fire in silence, and the sky grew dark, a heavy snowstorm began to fall, and Laura tried in vain to make her way home again, for the great flakes, dropping silently one on another, made the path she had come by impossible to tread. She stumbled at last into a great drift, and was soon buried in its depths.
Her mother grew more and more anxious about her as the day wore on, and when afternoon came set out to seek her in the forest. She also found her way to the glowing fire, and pushing aside Brother January just as her daughter had done, proceeded to warm her hands. When asked what she wanted, she gave the same rude answer, with the same result. The old man poked the fire, and the snow fell swiftly and silently. Very soon she too was buried in a glistening bank, and Clare had neither mother nor sister left.
With all their faults she had loved them fondly, and it would have been lonely for her in the cottage now, if it had not been for her friends of the forest. As each month of the year came round, one paid her a visit, bringing flowers or fruit, or glorious crimson leaves. The white-bearded men alone came empty-handed, but these sat with her beside the fire, and told her wonderful stories of winter in many lands. In the course of time she became a good and beautiful woman, and wedded a prince from a distant shore.