"A Slice of Tongue." by Lilian Gask (1865-)
From: Folk Tales From Many Lands. retold by Lilian Gask (1865-). Illustrations by Willy Pogany (1882-1955). New York, T.Y. Crowell & Company [1910] pp. 134-143.
---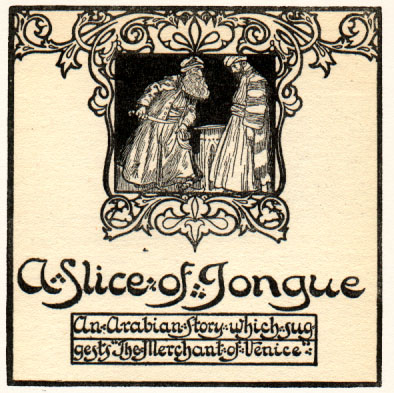 MER was a lazy fellow. There could be no doubt of this, since year after year he refused to bestir himself, and still lived on with his parents. His sunny temper and pleasant ways made them forget his many faults, and though his father often reproached him for not making a home for himself, as other young men were doing, he only laughed good-humouredly, and kissed his mother.
"Why should I make a home for myself," he asked, "when I am far happier here than I could be elsewhere?" His mother smiled, well satisfied, for her handsome boy was the very apple of her eye.
The years went on, and the time came when the two old folk slept calmly side by side beneath the grass. Omer was left alone, and for the first time in his life he knew what it was to be really miserable. His honest grief became him so well that every one was sorry for him, and many a neighbour offered him bite and sup, and strove to comfort him with homely sayings.
It was late now for Omer to remember his father's advice, but still he did so. The first step to take, it seemed to him, was to get married, and accordingly, when the violence of his grief had somewhat worn off, he considered the various maidens in the village. There was Rosalie, who sang like a bird, and Greta, who danced divinely, and was so fair of face that the roses in her window blushed with envy. Neither Rosalie nor Greta, however, particularly attracted him, and his fancy fell on Fatima, who was somewhat shy, and of a beauty less pronounced than that of her rivals. But Fatima's eyes were the very colour of his dear mother's, and he fancied he saw in them the same sweet gleam of affection that had made his home a haven of joy.
Fatima, for her part, had long loved him in secret, but she wisely determined not to accept his suit until he could provide for her.

T is time you began to work, dear Omer," she said, repeating his father's words, "I will gladly be your wife when you can bring me thirty purses of gold, but not before. We cannot live on air, and it would not be fitting that your wife should work for you."
Poor Omer shrugged his shoulders. What was he to do? His well-shaped hands had learnt no craft, and without capital it was impossible to start a business. In his perplexity he thought of a rich Jew who often made loans to worthy tradesmen who found themselves in difficulties, and accordingly he repaired to this good man.
Issachar eyed him shrewdly. "You say you will pay me," he remarked, "but when? I know you well, young Omer. You are your father's son, but he was industrious, and you are idle. How can I be certain that you intend to work?"
Omer assured him that once he was married to Fatima he would leave no stone unturned to win a fortune.
"Lend me those thirty purses of gold," he urged, "and you shall see."
The Jew had no love for him in his heart, since he himself had looked upon Fatima with envious eyes, but at last he agreed to advance the money.
"Before I do so," he said, "you must sign this." And he laid before him a document to the effect that if he, Omer, did not repay Issachar the thirty purses of gold within seven years, the Jew should cut off a slice of his tongue to the weight of a drachm.
Light-hearted Omer signed the bond without the least demur. With Fatima for his wife, he thought to himself joyfully, he could do anything, and long before the seven years were expired would be in a position to repay twice thirty purses of gold. He set about his arrangements for the wedding in the highest of spirits, and spent so much in Fatima's honour that before he knew what he was doing half the money the Jew had lent him had disappeared.
"Never mind," he thought to himself. "I shall soon make more." When the honeymoon was over, he opened a shop for such necessities as brooms, tobacco, salt, and cheese, since he knew that, whatever his neighbours could do without, they must have these.
Greatly to every one's surprise, for Omer's laziness was proverbial, the shop did well. Fatima loved her husband dearly, and though she found it impossible to keep him up to her own high standard of industry, she managed to induce him to give the shop at least a certain amount of attention, and when he slunk off to lie on his back in some green meadow and look at the sky and dream great dreams, she took his place, and proved so willing and accommodating a saleswoman that customers often chose the hour for shopping when they knew that Omer would be away. In the long knitted purse hidden under her mattress was a shining store of silver pieces, and but for Omer's extravagance, there would have been many more.
It was well for the little household that Fatima was so clever a manager. Towards the end of the seventh year bad times came to the village, and no one had any money to spend. With a sudden shock Omer realised that it would be impossible for him to pay back Issachar, and the thought plunged him into the deepest gloom. He could not sleep for thinking what it would feel like to have a slice cut off his tongue, and, hearing him sigh so frequently, Fatima insisted on his telling her what was wrong.
"If I had only known," she cried, "how you obtained those thirty purses of gold, I would never have allowed you to touch them."
This was all that she said by way of reproach, and Omer had never loved her more than he did in the dark days that followed, when both went silently about their work with down-bent heads and sombre eyes.
One evening at sunset Fatima thought of a plan. Dividing her poor little savings into three portions, she wrapped one of these in a silken square, and called at the Cadi's house. Making a deep obeisance she laid the money at his feet, and left without a word. This she did on the second and the third night also, and as she was leaving for the last time the Cadi stopped her.
"What would you have of me?" he asked her kindly.
"O Cadi," she responded, "grant me but this one boon. Let me just for an hour sit in your robes on the judgment seat on Friday, and I will bless you for the rest of my life."
The Cadi would have refused outright, but Fatima was still a handsome woman, and the beautiful eyes that were raised to his so pleadingly were soft as velvet.
"It shall be as you wish," he said at last, "but I shall stand behind the screen and listen to all you say. If during that hour your judgments are not just ones, I shall reverse them, and turn you out of the court as an impostor."
Fatima thanked him with all her heart, and the following Friday saw her adorned in the Cadi's robes, and sitting in his place.
HE first case to be brought forward was that of Issachar and Omer. The shrunken face of the Jew was alight with malicious triumph. Now, at last, he would be avenged for the slight that the fair Fatima had put upon him in days gone by. Grinning with delight, he listened to Omer's confession that he could not produce the gold, and hastened to demand that he should pay the penalty.
"You say well," said Fatima. "He cannot pay you, and you are therefore entitled to a slice of his tongue. Have you a razor, Issachar?"
The Jew produced one eagerly, and Omer's brow grew pale as death as he saw him feeling the sharp edge, and noted his fiendish glee. He bore himself bravely, nevertheless, and Fatima felt proud of her husband as he quietly advanced to await the Jew's pleasure.
"Be careful!" she cautioned Issachar, "that you do not draw a drop of blood, for this the bond does not entitle you to do. If you cut off either more or less than one single drachm, you will be punished with the utmost rigour of the law."
It was now for Issachar to turn pale and tremble. There was such decision in the Cadi's voice that he knew it would be useless to appeal, and, making a great show of magnanimity, he declared that in consideration of kindness shown to him by Omer's father in the past he would forgive the debt of his son.
HE matter cannot end in this way," replied the Cadi sternly. "You must keep to the bond. Cut off immediately one drachm of Omer's tongue, neither more nor less."
Issachar, now thoroughly alarmed, and fearful of his own life, fell on his knees, and offered a ransom of thirty purses of gold that he might go free without attempting so impossible a task. As the Cadi still preserved a significant silence, he added that he would make no further claim upon Omer for the debt he had incurred.
"It is well," said the Cadi, and this declaration was promptly entered in the books.
The true Cadi was greatly amused at Fatima's stratagem, and refused to touch the thirty purses of gold that Issachar had paid into the court.
"They are yours, O wise woman," he said with a gracious smile, and :Fatima hastened home in her own attire.
Shortly afterwards her husband appeared, looking very subdued after the ordeal through which he had passed, and eager to tell her what had happened. He lost no time in describing the scene in court.
"That Cadi is not only a clever judge," he said, "but a handsome fellow to boot. You should have seen the way that his eyes sparkled when Issachar paid him the gold."
"Was he as handsome as I am?" laughed Fatima softly, and to Omer's amazement she showed him the thirty purses forfeited by his enemy. He wept with joy when he heard how she had saved him by her woman's wit, and from that day forward he became so industrious that fathers held him up as an example to their sons.