"Chapter II: Paris." by Enid Yandell (1870-), Jean Loughborough, and Laura Hayes
Publication: Three Girls in a Flat. by Enid Yandell, Jean Loughborough, and Laura Hayes. Chicago: Knight, Leonard & Co., 1892. pp. 27-38.
[Page 27]
CHAPTER II.
PARIS.
WHEN dinner was over the girls usually gathered round the cannel fire in the parlor for a chat, and so it happened on a certain stormy evening in October. Outside the wind howled up and down the deserted street, but within it was the picture of comfort and good cheer. It was too early for callers, and the Duke had thrown herself full length into her favorite chair, while Gene sat in the lamplight trimming her hat for the fourth time that week. "Won't you get us your diary, Marjorie, and read us a little about your trip abroad?" asked the Duke. "You have promised so many times to do it." "Why, of course," and Marjorie left the room returning in a few minutes with her black leather book, while the girls settled themselves to listen.
She opened at random and commenced to read "June 29, 1891. When we first arrived in Paris Mrs. Palmer received a call from Mr. Theodore Stanton, who is the correspondent for the Associated Press, and who has resided in Paris for over twelve years. He was an extremely handsome and amiable man with bright color in his face and in his golden beard, and in the deep blue of his eyes. Perhaps to me he seemed especially good to look at because he was so American in his speech and dress, and in the cheerful enthusiasm that pervaded his manner. It [Page 28] was a comfort to meet a real countryman after the many insipid imitations we had seen in the streets of London, who were ashamed to be American, and could not be successfully English, and who, as a result, were a type of nothing under the sun.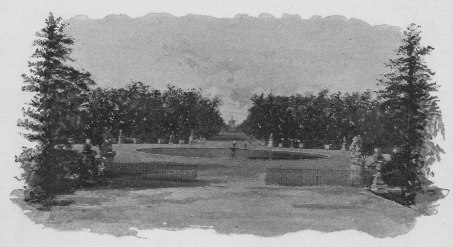 But to return to Mr. Stanton. He began to ask at once about the part women were to take in the World's Fair and handled the woman question with an ease and fearlessness that could only have come from deep conviction or early training. I afterwards discovered that it was both, as he was the son of that much-loved and revered woman Elizabeth Cady Stanton. When he learned that Mrs. Palmer was to be in the city only a few days, he seemed much disappointed, as he said he wanted her to meet some of the leaders in women's work in Paris, especially Madame De Morsier, who had taken such a prominent part [Page 29] in the Paris Exposition of '89. Mrs. Palmer explained that she would return in a few weeks, when she would be very happy to meet the French ladies, and so it was arranged that Mme. De Morsier should call before her departure and make the preliminary arrangements. She came a few days later, and it was a comfort to find that she really spoke excellent English, though with a quaint little accent. She had a sweet, intelligent face, a matronly figure and a very cordial manner, and she proved to be a valuable acquaintance, for she came to see Mrs. Palmer many times, arranged a meeting with M. Guyot and others, and took such a friendly interest from the first in the part women were to take in the coming Exposition, that her example proved contagious.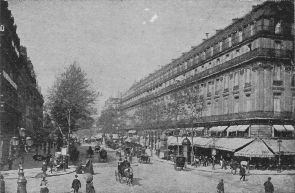 "Whether or not there were other agencies at work I never fully understood, but as soon as she returned from her two-weeks' trip to Vienna, Mrs. Palmer was asked in the most delicate and diplomatic way if she would consent [Page 30] to receive a few of the French women who were interested in her work, and if so what place would be convenient. She named the following Wednesday, and said she would see them in her salon at the Grand Hotel.
"We did not know exactly who would come, but Madame De Morsier thought there would probably be about twelve people, and she promised to be on hand early and introduce the first comers.
"Wednesday proved a clear and cloudless day, one of the warmest we had encountered since leaving home, and after looking over her mail, as usual, and telling me how to dispose of it, Mrs. Palmer began to consider the afternoon.
"She had an engagement for luncheon, and so the arrangements were left to me, to my great delight, for I thoroughly enjoy anything that savors of housekeeping, for which, probably because I have never tried it, I have always felt that I had a peculiar aptitude.
"First I sent for the steward and instructed him as to the serving of the coffee, tea and chocolate; then I went to Boissiers myself and ordered the confections and the delicious little cakes for which that establishment is so justly famous, and finally to the flower market on the corner by the Madeleine, where I bought to my heart's content, taking a whole mass in my "voiture," while two stout men ran down the boulevard beside it, each with a load on his back. I worked with a will and I must say the rooms looked charming, for I had often decorated them before [Page 31]

"THE GAYEST CORNER OF THE GAYEST STREET IN PARIS."

[Page 32] on flower-market day for the mere pleasure it gave us all to see them looking so pretty.

"The salon proper was a very large apartment on the first floor above the street, and in the corner of the Avenue de l'Opera and the Boulevard; and there were many lace-draped windows opening full length, in the French way, on to a large balcony, so that it was but the work of a moment to step out into the June day and be right over the gayest corner of the gayest street in Paris, with its multitudes of little tables, and its beautifully dressed promenaders. Within the room was gorgeous. The walls were hung with red brocade, and the wood work was of white enamel, while from the great candelabra placed here and there, and hanging from the ceiling, depended hundreds of oak leaves of shining crystal.

"The flowers were very simply arranged, but there was a huge Japanese punch-bowl full of what Min called "blue carnations" on the center-table, while the tall bronze jars on the marble cabinets between the windows blossomed over into snowy lilies, that repeated themselves in the mirrors behind them in endless nodding reflections. Through the open doors leading into the next salon could be seen the rose-crowned table with its dainty appointments.

"The first to arrive was Madame de Morsier, according to her promise; then followed M. and Madame Jules Siegfried, and more people came singly and in groups until every chair in the room was taken and we were obliged to send for more. After all were seated and chatting comfortably to their neighbors in the cheerful French fashion, Madame de Morsier rose, and in simple and dignified language explained the part women were to take in the World's Co- [Page 33] lumbian Exposition. She spoke in French, and as she talked I glanced around at her audience.
"There must have been forty people in the room, some of them gentlemen, and as we afterwards learned, prominent members of the Chamber of Deputies, which corresponds to our Congress.
"Just behind her sat a distinguished line of women. First, Madame Guyot, [Page 34] the bright and progressive wife of M. Yves Guyot, who was at that time minister of public works, and a member of the Cabinet. She was accompanied by her daughter, who was charming, and a perfect type of the jeune fille, sweet and modest as a blush-rose bud. Then Madame Siegfried, Madame Bogelot, who has done such magnificent work for women in the dreadful prison of St. Lazare, and our own Mrs. Logan, whose earnest black eyes, under the halo of snowy hair, watched every movement of the speaker with great interest.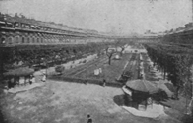 Mrs. Logan was accompanied by her son and his wife, who were both very pleasant and entertaining. Next to them sat Mrs. Harrison and Mrs. McKee, who were visiting Mrs. Whitelaw Reid, and who made so many friends abroad where ever they appeared. One of the Americans residing in Paris spoke of them as "our American Princesses," and the name soon became popular. Next to them sat Mrs. Palmer and by her side Miss Hallowell, who is one of the most widely acquainted of our countrywomen in Paris. Her opinion is sought and respected on everything connected with art, and she has a warm personal acquaintance with all the painters and sculptors who constitute the charmed inner circle in the famous art life of the gay capital. Last of all was Mrs. May Wright Sewell of Indianapolis, who was the American delegate to the Exposition Congress of Women in Paris in 1889, and who consequently [Page 35] has an acquaintance with numbers of prominent workers among the French people.
"The Americans had been invited by Mrs. Palmer, and as I looked around the room I could not restrain a feeling of pride, for I knew our ladies did not suffer in comparison.
"Madame de Morsier spoke of the interest felt by every one in Paris in the Exposition, and cited in instance of it, that M. Jules Simon had expressed to her his willingness to be present on this occasion. It is difficult to explain in English just how she said it, but we all gathered that he had sent the message as a token of friendliness and good will, and without the actual intention of coming. When she told this I heard little murmurs, and saw the approving nods around the room, for M. Simon is probably more respected and loved than any statesman in France at the present day. He has been honored by a Senatorship for life, and although he is now quite an old man, he still retains unimpaired his wonderful faculties.
"Madame de Morsier had found no difficulty in describing the moral and philanthropic aims of the Board of Lady Managers, but when she came to the more practical part of the undertaking and tried to tell about the Woman's Building, it was evident that she, like so many others, was confused by the words 'separate' and 'special' exhibits, [Page 36] M. Siegfried interrupted her with a question, and Mrs. Palmer leaned forward, and tried to tell her in a few low words how to reply. Madame de Morsier was about to proceed, when M. Siegfried politely asked, 'Will not Mrs. Palmer explain this point to us herself?' She rose smiling, and said, 'I beg that you will excuse me, as my French is somewhat limited, and Madame de Morsier will tell you about it much better than I could possibly do.' 'No, no, no,' came from all parts of the room; 'Let us hear Mrs. Palmer, she speaks French very well,' etc., etc., and amid the chorus of echoing voices she was obliged to rise again.
"I shall never forget how she looked as she stood in the middle of the large salon, explaining to these distinguished French people in their own language the difficult points that would require an unusual vocabulary and a judicious choice of words in one's own tongue. Sometimes she was at a loss for a moment, and then she would stop and appeal to M. Siegfried, or change her way of phrasing, for it was quite a different thing to talking the ordinary French of shop or drawing-room, which she speaks with fluency. She never for an instant lost the perfect self-poise and charming dignity that lent an added impressiveness to her every word
"As I saw the interest deepening on every face, turned to this slender young woman, and noted the deferential attention given, not to her beauty or her position, or to the grace of her manner, but to her wonderful intelligence, and to the clear reasoning that dominated her hesitating speech, I felt a strange sense of emotion. Miss Hallowell leaned over to me and whispered, 'I never expected to see such a sight as this,' end I noticed the moisture in her eyes.
"After Mrs. Palmer had explained the doubtful point several of the gentlemen asked questions, to all of which [Page 37] she replied with perfect readiness, and then the conversation became general. M. Siegfried, who is a tall, imposing man, with a bushy, red beard, talked very sensibly on the ways and means of forming a new committee which was to co-operate with the Board of Lady Managers in France, and I may say that he and his interesting wife from that moment did everything in their power to insure the success of the new idea.
"After several other people had spoken I noticed a little stir near the door, and the man at the entrance announced in a loud voice–'M. Jules Simon.' As the great man entered every body rose to his feet, and Mrs. Palmer walked far across the room to welcome him. It was delightful to see the deference with which he was treated. No one seemed to think it was at all unusual to go over the entire situation again as if nothing had been said before; and when he rose and made a few amiable remarks in his thin, quavering voice, it was touching to see the pleasure and enthusiasm with which they were received. His unexpected coming gave the finishing touch to a very successful day, and after this the meeting became entirely informal and many confidential groups could be seen chatting over a cup of tea.
"Soon after this, and without her own seeking, Mrs. Palmer had an audience with several important people, including Madame Carnot, who complimented her by presenting her with the President's box at the Comédie Française, and it was on the Saturday following the reception that the members of the World's Fair Committee in the Chamber of Deputies expressed their willingness to have women appointed officially to co-operate with the Board of Lady Managers, in collecting the exhibit of women's work for the Exposition." [Page 38]
As Marjorie finished reading the door bell rang, and without time for comment the girls hastily flew to their rooms to prepare for the evening's campaign, for it was Friday, and many callers were expected.
[Next]