"Chapter III: Friday Evenings." by Enid Yandell (1870-), Jean Loughborough, and Laura Hayes
Publication: Three Girls in a Flat. by Enid Yandell, Jean Loughborough, and Laura Hayes. Chicago: Knight, Leonard & Co., 1892. pp. 39-48.
[Page 39]
CHAPTER III.
FRIDAY EVENING.
IN the parlor we gathered in our best attire, for we had found a reception evening at last, when we were all at home. The new jardinière, which Marjorie had made out of an old box and some Lincrusta Walton, was filled with tall chrysanthemums, our best cups and souvenir spoons were arranged on the little Turkish table, and last of all we lighted the lamp under the brass tea-kettle, and then seated ourselves to "await the rush," as the Duke said. We were watching the smoke coming in volumes from the throat of the tea-kettle, when a gentle knock was heard at the door.
Marjorie rose with a most winning smile to greet–Mrs. Brown!
"Ah, good evening," said our irrepressible neighbor; "Expecting company ?" and she glanced at Gene's white gown!
"Oh, no; we always dress this way in the evening."
And the Duke, who had not forgotten the molasses candy episode, looked severely at Mrs. Brown.
"Why, I think I'll stay and take a cup of tea with you. Looks cozy, doesn't it ?" [Page 40]
And the good woman with a serene smile settled herself comfortably before the fire, put her feet upon the newly polished brass fender and sipped our fragrant Bohea, which Marjorie offered her, I must confess a little grudgingly.
"You know Mrs. Jackson always says that I am pretty lucky, and I begin to think I am," she continued, heedless of the fact that we were not any of us particularly cordial "Did I tell you, Miss Fairfax, that I was going to apply to our landlord for a new Pasteur filter? Well, while I was making an application I wrote down a list of things: a new filter, a stained-glass window in the bathroom and wire screens for the windows, and will you believe me when I tell you that he sent them all ? I was more surprised than any one else."
"I don't understand that at all, Mrs. Brown," said Marjorie, putting her teacup down on the table with emphasis.
"Never mind, my dear, I do. My nephew James is on the editorial staff of the Herald, and he could so easily mention that the St. Julien Flats are managed well–or otherwise, you know."
"But, Mrs. Brown, think of the injustice of it. Here we have repeatedly asked to have Katie's room calcimined and Mr. Thompkins has paid no attention to us, and we finally had it done at our own expense."
"I am very sorry indeed, my dear, but I cannot help it. I will have to drown my sorrow in another cup of your delicious tea," she answered, laughingly.
Virginia, who saw that Mrs. Brown was a fixture, resorted to a little strategy, as we did not desire her to be one of our reception committee. [Page 41]
"Mrs. Brown, you must come out and see Katie's room. We told her to choose any color she liked for her walls, and to our horror she chose an intense rose color, which does not go well with her auburn hair."
Mrs. Brown arose, and we followed her to the kitchen hoping that she would go on upstairs to her own flat. Katie's room amused her very much, with its rose-colored walls, and the box in one corner covered with turkey-red calico and some coarse white lace, while the same lace hung from the windows and was looped back with red ribbon bows. As we were talking the bell rang, and little Mary went to open the door. We breathed a sigh of relief as Mrs. Brown said:
"Oh, I must go now–but who do you suppose it is, girls ? I believe I'll just peep through the back parlor door," and before we could remonstrate with her, she had walked out into the hall, followed by Virginia, who looked calm but resigned.
"Here, let me see the name," and our worthy neighbor seized the card from little Mary's tray.
"E. T. Barker! Why, my dear, he was one of Dr. Jackson's most devoted friends." And before we fully realized it Mrs. Brown had glided into the parlor and was greeting effusively Major Barker, late Minister to Turkey, and a charming man.
There was no help for it, so we followed and acted as assistants, while she played hostess. The parlor was soon filled and we were having a very jolly time, for if there is one thing for which Mrs. Brown is famous, it is entertaining, and she does it royally. [Page 42]
"Now do take another cup of tea, Major–and you say you brought a cook from the Orient ?"
"I did, my dear madam, and in honor of the arrival of my foreign chef, I invited a number of friends to dinner and what do you suppose he gave us? Upon my word and honor, all we had were carrots and molasses candy mixed!"
Just here little Mary announced Colonel Rogers, and through the curtain we caught a glimpse of a tall, uncouth looking man, with a broad slouch hat, which he hung with a flounce on our little hat-rack, almost covering it.
The announcement was quickly followed by the gentleman himself, who came into the room in a breezy manner which took us all by storm. He strode up to the Duke and seized her by both hands.
He was at least six feet tall and fleshy in proportion, while his face was round and bespoke good nature. His hair stood straight up all over his head, and looked as if there was no treaty of reciprocity between it and the brush.
The Duke introduced him as Colonel Rogers, of Ken- [Page 43] tucky, and after cordially shaking each guest by the hand, he seated himself comfortably in our best rocking-chair and beamed amiably on the assembled company. Under his broad, turn-down collar was a thin black ribbon, tied in a straggling bow, which, before the evening was over, had worked itself around under his left ear. His whiskers formed an aggressive halo around his face, and his clothes were large and roomy, and were evidently made for comfort. His vest was fastened at the top and bottom, but the intervening space was guiltless of buttons.
Pulling his chair towards Major Barker, he carelessly crossed his feet, and I noticed that over one of his large shoes dangled a white string.
"Well, Miss Duke, I tried to send my card up in that whistle, but I couldn't make it work," and the Colonel threw back his head and laughed heartily.
"I tell you, you all have so many new fangled notions here in Chicago that I wouldn't be surprised at anything. Major, are you a native ?"
Major Barker, seeing that he had an entertaining specimen near him, answered heartily:
"Yes, Colonel, I am. And your home is in Kentucky, I presume ?"
"Yes, I am a native Kentuckian, born and raised in the Green River country. I've represented my county twice in the Legislature, and have been a candidate three times for Circuit Jedge."
His not having been elected cut no figure with the Colonel, as the fact of being a candidate, though three times unsuccessful, was honor enough for him.
"Now this cane was presented to me in '80 by the Committee on Agriculture, of which I had the honor of being Chairman." [Page 44]
And the Colonel leaned out and took from the hat-rack in our little hall an unwieldly cane with a massive gold head.
"Made the finest speech in my life when that cane was given to me–fairly bro't down the house, and Jedge Emerson told me afterwards that he tho't it was the effort of my life."
"Talking of oratory, Colonel, do you know Colonel McKenzie ?"
"What, Quinine Jim ? Best friend I've got in the world. Why, he was raised next do' to me in the Green River country, and there ain't no finer man between Pennyrile and the Purchase than that very Jim McKenzie."
Just here I want to say that the State of Kentucky is divided into four sections–the "Mountains," the "Bluegrass," the "Pennyroyal" and the "Purchase," the district between the last two sections being the Colonel's home.
"And if it hadn't been for me," (Colonel Rogers continued pompously, "I don't think Jim ever would have been in Congress; for the first time he run it was pretty shaky, but the members of our section of the Congressional Deestrict just took off our coats and wheeled our counties into line for Jim, and we've been proud of it ever sence. I tell you, he is the tallest talker in the State, and can talk all around any one of them Congressmen."
And at the recollection of his friend's political prowess, the Colonel put his hand affectionately on Major Barker's knee.
"Why do you call him Quinine Jim ?"
"Because he made the famous speech in Congress to take the tariff off quinine so we could buy it cheap, for in our deestrict there are so many swamps that we buy quinine by the pound, and then we shake our teeth out." [Page 45]
And the Colonel gave another of his laughs at this remark, demonstrating to the entire company that the best of his teeth had been shaken out years ago.
"Yes, Jim McKenzie has fixed things now so that a poor man can afford to have a chill now and then."
We girls silently sipped our tea, for the conversation was absorbed by Colonel Rogers, and our guests formed an interested group around him, while he was in his element, being the center of attraction.
Mrs. Brown was having the best time of anybody, and many a furtive glance did the Colonel cast at her comely, matronly figure, as he recited his experiences. She was not a beautiful Desdemona, but she evidently pleased this modern Othello, and the thought of the six little motherless Browns across the way never entered her head.
We were just about to accompany Colonel Rogers through another political campaign, when little Mary approached Mrs. Brown and whispered excitedly:
"Please, ma'am, Miss Ariadne thinks Philander has swallowed something, and we are afraid it is a tack."
The Colonel, who had heard it, immediately arose and looked more agitated than the mother, and with all the elegance resulting from the polishing influence of two terms in the Kentucky Legislature, said: "Allow me to serve you, my dear madam; can I go for a doctor ?"
"Oh, no, not at all," Mrs. Brown answered nonchalantly. "I don't mind his swallowing tacks, if he will only let nickels and dimes alone. Why, he has quite depleted my purse, and the number of buttons he has disposed of is something astonishing."
And with many courtesies the worthy lady made her adieu–reluctantly, I must admit–while the Colonel, with [Page 46]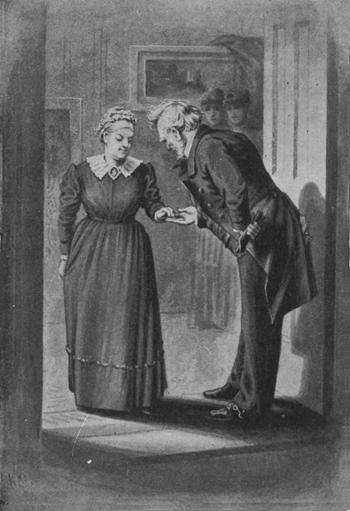 [Page 47] much deliberate ceremony, handed her out of the door, Mrs. Brown, with quiet elegance mincing out:–for Philander could swallow tacks, nickels, dimes and the United States mint, but his mother must not forget her deportment.
"Ah, good-night, Colonel, I trust I shall hear more of your exceedingly interesting experiences at another time."
"But, my dear madam, allow me to see you to your own door."
"Girls, I can't miss that fun," and the Duke followed them out into the hall. She afterwards told us that Ariadne was holding the door open for her mother, and from the stairs she caught sight of the bedroom where the five small Browns were domiciled. She said that Philander was in the middle of the bed gasping for breath, and about him were as many small brothers as could be accommodated with a sight of his sufferings, while the boys who could not get near enough were consoling themselves by tumbling somersaults over the foot of the adjoining bed, all five being in various stages of undress.
When the Colonel returned he began a lengthy reminiscence upon the times that his sons had gotten into similar difficulties, and the remedies that he had used, ending with the astonishing announcement that the best thing as far as he knew for everything was a good, stout toddy.
"By the way, Major, did you ever drink any of the mint juleps made after Colonel Stoddard Johnson's recipe ? You haven't! Well, I tell you, if you ever come out to old Kaintuck, I'll give you such another julep as you never tasted in all your life before."
We began to fear that our tea had fallen dead against the Colonel's lurid palate. But nevertheless he waxed eloquent and poetic as he described the mint-bed in his own [Page 48] back yard at home, declaring that the moon only shone at its best in old Kentucky, when the mocking-birds were singing in the chinquepin trees, and we began to think that Mrs. Brown's influence and a cup of tea had certainly inspired him.
"Very fine woman, that Mrs. Brown," said the Colonel, as he gave a masterly stroke to his aggressive whiskers. "Er–ah–a widow ?"
"Yes," said Marjorie, "she is the widow of the late Judge Brown, who was an old Baltimorean, though he fought on the Northern side in the war."
"You don't say so ! She can't be the widow of Andrew Brown ? What ! She is ? Why, I remember hearing of him, and I also remember what a lively time we gave them at Bull Run. I tell you the Yankees were pretty well played out that time," and the Colonel rubbed his knees and chuckled to himself over the pleasant recollection.
"So she's Andrew Brown's widow ? Well, well, I must come up and call on her before I leave town."
We all smiled, devoutly wishing that he would persuade our neighbor and her six incumbrances to remove to Green River country, Kentucky, for as Mrs. Brown had spent many years of her life in listening to the stories of Federal bravery, it would be no more than right that in her declining days she should hear the other side, and if she should eventually be urged to do so and remove from the flat, we would forever after bless our Friday evenings.
[Next]