"Chapter IV: In the Firelight." by Enid Yandell (1870-), Jean Loughborough, and Laura Hayes
Publication: Three Girls in a Flat. by Enid Yandell, Jean Loughborough, and Laura Hayes. Chicago: Knight, Leonard & Co., 1892. pp. 49-52.
[Page 49]
CHAPTER IV.
IN THE FIRELIGHT.

THE little red lamp shed a soft, rosy light over the room, and the fire blazed cheerily, with now and then an extra bright flame for imagination's sake. The tall lamp beside the piano had been blown out, and books and papers were strewn around, while in a corner was a suspicious-looking stand, half draped in a damp gray cloth. Now, as the firelight fell upon it, it was a beautiful woman; again a strong man in repose, and again, some fairy child.
The flat was quiet; evidently no one at home but the girl in a luxurious gown seated before the fire. Her feet, cased in red Turkish slippers, were elevated to the top of the brass fender; her head was thrown back and from it had slipped a red fez which lay on the floor; her eyes were closed, and around the deep corners of her mouth and slightly parted lips there played a smile–or was it the firelight ? Regularly the breaths came, and deep; the maiden slept. A little Dutch clock on the mantel pointed the hour of ten.
The other girls had gone to the opera, and after a hard day's work at her studio, the Duke had come home, dined alone, and donning gown and slippers had begun a little sketch for the Woman's Building.
The ideas formed themselves too slowly for her quick perception of form, and, throwing aside her tools, she had put out the largest lamp and seated herself to "study it out." And the ideas, like the flames in front of her, blazed [Page 50] and died away until her tired and overworked mind refused to answer, and sleep, the heaven of the intellect, dawned upon her. Over her chair leaned a handsome, dark head; two eyes, whose depths few saw, looked upon her, and round her waist stole an arm and strong white hand; the other grasped hers as it lay on her knee, and the light revealed the prominent blue veins and slender nails of the honest, masculine hand.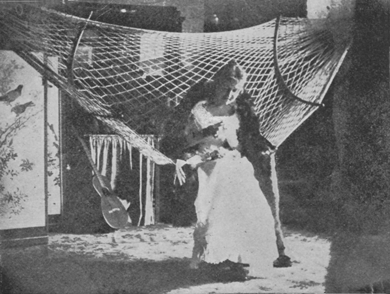 "MARJORIE, SEATED IN THE HAMMOCK, WAS DRAWING OFF A GLOVE."
The Duke started, and as she did so her forehead touched his lips, as he knelt beside her. For an instant a fearful look came in her eyes, but as she gazed into his, all fear departed, and deep, trustful love beamed forth; and, with [Page 51]
a sigh of relief, abandonment and rest, she laid her head upon his shoulder.
"Are you ready? dearest, will you come with me?"
A deep, baritone voice spoke, like the full stop of an organ, whose power and gentleness carries all before it.
"Come with you? Why, and where?"
"Come, because I have waited so long for your coming; come to me and rest. Complete my life; give me love; all else I have."
Did he know to whom he spoke ? Was it to the proud, imperious, independent Duke he talked of filling another's life? He did know, for her ideal knelt beside her; a man to honor, love, work for, die for, live for.
Where had he come from ? Who was he? It mattered not; two souls [Page 52] had met, she knew what he was, and her head and heart, worn out in their struggle to conquer the world alone, lay quiet on his breast.
"Why came you so late, dear ?"
"The time is only now ripe, sweetheart; you must have suffered and worked and learned all you know alone to be willing to come with me;" and now, with a quick, impulsive gesture, he took her in his arms; and she, like a true woman, clung to the strength and good that was in him.

A peal of laughter, a stumble at the door, a knob quickly turned, and in came the girls and their escorts. She rose, desolate, forsaken, her arms out before her, a lonely feeling and a chill in her heart. Was it the laugh of a demon? Had her love disappeared like a phantom?
"Hello, Duke! asleep, old girl?" Marjorie, seated in the hammock, began drawing off a glove; Gene, in her opera-cloak, stood before her, and then she knew it was a dream. The fancy of an over-worked woman's brain that needed rest and love.

[Next]