"Chapter VI: Mr. Perkins." by Enid Yandell (1870-), Jean Loughborough, and Laura Hayes
Publication: Three Girls in a Flat. by Enid Yandell, Jean Loughborough, and Laura Hayes. Chicago: Knight, Leonard & Co., 1892. pp. 83-86.
[Page 83]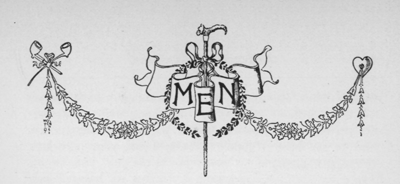 CHAPTER VI.
MR. PERKINS.
THE morning was bright and sunny. Gene had been to church and had walked on the Lake-Shore Drive afterward with Mr. Middleton, who came in with her when they reached the flat. She had brought home the little printed circular containing the morning's hymns, and on entering sat down at the piano, without removing her wraps, and commenced, softly, to play them over. Mr. Middleton stood looking down at her–we all think he is very fond of Gene–and how was it that the music drifted to the nightingale's song, and that Gene, who is always so good, forgot that it was Sunday and commenced to sing, in her sweet voice, "Ah, no, I cannot forget you ?" Suddenly, she became conscious of a foreign presence in the room, and turned her head, when, to her surprise, her glance fell upon a stranger. It was rather an embarrassing moment, and as she rose with a flush on her face, the stranger stepped toward them and said, inquiringly, "Mr. Perkins?" Gene answered at once, "I fear you have made a mistake, which is a very common thing [Page 84] with so many apartments in one building. Mr. Perkins does not live here." "Oh no," the young man answered, with perfect self-possession, "I am Mr. Perkins, and I have come to see Miss Wendell." "Oh, I beg your pardon," cried Gene, blushing. "She is not in the city. She went to spend Sunday in Evanston." "I know it," replied the young man, "but I have an appointment to meet her at a quarter after one, as I am going with her to dinner at her cousin, Mrs. Dickey's." It was then almost the moment mentioned, so he sat down to wait, while Marjorie came in from Sunday School and joined them.
Mr. Perkins proved to be a very amusing and interesting young man, with light, curly hair, a frank, open face, and a manner that was at once deferential and yet showed a desire to please. He told them that he had lived in Wash- [Page 85] ington, and gave them many stories of Western life, so that the time slipped by with great rapidity, and Katie had announced the two-o'clock dinner, before anyone noticed that the Duke had not arrived. "Won't you come to dinner with us?" asked Virginia. "There is surely some mistake, and as you are a stranger in Chicago it would be very awkward for you to dine alone, down town, at a hotel." He hesitated a moment, and then said: "I wonder if you would ever forgive me if I did do such an unconventional thing? The truth is that I should like immensely to stay." And so the matter was settled without more ado.
They were at dinner when a ring came at the door, and Katie said that someone wished to speak to Miss Fairfax. Gene left the room and returned in a moment, dimpling with laughter, to say that it was a young man whom she had never before met, who asked for her, as he was so much surprised to find that Miss Wendell was not in, as he had an engagement to go to dinner with her at her cousin, Mrs. Dickey's. Mr. Perkins was very much amused and the dinner progressed with great jollity, as he and Mr. Middleton, who found that they belonged to the same College fraternity, vied with each other in telling stories and anecdotes.
The dessert was on the table, when Katie was called away by another ring at the door, and returned in a few moments with her good Irish face settled into a grin that stretched from ear to ear, as she said that it was some young gentleman who wouldn't leave his name, but who seemed very much surprised to learn that Miss Wendell was not in, as he had an engagement to go with her to dinner at her cousin, Mrs. Dickey's. [Page 86]
At this we all shouted, until the old maid who always sits in the bathroom in the top flat, to tell the gossip that she hears floating up through the shaft, must have had something to repay her for her long vigil.
It was seven o'clock at night when the Duke came in, a disconsolate wretch–for the face of that little hypocrite, which is the merriest in the world when she laughs, can be drawn down to such an expression of melancholy that the hardest-hearted person in the world could not help forgiving her sins. I never could remember just what explanation she made, but as it was perfectly satisfactory to Mrs. Dickey and to the young men, including Mr. Perkins, who soon called again, it does not make much difference.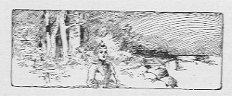 [Next]