"Chapter VIII: Sunday Morning." by Enid Yandell (1870-), Jean Loughborough, and Laura Hayes
Publication: Three Girls in a Flat. by Enid Yandell, Jean Loughborough, and Laura Hayes. Chicago: Knight, Leonard & Co., 1892. pp. 92-100.
[Page 92]
CHAPTER VIII.
SUNDAY MORNING.
IT was a lovely morning; the sun touched the wind-ruffled waters of the lake into myriads of flashing diamonds. The air was warm and odorous, and the rose geraniums in the window-boxes were spicy and fresh with the morning dew. The few passers-by walked slowly along the streets talking quietly to each other, filled with reverence for the Sabbath stillness. The mellow bells chimed the hour of nine in the great tower of the Cathedral on the corner, but in the little flat on Cass street all was still. Virginia was the first to wake. "Come, you lazy girls," she called, "it is after nine o'clock and Katie says that breakfast is nearly dried up with waiting." Slowly came the sounds of life from the different rooms, and soon three girls, with cheeks all pink from recent sleep, sat about the little round table in the dining-room.
"What are you going to do to-day?" asked Marjorie. [Page 93] "I'm going to church, of course," said Virginia, with a sweet look of dignity, "and you, Duke?" The great black eyes were full of mischief as she answered, "I am going to take a Turkish bath, and I want you girls to go with me. Now don't look so shocked Gene, for I am really serious about it. I'm going to listen to a sermon on the text, 'Cleanliness is next to Godliness,' and I want you to come too. It is ridiculous for girls who have to work all the week to try and keep up with their duties every single Sunday. We always go to church, why shouldn't we miss just one morning?" "But it doesn't seem respectable, does it," asked Marjorie, already half won over. "No, it don't seem so, that is just the point, but it really is. There won't be a soul down there, probably, and I really think it is a heap better than staying home all day in a wrapper and reading novels the way so many good church members do."
Here a ring at the door interrupted them, and Katie in her clean Sunday cap entered and smilingly announced Mr. Middleton. "Ask him in here, Katie," cried Marjorie, while Gene's cheeks took on a deeper touch of pink, though she made no comment. In came Mr. Middleton with three great bunches of flowers; sweet peas for the Duke, violets for Marjorie, and a bunch of purple pansies for Gene. "Won't you have some breakfast ?" asked the Duke. "No, thank you. I would like to, but I can't stay. We have some relatives here from the East who are just returning from a trip to Alaska, and I have promised father to take them to church."
After he left the talk drifted to other subjects, and little more was said about the bath, but a half hour later when the Duke came into Marjorie's room to borrow a black pin, she found her carefully rolling up Gene's tailor-made jacket [Page 94] within her own. "What in the world are you doing," cried the Duke. "Virginia said she wasn't going with us." "Oh, but she will, I am sure, and I am taking her coat, as she has a little cold. We will need our wraps even if it is such a warm day."
The girls walked down Cass street towards the city, when Marjorie happened to notice something in Virginia's hand. "What have you got in that little package, Gene ?" she asked curiously. Virginia made no answer and looked a little confused, but did not resist when the Duke took it from her hand, and opening one end looked in. A comb and a curling-iron met her astonished gaze, and as she showed it to Marjorie, they both exclaimed with disgust, "Why, you meant to go all the time."
* * * * * * * * * *
MY DEAR WILL:
I must write you my usual Sunday letter, but I am really ashamed to tell you what we have been doing to-day. In the first place it was all that mad-cap Duke. You know how fond we are of her, and how persuasive she is. Well, she took it into her head to take a Turkish bath this morning, and nothing would satisfy her but to have us go with her. It is always easy enough for me to yield, but we finally persuaded Gene too.
State street is not a pretty or picturesque thoroughfare, as you know, neither is it awe-inspiring; but I give you my word I felt really ashamed of the cobble-stones and the closed windows as we walked by this morning; especially as we passed Central Music Hall where the late-comers were loitering into church. When we reached the Palmer House I think we were all willing and ready to turn back, [Page 95]
but of course no one would acknowledge it. The Duke walked boldly up and tried the door of the regular entrance in Madame Louise's millinery store, but found it locked, and we pretended to be glancing at the hats inside while she spoke to the colored porter at the carriage entrance, asking him if the Turkish bath was open. He was a solemn-faced negro, with black excrescences on his face and neck, like the fungus on a tree, and when she asked him that question, he rolled up his eyes until you could see nothing but the whites, then brought them to a cross-eyed focus on the Duke's nose, while he said solemnly, in guttural tones: "No mam, they ain't no Turkish bath open on Sunday, leastwise none that I eber herd tell on," then raising his hands to heaven, big white cotton gloves and all, "Six days [Page 96] shalt thou labaw, an do all thou hez to do, for in six days the Lawd made heben, and earth, the sea and all that are in dem, and rested on the seventh and hollowed, therefore, chillun ye must do no manner of work, ye, nor your neighbaw, nor your ox, nor anything that is yourne." The Duke laughed for two blocks, but I honestly think that we all felt guilty at the old darkey's lecture.
We discussed what we should do next, and the Duke was for telephoning the Grand Pacific to see if we could get in there, but we had no place from which to send a message except a drug store, and none of us liked to ask that question in public. As we walked back on State street we found that it was growing very warm, especially as we had to carry our wraps, which were unnecessary in the bright sunshine, and as we passed Central Music Hall, Gene said timidly: "I wonder if it is too late to hear the sermon ?" We could hear the big organ pealing forth within, and that decided the Duke, who is passionately fond of music. As for me, I did not need to consider, for you know how much I love to hear Professor Swing's lectures.
So we went in, intending to sit quietly on the red velvet sofa by the stairs in the back of the church, and not try to find a seat. You remember the sofa, I know–the refuge in thought of all the people who come in late. In thought, I say, for one generally enters to find it occupied. So it was [Page 97] with us, and as we stood there a moment undecided,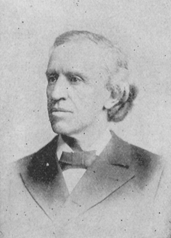 a gentleman with gray hair, and a beautiful, benevolent face, came up and asked us to follow him, saying he had three seats for us. At first I tried to protest, as I was in advance; but not wishing to refuse at such a moment, we followed, to be shown into one of the most conspicuous places in the house–Mrs. Medill's box. After the rustle of our entrance we were glad to subside and presently forgot our discomfort in the opening words of that wonderful sermon. I do not need to tell you what a feast it was, for you have heard Prof. Swing; but that awkward, and to a stranger, homely man, seems to me to be almost inspired. All that he says appeals to the reason, the imagination and the heart. His allusions show the learning of a scholar, and yet he is never pedantic. His standpoint is that of a philosopher, and yet he is tolerant of those of us of lesser stature, who go about blinded by the glamour or the follies of our century. Gifted with magnetic power that chains, from the moment he speaks, the entire attention of his hearers, he tells us, as simply as a child, the difference between right and wrong. His creed is to raise the fallen, to help the suffering, and to teach to all men the gentleness and charity that broaden the age. [Page 98]
But I always enthuse on this subject. Gene, as you know, is a stranger here, and had never heard him preach; and once, when I happened to glance at her, I saw that she was intensely interested in every word that he said. Her eyes gleamed in excitement–you remember their strange lapis-lazuli tint–and a ray of sunlight gilded the little tendrils of hair about her neck and temples. I saw several people looking at her, and I do not wonder; for she is a most charming creature when that perfect calm is stirred to animation. She told me afterward that she felt as if the iron had entered her soul when she thought of the iniquity she had planned earlier in the morning. I must confess that I was not afflicted with remorse, for I am not so good as Gene by nature; but I could understand her feelings, for after one of those soul-touching sermons, the stereotyped words of the average preacher seem as flavorless as Dead Sea apples.

The iron didn't enter the Duke's soul just then, but it did a few minutes later; for she was carrying Gene's little bundle, and so far forgot herself as to rise abruptly for the benediction, thereby dropping her burden. The paper broke, of course, and in the solemn stillness the little curling-iron hied itself merrily down several steps with a loud clinkety-clank, and stopped with its handle tenderly embracing the foot of the benevolent gentleman to whose courtesy we were indebted for seats. He glared at it with a look of horror, and I really believe that he did not know what it was, or where it came from, though if he had taken the trouble to turn, I am sure he could not have doubted the tell-tale aurora that en- [Page 99] carnadined the face under a certain jonquil-trimmed hat. At any rate several other people looked back, among them three ladies, with solemn surprise on their faces, and a young man whose brown eyes opened to their widest in a merry laugh on seeing us. Need I say that it was Mr. Middleton?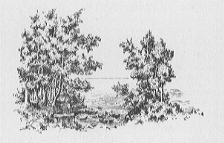 How much time I have taken in telling you about our morning's adventures! But it always seems as if I could really talk to you when I commence to write, and I never know when to stop. Do you still sail every day in the "Trinket," as we did last summer ? Since my trip abroad this year I am more than ever impressed with the loveliness of our own "North Countree." Mullet Lake, in its way, is just as beautiful as Lake Como; the same dreamy blue atmosphere, the same wonderfully-reflected sunsets; only Topinabée has a beauty of its own, a wildness and magnificence of forest growth that we do not appreciate in the least, but which would be enthusiastically admired by the foreigners [Page 100] could they see it. How I wish I could be there for just one week! I can see you now as you started out in the morning, dressed in your corduroys and with bag and gun over your shoulder. Would you still be glad, I wonder, to take a companion who frightened away the game by talking and laughing? And would you still lay down your gun to pluck a cluster of the sweet white violets if we happened to find them ?
Most sincerely,
MARJORIE.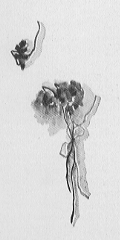 [Next]