"Chapter XI: The Dinner." by Enid Yandell (1870-), Jean Loughborough, and Laura Hayes
Publication: Three Girls in a Flat. by Enid Yandell, Jean Loughborough, and Laura Hayes. Chicago: Knight, Leonard & Co., 1892. pp. 126-134.
[Page 126]
CHAPTER XI.
THE DINNER.
WHEN the second session of the World's Columbian Commission was almost ended we invited a few of our particular friends to dine with us. There was the courtly Commissioner from Tennessee, the gallant Colonel from Texas, the genial representative from Arkansas, and the eloquent Kentuckian. We put our heads together and arranged an elaborate bill of fare, congratulating ourselves upon the fact that it was absolutely no trouble to give a dinner when we had so excellent a cook as Katie. Alas when we met at luncheon, we were told that Katie had received news of an accident in her family, and had left suddenly for the country. However, being a faithful creature she promised to send us a friend who could even rival her in the serving of a meal. Marjorie seemed a little nervous over this friend, and her appearance–for she arrived before we left the house–did not comfort us. She was a short, stout Irish woman, who carried her nose up in the air and seemed continually on the aggressive. When questioned as to her ability as a cook, she replied shortly that she certainly would not pretend to do a thing she knew nothing about, whereupon we hastily retired from the kitchen, and held a [Page 127] council, which resulted in the Duke's promising to make the salad, Marjorie to set the table, and I was to order the dessert from Kinsley's and send home some flowers.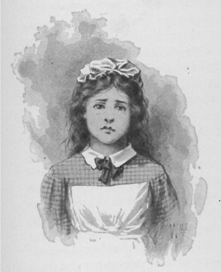 The question as to who was to wait on the table must be settled immediately, so we again went in a body to the kitchen, Marjorie and I following the Duke, who stalked boldly out with her hands in those wonderful pockets. As we opened the kitchen door Bridget was rubbing a pan with a concentrated force and violence that might have been expended on a worthier cause. She did not deign to notice us until the Duke asked if she ever waited on a table. "Indeed, and she waited upon nobody, and all the respectable families she had ever lived out with had 'reached' for themselves." Concluding that argument was useless, and not wishing the Commissioners to do the "reaching" on this occasion, we decided to call in our emergency maid, little Mary, the fourteen-year-old daughter of our washerwoman. Marjorie promised to return early and give her some instructions and also see that her wardrobe should not reflect discredit on the flat. Feeling assured of Marjorie's ability to rise to the occasion–for she had the most remarkable [Page 128] faculty of making a success of everything she undertook–we parted for the afternoon, promising to return early.
I hastened home at five o'clock to dress, and in answer to my impatient ring the door was opened by little Mary, who was resplendent in a dainty fluted apron and jaunty cap, while her face was so eager and she appeared so anxious to fill her position of trust creditably that I could not help feeling confidence in her ability. A sense of good cheer and welcome pervaded the flat, and the entire suite of rooms wore a holiday air. I could hear rapid walking and the noise of bureau drawers being opened and shut in the Duke's room, and knew from the commotion that the young woman was making an elaborate toilet. Marjorie was a picture in her dainty lavender gown, which suited so well her golden hair, and with a white rose on her breast she seemed the idyllic hostess that we find in the poetry of an age that is gone. She was just putting the finishing touches to the table as I entered the dining-room, and under her artistic hand it was a combination of dazzling cut-glass, shining silver, soft lights and glowing flowers. Vases of chrysanthemums stood on the sideboard, and the mantel was covered with roses and trailing vines. In the center of the table was a tall, slender Bohemian glass vase, the pride of the flat, filled with La France roses and feathery Maiden Hair ferns, while long fern-leaves were laid on the table around the vase.
Marjorie had just trailed a piece of ivy around one of the tall silver candelabra, when she turned and saw me. "Oh, Gene, I have just been wishing for you. Do run upstairs and return the courtesy of our frying-pan, which we loaned Mrs. Brown, by borrowing her oyster forks." I assented and soon returned, not only with the [Page 129] oyster forks, but with Mrs. Brown herself, who followed me and bore in her hand an immense, many-pronged silver épergne. "You dear girls, giving a dinner and didn't tell me? Here I've brought you my épergne. It belonged to my grandfather, Colonel Carey, of Virginia, and we used to have it on our table when my first husband and I entertained so much in Baltimore. Trouble me? Not a bit in the world. I can whisk all those things off in a jiffy." And the good-natured, but misguided woman, suiting the action to the word, seized upon poor Marjorie's artistic decorations and swept them ruthlessly from the table, planting her huge, ungainly ornament triumphantly in their place. And there it stood on our little table, looking about as inappropriate as a silk hat on a three-year-old boy. In vain we protested, but she, still insisting, carried her disagreeable point. We continued the preparations, and just as soon as she had taken her departure–and she stayed until we were beside ourselves–Marjorie, in anything but a sweet spirit, laid violent hands upon the relic of Carey elegance, and transplanted it to the kitchen table. The New York cousin, whom we had asked to chaperone our party, came first, and was simply charming in her gray dress and pink roses, and we were exceedingly proud of her as she entered the room in her gracious, elegant way. "She is so very swell, you know," the Duke said.
By this time little Mary had reached a state of nervous excitement which was appalling to behold, while Bridge was calling on every saint in the calendar known to a devout Catholic, but in spite of these minor domestic frictions Bridget had prepared a well-cooked dinner, and we seated ourselves at the table with a sense of relief that everything so far had been successful. [Page 130]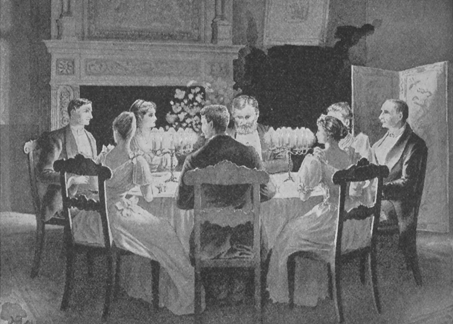 Our guests were exceedingly entertaining, and told a number of amusing incidents about the first meeting of the Commissioners. A certain very small Commissioner, who seemed to amuse them greatly, had always carried an immense palm-leaf fan, and when he arose to his feet to demand the floor, he would wave the fan violently at the president to compel his attention, knowing that he would not otherwise be recognized. An incident was divertingly related showing that there was still a strong feel- [Page 131] ing among certain of the Southern Commissioners. Upon one occasion Mr. Wilson, Republican Commissioner from Connecticut, had the chair and was enumerating the various States whose Legislatures had failed to make any appropriation. When he mentioned Georgia, the Commissioner from that State, an unreconstructed rebel and a Democrat, immediately pricked up his ears. The ex-Governor, very old and exceedingly deaf, is in addition so rheumatic that walking is both painful and difficult. Catching the one word, "Georgia," and being suspicious of the friendly feeling existing in the heart of a Republican from Connecticut, besides, being totally unable to hear a word, he excitedly seized the arms of his chair, and with suppressed groans, raised himself to his feet. Clutching his cane, he laboriously stamped across the room to where Mr. Colquitt, of Tennessee, was sitting. "Colquitt, what is that man saying about Gawjah?" he asked in a loud whisper, while he looked threateningly at the chair. "Oh, nothing, Governor, nothing. He's only referring to the fact that Georgia, with other States, has failed to make an appropriation," Mr. Colquitt answered reassuringly. "Well, tell him that I say," and the Governor shook his cane threateningly, "to let Gawjah alone. It's none of his business what our Legislature does, and if he don't like what I say, tell him that I am here to answer for the honah of Gawjah, suh !" and the irate old gentleman turned and stamped back to his seat, where he sat glaring at the chair during the remainder of the afternoon. We all laughed very heartily at this story, and no one seemed more amused than the Commissioner who had related it, as he always thoroughly enjoys his own jokes.
Our dinner was progressing famously. The soup had [Page 132] been delicious, the turkey beautifully done, and I was secretly wondering at little Mary's aptitude, when I happened to glance at Marjorie, who was regarding her with painful uneasiness. I soon discovered that our small maid servant, in her zeal, not only removed the plates with each course, but the salt, the olives, the almonds, the celery and the glasses. These things were placed on the sideboard for an instant, and then returned to the table, the glasses being studiously emptied and refilled each time. I had my misgivings as to the capacity of the ice-pitcher under such trying circumstances, and far from feeling Marjorie's annoyance, was highly amused, as all the signals given were in vain. Little Mary was at that moment about to swoop down on the Duke's glass, but that young woman was too quick for her, and held it firmly while she turned to the Commissioner next to her, saying: "Now, Major, tell us one of your good stories," and without further urging he told of a recent experience.
Being invited last spring to attend the house-warming of an elegant home on the South Side, owned by one of Chicago's wealthy pork-packers, he had accepted and enjoyed the evening thoroughly. When the time came for him to take his departure he bade his hostess good-night and she accompanied him to the door, where stood a tall red-faced Irishman in a dress suit, to whom she said "John, won't you call Major G.'s carriage ?" The man started out of the front door followed by the Commissioner and as it was an exceedingly stormy night, the Major stood under the shelter of the porte cochère, saying: "John, I will wait here until you find the carriage." John, in the meantime, hatless and with thin shoes, went out across the lawn, found the carriage, and came back for our friend, [Page 133] whom he politely assisted down the steps. "Imagine my surprise and mortification," added the narrator of this story, "when, upon the following evening, I saw my hostess in her box at the opera with the man whom I had mistaken for her footman sitting beside her. I congratulated myself every time I looked at that box that my overcoat had been so tightly buttoned that I could not reach my pocket, and that so I had been spared the mortificatlon of tipping my host for his courtesy."
By this time we had finished the more substantial part of our dinner, and were waiting for dessert. Little Mary had retired to the kitchen, and we heard an ominous pounding and commotion out there. I suspected that Bridget was having difficulty with something, and when little Mary finally appeared with the ice cream, I knew that it must have been the mould that had confused her, as there was no shape to the cream whatever. Marjorie whispered the one word "cake," and little Mary again disappeared, while we all three talked at once, on entirely different subjects, and our pretty chaperone smiled sweetly on the guests to cover up this domestic difficulty. Our hand-maid at last returned, and with a frightened face, said to Marjorie in an audible whisper: "It's fell in the chute." Of course we tried to look unconscious, but the expression on the face of the Commissioner from Arkansas was too much for us. He seemed anxious and curious and amazed all at once over little Mary's message, and fearing that he would think our cake the victim of some kind of a rifle match, we hastened to explain to him that all flats have chutes, leading from the kitchen to the basement, where ashes and various things can be deposited. The covering to our shute had been broken, and Bridget had doubtless carelessly set the [Page 134] cake-basket on this broken lid and it had gone through. In spite of our embarrassment over this accident, it made us all laugh so heartily that we drank our coffee in a right merry mood, and after our guests had gone, and we sat about the fire talking it all over, as girls will, we congratulated ourselves upon the fact that our little dinner had been quite a success. "But, girls, did you hear the sequel to Mrs. Brown's épergne ?" Marjorie said. "Well, you know, Virginia, that I set it on the kitchen table in my wrath and vexation, and little Mary tells me it perfectly infuriated Bridget, as it took up so much room–you know, girls, it does look like a steamboat–so she pushed it under the sink out of her way, and who should come around to the kitchen door and see it but Mrs. Brown herself!" "Served her right," said the Duke, "we never do have a thing in this flat but she wants to have the entire management of it all." "From frying-pans on up to épergnes," Marjorie added, laughingly.
[Next]