"Chapter XIV: Christmas." by Enid Yandell (1870-), Jean Loughborough, and Laura Hayes
Publication: Three Girls in a Flat. by Enid Yandell, Jean Loughborough, and Laura Hayes. Chicago: Knight, Leonard & Co., 1892. pp. 148-157.
CHAPTER XIV.
CHRISTMAS.
MY DEAR WILL:–HOW kind you were to remember the flat with that splendid bag of game! We all enjoyed it immensely, and I wish you could have been with us at our Christmas dinner, although we did come near having an accident afterwards. We had been having a very exciting day, the bell ringing every other moment, and all sorts of mysterious packages coming in, for everyone was so good to us. We seemed to be having a regular donation party, and it all commenced last October when Mrs. Peabody, of Evanston, who has always been the loyal friend of the flat, sent us the great basket of goodies from what she called her farm. It was her crab-apple jelly with the Oriental flavor of the rose-leaf in it that you liked so much when you took dinner with us on your way through the city
Then came a beautiful box from Louisville, filled with brandied peaches that the Duke's mother sent us; and last, but not least, the contribution from that sweet Mrs. Gould, of Moline, a member of the Board of Lady Managers, who sent us such a big box on Thanksgiving filled with preserves and jellies and pickles, and on top of them all, inside of the cover, a mass of orange and white feathery [Page 149] chrysanthemums from her own garden. Who but a women would have thought of that last artistic touch ? I don't need to tell you what a help this has been in our housekeeping, for with all that we can do, it is more expensive than boarding, and none of us can afford to spend all the money we make on the flat. Gene, you know, is taking vocal lessons, and the Duke is saving up money for her art studies abroad, and as for me, you know how heavy my expenses have always been, and more than ever this winter, since I have taken up so many studies outside of my work. But I am straying rather far from the subject of Christmas.
It was Gene's birthday, so we made a double holiday of it, and gave a pretty dinner to which we invited her very best friends. The Duke and I had managed the whole thing as a surprise, so that Gene did not know we had remembered that it was her birthday until Katie brought in the great cake, with its twenty-two candles all lighted. We had spent nearly all the morning decorating the dining-room while Gene was at church. (She did not go alone.) And the result surpassed our wildest expectations, for the Duke has the most exquisite taste. First, we had the janitor bring up from our store-room in the cellar, the big round top which we always use on our little table on state occasions. Then, while Katie laid the cloth, the Duke disappeared m the back hall, returning in triumph with the dearest little Christmas tree in the world. The girls exclaimed with delight (for Carrie and Vinnie and Maude were with us), and we all set to work with a will. We placed it in the center of the table [Page 150] and trimmed it with golden threads of tinsel, hanging upon it all the smaller toys that we had bought for little Mary's brother and sister, and for the janitor's children, for we had asked them all in for dinner at seven (our own was at five), and for a frolic afterward. On the table under the spreading branches, we grouped the larger toys, and at a happy suggestion from Carrie, we sifted bits of fleecy white cotton all over our little tree until it looked like one of Lowell's pines "that wore ermine too dear for an earl."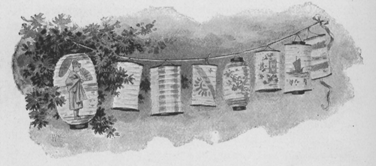 After this, we festooned strings of Japanese lanterns of quaintest shapes from the chandelier in the center to the four corners of the room, and fastened several spike-edged palm leaves in a graceful row above the sideboard. The effect of all this decoration was certainly gay and pretty enough to please the most fastidious, but the Duke stood critically on one side of the table with her brows knitted, and with a preoccupied air that we have all learned to know and respect, as the herald of some bright suggestion. Suddenly she exclaimed: "I have it," rushed into the kitchen returning with Katie and an enormous step ladder, which we had bought in the early days of our housekeeping be- [Page 151] fore we had accustomed ourselves to our diminutive home. She had noticed the reflections of the table with its tree in the mirrors belonging to the mantel and sideboard at the opposite sides of the room, and it had occurred to her to introduce a third glass which would reflect an added brilliancy when the candles were lighted. It was the work of a moment to get a great round, old-fashioned mirror from her own room and hang it opposite the table, but unfortunately the framework was of dark wood, while our little dining-room is all in oak. Someone suggested holly, and so we wreathed the entire mirror with the glossy leaves and the red berries, tho' it was hard work to drive the pins into the unyielding wood, especially as we had to use hair brushes for hammers, as this article was not included in the inventory of our household belongings. After this we brought in from the parlor the long jardinière, with its row of fresh vines and bright-colored geraniums, and placed it under the mirror, but even then our critical artist was not satisfied, for on each side of the glass was a space of two or three feet that showed the light wall-paper.
Again the Duke knitted her brows, and again we kept silence, and in a few minutes our old black Japanese screen, with its golden birds, was impressed into service; but there was yet the other side, and well we knew that there was not an extra curtain in the flat, as weeks before it had depleted the family pocket-book to hang portières in each door. The case seemed hopeless, but our artist had another inspiration, and in a moment had hung up Gene's crimson opera cloak by one corner so that the graceful fur-edged folds fell into place, and lo, the effect was magical. A gleaming circle wreathed in holly and drooping with vines end flowers stood out from a dark, in- [Page 152] discriminate background and reflected again and again the table with its dainty appointments and snow-laden tree.
The only lights we used that night were the lanterns and the candles on tree and table, and as our friend from Maine declared on seeing it, the dining-room had undergone as much of a transformation as Aladdin's palace.
Punctually at five our guests arrived, and one and all exclaimed at our new banqueting hall. The dinner progressed with mirth and jollity, for we had the old-fashioned bonbons on the table, and pulled the snappers just like [Page 153] children. I cannot tell you how pretty the girls all looked in the candle-light with their quaint paper caps, or how becoming the Priscilla hood of white tissue was to dear Mrs. Starkweather, who was acting as our chaperone.
Our guests were all in the happiest mood, especially our friend from Maine, who aroused shouts of laughter by telling, in his inimitable manner, three of his best-known stories about "old Squire Rawson," when, like an apparition, Mrs. Brown appeared. She did not have the sombre effect of Banquo's ghost, however, for she carried in both hands a tarnished silver soup tureen filled with maple syrup, which she had brought for a Christmas present to the flat. In her arms were a new pair of red-topped, copper-toed boots belonging to Lycurgus, which she had carried in to show us, while over one shoulder depended a pair of diminutive trousers, which, she assured us, entirely without embarrassment, were Philander's first, which she had just made (and here she heaved a gentle sigh) out of the moth-eaten remnant of her first husband's wedding suit.


STELLA.
We were drinking our coffee in the parlor after dinner, when merry voices and heavy little footsteps sounded in the hall; a ring came at the door, and Katie ushered in our little guests, who arrived in a body.
The table had been reset and we had relighted the tree when they sat down to dinner, and such shy, happy, well-behaved children I never before saw. Stella, our small neighbor across the hall, was giving a party, too, and many of her little friends flocked over to see our children. Two of the little girls, Daisy and Jean, wore Japanese cos- [Page 154] tumes, which delighted all the children except poor little red-haired Anthony, who was so frightened that he buried his face in his napkin and howled until he felt the reassuring touch of little Mary's fingers.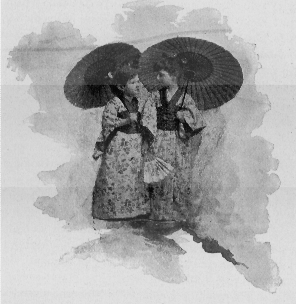 DAISY AND JEAN.
After dinner there was a great frolic, and Olga, who doesn't speak a word of English, became so excited that she got up and spoke a piece, which her older sister gravely assured us was Humpty-Dumpty in Swedish. She rocked back and forth on her wooden shoes as she recited, and the words sounded very odd. They were:
"Lilla bulla soppa kulla
Trilla neffer kulla,
Ingen mon e detta lon,
Lilla bulla bupta kon." [Page 155]
After this our harper came into the hall below as he always does on holidays, and we invited him in, that the little folks might dance. We had planned to leave them in full possession of the flat under Katie's care, for we were all going down to the Christmas performance of the Messiah by the Apollo Club, to which Gene and I belong, as you know. We had gone to our rooms to get our wraps, and were just about ready to start, when we noticed the smell of smoke, and hearing someone call "Fire!" rushed to the dining-room. What a sight met our eyes! Our beautiful table was a smoking ruin, while standing over it with a great empty dish-pan in his hand stood Pat, whom Katie calls her "best kimpany." Six of the pretty after-dinner coffee-cups that I had picked up abroad were broken, several napkins were scorched, but worse than all, a great, brown hole was burned through our best tablecloth, through our white felt pad, and marked the pine of our table top. Katie, who had spread the cloth, had tried to make the table especially beautiful, so, in addition to the pad, and underneath the outside layer of damask, she had put four of our best tablecloths.

LITTLE HELEN.
I saw that Gene could scarcely repress the tears, for she does love a prettily appointed table, and we knew what ruin this meant to our slender stock of linen; but Katie was such a picture of misery that we were all obliged to burst out laughing. We had had an unusually fine dessert that night–a mould of ice cream made in the form of a watermelon, with the German strawberries in the centre, then the layer of ice and finally the outside of green pis- [Page 156] tache. It had been the pride of Katie's heart and it was the cause of all our misery, for she and Pat were so anxious to finish it before it melted that they had left the table to its fate, and one of the lighted candles had probably fallen from the tree.
In spite of our disaster, however, we reached the Auditorium in time, and it was with the greatest pride that I ushered Gene into her place in the chorus, for she was my new member, and this was her first concert, and I knew that no one could look without pleasure on that sweet, animated face, above the gown of pale blue crêpe. In her hand she carried some gorgeous roses that had been presented by a certain young man, while in her hair glittered an enameled blue butterfly, with opalescent wings, that was the common property of the flat.
We arrived just in time and had gained our places comfortably when the curtain rose and the Auditorium lay before us. I could not begin to tell you how it looks from the stage. The stereotyped description will not fit at all for though it is the same magnificent hall, with its arches of starry light, yet when you take this point of view and the sea of upturned faces stretches away from you, the effect is to add greatly to its immensity. The tiers of boxes, on either side, were filled with fair women in evening dress, and the softness of coloring in the whole scene could only be likened to some Oriental picture.
But we did not have long to look, for in a moment the splendid Thomas Orchestra, which was to accompany us, touched the opening strains of Handel's magnificent Oratorio.
When I was in London last summer I had the good fortune to hear the Royal Choral Society, with its member- [Page 157] ship of a thousand voices, singing the Golden Legend, with Nordica, and Albani and Lloyd and Henschel for soloists, with ten thousand people listening in Prince Albert Hall, and with the German Emperor and Empress and all the royalty of England in the boxes; but I can honestly say that there was no better chorus singing, nor was there one-tenth the enthusiasm that was exhibited at this masterful rendering, under the leadership of Mr. Tomlins, who is respected and admired by all lovers of music, and simply worshiped by his own club.
We reached home at twelve o'clock, tired but happy, with our eventful day, and as I passed the library on my way to my room, I noticed a slender figure, with brown hair under a monk's hood of crimson, standing with a taller shadow ominously near the mistletoe bough; but of course there was nothing in this, for was it not our independent Gene?
You must forgive me, dear Will, for writing this very long and rather commonplace letter; but I feel a little lonely sometimes, especially on holidays. Oh, why did you go to Australia ?
MARJORIE.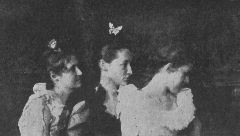 [Next]