CHAPTER V
STEVENTON AND THE OUTER WORLD
"'Tis pleasant through the loopholes of retreat
To peep at such a world . . . ."
HAVING glanced backwards at "the short school course" of Cassandra and Jane we will return with them, in fancy, to Steventon Parsonage.
Let us take a peep into "the common sitting-room with its two casement windows looking to the front;" that is to say commanding a view across the "sweep" and green lawn, to Steventon Lane, and beyond the lane to the grassy slopes of a hill, crowned with wood, that rises on the further side of the shallow valley.
In this sitting-room, as in the other rooms of the parsonage, we are told, "no cornice marked the junction of wall and ceiling, and the great beams, which supported the floor above, projected into the room below, covered only by a coat of paint or whitewash. Carpets were used sparingly in those days even in grand houses. We remember that in describing the "Great House" at [Page 41] "Uppercross" the old-fashioned parlour is spoken of "with a small carpet and shining floor, to which the present daughters of the house were giving the proper air of confusion by a grand piano and a harp." In the Steventon parlour the polished floor would reflect the light from the two casement windows, and those windows would have, probably, curtains hung on runner cords such as Cowper alludes to in the "Task" when he exclaims:
"Now stir the fire, and close the shutters fast.
Let fall the curtains, wheel the sofa round.
. . . . . .
So let us welcome peaceful evening in."
Other details we can also imagine - the stiff-backed chairs with carpet-worked seats, the Pembroke table in the centre, like that upon which Mr. Woodhouse had always been accustomed to have his meals; the fireplace with hobs and high moulded chimney-piece, adorned with miniatures in black frames. Among these miniatures we may fancy the portraits of Jane's two sailor brothers, for these are still in existence. One is a coloured likeness of Francis in the picturesque uniform of a naval officer at the end of the eighteenth century, the other a pencil sketch of Charles as a midshipman. We may also venture to place a tambour frame of polished wood in one corner of the room, for such a frame we know [Page 42] Jane used for her delicate embroidery; and we may fancy, perhaps, the best gilt tea-service seen behind the lattice windows of a corner cupboard.
Writing one December evening to Cassandra, who was staying with their brother Edward and his family at Godmersham Park, Jane remarks: "We dine now at half-past three and have done dinner, I suppose, before you begin. We drink tea at half-past six. I am afraid you will despise us. My father reads Cowper to us. How do you spend your evenings?"
Life flowed peacefully and quietly, as a rule, at the parsonage, but every now and then a great whiff of excitement came from the outer world in the shape of letters from the brothers at sea, who were both serving in our great naval wars. To read of their exploits and of their heroism, as recorded in naval histories and biographies, seems to bring us very near to Captain Wentworth, Captain Harville and young William Price.
Francis was a year and a half older than Jane, while Charles, the youngest of the family, was her junior by nearly four years. "Our own particular little brother," she calls him, sometimes, in letters to her sister.
We hear of Charles, as a young midshipman, serving on board the Unicorn frigate, under Captain Thomas Williams. Captain Williams had married the Austens' cousin Jane Cooper, [Facing Page]

ACTION BETWEEN THE ENGLISH FRIGATE 'UNICORN' AND THE FRENCH FRIGATE 'LA TRIBUNE' - JUNE 8TH, 1796.
[Full Image]
[Page 43] who the reader may remember was at the Abbey School with Jane and Cassandra, and who formed one of the party of five young people who dined together at the Reading Inn. The Unicorn did battle with many a ship sailing under the enemy's flag, and we read in James's "History of the British Navy," of her taking captive the Dutch brig-of-war Comet, the French troopship La Ville de l'Orient and the French frigate La Tribune. The action with the Tribune took place off the Scilly Isles on June 8, 1796. It is represented in the accompanying print, which is taken from a picture, painted in oils upon a wooden panel, now in the possession of a granddaughter of Charles Austen. The picture is supposed to have been painted by one of the officers of the Unicorn.
The two ships carried on a running fight we read for ten hours. During this fight the Unicorn suffered greatly in sails and rigging, being at one time almost disabled. Twice the Tribune attempted to make her escape, under cover of the enveloping smoke, and twice was she pursued by the Unicorn till finally that ship getting to close quarters, discharged a "few well-directed broadsides" which brought down the mainmast, mizen and topmast of the Tribune and forced her to surrender.
In the meantime, Francis, who from his excellent conduct "was marked out by the Lords of [Page 44] the Admiralty for early promotion," had seen much service in the East Indies and elsewhere. In 1798, he was serving as Senior Lieutenant in various ships on the home station.
Jane writes to her sister Cassandra on December 1 of that year. "I have just heard from Frank. He was at Cadiz alive and well on October 19, and had then very lately received a letter from you, written as long ago as when the London was at St. Heliers. Lord St. Vincent had left the fleet when he wrote, and was gone to Gibraltar.
"Frank writes in good spirits, but says that our correspondence cannot be so easily carried on in future, as it has been, as the communication between Cadiz and Lisbon is less frequent than formerly. You and my mother, therefore, must not alarm yourselves at the long intervals that may divide his letters. I address this advice to you two as being the most tender-hearted of the family."
A little later she writes: "I have got some pleasant news for you which I am eager to communicate.
"Admiral Gambier, in reply to my father's application, writes as follows: 'With regard to your son now in the London, I am glad I can give you the assurance that his promotion is likely to take place very soon, as Lord Spencer has been so [Page 45] good as to say he would include him in an arrangement that he proposes making in a short time relative to some promotion in that quarter.'
"There! I may now finish my letter and go and hang myself, for I am sure I can neither write, nor do, anything which will not appear insipid to you after this."
A month later Jane writes, joyfully, "Frank is made! He was yesterday raised to the rank of commander and appointed to the Petterel sloop, now at Gibraltar. A letter from Daysh has just announced this, and as it is confirmed by a very friendly one from from Mr Mathew to the same effect, transcribing one from Admiral Gambier to the general, we have no reason to suspect the truth of it."[1]
Does not this remind us of the letters announcing young William Price's promotion, when it appeared from the secretary's note that the first lord "had the very great happiness of attending to the recommendation of Sir Charles; that Sir Charles was much delighted in having such an opportunity of proving his regard for Admiral Crawford, and that the circumstance of Mr. William Price's commission being made out was spreading general joy through a wide circle of great people?"
Jane continues: "As soon as you have cried a [Page 46] little for joy, you may go on, and learn farther . . . that Lieutenant Charles John Austen is removed to the Tamar frigate - this comes from the admiral.
"This letter is to be dedicated entirely to good news. If you will send my father an account of your expenses he will send you a draft for the amount. If you don't buy a muslin gown on the strength of this money and Frank's promotion I shall never forgive you."[1]
The Petterel, we learn from naval records, was a sloop of twenty-four guns and one hundred and twenty men. In the June following his assuming her command, Francis Austen "participated in Lord Keith's capture of a French squadron under Rear-Admiral Perrée," and early in the year 1800 "he greatly signalised himself in an encounter off Marseilles with three French vessels, two of which he drove on to the rocks and the third he captured. All this was accomplished without the loss of a man to the Petterel, although thirty of her crew, together with the first lieutenant and gunners, were absent." The ship captured was the Ligurienne "a fine vessel of her class and in excellent repair. She was built in a very peculiar manner, being fastened throughout with screw-bolts, so that she might be taken to pieces and set up again with ease. She was originally intended, so [Page 47] said the French prisoners, to follow Buonapart to Egypt."
A few months later the Petterel formed part of the squadron of Sir Sydney Smith off the coast of Egypt. Whilst there Captain Austen, by a gallant action, prevented a Turkish line of battleship, of eighty guns, from falling into the hands of the French. The ship had been wrecked near to the Island of Aboukir and was totally dismantled. Already three hundred of the enemy had commenced their work of plunder when they were driven off and their prize set on fire; while thirteen men, the remainder of the Greek crew, were saved.
Charles Austen joined his new ship the Tamar in February 1799, but he was shortly afterwards reappointed to the Endymion. In this frigate, commanded by Sir Thomas Williams, his former captain of the Unicorn, "he came into frequent contact with the enemy's gun-boats off the southern coast of Spain and assisted in making prizes of several privateers. On the occasion of the capture of the Scipio, of eighteen guns and one hundred and forty men, which surrendered during a violent gale, he very intrepidly put off in a boat with only four men, and having boarded the vessel, succeeded in retaining possession of her until the following day," when he handed her over to his captain. [Page 48]
Jane writes to her sister: "Charles has received £30 for his share in the privateer, and expects £10 more; but of what avail is it to take prizes if he lays out the produce in presents to his sisters? He has been buying gold chains and topaz crosses for us. He must be well scolded."[1]
Great were the rejoicings at the parsonage when either of the sailor brothers returned home for a flying visit. We hear of Charles accompanying his sister Jane to the balls of the neighbourhood and of his being "very much admired," and being considered by one friend as "handsomer than Henry." Charles in the meantime enjoyed the gaiety fully as much as William Price enjoyed the famous ball at Mansfield Park, and probably he and his partner were often among "the five or six determined couples who were still hard at work" at a late hour, when others, like Fanny, had to retire to rest.
Henry, Jane's third brother, is thus described by his, niece, the "Anna" whose writings we have already quoted. "He was the handsomest of the family, and, in the opinion of his own father, the most talented. There were others who formed a different estimate, but, for the most part, he was greatly admired. Brilliant in conversation he was, and, like his father, blessed with a hopefulness of temper which, in adapting itself to all [Facing Page]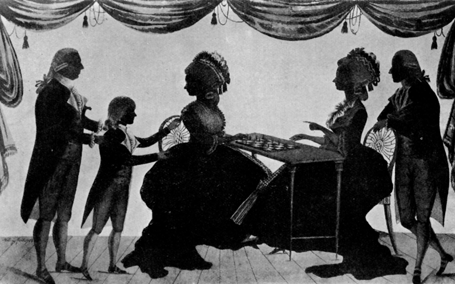 THE REV. GEORGE AUSTEN PRESENTING HIS SON EDWARD TO MR. AND MRS. THOMAS KNIGHT.
[Full Image]
[Page 49] circumstances, even the most adverse, served to create a perpetual sunshine." That Jane delighted in his society is evident by her letters.
Out of all her five brothers one only was settled within reach of Steventon, namely James, the eldest of the family. Mrs. George Austen said of this son that "he possessed in the highest degree, classical knowledge, literary taste, and the power of elegant composition." Being ten years older than Jane, it is believed that he had "a large share in directing her reading and forming her taste." After a career at college, James took Holy Orders, and, at the time we are writing of, had become vicar of Sherborne St. John's; but he also acted as resident curate for his father at Deane. He was twice married. His first wife (the mother of "Anna") being a daughter of General Mathew, the Governor of New Granada. She died suddenly in 1795, and James took for his second wife a Miss Lloyd, a member of a family with whom the Austens were intimate.
Edward, Jane's second brother, had been adopted, when a child, by his cousin, Mr. Thomas Knight, of Godmersham Park in Kent and of Chawton House in Hampshire. Mr. Knight had no children of his own, and Edward Austen eventually assumed his name after inheriting his estates. The event of the boy being handed over to the Knight family is commemorated in a curious [Page 50] silhouette group which hangs in Chawton House. Mrs. Knight is represented as seated at a small table playing at chess with a lady friend, whilst Mr. Knight, who has been watching the game, stands behind her chair. Mr. Austen is in the act of presenting his son, and the child - a comical little figure in a tight-fitting coat and knee-breeches - stretches out his hands towards his adopted parents.
Although Edward was thus removed from home early in life, a strong tie of affection bound him and his family together. After his marriage we find his sisters, in turn, frequently visiting him first at Rowling, a small property in East Kent, belonging to the Bridges family, and afterwards at Godmersham Park, and Jane's letters, either to or from these places, show what a lively interest she took in all that concerned both him and his. His wife - the "Elizabeth" of the letters - was a daughter of Sir Brook Bridges, of Goodnestone in Kent. Mr. Knight died in 1794, and his widow generously insisted upon handing over the property to Edward,[1] and retired to a house called "White Friars" in Canterbury. There Jane occasionally visited her.
---
Footnotes


[Page 45]
1 "Letters," Lord Brabourne.


[Page 46]
1 "Letters," Lord Brabourne.


[Page 48]
1 "Letters," Lord Brabourne.


[Page 50]
1 Some interesting letters written on this occasion are given in Mr. Walter Pollock's book, entitled "Jane Austen, her Contemporaries and her Critics," which appeared in 1899.