CHAPTER VI
THE COUNTY BALL-ROOM
"On with the dance! let joy be unconfined."
MISS JANE AUSTEN dearly loved a ball. Who can doubt this who has read the various descriptions of balls in her novels - all full, as they are, of life and movement and racy humour, while each one is perfectly distinct in character?
Frequent allusions are made in the "Letters" to the county balls at Basingstoke. These took place, it seems, once a month on a Thursday during the season. They were held in the Assembly Rooms, and were frequented by all the well-to-do families of the out-lying neighbourhood; many of them, like the Austens, coming from long distances, undeterred by the dangers of dark winter nights, lampless lanes, and stormy weather.
Now, where could those Assembly Rooms have been situated? Guide-books were silent on the subject; but probably they formed part of the chief inn of Basingstoke. We learnt from the country [Page 52] people that the old "Angel," standing in the marketplace, was, in former times, the principal inn and posting-house.
With a firm determination to discover the county ballroom or, at least, the place where it stood, we set off for Basingstoke on a bright September morning. Having crossed the busy market-place we drew up in front of the "Angel," with its tiled roof and white window frames. The upper part of the building is evidently unchanged, but shop-windows occupy the ground floor where the stage-coaches formerly rolled through a wide entrance to the yard beyond. The West of England coaches, we are told, used to halt here for their passengers to dine, bringing for one short hour a whirl of excitement and bustle into the quiet sleepy town.
The house is still a place for refreshment, so we entered and made inquiries as to its former condition. The master, in reply, produced an old bill-head with a view of the inn upon it. We noticed, over the coach-entrance, a carved wooden lintel. "See, there it is, ma'am," he remarked, pointing to the lintel, which hung from a beam across the ceiling. We now questioned him about the Assembly Rooms, but here he was unable to help us, not knowing anything about them. So, after taking some lunch, we were regretfully preparing to depart when, by chance, we fell in with [Page 53] the wife of our host. Prepared for disappointment we put the same questions to her, but now there came to us a sudden ray of light and leading. She told us that beyond the old stables and coach-houses at the back of the inn, there was a large room, now used as a hay-loft, but which, she had been told, was once a ball-room. In old times it was connected with the inn by a long passage, that ran above the stables and harness-rooms, but now the only access to it was from the great coaching-yard. Should we like to see the loft? The owner of it, and of all the outbuildings was a horse-dealer, who she was sure would permit us to do so, and she would, herself, show us the way.
And so, following our guide, we step into a paved covered way, and, passing the long low mangers where the post-horses fed, come out into the coaching-yard. There on the left stand the buildings described. We mount some wooden steps leading to the so-called hay-loft, and in another moment we find ourselves in the old Assembly Room! Piles of hay cover the floor, but we cannot mistake the place. There are the handsome chimney-pieces, the sash windows and the double-flap doors that mark a reception-room of importance; and when we push aside the litter beneath our feet, the fine even planking of a dancing-floor appears. As we gaze around us, [Page 54] the discoloured and mouldering plaster on the walls, the broken panes, the cobweb festoons, the forlorn and rusty grates, and the piles of hay all vanish, and we seem to see the room as it appeared in its palmy days when prepared for a county ball. A chandelier, resplendent with wax candles, hangs in the middle of the room. Its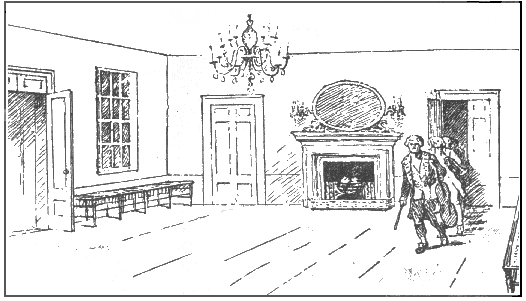 THE COUNTY BALL-ROOM
lights are reflected in the polished floor beneath and again in the oval mirrors above the two chimney-pieces. Fires are blazing in the hearths. See, there are the musicians, in their tie-wigs and knee-breeches, just entering, and soon the gay company will be arriving. Amidst that gay company there is one figure around which all the interest of the past is gathered. Let us glance for a moment at Miss Jane Austen as she enters the ball-room. [Page 55]
She is rather tall, is slender, and remarkably graceful. "Her step is light and firm, and her whole appearance expressive of health and animation." In complexion she is "a clear brunette, with a rich colour, hazel eyes, fine features, and curling brown hair." Resembling, in fact, her own Emma Woodhouse, as described by Mrs. Weston when she exclaims: "Such an eye! - the true hazel eye - and so brilliant! regular features, open countenance, with a complexion - oh what a bloom of full health, and such a pretty height and size, such a firm and upright figure."
And as to her attire, we may fancy Jane wearing a soft white muslin gown with a frill at the bottom just falling to her ankles in front and forming a small train behind; "a bit of the same muslin" round her head, confined by a narrow band of ribbon or velvet, and surmounted by "one little comb"; "green shoes" on her feet and "a white fan" in her hand.
Writing to her sister during the Christmas of 1798, of a ball that had just taken place in the Assembly Rooms, she says: "There were thirty one people, and only eleven ladies out of the number. Of the gentlemen present you may have some idea from the list of my partners: Mr. Wood, G. Lefroy, Rice, a Mr. Butcher, Mr. Temple, Mr. William Orde, Mr. John Harwood, and Mr. Calland, who appeared, as usual, with his hat in [Page 56] his hand, and stood every now and then behind Catherine and me to be talked to and abused for not dancing. We teased him, however, into it at last. I was very glad to see him again after so long a separation, and he was altogether rather the genius and flirt of the evening."[1] Did this Mr. Calland, we wonder, suggest some of the traits of the inimitable Tom Musgrave?
The "Catharine" alluded to was a Miss Catherine Bigg, a daughter of Mr. Bigg Wither, of Manydown Park. This gentleman had assumed the name of Wither on inheriting the estate. Manydown is within easy reach of Basingstoke, and Jane often stayed there when the Assembly balls took place. She had done so on the present occasion.
Writing of another dance, in the Assembly Rooms, Jane remarks: "It was a pleasant ball, and still more good than pleasant, for there were nearly sixty people, and sometimes we had seventeen couples. The Portsmouths, Dorchesters, Boltons, Portals and Clerks were there, and all the meaner and more usual etcs. There was a scarcity of men in general. I danced nine dances out of ten - five with Stephen Terry, T. Chute, and James Digweed, and four with Catherine. There was commonly a couple of ladies standing up together."[1] [Page 57]
When the grand people mentioned above entered the room, we can imagine the same sort of commotion occurring as is described in "The Watsons." "After some minutes of extraordinary bustle without, and watchful curiosity within, the important party, preceded by the attentive master of the inn, to open a door which was never shut, made their appearance." In the present case the master of the inn, we find, was a man named Curtis; his family having managed the "Angel" for two generations. He was a clever huntsman, and is mentioned with praise in the "Vine Hunt."
A propos of another ball at the "Rooms," Jane says: "There were more dancers than the room could hold, which is enough to constitute a good ball at any time. I do not think I was very much in request. People were rather apt not to ask me till they could not help it. There was one gentleman, an officer of the Cheshire, a very good-looking young man, who, I was told, wanted very much to be introduced to me; but as he did not want it quite enough to take much trouble in effecting it, we never could bring it about." And again she writes: "Our ball was chiefly made up of Jervoises and Terrys. I had an odd set of partners; Mr. Jenkins, Mr. Street, Colonel Jervoise, James Digweed, J. Lyford and Mr. Briggs, a friend of the latter. I had a very pleasant evening, however, though you will probably find [Page 58] out that there was no particular reason for it; but I do not think it worth while to wait for enjoyment until there is some real opportunity for it."[1]
Balls in the days of Miss Austen consisted mainly of country dances, for the stately minuet was going out of vogue, while the rapid waltz had not yet come in. We must picture to ourselves the ladies and gentlemen ranged in two long rows facing one another, whilst the couples at the extreme ends danced down the set; the most important lady present having been privileged to "call" or lead off the dance. We remember how Emma Woodhouse had to give way, on such an occasion, to the right of Mrs. Elton, as a bride, to lead.
Jane excelled greatly in the dance, and she shared her own Elizabeth Bennet's dislike of an incompetent partner. In one of her letters she speaks of sitting down during two dances in preference to having to stand up with a gentleman "who danced too ill to be endured." Was he, we wonder, like Mr. Collins, "awkward and solemn, apologising instead of attending, and often moving wrong without being aware of it?"
A good partner for a country dance was a matter of consequence as the engagement, implying, as it did, two dances, occupied a large part of the evening. We remember Henry Tilney's [Page 59] playful remarks on the subject to Catherine Morland when their intercourse had been interrupted for a few minutes by the irrepressible John Thorpe. "He has no business to withdraw the attention of my partner from me. We have entered into a contract of mutual agreeableness for the space of an evening, and all our agreeableness belongs solely to each other for that time. I consider a country dance as an emblem of marriage. Fidelity and complaisance are the principal duties of both; and those men who do not choose to dance or marry themselves, have no business with the partners or wives of their neighbours."
When the dance was over we may fancy the company repairing to the large front parlour of the "Angel" for supper. They would traverse the long passage, already mentioned, to do so. Did it, we wonder, suggest to our authoress, the long passage at the "Crown," when, "supper being announced, the move began; and Miss Bates might be heard from that moment without interruption, till her being seated at table and taking up her spoon. 'Jane, Jane, my dear Jane where are you? Here is your tippet, Mrs. Weston begs you to put on your tippet. She says she is afraid there will be draughts in the passage, though everything has been done - one door nailed up - quantities of matting - my dear Jane, indeed you must. Mr. Churchill oh! you are too [Page 60] obliging! How well you put it on! - so gratified! . . . Upon my word, Jane on one arm, and me on the other. . . . Well here we are at the passage. Two steps, Jane, take care of the two steps. Oh! no, there is but one. Well I was persuaded there were two. How very odd! I was convinced there were two, and there is but one. I never saw anything equal to the comfort and style - candles everywhere.'"
We can fancy the lively scene at supper with its accompaniment of "toasts" patriotic and private and the proposal of sentiments, in accordance with the custom of the day. Perhaps one of these last might take the form of words used, to the present writer's knowledge, on a similar occasion: "May courtship be ever in fashion and kissing the pink of the mode."
And now the time having arrived for the company to disperse we may think of them driving along the moonlit highways or narrow lanes of the neighbourhood on their various homeward journeys. Let us follow the coach that bears Miss Jane Austen and Miss Catherine Bigg to Manydown Park. We think we see them turn from the main western road to climb the long grassy slopes of the open park, and then, passing beneath an avenue of gnarled oaks, come out in full view of the fine old mansion of Manydown, with its great sweeping cedar beside it; perhaps, [Facing Page]

MANYDOWN PARK
[Full Image]
[Page 61] at that time, all sparkling with frost or a light fall of snow. Leaving this wintry scene, the two girls enter the hall, cheerful with lights, and ascending the broad staircase with its balustrade of delicate ironwork, are welcomed by the master of the house who has sat up to receive them in the long drawing-room whose three windows, at the further end, form a large bay. Perhaps, as they recount the events of the ball, standing round a blazing fire beneath its carved marble chimney-piece, Jane may be imagined to exclaim with one of her own heroines, "How soon it is at an end! I wish it could all come over again!"
---
Footnotes


[Page 56]
1 "Letters," Lord Brabourne.


[Page 58]
1 "Letters," Lord Brabourne.