CHAPTER VII
FRIENDS AND NEIGHBOURS
". . . music, mirth, and social cheer
Speed on their wings the passing year."
AMONG her partners at the Assembly balls Jane Austen mentions, as we have seen, Stephen Terry, T. Chute, James Digweed, John Harwood and J. Lyford.
Stephen Terry belonged to the family of the Terrys of Dummer, a quaint little village lying near to Popham Lane and within reach of Steventon. We have visited the village and seen the squire's mansion where the Terrys lived. It is a long white house with flat, arched windows and a square-columned porch, standing a little back from Dummer Lane. Hard by is the village church, a very small edifice in comparison with the squire's mansion. It has a low wooden tower and a deep tiled roof. On the southern side of the roof there projects a queer little dormer window which gives light to a gallery that occupies the greater part of the interior of the church. [Page 63] Here, probably, the squires and their families used to sit. This little church is associated with the name of George Whitefield; for, when quite a young man, he was given the curacy of Dummer. He suffered, at first, from the solitude and silence of the tiny village, and remarks, in a letter, that he "mourned like a dove" for his Oxford friends.
J. Lyford was a grandson of old Dr. Lyford, the chief medical man of Basingstoke. Mr. Austen-Leigh writes of the latter: "I remember him a fine old man, with such a flaxen wig as is not to be seen, or conceived, by this generation. This wig he used to 'dispart with biennially' (as Sir Walter Scott expresses it) and to bestow the reversion of it every second year on an old man in our parish (of Steventon) as tall and fine-looking as himself, producing thereby a ludicrous resemblance between the peasant and the doctor."[1]
T. Chute belonged to the family of Mr. William Chute who was a prominent figure in the Hampshire society of Miss Austen's day. He was M.P. for the county in the Tory interest, was the owner of the "Vine," and at the head of the Vine Hunt. Mr. Chute seems to have had a singularly amiable, original and humorous disposition. Mr. Austen-Leigh, writing of his boyish [Page 64] recollections of him, says: "He had a fair round face with a most agreeable countenance expressive of good humour and intelligence . . . . I can fancy that I see him, trotting up to the meet at Freefolk Wood, or St. John's, sitting rather loose on his horse, and his clothes rather loose upon him - the scarlet coat flapping open, a little whitened at the collar by the contact of his hair powder and the friction of his pigtail; the frill of his shirt above, and his gold watch-chain and seal below, both rather prominent, the short knee-breeches scarcely meeting the boot-tops. See! he rides up; probably with some original amusing remark, at any rate with a cheerful greeting to his friends, a nod and kindly word to the farmers, and some laughing notice of the schoolboy on his pony.
"Or I could give quite another picture of him in his parish church - standing upright, tilting his heavy folio prayer-book on the edge of his high pew so that he had to look up rather than down on it. There he stands, like Sir Roger de Coverley, giving out the responses in an audible tone, with an occasional glance to see what tenants were at church, and what school children were misbehaving; and, sometimes, when the rustic psalmody began its discord in the gallery, with a humour, which even church could not restrain, making some significant gesture to provoke a [Page 65] smile from me and the other young persons in the pew."
The same writer gives us some of Mr. Chute's repartees. "Sir John Cope, who professed Radical politics, once wrote to him that he had a litter of five dogs in that year's entry, whose names had all pretty much the same meaning, for they were Placeman, Parson, Pensioner, Pilferer, and Plunderer. But the Tory squire, with ready invention, retorted that he would show him a litter of which the five names were equally synonymous, being Radical, Rebel, Regicide, Ruffian, and Rascal."
Miss Austen has mentioned "the Portals" as being present at the Assembly balls. There were two brothers of that name, Mr. William Portal of Laverstoke House, and Mr. John Portal of Freefolk Priors - both owning large landed property. They belonged to the Huguenot family of de Portal who fled from France on the revocation of the Edict of Nantes. Henri, the ancestor of the Hampshire Portals, who was a child at the time, was protected by a faithful nurse and escaped from Bordeaux concealed in a wine cask, placed on board a fishing boat. He reached Southampton, where many of the French refugees were employed in the art of paper-making. Later on he, himself, established the paper-mill at Laverstoke, and in 1724 obtained [Page 66] from the Bank of England that privilege of manufacturing their note-paper which is still held by his descendants of the fourth generation.
We have visited Laverstoke Park, which lies on undulating ground between Overton and Whitchurch. Its magnificent trees have been planted by many generations of Portals. The little river Test runs through the park, a clear and rapid trout stream.
Mr. John Harwood was one of the Harwoods of Deane, "an old family with some racy peculiarities of character. It has been supposed that Fielding took the idea of his Squire Western from the John Harwood of his day; and as Fielding used to visit at Oakley Hall it is not improbable that some features of his immortal Tory Squire might have been copied from this original."[1]
The old Manor House of Deane, the home of the Harwoods, has already been spoken of. It is built of dark red brick and has white window frames and a white porch. Deane Lane divides its beautiful grounds from those of the old rectory which formerly stood at a little distance behind a thatched mud wall. The mud wall is still standing and behind it lies a sunny fruit and flower garden, but the old rectory, the home for seven years of Mr. and Mrs. George Austen, has long since [Page 67] disappeared. At the time we are writing of, it was inhabited by Jane Austen's eldest brother James and his family.
Early in January 1796, a ball was given at Deane House, which Jane describes in a letter to her sister. We have seen the room where the dancing must have taken place. Its walls are

DEANE HOUSE
panelled and painted white and it has a grand Jacobean chimney-piece which reaches to the ceiling. The floor is of polished wood. Two windows, deeply recessed in the thickness of the wall, look out on to the park with its waving trees.
At the "Harwood's ball" Jane was somewhat in the position of her own Catherine Morland at the Cotillion ball in Bath, desirous [Page 68] to escape from one gentleman and to be free to dance with another. "To my inexpressible astonishment," she writes, "I entirely escaped

THE PANELLED ROOM IN DEANE HOUSE
John Lyford. I was forced to fight hard for it, however." Was John Lyford, we wonder, borne away from Jane, as his namesake was borne away from Catherine, "by the resistless pressure of a long string of passing ladies"? [Page 69]
The attractive gentleman on this occasion was a Mr. Tom Lefroy, a nephew of the Rector of Ashe.
"I am almost afraid to tell you," Jane continues, "how my Irish friend and I behaved. Imagine to yourself everything most profligate and shocking in the way of dancing and sitting down together. I can expose myself, however, only once more because he leaves the country soon after next Friday, on which day we are to have a dance at Ashe. He is a very gentlemanlike, good-looking, pleasant young man I assure you. But as to our having ever met, except at the three last balls, I cannot say much; for he is so excessively laughed at about me at Ashe that he is ashamed of coming to Steventon." But Jane winds up her letter by saying: "After I had written the above we received a visit from Mr. Tom Lefroy and his cousin George. The latter is really very well behaved now; and as for the other, he has but one fault, which time will, I trust, entirely remove - it is that his morning coat is a great deal too light. He is a very great admirer of Tom Jones, and therefore wears the same coloured clothes, I imagine, which he did, when he was wounded." Writing a few days later she remarks: "Our party at Ashe tomorrow night will consist of Edward Cooper, James (for a ball is nothing without him), Buller, who is now staying with us, [Page 70] and I. I look forward with great impatience to it, as I rather expect to receive an offer from my friend in the course of the evening. I shall refuse him, however, unless he promises to give away his white coat." On the day of the ball she writes : "At length the day has come on which I am to flirt my last with Tom Lefroy, and when you receive this it will be over. My tears flow as I write at the melancholy idea."[1]
Now where was the ball-room in which Mr. Tom Lefroy and Miss Jane Austen talked and laughed and danced together that last time? "Ashe," in Jane's letters, means either Ashe Park (which belonged to a member of the Portal family or Ashe Rectory; but more frequently it means the latter, for there was much intercourse between the Austens and the Lefroys, and this ball was evidently given by Mr. Tom Lefroy's uncle, the Rev. Isaac Peter George Lefroy, as a farewell festivity to the nephew previous to his departure for Ireland.
We must ask the reader to accompany us in a pilgrimage to Ashe to see, if possible, this same ballroom. Crossing the fields that lie between Deane and Ashe, we enter the narrow lane where the small church stands, and by the kindness of the present rector, gain admission to his house, much of which remains as it was in the days of the Lefroys. [Page 71]
Here, in the older part, is the morning-room, which has two casement windows opening on to gay flowerbeds and a green lawn, flanked on the side of the lane by a great yew hedge that is nearly as tall as the house itself. In this room

ASHE RECTORY
there are folding doors which open into a large dining-room, which was formerly the drawing-room. "Those doors," remarks the Rector, "were thrown open when the Rev. Isaac Peter George Lefroy gave dances here a hundred years ago." So we are actually standing on the very spot [Page 72] where the ball took place, and can picture to ourselves the whole scene! There the country dance must have been formed, and there down the centre must Jane and her partner have crossed hands to the couple at the lower end! The pleasant echoes of their merry talk seem hardly to have died away, though the authors of it have so long since vanished.
We hear no more of Mr. Tom Lefroy in the letters, for he and Jane never met again. He became, in after years, Lord Chief Justice of Ireland, and survived Jane by more than half a century, but "even in extreme old age" we are told "he would speak of his former companion as one to be much admired and not easily forgotten by those who had ever known her."[1]
Many a happy hour must Miss Jane Austen have passed in this house; for the rector's wife, though considerably older than herself, was her intimate friend. "Mrs. Lefroy," we are told, "was a remarkable person. Her rare endowments of goodness, talents, graceful person and engaging manners were sufficient to secure her a prominent place in any society into which she was thrown, while her enthusiastic eagerness of disposition rendered her especially attractive to a clever and lively girl."[2] "She was," writes her brother, Sir Egerton Brydges, "one of the most amiable and [Page 73] eloquent women I ever knew, and was universally beloved and admired." Even the villagers of Ashe felt the influence of her rare qualities as distinguishing her from other people, and always called her "Madame Lefroy." To Jane such a friend must have been invaluable, but alas! she had the grief of losing her early in 1804, when Mrs. Lefroy was killed by a fall from her horse. The exact spot where the accident took place has been pointed out to us. It is where the narrow lane from Polehampton crosses the Overton Road. Jane wrote some verses in memory of her friend which are given in the "Memoir." They testify the deepest love and admiration and prove how keenly Jane mourned her loss.
We find mention of much friendly visiting among the various neighbours in the "Letters." "On Thursday we walked to Deane," Jane writes in October 1800; "yesterday to Oakley Hall and Oakley, and to-day to Deane again. At Oakley we did a great deal - ate some sandwiches all over mustard, admired Mr. Bramston's porter, and Mrs. Bramston's transparencies, and gained a promise from the latter of two roots of heartsease, one all yellow, the other all purple, for you." A month later she writes: "We had a very pleasant day on Monday at Ashe (Park). We sat down fourteen to dinner in the study, the dining-room being not habitable from the storms having blown [Page 74] down its chimney. There was a whist and a casino table, and six outsiders. Rice and Lucy made love, Mat. Robinson fell asleep, James and Mrs. Augusta alternately read Dr. Finnis' pamphlet on the cow-pox, and I bestowed my company, by turns, on all."
Does not this remind us of some of the evenings at Netherfield, when Elizabeth standing by watched the others playing at cards; or when Miss Bingley "having obtained private intelligence that Mr. Darcy did not wish for cards," refused Mr. Hurst's petition for them, so that that gentleman had nothing to do but to stretch himself on one of the sofas and go to sleep; whilst Bingley, in the meantime, lavished his attentions upon Jane Bennet and "talked scarcely to any one else"?
In another letter to Cassandra, Jane remarks playfully: "Your unfortunate sister was betrayed last Thursday into a situation of the utmost cruelty. I arrived at Ashe Park before the party from Deane and was shut up in the drawing-room with Mr. Holder[1] alone for ten minutes. I had some thoughts of insisting on the housekeeper being sent for, and nothing could prevail on me to move two steps from the door, on the lock of which I kept one hand constantly fixed. We met nobody but ourselves, played at vingt-un again, and were very cross . . . [Page 75]
"You express so little anxiety about my being murdered under Ashe Copse by Mrs. Hulbert's servant, that I have a great mind not to tell you whether I was or not, and shall only say that I did not return home that night or the next . . . . On Friday I wound up my four days of dissipation by meeting William Digweed at Deane, and am pretty well, I thank you, after it."[1]
We hear, in one of the letters, of a ball to be given by Lady Dorchester at Kempshott House, on January 8, 1799. Lord Dorchester, the husband of this lady, was a military officer of great courage and skill, "who had distinguished himself in the American war," as Sir Guy Carleton. On the conclusion of the war he had been made Governor-General of Quebec, New Brunswick and Nova Scotia, and had been raised to the peerage.
At the time of the projected ball Miss Jane Austen was expecting her youngest brother at Steventon for a flying visit. She writes to her sister on the morning of January 8: "Charles is not come yet, but he must come this morning or he shall never know what I will do to him. The ball at Kempshott is this evening and I have got him an invitation . . . . I am not to wear my white satin cap to-night, after all; I am to wear a mamalouc cap instead which Charles Fowle sent to Mary[2] and. which she lends me. It is all the [Page 76] fashion now; worn at the opera and by Lady Mildmays at Hackwood balls. I hate describing such things and I daresay you will be able to guess what it is like."
The word Mamalouc is given as Mamalone in Lord Brabourne's "Letters of Jane Austen," which is evidently a clerical error; the letters uc in the MS. having been mistaken for ne. The battle of the Nile, fought in the preceding August, had set the fashion in ladies' dress for everything suggestive of Egypt and of the hero of Aboukir. In the fashion-plates of the day we find Mamalouc cloaks and Mamalouc robes of flowing red cloth. Ladies wear toupées, somewhat resembling a fez, which we recognise as the "Mamalouc cap." Their hats are adorned with the "Nelson rose feather," and their dainty feet encased in "green morocco slippers bound with yellow and laced with crocodile-coloured ribbon."
Kempshott House lies between Dummer and Popham Lane. Would the owners, we wondered, permit us to see the room in which the ball took place? Inspired by this idea, and by the daring of explorers, we entered Kempshott Park and drove up the long, gentle ascent that leads to the house.
We found it to be a stone classical structure such as Miss Austen describes as "a modern residence." It has a large bowed centre, three [Page 77] windows wide, supported by a colonnade of pillars. To our petition for admittance came a friendly rejoinder from the lady of the house, who was soon herself conducting us from room to room, explaining the various alterations effected in later years, and pointing out the parts that are still unchanged. The present drawing-room, it seems, forms a part of the former ball-room.
The house stands on the slope of a hill, and is so built that there is one storey less at the back than at the front. In former times the main entrance was at the back, and there the carriages must have set down the gay company for the ball.
Lord Dorchester took over Kempshott House, in the year 1796, from George, Prince of Wales, who had used it as a hunting residence. At the time of the French Revolution, a large number of émigrés of high rank were entertained at Kempshott. On one occasion a grand stag-hunt was got up for their amusement, at which about five hundred horsemen were present. The foreigners were equipped, according to the French mode, with long twisted horns over their shoulders, and their grotesque appearance, it is said, much astounded the Hampshire farmers.[1]
We hear no particulars of the Kempshott ball, for Jane, writing to her sister on the following [Page 78] day, complains of a temporary weakness in one of her eyes which makes writing troublesome, adding: "My mother has undertaken to do it for me, and I shall leave the Kempshott ball for her." Many of Mrs. Austen's letters have been preserved, but unluckily this particular one seems to have been lost.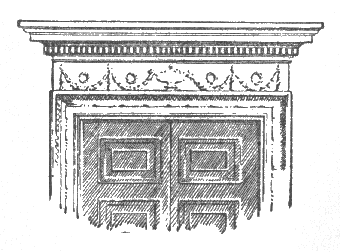 ---
Footnotes


[Page 63]
1 See "The Vine Hunt," by J. E. Austen-Leigh. (Printed for private circulation.)


[Page 66]
1 "The Vine Hunt"


[Page 70]
1 "Letters," Lord Brabourne.


[Page 72]
1 "Memoir," by J. E. Austen-Leigh.
1 Ibid.


[Page 74]
1 A single middle-aged gentleman with a West Indian fortune who was then renting Ashe Park.


[Page 75]
1 "Letters," Lord Brabourne.
2 Mrs. James Austen.


[Page 77]
1 See "Sporting Reminiscences," by Æsop.