CHAPTER XII
BATH
" . . . the finished garden to the view
Its vistas opens."
DURING the summer of 1801 the Austens took possession of their new house, No. 4. Sydney Place. Sydney Place lies at the further end of Pulteney Street, flanking a part of the Sydney Gardens. Jane had always liked this situation but had feared the houses there would prove too expensive for the family means. "It would be very pleasant," she had written before leaving Steventon, "to be near the Sydney Gardens. We could go into the labyrinth every day."
We have visited the house in Sydney Place, and have sat in the pretty drawing-room with its three tall windows overlooking the Gardens. The morning sun was streaming in at these windows and falling upon the quaint empire furniture which adorns the room, and which pleasantly suggests the Austens' sojourn there. The house is roomy and commodious. Beneath the drawing-room, which is on the first floor, are the dining-room and [Page 123]

A CORNER OF THE DRAWING-ROOM AT 4 SYDNEY PLACE
[Full Image]
[Page 125] arched hall from which a passage leads to a garden at the back of the house. The large, old-fashioned kitchen, with its shining copper pans and its dresser, laden with fine old china, looked as if it had remained untouched since the Austens' day.
The Sydney Gardens have lost none of their charms since it was said of them long ago that "the hand of taste is visible in every direction." There are sloping lawns, and shady walks under the boughs of fine trees. A classical pavilion with a pillared front crowns the summit of a green bank, and, near at hand, the waters of the Kennet and Avon Canal pass beneath the arch of an old stone bridge. "Upon gala-nights," writes Mr. Egan, "the music, singing, cascades, transparencies, fireworks, and superb illuminations, render these gardens very similar to Vauxhall." Miss Austen mentions one of these galas in a letter, remarking that the "fireworks were really beautiful, surpassing her expectations, and that the illuminations too were very pretty."
In a playful letter to her sister, written from Bath, Jane Austen says, "Benjamin Portal is here. How charming that is! I do not exactly know why, but the phrase followed so naturally that I could not help putting it down.
"I am very glad you liked my lace, and so are you and so is Martha, and we are all glad together. I have got your cloak home, which is [Page 126] quite delightful - as delightful, at least, as half the circumstances which are called so.
". . . . We walked to Weston one evening last week and liked it very much. Liked what very much? Weston? No, walking to Weston, I have not expressed myself properly."
In another letter of later date she writes: "The friendship between Mrs. Chamberlayne and me which you predicted has already taken place, for we shake hands whenever we meet. Our grand walk to Weston was again fixed for yesterday, and was accomplished in a very striking manner. Every one of the party declined, under some pretence or other, except our two selves, and we had therefore a téte-à-téte, but that we should equally have had after the first two yards had half the inhabitants of Bath set off with us.
"It would have amused you to see our progress. We went up by Sion Hill, and returned across the fields. In climbing a hill Mrs. Chamberlayne is very capital; I could with difficulty keep pace with her, yet would not flinch for the world. On plain ground I was quite her equal. And so we posted away under a fine hot sun, she without any parasol or any shade to her hat, stopping for nothing and crossing the Churchyard at Weston with as much expedition, as if we were afraid of being buried alive."[1] [Page 127]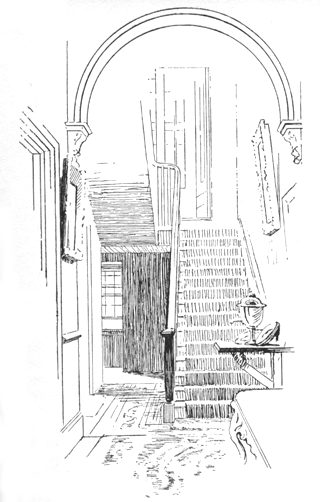 VESTIBULE AT 4 SYDNEY PLACE
[Full Image]
The name of "Weston" naturally brings to our mind the idea of Mrs. Elton and her "exploring parties" with "Selina" and Mr. Suckling in the "barouche-landau," of which she boasted to Emma; but their expedition was to King's Weston in the vicinity of Bristol, and not to the little village of Weston near to Bath.
"My morning engagement," Jane writes, "was with the Cookes and our party consisted of George and Mary, a Mr. L., Miss B., who had been with us at the concert, and the youngest Miss W. . . . Mary W.'s turn is actually come to be grown up, and have a fine complexion, and wear great square muslin shawls. I have not expressly enumerated myself among the party, but there I was; and my cousin George was very kind, and talked sense to me every now and then, in the intervals of his more animated fooling with Miss B., who is very young and rather handsome . . . . There was a monstrous deal of stupid quizzing and commonplace nonsense talked, but scarcely any wit; all that bordered on it or on sense came from my cousin George, whom, altogether, I like very well. Mr. B. seems nothing more than a tall young man."[1] This "Cousin George" was the Rev. George Leigh Cooke, afterwards well known and respected at Oxford. As "Tutor in Corpus Christi College, he became instructor to some of [Page 130] the most distinguished undergraduates of his time: amongst others to Dr. Arnold, the Rev. John Keble, and Sir John Coleridge."[1]
"When I tell you I have been visiting a countess this morning," Miss Austen continues, "you will immediately with great justice but no truth, guess it to be Lady Roden - No; it is Lady Leven, the mother of Lord Balgonie. On receiving a message from Lord and Lady Leven, through the Mackays, declaring their intention of waiting on us, we thought it right to go to them. I hope we have not done too much, but the friends and admirers of Charles must be attended to. They seem very reasonable good sort of people, very civil and full of his praise. We were shown at first into an empty drawing-room, and presently in came his lordship . . . . He is a tall gentleman-like looking man, with spectacles and rather deaf. After sitting with him ten minutes we walked away; but Lady Leven coming out of the dining-parlour as we passed, we were obliged to attend her back to it, and pay our visit over again . . . . By this means we had the pleasure of hearing Charles's praises twice over. There was a pretty little Lady Marianne of the party, to be shaken hands with and asked if she remembered Mr. Austen."[2]
Charles Austen was, at that time, first lieutenant [Page 131] of the Endymion, and in that capacity he had shown attention and kindness to some of Lord Leven's family. Here is an allusion to her brother Henry. "I wrote to Henry," she says, "because I had a letter from him in which he desired to hear from me very soon. His to me is most affectionate and kind, as well as entertaining; there is no merit to him in that; he cannot help being amusing. He offers to meet us on the sea-coast if the plan of which Edward gave him some hint takes place. Will not this be making the execution of such a plan more desirable and delightful than ever? He talks of the rambles we took together last summer with pleasing affection."
Whilst residing in Bath, Jane Austen wrote the unfinished tale of "The Watsons," which is given in the second edition of the "Memoir." "The Watsons," though only a sketch, contains characters such as Jane Austen alone could have created, and we part from Tom Musgrave, Emma Watson, herself, Mr. Howard, Lord Osborne and little Charles, after so brief an acquaintance, with great regret. The inn in the "town of D. in Surrey," where the ball takes place, which is so admirably described, was intended, we understand, for the "Red Lion" at Dorking. Miss Austen sometimes visited her cousins, the Cookes, at Bookham, and there she would have been within reach of [Page 132] Dorking and also of Box Hill, the scene of the unlucky picnic in "Emma."
In 1803 "Northanger Abbey" was sold to a Bath publisher (Bull, of the Circulating Library, it is believed) for the modest sum of ten pounds. But it did not appear before the public, as might have been expected, but remained for several years hidden away in some dusty drawer in the publisher's office. When, however, Jane Austen's fame, as a writer, was becoming established, she desired to recover the copyright of this early work, "One of her brothers undertook the negotiation. He found the purchaser very willing to receive back his money, and to resign all claim to the copyright. When the bargain was concluded and the money paid, but not till then, the negotiator had the satisfaction of informing him that the work, which had been so lightly esteemed, was by the author of "Pride and Prejudice."[1]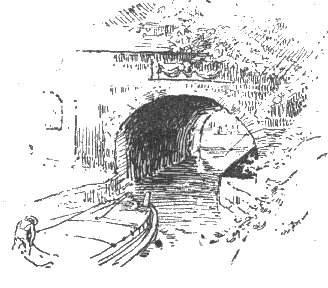 ---
Footnotes


[Page 126]
1 '"Letters," Lord Brabourne.


[Page 129]
1 "Letters," Lord Brabourne.


[Page 130]
1 "Memoir," by J. E. Austen-Leigh.
2 "Letters," Lord Brabourne.


[Page 132]
1 "Memoir," by J. E. Austen-Leigh.