CHAPTER XIV
SOUTHAMPTON
"A grey-walled city by the sea."
A FEW months after the return of the Austens to Bath a sorrowful event occurred in the death of the head of the family - the Rev. George Austen. He died January 21, 1805.
We have already quoted his grand-daughter "Anna's" description of his appearance in elderly life, and remember how lovingly she dwells upon the beauty of his milk-white curly hair and of his bright hazel eyes. Mr. Austen was buried at Walcot Church, which stands on the eastern side of Bath, its graveyard sloping towards the river Avon.
His widow and daughters "were left in what must be called straitened circumstances," remarks a member of the family, "for he had no private fortune and his wife had but a small one." A few years later Mrs. Austen wrote to her sister-in-law: "One hundred and forty pounds a year is the whole of my own income. My good sons have [Page 149] done all the rest." Jane might well be proud of her brothers, for they "shone in their own homes, were kindly affectioned one towards the other, and as sons most attentive and generous."
The Austens had quitted their home in Sydney Place in the late autumn of 1804 and had removed to a house in Green Park Buildings. On the death of Mr. Austen the widow and her daughters went into lodgings for a time at 25 Gay Street. But towards the close of this same year they left Bath altogether and went to live in Southampton, where they shared a house with Captain Francis Austen and his wife, the captain, of course, being frequently absent at sea.
The new home, which was a "commodious old-fashioned house," was situated in a corner of Castle Square. Mr. Austen Leigh, who visited his relatives there when a boy, writes: "My grandmother's house had a pleasant garden bounded, on one side, by the old city wall; the top of this wall was sufficiently wide to afford a pleasant walk with an extensive view, easily accessible to ladies by steps. . . . At that time Castle Square was occupied by a fantastic edifice too large for the space in which it stood, though too small to accord with its castellated style, erected by the second Marquis of Lansdown. . . The marchioness had a light phaeton, drawn by six, and sometimes by eight, little ponies, each [Page 150] pair decreasing in size, and becoming lighter in colour, through all the grades of dark brown, light brown, bay and chesnut, as it was placed farther away from the carriage. The two leading pairs were managed by two boyish postillions, the two pairs nearest to the carriage were driven in hand. It was a delight to me to look from the window and see this fairy equipage put together, for the premises of this castle were so contracted that the whole process went on in the little space that remained of the open square."[1]
Miss Austen writes to her sister in the early spring "Our garden is putting in order by a man, who bears a remarkably good character, has a very fine complexion, and asks something less than the first. The shrubs which border the gravel walk, he says, are only sweet-brier and roses, and the latter of an indifferent sort. We mean to get a few of a better kind therefore, and at my own particular desire he procures us some syringas. I could not do without a syringa, for the sake of Cowper's line. We talk also of a laburnum." The line referred to occurs in the "Task." The poet is picturing to himself, during a wintry walk, the beauty of the coming spring, and speaks of
". . . Laburnum rich
In streaming gold, syringa, ivory pure."
[Page 151] "The alterations and improvements within doors," she continues, "advance very properly, and the offices will be made very convenient indeed. Our dressing-table is constructing out of a large kitchen table belonging to the house, for doing which we have the permission of Mr. Husket, Lord Lansdown's painter - domestic painter I should call him, for he lives in the Castle. Domestic chaplains have given way to this more necessary office, and I suppose whenever the walls want no touching up he is employed about my lady's face."[1]
We have been to Southampton, following Miss Austen's steps, and have wandered about an open space still called "Castle Square," endeavouring to trace the site of the house and garden - the garden which was "considered the best in the town." But houses and gardens and fantastic castle itself have all disappeared to make room for rows of small dwellings. Before we left the place, however, we learnt on good authority that the best houses stood on the northern side of the square. The old city wall, which bounded the Austens' garden, is still standing, and the view to be seen from its parapet of the wide-spreading Solent and its wooded banks can be little changed since Miss Austen looked upon it nearly a hundred years ago. [Page 152]
Miss Mitford, who has so often helped us to realise the surroundings of Jane Austen's homes, visited Southampton in 1812. She writes to a friend: "Have you ever been at that lovely spot which combines all that is enchanting in wood and land and water, with all that is 'buxom, blythe and debonair' in society - that charming town

OLD CITY WALL
which is not a watering-place only because it is something better? . . . Southampton has in my eyes," she continues, "an attraction independent even of its scenery in the total absence of the vulgar hurry of business or the chilling apathy of fashion. It is, indeed, all life, all gaiety, but it has an airiness, an animation which might become the capital of Fairyland."
Miss Austen mentions a ball at the Assembly [Page 153] Rooms in one of her letters. These rooms, we are told by a contemporary writer, were situated near the West Quay, and were very elegantly fitted up. The Long Room, he says, was built in 1761, the Ball Room soon afterwards."
"Our ball was rather more amusing than I expected," Jane writes . . . . "The room was tolerably full, and there were, perhaps, thirty couple of dancers . . . . It was the same room in which we danced fifteen years ago. I thought it all over, and in spite of the shame of being so much older felt, with thankfulness, that I was quite as happy now as then . . . . you will not expect to hear that I was asked to dance, but I was - by the gentleman whom we met that Sunday with Captain D'Auvergne. We have always kept up a bowing acquaintance since, and being pleased with his black eyes, I spoke to him at the ball, which brought on me this civility; but I do not know his name, and he seems so little at home in the English language, that I believe his black eyes may be the best of him."[1]
In the month of October 1808, sorrow again visited the Austen family in the sudden death of Mrs. Edward Austen after the birth of a child. Jane mourned her loss deeply. She writes to her sister Cassandra, who was at that time staying at Godmersham. "We have felt - we do feel - for [Page 154] you all, as you will not need to be told; for you, for Fanny, for Henry, for Lady Bridges, and for dearest Edward, whose loss and whose sufferings seem to make those of every other person nothing, God be praised that you can say what you do of him; that he has a religious mind to bear him up, and a disposition that will gradually lead him to comfort.
"My dear, dear Fanny, I am so thankful that she has you with her! You will be everything to her; you will give her all the consolation that human aid can give. May the Almighty sustain you all, and keep you, my dearest Cassandra, well.
"You will know," she continues, "that the poor boys are at Steventon. Perhaps it is best for them . . . but I own myself disappointed by the arrangement. I should have loved to have them with me at such a time." Recurring to their loss, she remarks of her sister-in-law, "It is sweet to think of her great worth, of her solid principles, of her true devotion, her excellence in every relation of life."
Again she writes: "That you are for ever in our thoughts, you will not doubt. I see your mournful party in my mind's eye under every varying circumstance of the day; and in the evening especially figure to myself its sad gloom; the efforts to talk, the frequent summons to [Page 155] melancholy orders and cares, and poor Edward, restless in misery, going from one room to another, and perhaps not seldom upstairs, to see all that remains of his Elizabeth. Dearest Fanny must look upon herself as his prime source of comfort, his dearest friend; as the being who is gradually to supply to him to the extent that is possible what he has lost. This consideration will elevate and cheer her."[1]
It is pleasant to learn that it was soon decided for the "poor boys" to visit their grandmamma and aunt at Southampton. Miss Jane Austen writes on October 24th, "Edward and George came to us soon after seven on Saturday, very well, but very cold, having by choice travelled on the outside, and with no great coat but what Mr. Wyse, the coachman, good-naturedly spared them of his as they sat by his side."
Mr. Austen Leigh mentions this same coachman, of whom he had a distinct boyish recollection, in the "Vine Hunt." Speaking of the farmer class of huntsmen he says, "The most remarkable person of this class, or rather of a class peculiar to himself, was old Wyse, a civil, respectful-mannered, elderly man, exceedingly fond of hunting, who drove Rogers' coach every day, Sundays excepted, from Southampton to the 'Flower Pot,' Popham Lane, in the morning, and back to Southampton [Page 156] in the afternoon. . . . . The first time I was allowed to go out hunting without my father, I was placed especially under his care; and as he used also to drive me to and from Winchester School several times in the year, I came to look upon him as an old friend."
To return to Miss Austen's letter. She says of the little nephews: "They behave extremely well in every respect, showing quite as much feeling as one wishes to see, and on every occasion speaking of their father with the liveliest affection. His letter was read over by each of them yesterday, and with many tears; George sobbed aloud, Edward's tears do not flow so easily; but as far as I can judge they are both very properly impressed by what has happened. George is almost a new acquaintance to me, and I find him, in a different way, as engaging as Edward.
"We do not want amusement: bilbocatch, at which George is indefatigable, spillikins, paper ships, riddles, conundrums and cards, with watching the flow and ebb of the river, and now and then a stroll out, keep us well employed: and we mean to avail ourselves of our kind papa's consideration, by not returning to Winchester till quite the evening of Wednesday." She speaks of taking her two nephews to church the day before (Sunday) and goes on to say: "The weather did not allow us afterwards to get farther than the quay, [Page 157] where George was very happy as long as we could stay, flying about from one side to the other, and skipping on board a collier immediately.
"In the evening we had the Psalms and Lessons and a sermon at home, to which they were very attentive; but you will not expect to hear that they did not return to conundrums the moment it was over . . . . While I write now George is most industriously making and naming paper ships, at which he afterwards shoots with horse-chesnuts, brought from Steventon on purpose; and Edward equally intent over the 'Lake of Killarney,' twisting himself about in one of our great chairs.
" . . . We had a little water party yesterday; I and my two nephews went from the Itchen Ferry up to Northam, where we landed, looked into the 74, and walked home . . . . I had not proposed doing more than cross the Itchen, but it proved so pleasant, and so much to the satisfaction of all, that when we reached the middle of the stream we agreed to be rowed up the river; both the boys rowed a great part of the way, and their questions and remarks, as well as their enjoyment, were very amusing. George's inquiries were endless, and his eagerness in everything reminds me often of his Uncle Henry."[1]
In an account of Southampton published in [Page 158] 1805, the writer speaks of a long causeway, planted with trees, called the "Beach." "Near its eastern extremity," he remarks, "is the Cross House and Itchen Ferry; the former is a small round structure with four divisions or apartments opposite to the principal points of the compass, and intended for the accommodation of passengers waiting for the Ferry-boat. In one of the quarters are the arms of Southampton with the date 1634, but parts of the building are apparently much older." We can picture to ourselves the little party waiting in this quaint building for the boat. Jane Austen's love for children, and her sympathy with them, appears markedly in her letters. Spoilt children certainly annoyed her, or rather the folly of those who spoilt them, as is shown in her inimitable portraiture of the little Middletons and their mother. But where shall we find a more true and tender account of a child's feelings than in the description of little Fanny Price, when she first arrives at Mansfield Park? And, indeed, in nearly all Miss Austen's works there is some touch which reveals her intimate knowledge of the child-mind, a knowledge to be gained only through love. How true to nature, for instance, is that picture of the little Gardiners standing upon the stairs to receive Elizabeth Bennet, "whose eagerness for their cousin's appearance would not allow them to wait in the drawing-room, and whose [Page 159] shyness, as they had not seen her for a twelve-month, prevented their coming lower." And, again, we are told that when the good people of Highbury had almost forgotten the adventure of Miss Smith with the gypsies, it maintained its ground in the minds of Emma's little nephews, and "Henry and John were still asking every day for the story of Harriet and the gypsies, and still tenaciously setting their aunt right if she varied in the slightest particular from the original recital."
Here is an account, in one of the "Letters," of a visit from a child acquaintance. "The morning was so wet that I was afraid we should not be able to see our little visitor, but Frank, who alone could go to church, called for her after service, and she is now talking away at my side and examining the treasures of my writing-desk drawers - very happy I believe. Not at all shy of course . . . . What has become of all the shyness in the world? Moral, as well as natural diseases disappear in the progress of time, and new ones take their place. Shyness and the sweating sickness have given way to confidence and paralytic complaints . . . .
"Evening. Our little visitor has just left us, and left us highly pleased with her; she is a nice, natural, open-hearted, affectionate girl, with all the ready civility which one sees in the best children in the present day; so unlike anything that I was, [Page 160] myself, at her age, that I am often all astonishment and shame. Half her time was spent at spillikins, which I consider as a very valuable part of our household furniture, and as not the least important benefaction from the family of Knight to that of Austen."
"You rejoice me," she writes to her sister, "by what you say of Fanny . . . . While she gives happiness to those about her she is pretty sure of her own share. I am gratified by her having pleasure in what I write, but I wish the knowledge of my being exposed to her discerning criticism may not hurt my style, by inducing too great a solicitude. I begin already to weigh my words and sentences more than I did, and am looking about for a sentiment, an illustration or a metaphor in every corner of the room. Could my ideas flow as fast as the rain in the store-closet it would be charming."[1]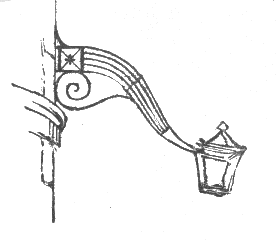 ---
Footnotes


[Page 150]
1 "Memoir," by J. E. Austen-Leigh.


[Page 151]
1 "Letters," Lord Brabourne.


[Page 153]
1 "Letters," Lord Brabourne.


[Page 155]
1 "Letters," Lord Brabourne.


[Page 157]
1 "Letters," Lord Brabourne.


[Page 160]
1 "Letters," Lord Brabourne.