CHAPTER XVI
SETTLING AT CHAWTON
"Rural quiet, friendship, books."
IN the course of the year 1809 the Austens left Southampton and settled once more in the heart of Hampshire. Mr. Edward Austen, whom we shall henceforth call Mr. Knight, for he assumed that name about this time, "was able to offer his mother the choice of two houses on his property; one near his usual residence at Godmersham Park in Kent; the other near Chawton House, his occasional residence in Hampshire. The latter was chosen." Chawton Cottage, as it is called, "had been occupied by Mr. Knight's steward, but by some additions to the house, and some judicious planting and screening, it was made a pleasant and commodious abode. Mr. Knight was experienced and adroit in such arrangements, and this was a labour of love to him."[1]
Miss Jane Austen, writing to her sister from Southampton concerning their future plans, says: [Page 170] "Yes, yes, we will have a pianoforte, as good a one as can be got for thirty guineas, and I will practise country dances, that we may have some amusement for our nephews and nieces, when we have the pleasure of their company." Then speaking of "William," a child of about five years of age, she says: "His working a footstool for Chawton is a most agreeable surprise to me, and I am sure his grandmamma will value it very much as a proof of his affection and industry; but we shall never have the heart to put our feet upon it, I believe I must make a muslin cover in satin-stitch to keep it from the dirt. I long to know what his colours are. I guess greens and purples."[1]
A few months after this letter was written, Mrs. Austen and her two daughters took possession of their new home. They were accompanied by Miss Martha Lloyd, a sister of Mrs. James Austen, who had come to live with them, upon the death of her mother.
The village of Chawton lies in a specially beautiful part of Hampshire, about five miles from Gilbert White's own Selborne, and, like it, famed for its hop fields and its graceful "hangers"; while within easy reach is the cheerful little town of Alton. Chawton Cottage stands at the further end of the village, being the last house on the [Facing Page]

CHAWTON COTTAGE
[Full Image]
[Page 171] right-hand side of the way just where the Winchester road branches off from that to Gosport, and where a space of grass and a small pond lie in the fork of those roads. Beyond the pond are some thatched cottages with their neat gardens, and to the left, skirting the Gosport road, rise the wooded grounds of Chawton House.
The Cottage is built of brick painted over or white-washed, and has a deep tiled roof and sash windows. The front door opens upon the road, having on each side of it a narrow paled enclosure. We have entered the Cottage and have sat in the very room where Miss Jane Austen used to write - the small parlour on the right-hand side which looks to the front and where the family took their meals. "I heard of the Chawton party," writes a friend to Fanny Knight in 1809, "looking very comfortable at breakfast, from a gentleman who was travelling by their door in a post-chaise." Miss Austen had "no separate study to retire to" Mr. Austen Leigh tells us, "and most of the work must have been done in the general sitting-room, subject to all kinds of casual interruptions. She was careful that her occupation should not be suspected by servants, or visitors, or any person beyond her own family party. She wrote upon small sheets of paper which could easily be put away or covered with a piece of blotting-paper. There was between the [Page 172] front door and the offices a swing door which creaked when it was opened, but she objected to having this little inconvenience remedied, because it gave her notice when any one was coming . . . . In that well-occupied female party there must have been many precious hours of silence during which the pen was busy at the little mahogany writing desk, while Fanny Price, or Emma Woodhouse, or Anne Elliot, was growing into beauty and interest. I have no doubt," he adds, "that I and my sisters and cousins, in our visits to Chawton, frequently disturbed this mystic process without having any idea of the mischief that we were doing; certainly we never should have guessed it by any signs of impatience or irritability in the writer."
This "little mahogany desk" is now treasured by the family of her nephew and biographer. We have held it in our hands, and have looked upon the firm, delicate handwriting of its owner in the manuscript of "The Watsons" which lies within its narrow drawer.
We learn from one of Miss Austen's letters that this desk, with all it contained, had once a narrow escape of being lost. It happened in the autumn of 1798, when Jane and her parents were halting for a night at the "Bull and George" at Dartford, on their way home from Godmersham. Jane writes to her sister "After we had been here a [Page 173]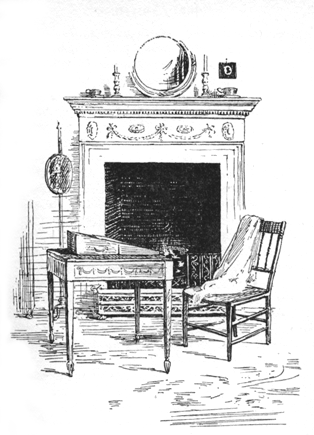 PARLOUR IN CHAWTON COTTAGE, WITH JANE AUSTEN'S DESK
[Full Image]
[Page 175] quarter of an hour it was discovered that my writing and dressing boxes had been, by accident, put into a chaise which was just packing off as we came in, and were driven away towards Gravesend on their way to the West Indies. No part of my property could have been such a prize before, for in my writing-box was all my worldly wealth, seven pounds . . . . Mr. Nottley immediately despatched a man and horse after the chaise, and in half an hour's time I had the pleasure of being as rich as ever; they were got about two or three miles off."[1] Did this adventure, we wonder, befall the manuscript of "Pride and Prejudice"? If so, Jane Austen's readers have yet greater reason to rejoice than even she could have, that the postchaise was overtaken in time and the little desk rescued.
In the larger parlour at Cbawton Cottage Jane's piano must have stood. Her nephew tells us that she was in the habit of practising daily, chiefly before breakfast. "She did so, I believe," he says, "partly that she might not disturb the rest of the party who were less fond of music. In the evening she would sing to her own accompaniment, some simple old songs, the words and airs of which, now never heard, still linger in my memory."
A large garden lay behind the house where, we [Page 176] are told, "there was a pleasant, irregular mixture of hedgerow, and gravel walk, and orchard, and long grass for mowing, arising from two or three little enclosures having been thrown together." "I remember the garden well," writes Miss Lefroy. "A very high thick hedge divided it from the (Winchester) road, and round it was a pleasant shrubbery walk, with a rough bench or two where no doubt Mrs. Austen and Cassandra and Jane spent many a summer afternoon."[1] We have sat in what was once this "shrubbery walk," beneath the shade of great over-arching trees, one of which, an oak, is said to have been planted by Jane herself.
Writing to her sister during the month of May she says: "The whole of the shrubbery border will soon be very gay with pinks and sweet-williams, in addition to the columbines already in bloom. The syringas, too, are coming out. . . . You cannot imagine - it is not in human nature to imagine - what a nice walk we have round the orchard. The rows of beech look very well indeed, and so does the young quickset hedge in the garden. I hear to-day that an apricot has been detected on one of the trees." Was it a "Moor Park," we wonder, such as Mrs. Norris and Dr. Grant quarrelled over?
By the time the family went to live at Chawton, [Page 177] Mrs. Austen had handed over the management of the house-keeping to her daughters. She was then nearly seventy years of age, but "she found plenty of occupation for herself," writes Miss Lefroy, "in gardening and needlework. The former was, with her, no idle pastime, no mere cutting of roses and tying up of flowers. She dug up her own potatoes, and I have no doubt she planted them, for the kitchen garden was as much her delight as the flower borders, and I have heard my mother say that when at work, she wore a green round frock like a day-labourer's."[1]
We have seen a specimen of Mrs. Austen's needlework, done at this period. It is a large chintz patchwork counterpane of most elaborate design. In the centre is a basket of flowers while landscapes and flowers adorn the border. A black silhouette portrait, taken evidently while she was living at Chawton, enables us to realise the appearance of this bright, spirited, old lady. In looking at it we recall Miss Lefroy's remark that "she was amusingly particular about people's noses, having a very aristocratic one herself."
"It was a very quiet life [at the cottage]," writes Miss Lefroy, "according to our ideas, but they were great readers, and besides the house-keeping our aunts occupied themselves in working [Page 178] for the poor and in teaching some boy or girl to read or write." When, however, the Edward Knights were visiting their Chawton home, and the "Great House" was full of life and animation, a new source of enjoyment came into Jane's quiet life. The "Great House" and the cottage lie within a few hundred yards of each other, the gates of the park opening upon the Gosport road. The house, a fine old Elizabethan mansion. with its Tudor porch, and its heavy mullioned windows, may be seen by the passer-by, standing on rising ground; while a little below it, in a gentle hollow, lies the old church of Chawton - a small grey stone edifice embowered in trees.
We have visited Chawton House, being kindly welcomed by the present owner - a son of that "young Edward" of whom his "Aunt Jane" writes so affectionately from Southampton. A large wainscoted room (now the drawing-room), containing a great chimney-piece of carved wood and stone, was the hall of the mansion in Miss Austen's time. How many happy meetings of the children and their loved "Aunt" must its sombre walls have witnessed! But the room which is especially associated with Jane Austen is the "oak-room" on the first floor, which has a large recess that stands above the porch. Here the family often sat of an evening. This room is unchanged since Miss Austen's day. And [Page 179]

MRS. AUSTEN
[Page 181] unchanged also must be the great oaken staircase with its massive balustrade leading to dark mysterious passages, and concealing beneath its steps a secret hiding-place such as would have delighted the heart of Catherine Morland.
The interesting family portraits which now hang in Chawton House hung formerly at Godmersham. That of Edward Austen (afterwards Knight) was taken in Rome, whither he had gone when making the "grand tour" at the age of twenty-one. When looking at this portrait we can well imagine that the original "was not only a very amiable man, kind and indulgent to all connected with him," but that he "possessed also a spirit of fun and liveliness which made him especially delightful to all young people."[1] The portraits of Mr. and Mrs. Thomas Knight (who adopted Edward), painted by Romney, are fine works of art. Mr. Knight died in 1794 but we find frequent mention in the "Letters" of Mrs. Knight, to whom Jane was much attached.
The windows at the back of the mansion overlook rising lawns dotted about with gay flower borders. At the top of the ascent there is a large old-fashioned kitchen garden, where fruit trees, vegetables, and flowers consort happily together, and where a turf walk, flanked by [Page 182] hedges of dahlias, sunflowers, and white Japanese anemones, with a sun-dial in its centre, leads up to a yew arbour. How often must Miss Austen have sat in that arbour enjoying the sights around her!
---
Footnotes


[Page 169]
1 "Memoir," by J. E. Austen-Leigh.


[Page 170]
1 "Letters," Lord Brabourne.


[Page 175]
1 "Letters," Lord Brabourne.


[Page 176]
1 Family MSS.


[Page 177]
1 Family MSS.


[Page 181]
1 "Memoir," by J. E. Austen-Leigh.