CHAPTER XVII
CHAWTON
"Nor Fame I slight, nor for her favours call;
She comes unlook'd for, if she comes at all."
SOON after the family were settled at Chawton, Miss Jane Austen began to revise her earlier novels for the press, and in the spring of 1811 we find her already occupied with correcting the proof sheets of "Sense and Sensibility." In the month of April she paid a visit to her brother Henry in London, and she writes to her sister Cassandra, who evidently supposed she might be too busy with London engagements to think much of her book in the printer's hands, "No, indeed, I am never too busy to think of S. and S. I can no more forget it than a mother can forget her sucking child and I am much obliged to you for your inquiries. I have had two sheets to correct, but the last only brings us to Willoughby's first appearance. Mrs. K.[1] regrets, in the most flattering manner, that she must wait till May, but I have [Page 184] scarcely a hope of its being out in June. Henry does not neglect it; he has hurried the printer, and says he will see him again to-day . . . . I am very much gratified by Mrs. K.'s interest in it . . . . I think she will like my Elinor, but cannot build on anything else."
"Sense and Sensibility" was published in the course of this same year (1811). From the accompanying facsimile of the title-page of the first edition, it will be seen that the work was "Printed for the Author, by C. Roworth, Bell-yard, Temple-bar, and published by T. Egerton, Whitehall." It is evident, therefore, that the publisher would take no risk in the transaction and that the novel was produced at the author's expense. It is the only one of the novels so published, for on the title-pages of "Pride and Prejudice" and of "Mansfield Park" we find the words "Printed for T. Egerton," and on those of the later novels "Printed for John Murray." The reader will notice that the novel is announced simply as "By a Lady." These words never again appeared on any title-page of Jane Austen's works. In its later editions, "Sense and Sensibility" is announced as "by the Author of 'Pride and Prejudice,'" and when "Pride and Prejudice" itself first appeared it was announced as "By the Author of 'Sense and Sensibility.'"
Mr. Austen Leigh tells us that he had "no [Page 185]

[Full image]
[Page 187] record of the publication of 'Sense and Sensibility,'" and in a letter dated November 1813, Jane remarks to her sister "Your tidings of S. and S. give me pleasure, I have never seen it advertised." We have been fortunate enough to discover an announcement of its publication in a copy of the Edinburgh Review for November 1812. It appears under the heading of "Novels" in the "Quarterly List of New Publications from July to November." The following is a facsimile of the entry.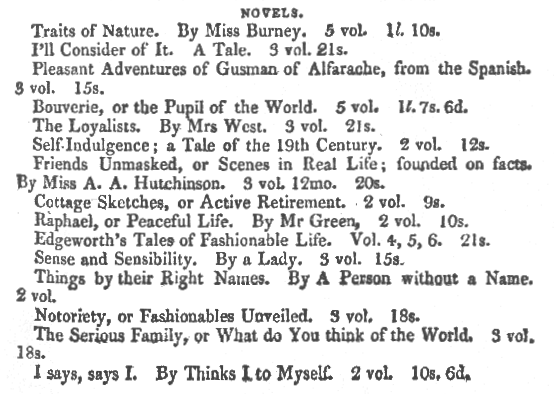 It is interesting to see that the announcement which immediately precedes that of "Sense and Sensibility" is of vols. iv., v., and vi. of Miss Edgeworth's "Tales of Fashionable Life," which [Page 188] include her delightful story of the "Absentee," while in the same list we find the "Loyalists" by Mrs. West. Jane, writing playfully to a niece in 1814, remarks: "I am quite determined not to be pleased with Mrs. West's 'Alicia de Lacy,' should I ever meet with it, which I hope I shall not. I think I can be stout against anything written by Mrs. West. I have made up my mind to like no novels really but Miss Edgeworth's, yours and my own."
Another entry in the above list is that of "Traits of Character," by Miss Burney; not Fanny Burney, who became Madame D'Arblay in 1793, but her half-sister, a Miss S. H. Burney. She had previously written a novel called "Clarentine." "We are reading 'Clarentine,'" Jane wrote in 1807, "and are surprised to find how foolish it is . . . . It is full of unnatural conduct and forced difficulties, without striking merit of any kind."
Under the heading "Poetry," in this same quarterly "List of New Publications," we find "Tales. By G. Crabbe. 8vo, 12s." Miss Austen "thoroughly enjoyed Crabbe," her nephew tells us, "perhaps on account of a certain resemblance to herself in minute and highly-finished detail."
In No. XL. of the Edinburgh Review, the same which contains the foregoing announcements, appears Lord Jeffrey's critique upon the "Rejected [Page 189] Addresses," which had just taken the public by surprise. There is an allusion to that work in one of the "Letters." A Mrs. ----- having observed that she had sent a copy of the "Rejected Addresses" to a friend, Jane writes: "I began talking to her a little about them, and expressed my hope of their having amused her. Her answer was 'Oh dear, yes, very much; very droll indeed; the opening of the house and the striking up of the fiddles!' What she meant, poor woman, who shall say?"
"Pride and Prejudice" was published early in 1813. Jane Austen writes to her sister from Chawton, January 29: "I hope you received my little parcel by J. Bond[1] on Wednesday evening, my dear Cassandra, and that you will be ready to hear from me again on Sunday, for I feel that I must write to you again to-day. I want to tell you that I have got my own darling child from London. On Wednesday I received one copy sent down by Falkener, with three lines from Henry to say that he had given another to Charles and sent a third by the coach to Godmersham . . . . The advertisement is in our paper today for the first time: 18s. He shall ask £1 1s. for my two next, and £1 8s. for my stupidest of all. Miss B. dined with us on the very day of the [Page 190] book's coming out, and in the evening we fairly set at it, and read half the first vol. to her, prefacing that, having intelligence from Henry that such a work would soon appear, we had desired him to send it whenever it came out, and I believe it passed with her unsuspected. She was amused, poor soul! That she could not help, you know, with two such people to lead the way, but she really does seem to admire Elizabeth. I must confess that I think her as delightful a creature as ever appeared in print, and how I shall be able to tolerate those who do not like her at least, I do not know . . . . I am exceedingly pleased that you can say what you do, after having gone through the whole work, and Fanny's praise is very gratifying. My hopes were very strong of her but nothing like a certainty. Her liking Darcy and Elizabeth is enough. She might hate all the others if she would. I have her opinion under her own hand this morning, but your transcript of it, which I had first, was not, and is not, the less acceptable. To me it is, of course, all praise, but the more exact truth which she sends you is good enough."[1]
Shortly after this letter was written we find Jane, when on a visit to her brother Henry, in London, looking out for portraits in the picture galleries, that may bear some resemblance to her [Facing Page]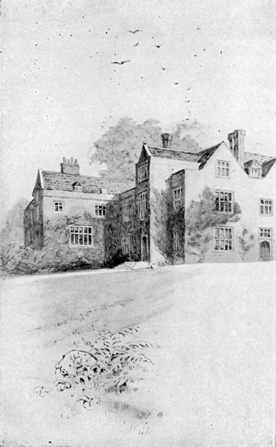 CHAWTON HOUSE
[Full Image]
[Page 191] ideal characters. "Henry and I," she writes, "went to the Exhibition in Spring Gardens. It is not thought a good collection, but I was very well pleased, particularly (pray tell Fanny) with a small portrait of Mrs. Bingley, excessively like her. I went in hopes of seeing one of her sister, but there was no Mrs. Darcy. Perhaps, however, I may find her in the great exhibition, which we shall go to if we have time. I have no chance of her in the collection of Sir Joshua Reynolds's paintings, which is now showing in Pall Mall, and which we are also to visit.
"Mrs. Bingley is exactly herself - size, shaped face, features and sweetness; there never was a greater likeness. She is dressed in a white gown with green ornaments, which convinces me of what I always supposed, that green was a favourite colour with her. I daresay Mrs. D. will be in yellow." Finishing her letter later in the day she adds: "We have been both to the exhibition and to Sir Joshua Reynolds's, and I am disappointed, for there was nothing like Mrs. D. at either. I can only imagine that Mr. D. prizes any picture of her too much to like it should be exposed to the public eye. I can imagine he would have that sort of feeling - that mixture of love, pride and delicacy."[1]
Apropos of "Pride and Prejudice" a question [Page 192] has arisen as to whether Mr. Collins had a prototype in a certain Bishop Porteus, who held the living of Hunton, in Kent, towards the close of the eighteenth century. This pompous divine has left private "Reminiscences," in which we are told the "diction, manner, and matter" are simply those of Mr. Collins himself. It is quite possible that Miss Austen may have heard anecdotes of his sayings and doings when visiting her brother in Kent, and that these suggested to her mind the portraiture of some such character as his. But we know beyond a doubt that she "drew from nature but never from individuals"; therefore the existence of Dr. Porteus only proves that in the delineation of Mr. Collins, which has been termed "one of the most distinct and original portraits in the great gallery of fiction," she was no caricaturist, but a faithful student of nature.
When "Pride and Prejudice" appeared before the public, its author was already far advanced in the composition of "Mansfield Park." Here is an allusion to the story in a letter dated February, 1813, written at Chawton. After describing a rather dull party at which she had been present, Miss Austen goes on to say, "As soon as a whist party was formed, and a round table threatened, I made my mother an excuse, and came away, leaving just as many for their round [Page 193] table as there were at Mrs. Grant's. I wish they might be as agreeable a set."
Who does not call to mind the players at "Speculation" gathered round Mrs. Grant's table when Henry Crawford, "pre-eminent in all the lively turns, quick resources, and playful impudence that could do honour to the game," was directing the play of both Fanny and Lady Bertram, trying to inspire the one with "avarice and harden her heart (which where William was concerned was a difficult matter), and to prevent the other from ever looking at her cards."
In March 1814 we find Jane reading "Mansfield Park" for the first time to her brother Henry, as they were seated together in a post-chaise on their way to London. She writes on the following day to her sister, "We had altogether a very good journey, and everything at Cobham was comfortable . . . . We did not begin reading till Bentley Green. Henry's approbation is hitherto even equal to my wishes. He says it is different from the other two, but does not appear to think it at all inferior. He has only married Mrs. R. I am afraid he has gone through the most entertaining part. He took to Lady B. and Mrs. N. most kindly, and gives great praise to the drawing of the characters. He understands them all, likes Fanny, and I think, foresees how it will all be . . . . He admires H. Crawford: I mean [Page 194] properly, as a clever, pleasant man. I tell you all the good I can as I know how much you will enjoy it."
As time passed on Miss Austen enjoyed a new pleasure in the more equal companionship of her elder nephews and nieces, who were now growing up. The removal to Chawton had brought her within easy reach of her brother James and his family, who were still at Steventon, as well as of the Knights when they visited their Chawton home.
Miss Lefroy, a grand-daughter of the Rev. James Austen, writes,[1] "As may be supposed a great deal of intercourse was kept up between Steventon and Chawton. Our grandfather was a most attentive son, and one of the pleasures of my mother's youth was sometimes riding with him to see her grandmother and aunts through the pretty cross roads and rough lanes, inaccessible to wheels, which lay between the two places . . . . In her Aunt Jane, who was the object of her most enthusiastic admiration, she found a sympathy and a companionship which was the delight of her girlhood, and of which she always retained the most grateful remembrance . . . . But I will copy my mother's own account.
"'The two years before my marriage and the three afterwards, during which we lived near [Facing Page]

VIEW FROM CHAWTON COTTAGE
[Full Image]
[Page 195] Chawton, were the years in which my great intimacy with her was formed; when the original seventeen years between us seemed reduced to seven, or none at all. It was my amusement during part of a summer visit to the cottage to procure novels from the circulating library at Alton, and after running them over to narrate and turn into ridicule their stories to Aunt Jane, much to her amusement, as she sat over some needlework which was nearly always for the poor. We both enjoyed the fun, as did Aunt Cassandra in her quiet way though, as one piece of nonsense led to another, she would exclaim at our folly, and beg us not to make her laugh so much.'
"To some of that 'nonsense' the following letter from Aunt Jane refers.[1] She and my mother had been laughing over a most tiresome novel, in eight volumes, by a Mrs. Hunter, containing story within story, and in which the heroine was always in floods of tears."
"Miss Jane Austen begs her best thanks may be conveyed to Mrs. Hunter, of Norwich, for the thread paper she has been so kind as to send by Mrs. Austen, and which will be always very valuable on account of the spirited sketches (made doubtless by Nicholson or Glover) of those most interesting spots, Fairfield Hall, the Mill, and, [Page 196] above all, the tomb of Howard's wife, of which Miss Jane Austen is undoubtedly a good judge, having spent so many summers at Fairfield Abbey, the delighted guest of the worthy Mrs. Wilson. It is impossible for any likeness to be more complete. Miss J. A.'s tears have flowed over each sweet sketch in such a way as would have done Mrs. Hunter's heart good to see, and if she could understand all Miss Austen's interest in the subject she would certainly have the kindness to publish at least four more volumes about the Hint family, and especially would give many further particulars in that part of it which Mrs. Hunter has hitherto handled too briefly - viz., the history of Mary Hint's marriage with Howard.
"Miss Jane Austen cannot close this small epitome of the miniature of an abridgment of her thanks and admiration without expressing her sincere hope that Mrs. Hunter is provided with a more safe conveyance to London than Alton can now boast; as the 'Car of Falkenstein,' the pride of that town, was overturned within the last ten days."
---
Footnotes


[Page 183]
1 Mrs. Thomas Knight.


[Page 189]
1 The old servant and factotum of her father in the Steventon days.


[Page 190]
1 "Memoir," by J. E. Austen-Leigh.


[Page 191]
1 "Letters," Lord Brabourne.


[Page 194]
1 Family MSS.


[Page 195]
1 It is needless to say that this letter never found its way to the post.