[Facing Page]

MR. THOMAS KNIGHT
[Full Image]
[Page 203] and Prejudice" had appeared before the public and much curiosity was felt concerning their author. "Oh! I have more sweet flattery from Miss Sharp," Jane writes playfully. "She is an excellent kind friend, I am read and admired in Ireland, too. There is a Mrs. Fletcher, the wife of a judge, an old lady, and very good and very clever, who is all curiosity to know about me - what I am like, and so forth. I am not known to her by name, however . . . . I do not despair of having my picture in the Exhibition at last - all white and red, with my head on one side; or perhaps I may marry young Mr. D'Arblay. I suppose in the meantime I shall owe dear Henry a great deal of money for printing, &c."[1]
We find mention of much pleasant visiting among friends and neighbours in the "Letters" written from Godmersham. Sometimes Jane spends a few days at Goodnestone with the Bridges family, the relatives of her brother's wife; sometimes a day and night at the "White Friars " in Canterbury - the home of Mrs. Thomas Knight after her quitting Godmersham Park. Writing of a visit to the latter place, Miss Austen remarks: "It was a very agreeable visit. There was everything to make it so - kindness, conversation, variety, without care or cost. Mr. Knatchbull from Provender, was at the White Friars [Page 204] when we arrived and stayed dinner, which with Harriet,[1] who came, as you may suppose, in a great hurry, ten minutes after the time, made our number six. Mr. K. went away early; Mr. Moore succeeded him, and we sat quietly working and talking till ten, when he ordered his wife away and we adjourned to the dressing-room to eat our tart and jelly." The next morning Mrs. Knight "had a sad headache which kept her in bed," but Jane, after paying some calls, returns to find her up and better; "but early as it was - only twelve o'clock," she continues, "we had scarcely taken off our bonnets before company came - Lady Knatchbull and her mother; and after them succeeded Mrs. White, Mrs. Hughes, and her two children, Mr. Moore, Harriet and Louisa, and John Bridges, with such short intervals between any as to make it a matter of wonder to me that Mrs. K. and I should ever have been ten minutes alone, or have any leisure for comfortable talk, yet we had time to say a little of everything. Edward came to dinner, and at eight o'clock he and I got into the chair, and the pleasures of my visit concluded with a delightful drive home."
If the engagements did not happen to furnish much amusement in themselves Miss Austen managed to get entertainment out of them in another way. [Facing Page]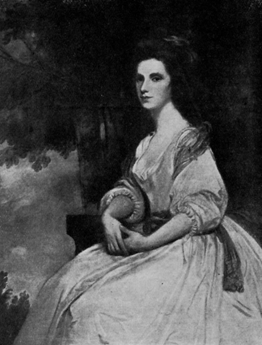 MRS. THOMAS KNIGHT
[Full Image]

"'Tis night! and the landscape is lovely no more,'" she writes, "but to make amends for that, our visit to the Tyldens is over. My brother, Fanny, Edward, and I went; George stayed at home with W. K. There was nothing entertaining or out of the common way. We met only Tyldens and double Tyldens. A whist-table for the gentlemen, a grown-up musical young lady to play at backgammon with Fanny, and engravings of the colleges at Cambridge for me . . . . Lady Elizabeth Hatton and Anna Maria called here this morning. Yes, they called; but I do not think I can say anything more about them. They came, and they sat, and they went."

"It seems now quite settled," she writes, "that we go to Wrotham on Saturday, the 13th (Nov.) spend Sunday there and proceed to London on Monday. I like the plan. I shall be glad to see Wrotham."[1]

The Rev. George Moore was Rector of the beautiful village of Wrotham which lies among the western Kentish hills. His wife was a sister-in-law of Edward Knight. We like to fancy Jane attending service in the fine old church on the village green or, perhaps, climbing Wrotham hill to trace the line of the old Pilgrims' route as it winds along the valley marked by its dark yew trees.
---
Footnotes


[Page 198]
1 "Letters," Lord Brabourne.


[Page 199]