CHAPTER XX
CHAWTON
"Her ready fingers plied with equal skill
The needle or the quill."
WE will now follow Miss Austen once more to her Chawton home - the cottage from which all her works were sent out into the world.
Busy as she is with her own compositions we find her lending a helping hand to her niece Anna, who is writing a novel herself - her first effort of so important a nature. As each chapter is completed it is forwarded to the kind Aunt for her advice and criticism, and these, conveyed in letters to Anna, reveal, though in her own playful way, many of Miss Austen's serious views as to a right standard of style and composition. They show us also, incidentally, how careful she was herself to be correct in topographical and other statements.
These letters, which have already appeared in Lord Brabourne's work, have been lent to us in the MS., and it is from the MS. that we now quote. [Page 222]
Writing in the early summer of 1814, Jane thanks her niece for an instalment of her novel just arrived which "has entertained" her "extremely." "I read it aloud," she goes on to say, "to your grandmamma and Aunt Cass, and we were all very much pleased . . . . A few verbal corrections are all that I feel tempted to make - the principal of them is a speech of St. Julian to Lady Helen, which you see I have presumed to alter . . . . I do not like a lover speaking in the third person; it is too much like the formal part of Lord Orville,[1] and I think it not natural. If you think differently, however, you need not mind me." And again she writes: "Let the Portmans go to Ireland, but as you know nothing of the manners there you had better not go with them. You will be in danger of giving false representations. Stick to Bath and the Foresters. There you will be quite at home . . . Lyme will not do. Lyme is towards forty miles from Dawlish, and would not be talked of there. I have put Starcross instead. If you prefer Exeter that would be always safe. [Lady Clanmurray and her daughter] must be two days going from Dawlish to Bath. They are nearly one hundred miles apart.
". . . Your Aunt C. does not like desultory novels, and is rather afraid yours will be too [Page 223] much so . . . . It will not be so great an objection to me if it is. I allow much more latitude than she does, and think nature and spirit cover many sins of a wandering story.
". . . What can you do with Egerton to increase the interest for him? I wish you could contrive something . . . . Something to carry him mysteriously away and then (be) heard of at York or Edinburgh in an old great coat . . . . Devereux Forester's being ruined by his vanity is extremely good, but I wish you would not let him plunge into 'a vortex of dissipation.' I do not object to the thing, but I cannot bear the expression; it is such thorough novel slang, and so old that I daresay Adam met with it in the first novel he opened."
During the time that Anna Austen was occupied in writing this story she became engaged to be married to Mr. Benjamin Lefroy, a son of "Madame" Lefroy, of Ashe, to whom Jane was so much attached, and who was killed by a fall from her horse in 1804.
"St. Julian's history was quite a surprise to me," Miss Austen writes, "you had not very long known it yourself I expect; but I have no objection to make to the circumstance, and it is very well told. His having been in love with the aunt gives Cecilia an additional interest with him. I like the idea - a very proper compliment to an [Page 224] aunt! I rather imagine indeed that nieces are seldom chosen but out of compliment to some aunt or another. I daresay Ben was in love with me once, and would never have thought of you if he had not supposed me dead of scarlet fever."
"Waverley" had been published in the month of July of this same year (1814), and Miss Austen writes to her niece in the following September: "Walter Scott has no business to write novels, especially good ones. It is not fair. He has fame and profit enough as a poet, and should not be taking the bread out of other people's mouths. I do not like him, and do not mean to like 'Waverley' if I can help it - but fear I must."
It is amusing to see how Jane Austen's woman's wit enabled her to solve at once the mystery of the "Great Unknown," when even Scott's most intimate friends were fairly puzzled. Lord Jeffrey writes: "Though living in familiar intercourse with Sir Walter, I need scarcely say that I was not in the secret of his authorship; and, in truth, had no assurance of the fact till the time of its public promulgation." This promulgation was in February 1827.
The marriage of Anna Austen and Benjamin Lefroy took place at Steventon on November 8, 1814. For those who may be interested to hear how a wedding was conducted nearly ninety years [Page 225] ago, we quote a few passages from an account of it written by a younger sister of the bride.[1]
"Weddings were then," she remarks, "usually very quiet. The old fashion of festivity and publicity had quite gone by, and was universally condemned as showing the bad taste of all former generations . . . . This was the order of the day.
"The bridegroom came from Ashe, where he had hitherto lived with his brother (the Rector), and with him came Mr. and Mrs. Lefroy, and his other brother, Mr. Edward Lefroy; Anne Lefroy, the eldest little girl, was one of the bridesmaids, and I was the other. We wore white frocks and had white ribbon in our straw bonnets . . . . My brother[2] came from Winchester that morning, but was to stay only a few hours. We in the house had a slight early breakfast upstairs, and between nine and ten the bride, my mother, Mrs. Lefroy, Anne, and myself were taken to church in our carriage. All the gentlemen walked." The bride, who was very pretty, wore, we are told, "a dress of fine white muslin, and over it a soft silk shawl, white shot with primrose, with embossed white-satin flowers, and very handsome fringe, and on her head a small cap to match, trimmed with lace."
The writer speaks of the "cold grey light of a [Page 226] November morning" making its way "through the narrow windows of the old church." "Mr. Lefroy," she continues, "read the service, and my father gave his daughter away. No one was in the church but ourselves, and no one was asked to the breakfast, to which we sat down as soon as we got back. The breakfast was such as best breakfasts then were. Some variety of bread, hot rolls, buttered toast, tongue, ham and eggs. The addition of chocolate at one end of the table and the wedding-cake in the middle marked the speciality of the day . . . . Soon after the breakfast the bride and bridegroom departed. They had a long day's journey before them to Hendon . . . . In the evening the servants had cake and wine. Such were the wedding festivities at Steventon in 1814."
In later years a daughter of the bride, commenting upon the extreme simplicity of these "festivities" observes "when Aunt Jane marries Emma Woodhouse (the heiress of thirty thousand pounds) she describes a wedding, which could not have been very different, and which Mrs. Elton, no doubt justly, thought very inferior to her own, and stigmatised as having 'very little white satin, very few lace veils,' and summed-up as being 'a most pitiful business.'"
Mrs. Benjamin Lefroy did not neglect her writing upon her marriage as Mrs. Elton did [Page 227] her music, but continued to send her MS. as it progressed to her aunt. Miss Austen writes in December of the same year (1814): "I have been very far from thinking your book an evil, I assure you. I read it immediately and with great pleasure . . . . Indeed I think you get on very fast. I only wish other people of my acquaintance could compose as rapidly."
But as time went on and the cares of a family intervened, the story was put aside for a season, and before it could be resumed the beloved Aunt had passed away. " With no Aunt Jane to read, to criticise, and to encourage," writes Mrs. Lefroy's daughter, "it was no wonder that the MS., every word of which was so full of her, remained untouched . . . . The story was laid by for years, and then one day, in a fit of despondency, burnt. I remember," she continues, "sitting on the rug watching its destruction, amused with the flame and the sparks which kept bursting out in the blackened paper. In later years, when I expressed my sorrow that my mother had destroyed her story she said she could never have borne to finish it."[1]
Miss Lefroy tells us that her father and mother, remained at Hendon until August 1815, when they removed to a house called Wyards, near to Alton, "It was a large farmhouse," she says, "one end of which was occupied by a sort of bailiff or [Page 228] foreman with his family, and they rented the remainder. The intercourse between the two cottages, as we may call them, was almost daily, and the correspondence between the aunt and niece nearly ceased."
It happened at this time that Miss Austen was enjoying the society of several members of her family: for her brother Edward and his many children were at the "Great House," whilst Francis and his family were residing for a while in the neighbourhood - "sweet amiable Frank," as she calls him. The Captain had recently returned to England after serving in the eventful campaigns of the North Sea and Baltic.
Charles was the only brother who was far away. He had been sent in command of three ships to the Mediterranean on the escape of Napoleon from the Isle of Elba. "Thank you," Jane writes to her sister, "for the sight of dearest Charles' letter to yourself. How pleasantly and how naturally he writes! and how perfect a picture of his disposition and feelings his style conveys!"
When peace was restored, after the battle of Waterloo, we hear of Captain Charles Austen, waging war against the pirates of the Archipelago, capturing their vessels and putting an end to their cruel trade. The following year his ship, the Phoenix, was wrecked during a hurricane off [Facing Page]

THE OAK-ROOM IN CHAWTON HOUSE
[Full Image]

[Page 229] the coast of Smyrna. The disaster happened near to Chisnié on February 21 (1816), and is recorded in true sailor fashion in the captain's journal, of which we possess an extract: "At 2 P.M.," he writes, "the ship struck on the rocks astern, it then blowing a gale from the north-east. Hoisted out boats and cut the masts away. Attempted to heave the ship off . . . rudder broken and washed away . . . . The people immediately began to swim on shore, all the boats being stove. At 4 P.M. a Turk, with a message from the Aga, came down opposite the ship and inquired for me, when I landed, sliding down on a top-gallant mast, which reached from the wreck to the shore. Thank God, I found that no life had been lost. Walked to the town with the marine officer and others, distant a long mile, blowing violently, with sleet and rain, and very cold. At the house of Mr. Cortovitch we were received most kindly and hospitably, in supplying us with clothes, food, and beds. For the crew I got a large store-house with fires, bread, and wine. In spite of our misfortune I slept well."

Whilst all these stirring events were taking place, Jane was seated at her desk in the little parlour of Chawton Cottage, writing of Anne Elliot and of Captain Wentworth. In a letter to her niece Fanny, dated March 13 (1816), we find these words: "I will answer your kind questions [Page 230] more than you expect. 'Miss Catherine' is put upon the shelf for the present, and I do not know that she will ever come out; but I have a something ready for publication, which may, perhaps, appear about a twelvemonth hence. It is short - about the length of 'Catherine.' This is for yourself alone." The "something ready for publication" was, of course, "Persuasion," while "Catherine" refers to "Northanger Abbey."

We have spoken of Miss Austen's firm, delicate handwriting. One of her letters lies open before us. It is indited upon a square sheet of paper, such as was used in those days, and when refolded in its neat sharp creases, forms its own envelope. The writing beneath that part which makes the flap and takes the seal is very small. Every inch of space had to be made use of in order to save "double postage," which was then charged if a letter consisted of more than one sheet of paper.

Excellent as Jane's writing is, she herself considered it very inferior to that of her sister. "I took up your letter again," she writes, "and was struck by the prettiness of the hand, so small and so neat! I wish I could get as much into a sheet of paper."

"Jane Austen was successful in everything that she attempted with her fingers," writes Mr Austen Leigh. "None of us could throw spilikins [Facing Page]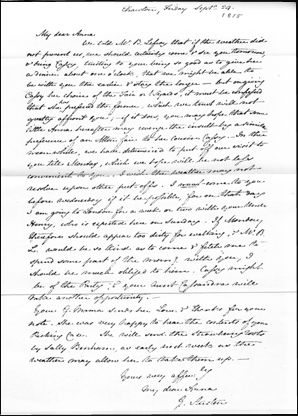 FACSIMILE OF AN AUTOGRAPH LETTER OF JANE AUSTEN
[Full Image]

[Page 231] in so perfect a circle, or take them off with so steady a hand. Her performances with the cup-and-ball were marvellous. She has been known to catch the ball on the point above a hundred times in succession." The accompanying drawing
is of an ivory cup-and-ball at Chawton House, which was there in Miss Austen's time, and which, therefore, she must have frequently used.

Her needlework was exquisite. We have seen a muslin scarf embroidered by her in satin-stitch, and have held in our hands a tiny housewife of fairy-like proportions, which Jane worked at the age of sixteen as a gift for a friend. It consists of a narrow strip of flowered silk, embroidered at the back, which measures four inches by one and a quarter, and is furnished with minikin needles and fine thread. At one end there is a tiny pocket, containing a slip of paper upon which are some verses in diminutive handwriting with the date "Jany. 1792." The little housewife, when rolled up, is tied with narrow ribbon. "Having been never used and carefully preserved, it is as fresh and bright as when it was first made."
---
Footnotes


[Page 222]
1 The hero of Fanny Burney's "Evelina."


[Page 225]
1 Family MSS.
2 Mr. Austen-Leigh.


[Page 227]
1 Family MSS.