CHAPTER XXII
LAST YEAR AT CHAWTON
"Through every period of this changeful state
Unchanged thyself - wise, good, affectionate."
WE have spoken of Miss Austen's being surrounded by many members of her family during the year 1816. The little nephews and nieces were eager visitors at the cottage. One of them tells us how her "Aunt Jane" used to help them in their games, and remarks: "She would furnish us with what we wanted from her wardrobe; and would be the entertaining visitor in our make-believe house. She amused us in various ways. Once I remember in giving a conversation as between myself and my two cousins, supposing we were all grown up, the day after a ball."[1]
Here is a letter from Jane to the niece who wrote the foregoing words. The "Cassy" mentioned, who was staying at Chawton Cottage, was a child of Charles Austen - whose wife had recently died. The letter is dated April 21 (1816). [Page 242]
"MY DEAR CAROLINE. - . . . Cassy has had great pleasure in working this, whatever it may be, for you. I believe she rather fancied it might do for a quilt for your little wax doll, but you will find a use for it if you can I am sure. She often talks of you, and we should all be very glad to see you again, and if your papa[1] comes on Wednesday, as we rather hope, and it suited everybody that you should come with him, it would give us great pleasure. Our fair at Alton is next Saturday, which is also Mary Jane's[2] birthday, and you would be thought an addition on such a great day.
"Yours affecately
"J. AUSTEN."[3]
She alludes to little Cassy in another letter written a few months earlier to her niece Mrs. Ben. Lefroy, who, the reader may remember, was living with her husband at Wyards, a farmhouse near to Alton. "We told Mr. B. Lefroy," she remarks, "that if the weather did not prevent us we should certainly come and see you to-morrow and bring Cassy, trusting to your being good enough to give her a dinner about one o'clock, that we might be able to be with you the earlier and stay the longer; but on giving Cassy her choice of the Fair or Wyards she has preferred the former, which we trust will not greatly affront [Page 243] you - if it does you may hope that some little Anna, hereafter, may revenge the insult by a similar preference of an Alton fair to her cousin Cassy."
About this time Mr. Lefroy took Holy Orders. The examination through which he had to pass was so different to those of our own times that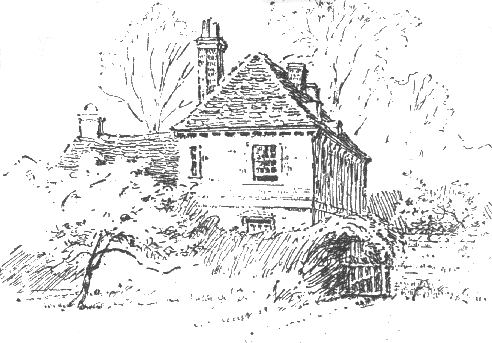 WYARDS
we will quote his daughter's account of it. "I have heard my mother say," she writes, "that when he returned from being ordained he told her that the Bishop had only asked him two questions - first, if he was the son of Mrs. Lefroy of Ashe, and, secondly, if he had married a Miss Austen. I suppose the chaplain's examination extended a little further but my impression is that having passed through Oxford was considered [Page 244] a sufficient guarantee of fitness, and that his questions were not much more troublesome than the Bishop's."[1]
In the early part of the year 1816 Jane Austen's health began gradually to decline. It is supposed that the strain of her brother Henry's illness - her anxiety and watchful nursing - had told upon her strength; and she had been also tried in another way. The bank in which Henry was a partner had failed, owing to some commercial disasters of the time, and she had felt keenly for her brother in all that he had had to go through on this account. But her letters are cheerful as ever, and the allusions to her failing health few and far between and given only to allay the anxiety of her correspondents.
"I am almost entirely cured of my rheumatism," she writes to her niece, Fanny Knight, "just a little pain in my knee now and then to make me remember what it was, and keep on flannel. Aunt Cassandra nursed me beautifully." And a few weeks later she remarks, "I am got tolerably well again, quite equal to walking about and enjoying the air, and by sitting down and resting a good while between my walks I get exercise enough. I have a scheme, however, for accomplishing more, as the weather grows spring-like. I mean to take to riding the donkey; it will be more [Page 245] independent and less troublesome than the use of the carriage, and I shall be able to go about with Aunt Cassandra in her walks to Alton and Wyards."[1]
These very letters are full of affection and sweet playfulness, called forth by a circumstance connected with this same niece, namely, that she seemed likely, at that time, to become engaged to be married. Her aunt writes, "You are the delight of my life. Such letters, such entertaining letters as you have lately sent! such a description of your queer little heart! such a lovely display of what imagination does! You are worth your weight in gold, or even in the new silver coinage. You are so odd, and all the time so perfectly natural - so peculiar in yourself, and yet so like everybody else!
"I do not like that you should marry anybody. And yet I do wish you to marry very much . . . but the loss of a Fanny Knight will never be made up to me."
Two of Fanny's brothers were then staying at Chawton Cottage. "And now I will tell you," Jane continues, "that we like your Henry to the utmost, to the very top of the glass, quite brimful . . . . He does really bid fair to be everything his father and sister could wish; and William I love very much and so we do all; he is quite our [Page 246] own William. In short we are very comfortable together; that is we can answer for ourselves." Here is an allusion to another brother of Fanny's who was on his way to Winchester School. "Charles and his companions passed through Chawton about nine this morning . . . Uncle Henry and I had a glimpse of his handsome face, looking all health and good humour."
She writes to Fanny on March 23: "I took my first ride yesterday, and liked it very much. I went up Mounter's Lane and round by where the new cottages are to be, and found the exercise and everything very pleasant; and I had the advantage of agreeable companions, as At. Cass, and Edward walked by my side. At. Cass is such an excellent nurse, so assiduous and unwearied! But you know all that already."[1]
Soon after this letter was written Jane Austen paid a visit to her friends, the Fowles,[2] at Kintbury, in Berkshire. They noticed with concern that "her health seemed impaired, and observed that she went about her old haunts, and recalled old recollections connected with them in a particular manner, as if she did not expect ever to see them again." In one of her letters, after mentioning an attack of illness from which she had suffered, she remarks: "But I am getting too near complaint; [Page 247] it has been the appointment of God, however secondary causes may have operated."[1]
She rallied, however, once more, and later in the year we find her writing to her nephew Edward[2] in her old playful vein: "You will not pay us a visit yet, of course - we must not think of it. Your mother must get well first, and you must go to Oxford and not be elected; after that a little change of scene may be good for you, and your physicians, I hope, will order you to the sea or to a house by the side of a very considerable pond." (This is an allusion to the horse-pond in the fork of the Winchester and Gosport roads in front of the cottage.) And again she writes: "I give you joy of having left Winchester. Now you may own how miserable you were there; now it will gradually all come out, your crimes and your miseries - how often you went up by the mail to London, and threw away fifty guineas at a tavern; and how often you were on the point of hanging yourself, restrained only, as some ill-natured aspersion upon poor old Winton has it, by the want of a tree within some miles of the city."
Her brothers, Henry and Charles, were both staying at the cottage at this time. Henry had recently been ordained. "They are each of [Page 248] them so agreeable in their different ways," she writes, "and harmonise so well that their visit is thorough enjoyment. Uncle Henry writes very superior sermons. You and I must try to get hold of one or two and put them into our novels:[1] it would be a fine help to a volume, and we could make our heroine read it aloud on a Sunday evening, just as well as Isabella Wardour in the 'Antiquary' is made to read the 'History of the Hartz Demon,' in the ruins of St. Ruth, though I believe, on recollection, Lovell is the reader. By the bye, my dear E., I am quite concerned for the loss your mother mentions in her letter. Two chapters and a half to be missing is monstrous! It is well that I have not been at Steventon lately, and therefore cannot be suspected of purloining them; two strong twigs and a half towards a nest of my own would have been something. I do not think, however, that any theft of that sort would be really very useful to me. What should I do with your strong, manly, vigorous sketches, full of variety and glow? How could I possibly join them on to the little bit (two inches wide) of ivory on which I work with so fine a brush as produces little effect after much labour?"[2]
It is pleasant here to recall the well-known words of Sir Walter Scott, written in his diary for [Page 249] March 14, 1826: "Read again for the third time, at least, Miss Austen's finely written novel of 'Pride and Prejudice.' That young lady had a talent for describing the involvements and feelings and characters of ordinary life which is to me the most wonderful I ever met with. The big bow-wow strain I can do myself like any now going; but the exquisite touch which renders ordinary commonplace things and characters interesting from the truth of the description and the sentiment, is denied to me."
As her health declined Jane Austen's habits of activity gradually ceased, and she was obliged to lie down much. "The sitting-room (at Chawton Cottage) contained only one sofa," Mr. Austen Leigh tells us, "which was frequently occupied by her mother, who was more than seventy years old. Jane would never use it, even in her mother's absence; but she contrived a sort of couch for herself with two or three chairs, and was pleased to say that this arrangement was more comfortable to her than a real sofa. Her reasons for this might have been left to be guessed, but for the importunities of a little niece, which obliged her to explain that if she herself had shown any inclination to use the sofa, her mother might have scrupled being on it so much as was good for her."
Jane Austen's mind did not share in this decay [Page 250] of her bodily strength. "Persuasion" had been brought to an end in the month of July of this same year (1816), but the conclusion differed in treatment to that with which we are familiar: the re-engagement of the hero and heroine having been effected in a scene laid in Admiral Croft's lodgings. "Her performance, however," writes her nephew, "did not satisfy her. She thought it tame and flat, and was desirous of producing something better. This weighed upon her mind . . , so that one night she retired to rest in very low spirits. But such depression was little in accordance with her nature, and was soon shaken off. The next morning she awoke to more cheerful views and brighter inspirations; the sense of power revived, and imagination resumed its course. She cancelled the condemned chapter, and wrote two others entirely different in its stead. . . . Perhaps it may be thought that she has seldom written anything more brilliant."
"In our judgment," writes an American critic, "there is no part in any of Miss Austen's novels that shows stronger marks of the hand of the consummate artist than the winding up of 'Persuasion' and the natural, yet unexpected way in which the hero and heroine come out of the complications in which they have been entangled, and into the understanding which happily concludes the whole matter. The change from her [Page 251] first plan which is now made known to us, in this last effort of her genius, shows that her imagination was as vivid and her judgment as true as at any previous period of her authorship."[1]
In January 1817, Miss Austen wrote to a friend: "We have just had a few days' visit from Edward . . . . He grows still, and still improves in appearance, at least in the estimation of his aunts, who love him better and better, as they see the sweet temper and warm affections of the boy confirmed in the young man." It is to this same beloved nephew that we are indebted for the beautiful record of Jane Austen's life.
One of the last letters dated from Chawton that have been preserved is addressed to Jane's little niece, Cassy. It is written in text-hand, and is spelt backwards for the child's amusement. We give it spelt in the ordinary way:[2]
"My DEAR CASSY, - I wish you a happy new year. Your six cousins came here yesterday, and had each a piece of cake. This is little Cassy's[3] birthday, and she is eight years old. Frank has begun learning Latin. Edward feeds the robin every morning. Sally often inquires after you. Sally Benham has got a new green gown. [Page 252] Harriet Knight comes every day to read to Aunt Cassandra. Good-bye, dear Cassy. Aunt Cassandra sends her love, and so do we all.
"Your affectionate Aunt,
"JANE AUSTEN."
---
Footnotes


[Page 241]
1 "Memoir," by J. E. Austen-Leigh.


[Page 242]
1 Rev. James Austen.
2 A child of Francis Austen.
3 Family MSS.


[Page 244]
1 Family MSS.


[Page 245]
1 "Letters," Lord Brabourne.


[Page 246]
1 "Letters," Lord Brabourne.
2 Mrs. Fowle was a sister of Mrs. James Austen.


[Page 247]
1 "Memoir," J. E. Austen-Leigh.
2 Mr Austen-Leigh.


[Page 248]
1 This nephew had been trying his hand at story-making.
2 "Memoir."


[Page 251]
1 Nation, September 7, 1871.
2 Family MSS.
3 A child of Francis Austen.