CHAPTER VII
JUNIPÈRE
"THE next Sunday, November 18," continues Mrs. Phillips, "Augusta and Amelia[1] came to me after church very much grieved at the inhuman decrees just passed in the Convention including as emigrants, with those who have taken arms against their country, all who have quitted it since last July; and adjudging their estates to confiscation and their persons to death should they return to France.
"I was more shocked and affected by this account than I could very easily tell you. To complete the tragedy M. de Narbonne had determined to write an offer - a request rather - to be allowed to appear as a witness in behalf of the King upon his trial; and M. d'Arblay had declared he would do the same, and share the fate of his friend whatever it might be.
"On Tuesday, the 20th I called to condole [Page 71] with our friends on these new misfortunes. Madame de la Châtre received me with politeness and even cordiality; she told me she was

NORBURY PARK FROM THE VALLEY
a little recovered from the first shock - that she should hope to gather together a small débris of her fortune, but never enough to settle in England - that, in short, her parti était pris - [Page 72] that she must go to America. It went to my heart to hear her say so.
"Presently came in M. Girardin.[1] He is the son of the Marquis de Girardin d'Ermenonville, the friend of Rousseau, whose last days were passed and whose remains are deposited in his domain. This M. Girardin was a pupil of Rousseau."
In his "Journal et Souvenirs" M. Girardin gives an interesting account of Rousseau's peaceful life at Ermenonville.
"Jean-Jacques used to rise," he tells us, "with the sun, and spend the whole day in roving through the woods and meadows in search of herbs. In the evenings he would take a row with his friends on the lake, himself plying an oar, so that the children used to call him their 'Sweet-water Admiral.' Sometimes the party would sit in some shady spot by the riverside listening to the strains of the clarionette; or when confined to the house Rousseau would sing to them songs of his own composition, whilst the young Stanislas accompanied him upon an old spinet. His voice, though enfeebled by age and somewhat quavering, was still full of passion and sentiment. I loved Jean-Jacques dearly," continues Stanislas, "though unable, at that time, to appreciate his genius." [Page 73]
M. Girardin had been a member of the Legislative Assembly and an able opponent of the Jacobins. When it was proposed to hurl an accusation of treason against Lafayette it was Girardin who mounted the tribune and defended him at the risk of his life.
"M. Girardin," continues Mrs. Phillips, "had been riding as far as to the cottage Mr. Malthouse had mentioned to him - l'asile de Jean Jacques - [saying] it was very near this place" (it is at the foot of Leith Hill, Mr. Lock has since told me).
"[Our friends] then talked over the newspapers which were come that morning. M. de St. Just who made a most fierce speech for the trial and condemnation of the King, they said, had before only been known by little madrigals, romances, and épitres tendres, published in the 'Almanac des Muses.' 'But now,' said M. de Jaucourt laughing, 'he is a bold republican, and there is the Abbé Fouché, too, who harangues the meetings, and does it by no means badly.'
"'Certainly he shows ability,' said Madame de la Châtre, 'for his arguments are precisely those calculated to convince the Convention.'
"For Condorcet, in despite of his abilities, they feel a sovereign contempt. They spoke of his ingratitude to the Duc de la Rochefoucauld with great disgust, and of the terrible end of that [Page 74] most respectable man, with a mixture of concern and indignation that left them and us for a few minutes silent and in a kind of consternation.
"It appears that there is an exception in the detestable law concerning the emigrants, in favour of such persons as are established in other countries in any trade. M. de Jaucourt said, 'It seems to me that I have something of a vocation for cookery. I will take up that business. Do you know what our cook said to me this morning? He had been consulting me respecting his risking the danger of a return to France. "But you know, Monsieur," he observed, "an exception is made in favour of all artists." "Very well, then," concluded M. de Jaucourt, "I will be an artist-cook also!'"
"M. de Narbonne delighted me by his accounts of M. de Lafayette, who is, I am now certain, precisely the character I took him to be - one whom prosperity could never have corrupted, and that misfortune will never subdue. 'An access of bonté de coeur,' M. d'Arblay said, 'was almost the only fault he knew him to have.' This made him so unwilling to suspect treachery in those who called themselves his friends, that it was almost impossible to put him on his guard. 'Il carressait ceux qui cherchaient a l'égorger.'
"Tuesday, November 27. - Phillips and I determined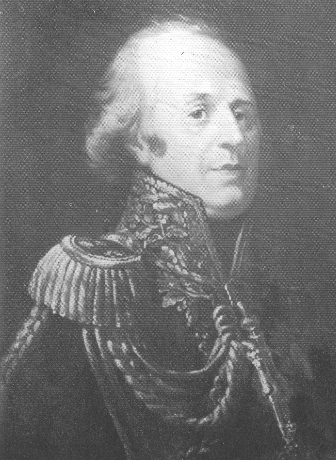 LOUIS LARA, COMTE DE NARBONNE
[Page 75] at about half-past one to walk to Junipère together.
"M. d'Arblay received us at the door and showed the most flattering degree of pleasure at our arrival.
"We found with Madame de la Châtre another French gentleman, M. Sicard (just arrived from Holland), who was also an officer of M. de Lafayette's.
"M. de Narbonne said he hoped we would be sociable and dine with them now and then. Madame de la Châtre made a speech to the same effect. 'Et quel jour par example,' said M. de Narbonne, 'serait mieux qu'aujourd'hui?' Madame de la Châtre took my hand instantly, to press in the most pleasing and gratifying manner imaginable this proposal; and before I had time to answer, M. d'Arblay, snatching up his hat, declared he would run and fetch the children.
"I was obliged to entreat Phillips to bring him back, and entreated him to entendre raison.
"'Mais, mais, Madame,' cried M. de Narbonne, ' ne soyez pas disgracieuse.'
"'Je ne suis pas disgracieuse,' answered I, asset naïvement, which occasioned a general comical, but not affronting laugh, 'sur ce sujet au moins,' I had the modesty to add. I pleaded their late hour of dinner, our having no carriage, [Page 76] and my disuse to the night air at this time of the year; but M. de Narbonne said their cabriolet (they have no other carriage) should take us home, and that there was a top to it, and Madame de la Châtre declared she would cover me well with shawls, &c.
"'Allons, allons,' cried M. d'Arblay; 'voilà qui est fait, for I am sure Monsieur Phillips will not venture to refuse us.'
"Effectivement, Monsieur Phillips was perfectly agreeable; so that all my efforts were vain, and I was obliged to submit, in spite of various worldly scruples, to pass a most charmingly pleasant day.
"M. d'Arblay scampered off for the little ones, whom all insisted upon having, and Phillips accompanied him . . . . 'Ce sera,' said Madame de la Châtre; 'ce qu'il nous faut; ce sera une journeé.'
"Then my dress - oh, it was parfaite, and would give them all the courage to remain as they were, sans toilette; in short, nothing was omitted to render us comfortable and at our ease, and I have seldom passed a more pleasant day - never, I may fairly say, with such new acquaintance.
"Whilst M. d'Arblay and Phillips were gone, Madame de la Châtre told me they had that morning received M. Necker's 'Défense du Roi,' and if I liked it, that M. de Narbonne would [Page 77] read it out to us. You may conceive my answer. It is a most eloquent production, and was read by M. de Narbonne with beaucoup d'âme. Towards the end it is excessively touching, and his emotion was very evident and would have struck and interested me had I felt no respect for his character before."
The following are passages from the "Défense du Roi':
"Alas!" exclaims Necker, "can I hope to be listened to, when the very approach of those who would defend innocence oppressed is denied them? My voice - my feeble voice - can it make itself heard above the noise and tumult of passions which a gloomy and fanatic policy has aroused and now directs at its will?" Then, appealing to the generous-minded of the nation, he points out to them the many benefits conferred by Louis XVI. on his people even before the meeting of the States-General - the remains of vassalage abolished - forced labour done away with - torture of prisoners put an end to - and, in more recent times, free admission of the Protestants, after so many years of persecution, to all the rights of citizenship - added to all this the example he had set his people, so rare among the kings of France, of moral purity. "Oh, God!" cries the writer, "watch over this Prince, the friend of religion, the friend of morality - this [Page 78] Prince, whose soul expands with mercy and kindness."
Then, addressing the Convention, he concludes with these words:
"Let not your members forget that Freedom, for which we have made so many sacrifices, will fly from our shores, never to return, if, yielding to the pressure of a few men eager for the royal blood, we show by this violation of our promises and of our oaths that we are unworthy to possess her."

[A French Château]
---
Footnotes
1 Daughters of Mr. and Mrs. Lock.
1 Stanislas Girardin.