CHAPTER XIV
A GROWING ATTACHMENT
"OUR Juniperians," writes Mrs. Phillips, "went to see Paine's Hill yesterday, and had the good nature to take my little happy Norbury."
The French colony had managed, by sharing the expense, to purchase a cabriolet, a hooded one-horse chaise which held two people inside, and had a "dicky" behind for a servant. At the back of the vehicle there was a small window. Talleyrand, Narbonne, and the other gentlemen, we are told, used to take turns in riding behind, but as they could by no means bear to be excluded from the animated conversation that flowed from within the vehicle, they broke the window pane, and thus came in for their due share! Madame de Staël declares that she never heard more brilliant talk than on these occasions.
Whether the friends paused in their discourse to admire the beauties of nature, we do not know. At any rate, it is not likely that Madame de Staël did, for she is said to have exclaimed on one [Page 132] occasion to a friend, "I would not take the trouble to throw open my window to look for the first time upon the Bay of Naples, but I would willingly go a thousand miles to converse, for the first time, with a man of genius." And when a friend, visiting her at Coppet, went into raptures at the sight of Lake Lemon, "Oh!" cried she, "give me rather the gutter in the Rue du Bac!"
The French, as a nation, perhaps, do not quite enter into the beauties of landscape scenery as we do. It has been shrewdly observed that "the Englishman admires nature, while the Frenchman admires the way in which he admires nature."
Little Norbury had become a favourite with the émigrés, as the reader may have noticed, and often accompanied them in their walks or drives. There is a letter, preserved in the Burney family, written about him in broken English by M. de Narbonne, addressed to Charles Burney. The child was spending a few days at the time with his uncle at Hammersmith, and Narbonne, happening to be in London, had taken him out for the day.
"J beg Dr. Charles Burney to be excused for not having taken back the little Norbury at the fixed hour; but very awkwardly J mistook my way, and the poor little man should have missed his dinner if J would have not forced him to come with me in town. J am very unhappy to have [Page 136] lost an occasion more of being acquainted with Dr. Burney, who will be, J hope, as kind for me as the rest of his family.
L. DE NARBONNE."
During the absence of her friends at Paine's Hill, Mrs. Phillips received the visit of an English neighbour. "In the evening," she writes, "came Miss F . . . . She talked of our neighbours, and very shortly and abruptly said, 'So, Mrs. Phillips, we hear you are to have Mr. Nawbone and the other French company to live with you. Pray is it so?'
"I was, I confess, a little startled at this plain inquiry, but answered as composedly as I could, setting out with informing this bête personage that Madame de Staël was going to Switzerland to join her husband and family in a few days, and that of all the French company none would remain but M. de Narbonne and M. d'Arblay, for whom the captain and myself entertained a real friendship and esteem, and whom he had begged to make our house their own for a short time, as the impositions they had had to support from their servants, &c., and the failure of their remittances from abroad, had obliged them to resolve on breaking up house-keeping.
"I had scarcely said thus much when our party arrived from Paine's Hill; the young lady, though [Page 137] she had drunk tea, was so obliging as to give us her company for near two hours, and made a curious attack on M. de N., upon the first pause in wretched French, though we had before, all of us, talked no other language than English.
"Our evening was very pleasant when she was gone. Madame de Staël is, with all her wildness and blemishes, a delightful companion, and M. de N. rises upon us in esteem and affection every time I see him: their minds, in some points, ought to be exchanged, for he is as delicate as a really feminine woman, and evidently suffers when he sees her setting les bienséances aside, as it often enough befalls her to do."
"She has many faults," said one who knew her well, "but much that would be faulty in others is not so in her . . . . Her open-hearted, frank nature and kind of honesty and truthfulness make her very attractive." "She is a woman by herself," said Lord Byron, "and has done more than all the rest of them together, intellectually - she ought to have been a man."
"I must go back to Monday," writes Mrs. Phillips "to tell you something that passed which struck and affected me very much. M. de Talleyrand arrived at Juniper to dinner, and Madame de Staël, in a state of the most vehement impatience for news, would scarce give him time to breathe between her questions; and when she had heard all he could [Page I38] tell her, she was equally impetuous to hear all his conjectures. She was evidently elated with hopes of such success as would give peace, security and happiness to them all, yet scarce dared give way to all her flattering expectations.
"M. de Talleyrand's hopes were alive likewise, though he did not, like her, lose his composure and comic placidness of manner. After some conversation had followed, 'For my part,' continued he, laughing, 'I own I should greatly like to do some fighting.'
. . . "'You think so,' said M. de N., with sadness, 'because you do not live in Juniper - near to Norbury and to Madame Philippe - because you live in Woodstock Street.'
"' Well,' said M. de Talleyrand, 'I give you my word, it would afford me real pleasure to fight those rascals.'
"'Why, what pleasure could there be,' said M. de N., with a mixture of douceur and sadness which was very touching, 'in killing poor wretches whose worst crimes are ignorance and folly? If war could be made simply against Marat, Danton, Robespierre, M. Egalité, and a few hundred more of such villains, I might myself find satisfaction in it.'
"After this the conversation was supported by Madame de Staël and M. de Talleyrand, who, by the way, is going to sell all his books, and who

NORBURY PARK, ENTRANCE SIDE
[Page 139] very placidly said to-day, 'I shall give up my house in Woodstock Street; it is too expensive.'
. . . "Poor Madame de Staël has been greatly disappointed and hurt," remarks Mrs. Phillips to Fanny, "by the failure of the friendship and intercourse she had wished to maintain with you . . . . She asked me if you would accompany Mrs. Lock back into the country. I answered that my father would not wish to lose you for so long a time at once, as you had been absent from him as a nurse so many days.
"After a little pause, 'But is a woman in tutelage for her whole life in this country?' she said. 'It seems to me that your sister might be a girl of fourteen.'
"I did not oppose this idea, but enlarged rather on the constraints laid upon females, some very unnecessarily, in England - hoping to lessen her dépit; it continued, however, visible in her countenance, though she did not express it in words."
Fanny Burney had been visiting the Locks in their London house, where the two Miss Locks had both been ill. Soon afterwards the family returned to Norbury.
"Sunday, after church, I walked up to Norbury," writes Mrs. Phillips. "There, unexpectedly, I met all our Juniperians, and listened to one of the best conversations I have ever heard; it was on literary topics, and the chief speakers Madame [Page 140] de Staël, M. de Talleyrand, Mr. Lock, and M. Dumont, a gentleman on a visit of two days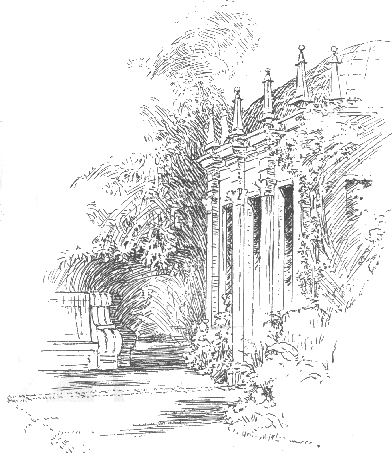 OLD CONSERVATORY, NORBURY PARK
at Juniper, a Genevois, homme d'esprit et de lettres." [Page 141]
M. Dumont was the friend of Jeremy Bentham and the editor of many of his works. He was also intimate with the Edgeworth family, and from all we read of him in Maria Edgeworth's "Letters," he seems to have been a man of a singularly amiable and attractive character.
"On Monday I went, by invitation, to Juniper to dine," continues Mrs. Phillips, "and before I came away at night a letter arrived express to Madame de Staël. On reading it the change in her countenance made me guess the contents. It was from the Swedish gentleman who had been appointed by her husband to meet her at Ostend; he wrote from that place that he was awaiting her arrival. She had designed walking home with us by moonlight, but her spirits were too much oppressed to enable her to keep this intention."
Madame de Staël's marriage, as is well known, was not a happy one. Her husband was many years older than herself, and he was unfortunately a spendthrift.
"M. d'Arblay walked home with Phillips and me," continues the writer. "Every moment of his time has been given of late to transcribing a MS. work of Madame de Staël on 'L'Influence des Passions.' It is a work of considerable length, and written in a hand the most difficult possible to decipher. [Page 142]
"On Tuesday we all met again at Norbury, where we spent the day. Madame de Staël could not rally her spirits at all, and seemed like one torn from all that was dear to her. I was truly concerned.
"After giving me a variety of charges, or rather entreaties, to watch and attend to the health, spirits, and affairs of the friends she was leaving, she said to me. Et dites à Mlle. Burney je ne lui en veux pas du tout - that I quit the country loving her sincerely, and without any feelings of rancour.
"I assured her earnestly, and with more words than I have room to insert, not only of your admiration, but affection, and sensibility of her worth, and chagrin at seeing no more of her. I hope I exceeded not your wishes; mais il n'y avait pas moyen de resister.
"She seemed pleased, and said, 'Vous êtes bien bonne de me dire celà,' but in a low and faint voice, and dropped the subject.
"Before we took leave M. d'Arblay was already gone, meaning to finish transcribing her MS. I came home with Madame de Staël and M. de Narbonne. The former actually sobbed in saying farewell to Mrs. Lock, and half-way down the hill her parting from me was likewise very tender and flattering.
"I determined, however, to see her again, and [Page 143] met her near the school[1] on Wednesday morning with a short note and a little offering which I was irresistibly tempted to make her. She could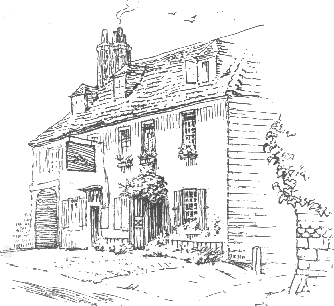 "THE RUNNING HORSE"
not speak to me, but kissed her hand with a very speaking and touching expression of countenance."
Fanny, in a letter to Mrs. Lock, expresses great regret at the unfortunate termination of her acquaintance with Madame de Staël, which [Page 144] "had begun with so much spirit and pleasure." "I wish," she says, "the world would take more care of itself and less of its neighbours. I should have been very safe, I trust, without such flights and distances and breaches. But there seemed an absolute resolution formed to crush this acquaintance, and compel me to appear its wilful renouncer.
. . . "I am vexed, however - very much vexed - at the whole business. I hope Madame de Staël left Norbury Park with full satisfaction in its steady and more comfortable connection. I fear mine will pass for only a fashionable one."
It is satisfactory to know that before long the breach was healed to a large extent. This is shown by an affectionate letter from Madame de Staël to Miss Burney which we shall give later on.
Whilst the various events of the last few months were taking place in the valley of Mickleham, a romance between two members of the little community was gradually weaving itself into shape.
"The frequency and intimacy with which Miss Burney and M. d'Arblay now met," writes the editor of the "Diaries," "ripened into attachment the high esteem which each felt for the other; and after many struggles and scruples, occasioned by his reduced circumstances and clouded prospects, M. d'Arblay wrote her an offer of his [Page 145] hand; candidly acknowledging, however, the slight hope he entertained of ever recovering the fortune he had lost by the Revolution.
"At this time Miss Burney went to Chesington for a short period, probably hoping that the extreme quiet of that place would assist her deliberations, and tranquillise her mind during her present perplexities."

[The "Druids' Walk," Norbury Park]
---
Footnotes
1 The school formerly stood near to the Church and also to the wayside inn of the "Running Horse" where the stage-coaches stopped.