CHAPTER XVI
A PERPLEXING QUESTION
FANNY, in writing on May 31 a letter addressed to both her sister Susan and to her beloved friend Mrs. Lock, says: "Much indeed in the course of last night and this morning has occurred to me that now renders my longer silence as to prospects and proceedings unjustifiable to myself.
"M. d'Arblay's last three letters convince me that he is desperately dejected when alone, and when perfectly natural. It is not that he wants patience, but he wants rational expectation of better times; expectation founded on something more than mere aërial hope, that builds one day upon what the next blasts: and thus has to build again, and again to be blasted.
. . . "My dearest Fredy, in the beginning of her knowledge of this transaction, told me that Mr. Lock was of opinion that the 100l. per annum[1] might do, as it does for many a curate. M. d'A. [Page 158] also most solemnly and affectingly declares that le simple nécessaire is all he requires, and here in your vicinity would unhesitatingly be preferred by him to the most brilliant fortune in another séjour.
"If he can say that, what must I be not to echo it? I, who in the bosom of my own most chosen, most darling friends - I need not enter more upon this . . . . I cannot picture such a fate with dry eyes.
. . . "With regard to my dear father, he has always left me to myself; I will not therefore speak to him while thus uncertain what to decide.
"It is certain, however, that with peace of mind and retirement, I have resources that I could bring forward to amend the little situation; as well as that, once thus undoubtedly established and naturalised, M. d'A. would have claims for employment.
"These reflections, with a mutual freedom from ambition, might lead to a quiet road, unbroken by the tortures of applications, expectations, attendance, disappointment and time-wasting hopes and fears; if there were not apprehensions the 100l. might be withdrawn. I do not think it likely, but it is a risk too serious to be run. Mr. d'A. protests he could not answer to himself the hazard. How to ascertain this, to clear the doubt, or to know the fatal certainty, before it [Page 159] should be too late, exceeds my powers of suggestion.
"In short, my dearest friends, you will think for me and let me know what occurs to you, and I will defer any answer till I hear your opinions.
"Heaven ever bless you! and pray for me at this moment.
"F. B."
In the meanwhile, Dr. Burney was becoming alarmed as to the turn affairs were taking. "I have for some time seen very plainly," he writes to his daughter, "that you are éprise, and have been extremely uneasy at the discovery. You must have observed my silent gravity, surpassing that of mere illness and consequent low spirits." He goes on to warn her "not to entangle herself in a wild and romantic attachment which offers nothing in prospect but poverty and distress." He dwells earnestly on the fact of M. d'Arblay's total loss of fortune, and remarks, "Your income, if it was as certain as a freehold estate, is insufficient for the purpose; and if the Queen should be displeased and withdraw her allowance, what could you do?
. . . "My objections are not personal," he adds, "but wholly prudential. As far as character, merit, and misfortune demand esteem and regard, you may be sure that M. d'Arblay will be always [Page 160] received by me with the utmost attention and respect; but in the present situation of things I can by no means think I ought to encourage (blind and ignorant as I am of all but his misfortunes) a serious and solemn union with one whose unhappiness would be a reproach to the facility and inconsiderateness of a most affectionate father."
"Dr. Burney," writes his daughter, in her "Memoir" of her father, "it may well be believed, was startled, was affrighted, when a proposition was made to him for the union of his daughter with a ruined gentleman - a foreigner - an emigrant; but the proposition came under the sanction of the wisest as well as kindest of that daughter's friends, Mr. and Mrs. Lock, of Norbury Park; and with the fullest sympathies of his cherished Susanna . . . . The Doctor could not, therefore, turn from the application implacably; he only hesitated, and demanded time for consideration. Fortunately, at this crisis, some letters arrived from M. de Lally-Tollendal and from the Prince de Poix, mentioning the 'favour in which they knew M. d'Arblay to have stood with Louis XVI.,' and speaking from their own knowledge of 'the spotless honour, the stainless character, and the singularly amiable disposition for which, in his own country, M. d'Arblay had been distinguished.'" [Page 161]
This evidence had its due weight, and at the same time Mrs. Phillips sent to her father a statement she had drawn up "of the plans and means and purposes of M. d'A. and F. B. - so clearly

CARVED STONE SEAT, NORBURY PARK
demonstrating their power of happiness, with willing economy, congenial tastes, and mutual love of the country, that Dr. B. gave way and sent, though reluctantly, a consent" to the marriage.
There is an unpublished letter (preserved in the Burney family) written by Fanny to her brother Charles to announce her engagement to M. [Page 162] d'Arblay. That letter is dated from Norbury Park, and we picture to ourselves Fanny, as she wrote it, seated very possibly in a small room to the front of the mansion, whose tall window looks across smooth lawns and groups of trees, to a blue distance lying in the direction of Chesington.
"NORBURY PARK, July 23, '93.
"MY DEAR CARLOS,
'' . . . Were I with you I should relieve myself from the extreme embarrassment of opening my own cause, by employing you in various conjectures and helping your imagination to play, till by skill or chance you came near to my subject; but at this distance I have no such resource - I have no aid - I am forced to mount my Pegasus without any esquire.
"My Pegasus? No! I have nothing to do with Poetics - nothing with fiction - all is plain truth, though, perhaps, you may not hold it to be plain or common sense. In brief - and to give you, at once, some little scope for conjecture - do you remember seeing at a concert in Titchfield Street[1] a gentleman whose face you said looked anything but French?
"Now your eyebrows begin to arch. This gentleman, if I am not of all women the most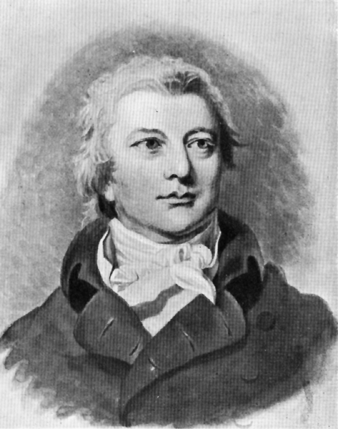 CHARLES BURNEY
[Page 163] mistaken, is one of the noblest characters now existing. An exile from patriotism and loyalty, he has been naturalised in the bosom of Norbury Park and Mickleham, amongst the dearest and best of my friends. He wishes there, in the vicinity where he has found a new home, new affections, new interests, and a new country, to fix himself for life - he wishes in that fixture to have a companion, with whom he may learn to forget, in some measure, his own misfortunes, or at least to soothe them.
"Can you guess the companion he would elect?
"I can enter now into no particulars; they are too diffuse, the tale is too long, and my spirits are too much agitated. I can only tell my dear Charles that if I should have given him another brother, he will find him one whom he can no sooner know than he must love and respect.
"My dear father, alas! from prudential scruples, is sadly averse to this transaction, and my heart is heavy from his evident ill-will to it - yet he has not refused his consent - and circumstances are such that I feel myself bound in honour, and even in necessity, to here fix my fate, or to relinquish, for ever, a person the most peculiarly to my taste, and whom I think the most peculiarly formed for my happiness of any mortal I ever saw or ever knew in my life. [Page 164]
"As this affair must be conveyed to the Q— before it is made public, even among my friends, I entreat you to keep its design to yourself till you hear further. It is of the highest importance that no accidental information should anticipate my communication.
"Pray write me a kind word. I send by this post letters to my sisters and to James, but I spread my confidence no wider for the reason I have just given.
"God bless you, my dearest Carlos. May you have good news to send me of yourself, with good wishes for your truly affectionate,
"F. BURNEY."


[Chimney-piece decoration in Juniper Hall]
---
Footnotes
1 Miss Burney's pension from the Queen.
1 Fanny's sister Esther and her husband, Rousseau Burney, lived in Titchfield Street.