CHAPTER XVIII
A "TERRIBLE COUP"
IN September (1793) Fanny received the following letter from her father, showing a happy change in his feelings respecting her marriage:
"You say that M. d'Arblay is not only his own architect, but intends being his own gardener. I suppose the ground allotted to the garden of your maisonnette is marked out, and probably will be enclosed and broken up before the foundation of your mansion is laid; therefore to encourage M. d'Arblay in the study of horticulture, I have the honour to send him Miller's 'Gardener's Dictionary' - an excellent book, at least for the rudiments of the art.
"I send you, my dear Fanny, an edition of Milton, which I can well spare, and which you ought not to live without; and I send you both our dear friend Dr. Johnson's 'Rasselas.'"
In this same letter Dr. Burney acquaints his daughter with a plan, started by Mrs. Crewe, for [Page 177] the relief of the many poor French priests then in England, and suggests her writing a pamphlet in their behalf.
"When I received the last letter of my dearest father," she replies, "and for some hours after, I was the happiest of all human beings - I make no exception, for I think none possible; not a wish remained to me; not a thought of forming one.
"This was just the period - is it not always so? - for a blow of sorrow to reverse the whole scene; accordingly that evening M. d'Arblay communicated to me his desire of going to Toulon.
"He had intended retiring from public life; his services and his sufferings in his severe and long career, repaid by exile and confiscation. . . [had] led him without a single self-reproach to seek a quiet retreat in domestic society; but the second declaration of Lord Hood no sooner reached this little obscure dwelling - no sooner had he read the words 'Louis XVII. and the Constitution,' to which he had sworn, united - than his military ardour rekindled, his loyalty was all up in arms, and every sense of duty carried him back to wars and dangers.
"I dare not speak of myself, except to say that I have forborne to oppose him with a single solicitation; all the felicity of this our chosen and loved retirement would effectually be annulled by the smallest suspicion that it was enjoyed at the [Page 178] expense of any duty; and, therefore, since he is persuaded it is right to go, I acquiesce . . . .
"He is now writing an offer for entering as a volunteer into the army destined for Toulon; together with a list of his past services up to his becoming Commandant of Longwy; and the dates of his various promotions to the last recorded of Maréchal de Camp, which was yet unsigned and unsealed, when the captivity of Louis XVI. forced the emigration which brought M. d'Arblay to England . . . .
"This memorial he addresses and means to convey in person to Mr. Pitt. . . . As I am sure it will interest my father, I will copy it for him.
"This total break into all my tranquillity incapacitates me from attempting at this moment to compose any address for the poor suffering clergy; but as nothing could give me greater comfort than contributing the smallest mite in their favour, I beseech my dear father to let me know in what manner I should try - whether as a letter, and to whom; or how; . . . I would gladly make any experiment in my possible power, and M. d'Arblay particularly wishes it . . . .
"My dearest father, before this tremendous project broke into our domestic economy, M. d'Arblay had been employed in a little composition, which, being all in his power, he destined to lay at your feet, as a mark of his pleasure in your attention [Page 179] to his horticultural pursuit. He has just finished copying it for you, and to-morrow it goes by the stage - your hint of a book from time to time enchanted him; it seems to me the only present he accepts entirely without pain.
". . . This Toulon business finally determines our deferring the maisonnette till the spring. Heaven grant it may be deferred no longer!
". . . Meanwhile M. d'Arblay makes a point of our indulging ourselves with the gratification of subscribing one guinea to your fund, and Mrs. Lock begs you will trust her and insert her subscription in your list, and Miss Lock and Miss Amelia Lock. Mr. Lock is charmed with your plan . . . . Heavy as is my heart just now, I could work for them and your plan."
Dr. Burney writes (Oct. 4.):
"DEAR FANNY - This is a terrible coup so soon after your union; but I honour M. d'Arblay for offering his service on so great an occasion, and you for giving way to what seems an indispensable duty. Commonplace reflections on the vicissitudes of human affairs would afford you little consolation. The stroke is new to your situation, and so will be the fortitude necessary on the occasion . . . . Whether the offer is accepted or not, the having made it will endear M. d'Arblay to those embarked in the same cause among his [Page 180] fellow countrymen, and elevate him in the general opinion of the English public. This consideration I am sure, will afford you a satisfaction the most likely to enable you to support the anxiety and pain of absence.
". . . I shall be very anxious to know how the proposition of M. d'Arblay has been received, and, if accepted, on what conditions, and when and how the voyage is to be performed; I should hope in a stout man-of-war; and that M. de Narbonne will be of the party, being so united in friendship and political principles.
". . . I have written to Mrs. Crewe all you have said on the subject of writing something to stimulate benevolence and commiseration in favour of the poor French ecclesiastics, amounting to 6000 now in England, besides 400 laity here, and 800 at Jersey, in utter want . . . . I have been working with my pen night and day for more than this last fortnight, in correspondence with Mrs. Crewe and others.
"The expense, in only allowing the clergy 8s. a week, amounts to about £7500 a month, which cannot be supported long by private subscriptions, and must at last be taken up by Parliament; but to save the national disgrace of suffering these excellent people to die of hunger, before the Parliament meets and agrees to do something for them, the ladies must work hard." [Page 181]
It was a Ladies' Committee which Mrs. Crewe had formed for the Emigrant Clergy Contribution Fund, of which Dr. Burney had undertaken the office of secretary. He gives a long list of names - "very illustrious and honourable" - of those whom Mrs. Crewe had induced to join her committee.
"Your mother works hard," continues the Doctor, "in packing and distributing papers among her friends in town and country, and Sally in copying letters. You and M. d'Arblay are very good in wishing to contribute your mite; but I did not intend leading you into this scrape. If you subscribe your pen, and he his sword, it will best answer Mr. Burke's idea, who says 'There are two ways by which people may be charitable - the one by their money, the other by their exertions.'"
Edmund Burke, in a letter unpublished save for the last sentence, writes to Dr. Burney (Sept. 15, 1793):
"The plan you send does great honour to Mrs. Crewe's goodness of heart and soundness of judgment. Mrs. B. will be glad to act an underpart in such an excellent design . . . . What is done by the public for these excellent persons is very honourable to the nation, but still it is not done in the exact way I could wish. What is [Page 182] done is done from general humanity and not as in favour of sufferers in a common cause. Their cause is our own, if the cause of honour, religion, fidelity, an adherence to the grand foundations of social order, be our cause. If things had been taken up on that ground our charity would not have been the less charity, and it would answer a great political purpose into the bargain." After lamenting the defeat of the Duke of York's army at Dunkirk, he remarks: "But I must say that the whole scheme of the war is mistaken (or appears to me to be so), for it ought not to be for Dunkirk, or this or t'other town - but to drive Jacobinism out of the world . . . . To say the truth I feel very awkward. I am as responsible as a Minister for the war, and yet in no one instance have I (or Wyndham that I know of) been consulted or communicated with. Most assuredly this affair of Dunkirk would never have been my plan, nor an errand on which I should have sent the Duke of York. But at present we must mum and give the enemy no occasion to insult and triumph. This complaint never would be made but to a friend, and one as warm in the cause as myself.
". . . This is a great thing, this of Toulon, - if Lord Hood can throw in a body of Spanish forces from Barcelona - otherwise it will not be as decisive as the possession of the great fort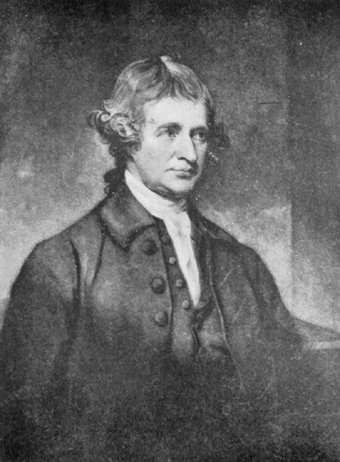 EDMUND BURKE
[Page 183] and arsenal of France in the Mediterranean ought to promise."
Mr. Burke goes on to say, however, that "well improved, the plan may promise complete success," and in that case, looking forward to better prospects for the émigrés, he observes: "The establishment of Madame d'Arblay is a matter in which I take no slight interest. If I had not the greatest affection to her virtues, my admiration of her incomparable talents would make me desirous of an order of things which would bring forward a gentleman of whose merits, by being the object of her choice, I have no doubt.
". . . Before I went to bed (last evening) a friend brought me the Gazette, which confirms the advantage obtained by Beaulieu . . . . I certainly should have been more pleased that the Duke of York had relieved Beaulieu than that Beaulieu had relieved the Duke of York . . . . [But] we must take the good which God gives us thankfully, and in the way in which he is pleased to give it. Surely no man was ever more thankful, though the weakness of our querulous nature cries - quan quam o!"
In the course of a few weeks Madame d'Arblay's pamphlet in aid of the French priests appeared before the public. That pamphlet lies before us, its paper discoloured by age. The title-page runs as follows [Page 184]
The writer observes: "By addressing myself to females, I am far from inferring that charity is exclusively their praise; no, it is a virtue as manly as it is gentle; it is Christian, in one word, and ought therefore to be universal. But the pressure of present need is so urgent that the ladies who patronise this plan are content to spread it amongst their own sex, whose contributions, though smaller, may more conveniently be sudden, and whose demands for wealth being less serious may render those contributions more general."
After speaking with horror and indignation of the crimes perpetrated by the Convention, the writer goes on to remark: "Let us not, however, destroy the rectitude of our horror of these enormities by mingling it with implacable prejudice; nor condemn the oppressed with the oppressor, the slaughtered with the assassin . . . . We are too apt to consider ourselves rather as a distinct race of beings than as merely the emulous inhabitants of rival states; but ere our detestation leads to the indiscriminate proscription of a whole people, let us look at the Emigrant French Clergy, and ask where is the Englishman, where, indeed, the human being, in whom a sense of right can more disinterestedly have been demonstrated, or more nobly predominate? O let us be brethren with the good, wheresoever they may arise! and [Page 186] let us resist the culpable, whether abroad or at home . . . . Flourishing and happy ourselves, shall we see cast upon our coasts virtue we scarce thought mortal, sufferers whose story we could not read without tears, martrys that remind us of other days, and let them perish?"
In sending her manuscript to her father on October 21, Madame d'Arblay writes: "My dear father will think I have been very long in doing the little I have done . . . . [but] I have done it with my whole mind, and, to own the truth, with a species of emotion that has greatly affected me, for I could not deeply consider the situation of these venerable men without feeling for them to the quick. If what I have written should have power to procure for them one more guinea, I shall be paid."
During this same month of October, Marie Antoinette underwent her trial before the Revolutionary tribunal. Madame de Staël wrote an eloquent "defence of her conduct as queen, wife, and mother," addressed to the French nation; but those in power turned a deaf ear to all arguments in favour of the prisoner, and on the 16th of October Marie Antoinette was executed.
Fanny writes to her father: "The terrible confirmation of this last act of savage hardness of heart has wholly overset us again. M. d'Arblay [Page 187] had entirely discredited its probability, and, to the last moment, disbelieved the report; not from milder thoughts of the barbarous rulers of his unhappy country, but from seeing that the death of the Queen could answer no purpose, helpless as she was to injure them, while her life might answer some as a hostage with the Emperor. Good heaven! that that wretched princess should so finish sufferings so unexampled!
"With difficulties most incredible," she continues, "Madame de Staël has contrived, a second time, to save the lives of M. de Jaucourt and M. de Montmorenci, who are just arrived in Switzerland.[1] We know as yet none of the particulars; simply that they are saved is all; but they write in a style the most melancholy to M. de Narbonne, of the dreadful fanaticism of licence . . . that still reigns unsubdued in France.
"No answer comes from Mr. Pitt, and we now expect none till Sir Guilbert Elliot makes his report of the state of Toulon and of the Toulonese; till which no decision will be formed whether the Constitutionals in England will be employed or not."
M. d'Arblay's offer of serving in the expedition, we are told, "was not accepted," but before the [Page 188] answer reached Bookham "the attempt upon Toulon had proved abortive."
There is no doubt that both the Government and the Court looked with coldness and suspicion upon the party of the Constitutionels - the men who, through all the phases of the Revolution, alone had had the "enthusiasm of moderation." This feeling is shown in the attitude assumed by the Government towards Lafayette.
"The business of M. de Lafayette has indeed been extremely bitter to M. d'Arblay," writes his wife. "It required the utmost force he could put upon himself not to take some public part in it . . . . I was dreadfully uneasy during the conflict, knowing, far better than I can make him conceive, the mischiefs that might follow any interference at this moment in matters brought before the nation from a foreigner. But conscious of his own integrity, I plainly see he must either wholly retire or come forward to encounter whatever he thinks wrong."
---
Footnotes
1 These gentlemen had returned to France some months previously.