CHAPTER XX
A GLIMPSE OF THE GAY WORLD
DR. BURNEY'S letters to his daughter bring whiffs of excitement from the "gay world" into the quiet cottage at Bookham.
In an unpublished letter, preserved in the Burney family, dated April 14, 1794, the Doctor describes his first meeting with Madame Piozzi (Mrs. Thrale) after her second marriage - a marriage which had caused so much chagrin to her old friends - especially to Fanny. "Who, among others, should I have met with," he writes, "at Salomon's concert this day 7 night but Mr. and Mrs. Piozzi and all the Miss Thrales? The ladies all on the same sofa, and la mère in the middle. Mr. Piozzi caught my eye first, and we approached each other and shook hands, and talked of the music and performers before I knew the ladies were there. But on my hoping that la Signora sa consorte was well, he said she was there, pointing to a sofa close to the orchestra. When I hastened towards it, and met her eyes with their [Page 199] usual fire and good humour, she held out her hand and mine met it with great eagerness and pleasure. 'Why, here's Dr. Burney as young as ever.' 'Oh, I am but just made up,' quoth I, 'indeed, but just got up from a bed of sickness,' &c. &c. Well, we talked and laughed as usual, and I never saw her more lively, good-humoured and pleasant in my life. My old affection of her all returned, and I would have done anything possible to have shown it with the same empressement as in the best of Johnsonian, Thralian and Streatham times."
In the "Memoirs" of her father, Fanny, alluding to this meeting, writes: "The Bookhamite Recluse, to whom this occurrence was immediately communicated, received it with true and tender delight. Most joyfully would she, also, have held out her hand to that once-so-dear friend, from whom she could never sever her heart, had she happily been at this Salomonic party."
Reverting to politics in the same letter the Doctor continues: "Mrs. Crewe says very truly that 'we are now playing for life or death,' and adds, 'may the Jacobins, like true scorpions, finish by stinging each other.' . . . Her politics and mine now agree in toto.[1] Mr. C., still the dupe of Chas F., has gone to Chester, I fear, to [Page 200] oppose the subscription for augmenting the militia and raising a troop of Horse. 'No danger - all a Ministerial juggle - things in France exaggerated - we might make peace if we would - 'tis a cursed ruinous war - and might have been avoided'; these are the watchwords of our Mountaineers. And there are still Frenchmen here who say that in France tout est tranquille - vive la République!"
After alluding to M. d'Arblay's earnest desire to defend Lafayette against false accusations and to prove his innocence, Dr. Burney says: "But it would be difficult to convince the friends of our present Government or even that of Lord North . . . and his cause now being taken up by our most violent Jacobins . . . would render the task still more difficult . . . .
"God bless you - pray my best compliments to your industrious and wise gardener. I see nothing better or safer for him to do at present than to dig, delve and plant - but is it doing nothing to be happy?"
In the year (1794) "the happiness of the Hermitage," writes Madame d'Arblay, "was increased by the birth of a son, who was christened Alexander Charles Louis Piochard d'Arblay; receiving the names of his father, with those of his two godfathers, the Comte de Narbonne and Dr. Charles Burney." The child was born on [Page 201] December 18, and was baptized in Bookham Church on April 11 following.
We have seen a relic of this happy event in the shape of the baby's pincushion, now in the '' Burney parlour" at Camilla Lacey. The pins form the words "F. d'Arblay," on one side, and on the other "Long live the dear child."
"Oh, if you could see him now!" writes Fanny to her father, when the baby was nearly five months old. "He enters into all we think, say, mean, and wish! His eyes are sure to sympathise in all our affairs and all our feelings . . . . If he wants to be danced, we see that he has discovered that gaiety is exhilarating to us; if he refuses to be moved, we take notice that he fears to fatigue us. If he will not be quieted without singing, we delight in his early goût for les beaux-arts. If he is immovable to all we can devise to divert him, we are edified by the grand sérieux of his dignity and philosophy."
A month later she remarks in a postscript: "The bambino is half a year old this day. N. B. - I have not heard the Park or Tower guns. I imagine the wind did not set right!"
"My dear Fanny," writes Dr. Burney, "I have been such an évaporé lately! . . . . Three huge assemblies at Spencer House; two dinners at the Duke of Leeds'; two clubs; a déjeuner at Mrs. Crewe's villa at Hampstead; a dinner at Lord [Page 202] Macartney's; two ditto at Mr. Crewe's; two philosophical conversaziones at Sir Joseph Banks', Haydn's benefit; Salomon's ditto, &c. &c. What profligacy! . . . 'tis all vanity and exhalement of spirit. I am tired to death of it all, while your domestic and maternal joys are as fresh as the roses in your garden.
". . . I must tell you what happened at Mrs. Crewe's déjeuner. I arrived late, and met many people coming away, but still found the house and garden full of fashionables. It was a cold-lunch day, and, after eating was over, people went into the bit of a garden to a lottery, or to take a turn. Among the peripatetico-politicians, there was Lord Sheffield, the Master of the Rolls, Canning, with abundance of et ceteras, and Mr. Erskine. On meeting him and Mrs. Erskine we renewed last year's acquaintance. After we had passed each other several times we got into conversation, and what do you think about, but the reform of Parliament? He told me his whole plan of virtuous representation . . . . It is not to be quite universal suffrage at elections, which are to be triennial, &c.
"'Well, but,' says I quietly, 'can Government go on without influence, or a majority, unless its measures are good?'
"'Oh, yes; the people will be in good humour and easily governed.'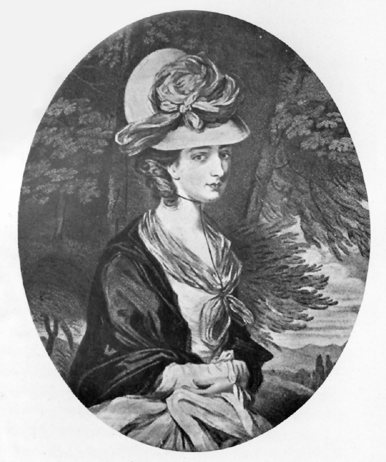 MRS. (AFTERWARDS LADY) CREWE
[Page 203] "'But, my good sir . . . if it is rendered easy to pull down Mr. Pitt, will it not be easy, likewise, to pull down Mr. Fox, or any successor?'
"He did not seem prepared for so queer a question; he shuffled about and gave me an equivocal No, which more clearly said Yes. All this while he had hold of my arm, and people stared at our intimacy, while that rogue Mrs. Crewe and the Marchioness of Buckingham were upstairs sitting at a window, wondering and laughing at our confabulation."
The Princess of Wales was at this déjeuner of Mrs. Crewe's, and, at her request, the Doctor was presented to her. "How do you do, Dr. Burney?" she said. "You and I are not strangers; you are very well known in Germany, and often mentioned there; car enfin, vous étes un homme célèbre." And referring to him for his opinion in some playful debate, she remarked: "Is it not so, Dr. Burney? You are a wise man and must know of the best."
"The next time her Royal Highness had music," continues the Doctor, "I was remembered for a summons to Blackheath . . . and here the Princess had the politeness and condescension to show me her plantations and improvements . . . . The music was so good, and her Royal Highness was so lively, that Mrs. Crewe, whom I had the honour to accompany, could not take leave till [Page 204] past one o'clock in the morning; and it was past six ere my jaded horses and I reached Chelsea College.
". . . When shall I have done with telling you of mes bonnes fortunes? Betty Carter, Hannah More, Lady Clarges - nay, t'other day at Dickey Coxe's, I met the Miss Berrys, as lively and accomplished as ever; and I have strong invites to their cottage at Strawberry Hill. What say you to that, ma'am? Torn to pieces, I declare!"

[A Baby's Pincushion]
---
Footnotes
1 A favourite toast at Brooks's Club was "Buff and blue and Mrs. Crewe."