CHAPTER XXII
ON THE TERRACE AT WINDSOR
THE first copies of "Camilla; or a Picture of Youth," in their beautiful binding, reached Bookham early in July, and immediately Madame d'Arblay, accompanied by her husband, set off for Windsor in order to present them herself to the King and Queen.
"I had written the day before," writes Fanny to her father, "to my worthy old friend Mrs. Agnew, the housekeeper erst of my revered Mrs. Delany, to secure us rooms for one day and night, and to Miss Planta[1] to make known I could not set out till late. When we came into Windsor at seven o'clock the way to Mrs. Agnew's was so intricate that we could not find it, till one of the King's footmen, recollecting me, I imagine, came forward a volunteer and walked by the side of the chaise to show the postilion the house. N.B. - No bad omen to worldly augurers! [Page 214] Arrived, Mrs. Agnew came forth . . . to conduct us to our destined lodgings."
Hardly had the travellers settled themselves in their rooms and begun to unpack their trunk when Miss Planta came from the Queen "with orders of immediate attendance."
"Mrs. Agnew was my maid," continues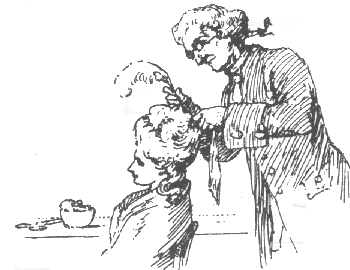 THE FRISEUR
Fanny, "Miss Planta my arranger; my landlord, who was a hairdresser, came to my head, and M. d'Arblay was general superintendent. The haste and the joy went hand-in-hand, and I was soon equipped.
". . . M. d'Arblay helped to carry the books as far as the gates . . . . At the first entry towards the Queen's Lodge we encountered Dr. Fisher and his lady; the sight of me there, in a dress announcing indisputably whither I was hieing, was [Page 215] such an astonishment that they looked at me rather as a recollected spectre than a renewed acquaintance. When we came to the iron rails poor Miss Planta, in much fidget, begged to take the books from M. d'Arblay, terrified, I imagine, lest French feet should contaminate the gravel within! - while he, innocent of her fears, was insisting upon carrying them as far as to the house, till he saw I took part with Miss Planta, and he was then compelled to let us lug in the ten volumes as we could.
". . . The Queen was in her dressing-room and with only the Princess Elizabeth. Her reception was the most gracious imaginable; yet when she saw my emotion in thus meeting her again, she was herself by no means quite unmoved. I presented my little - yet not small - offering, upon one knee, placing them, as she directed, upon a table by her side, and expressing, as well as I could, my devoted gratitude for her invariable goodness to me. She then began a conversation, in her old style, upon various things and people."
Presently the King came into the room on purpose to see Madame d'Arblay and to receive his copy of her book.
". . . The Queen then said: 'This book was begun here, sir.'
"' And what did you write of it here? ' cried he. 'How far did you go? Did you finish any part, or only form the skeleton?'
"'Just that, sir,' I answered; 'the skeleton was formed here, but nothing was completed. I worked it up in my little cottage.'"
Many questions followed from the good-natured and inquisitive King, such as: "About what time did you give to it?" "Are you much frightened? As much frightened as you were before?" He asked if her father had overlooked the work and whether Mr. Lock had seen it? On being answered in the negative, "he seemed comically pleased," she remarks, "to have it in its first stage, and laughingly said: 'So you kept it quite snug?'
"Presently he inquired who corrected my proofs.
"'Only myself,' I answered.
"'Why, some authors have told me,' cried he, 'that they are the last to do that work for themselves. They know so well by heart what ought to be, that they run on without seeing what is. They have told me, besides, that a mere plodding head is best and surest for that work; and that the livelier the imagination, the less it should be trusted to.'
"[The interview] broke up by the Queen saying, 'I have told Madame d'Arblay that if she can come again to-morrow, she shall see the [Page 217] Princesses.' The King . . . told me I should not know the Princess Amelia, she was so much grown, adding, 'She is taller than you!'
"I expressed warmly my delight in the permission of seeing their Royal Highnesses; and their Majesties returned to the concert-room. The Princess Elizabeth stayed, and flew up to me crying, 'How glad I am to see you here again, my dear Miss Burney! - I beg your pardon, Madame d'Arblay, I mean - but I always call all my friends by their maiden names when I first see them after they are married.'
". . . You will believe, my dearest father," continues his daughter, "how light-hearted and full of glee I went back to my expecting companion . . . . The next morning at eight or nine o'clock my old footman, Moss, came with Mlle. Jacobi's[1] compliments to M. and Madame d'Arblay, and an invitation to dine (with her) at the Queen's Lodge."
Miss Planta arrived at ten with her Majesty's summons for an audience at 12 o'clock. "I stayed meanwhile with good Mrs. Agnew," writes Fanny, "and M. d'Arblay made acquaintance with her worthy husband, who is a skilful and famous botanist, and lately made gardener to the Queen for Frogmore; so M. d'Arblay consulted him [Page 218] about our cabbages! and so, if they have not now a high flavour, we are hopeless."
This second interview with the Queen was long and friendly, and was followed by a hearty and affectionate welcome from each of the Princesses in their separate apartments. These over, M. d'Arblay joined his wife at the Queen's Lodge. "And there," writes Fanny, "I shall leave my dear father the pleasure of seeing us, mentally, at dinner at my ancient table - both invited by the Queen's commands."
What a contrast this meal must have offered to those Fanny used to take day after day in that same room, when suffering from the insolence and tyranny of Madame Schwellenberg!
"Just before we assembled to dinner," continues the writer, "Mlle. Jacobi desired to speak with me alone; and taking me to another room presented me with a folded little packet, saying, 'The Queen ordered me to put this into your hands and said, 'Tell Madame d'Arblay it is from us both.' It was an hundred guineas. I was confounded, and nearly sorry, so little was such a mark of their goodness in my thoughts. She added that the King, as soon as he came from the chapel in the morning, went to the Queen's dressing-room just before he set out for the levee, and put into her hands fifty guineas, saying, 'This is for my set!' The Queen answered, [Page 219] 'I shall do exactly the same for mine,' and made up the packet herself. 'Tis only,' she said, 'for the paper, tell Madame d'Arblay - nothing for the trouble!' meaning she accepted that.
"The manner of this was so more than gracious, so kind, in the words us both, that indeed the money at the time was quite nothing in the scale of my gratification; it was even less, for it almost pained me. However, a delightful thought that in a few minutes occurred made all light and blythesome. 'We will come, then,' I said, 'once a year to Windsor to walk on the Terrace and see the King, Queen, and the sweet Princesses. This will enable us, and I shall never again look forward to so long a deprivation of their sight.'"
After dining again the following day at the Queen's Lodge, General and Madame d'Arblay repaired to the Terrace. "The evening," she writes, "was so raw and cold that there was very little company, and scarce any expectation of the Royal Family; and when we had been there about half an hour the musicians retreated, and everybody was preparing to follow, when a messenger suddenly came forward, helter-skelter, running after the horns and clarionets, and hallooing to them to return. This brought back the straggling parties, and the King, Duke of York, and six Princesses soon appeared. [Page 220]
"I have never yet," continues Fanny, "seen M. d'Arblay agitated as at this moment; he could scarce keep his steadiness, or even his ground. The recollections, he has since told me, that rushed upon his mind of his own King and Royal House were so violent and so painful as almost to disorder him.
". . . The King stopped to speak to the Bishop of Norwich and some others at the entrance, and then walked on towards us, who were at the further end. As he approached, the Princess Royal said . . . 'Madame d'Arblay, sir'; and instantly he came on a step and then stopped and addressed me, and after a word or two of the weather, he said, 'Is that M. d'Arblay?' and most graciously bowed to him and entered into a little conversation, demanding how long he had been in the country, &c. &c. . . .
"M. d'Arblay recovered himself immediately upon this address, and answered with as much firmness as respect.
"Upon the King's bowing and leaving us, the Commander-in-Chief most courteously bowed also to M. d'Arblay, and the Princesses all came up to speak to me, and to curtsy to him."
As soon as they had all re-entered the Lodge and the d'Arblays were about to retire, the Princess Royal appeared, saying, "Madame d'Arblay, [Page 221] I come to waylay you," and she was carried off to the Queen's dressing-room for another audience, whilst the Princess herself repaired to Mlle. Jacobi's apartments to hold some conversation with M. d'Arblay.
"The Duchess of York was seated with the Queen, and after some lively talk about 'Camilla,' which the Queen had already peeped into, the latter remarked, 'Duchess, Madame d'Arblay is aunt of the pretty little boy you were so good to . . . .' The King asked an explanation:
"'Sir,' said the Duchess, 'I was upon the road near Dorking, and I saw a little gig overturned and a little boy was taken out and sat down upon the road. I told them to stop and ask if the little boy was hurt, and they said yes; and I asked where he was to go, and they said to a village just a few miles off; so I took him into my coach and carried him home.'"
The child in question was little Norbury.
The next day the d'Arblays left Windsor and turned their faces homewards, stopping, however, on the way to visit Mrs. Boscawan at Richmond and a Mr. Cambridge at Twickenham.
Fanny concludes her long letter to her father by saying: "At a little before eleven we arrived at our dear cottage, and to our sleeping bambino."
---
Footnotes
1 One of the ladies-in-waiting and a former colleague of Miss Burney.
1 The successor to Madame Schwellenberg.