CHAPTER XXVI
FAREWELL
ONCE more we are standing in the valley of Mickleham. It is early autumn. The corn been gathered in and the Norbury woods are already tinged with gold. We watch the low rays of the afternoon sun as they touch field and meadow and stately tree, and sparkle on the Mole as it emerges from its dark archway of spreading boughs.
Our "book is completed and closed like the day," for the story of Juniper Hall and of the various events that came to pass from the meetings of French and English within its walls has been told. The opening of the nineteenth century is destined to bring about many changes to the persons with whom we have been holding converse in these pages, and with its arrival our Mickleham episode comes to a close.
But ere we part from those persons we would make the circuit of the valley and look once more [Page 261] on the places where "wingéd Fancy" has brought them before us so often.
There, behind its grand spreading cedars, stands Juniper Hall, the arched windows of its sculptured drawing-room lighted up by the setting sun. We pass on our way, catching a glimpse of Juniper Hill on its terrace above the tree-tops, and so, following the road as it descends abruptly, we reach the village church - the church where the d'Arblays were married, and where the squire's pew still stands in which the Locks used to sit, and and where a tablet records their honoured names. Passing down the village street we come to a certain cottage "at the foot of Norbury Park" - the home of Mrs. Phillips; and almost fancy we can hear the voice of little Norbury at play in the garden. Then, entering the park, we climb a long steep hill, passing on our way the footpath to Bookham, till we reach the wide platform upon which stands Norbury House. Surely, if we entered its "Picture-room," we should find our friends assembled there! Leaving the terrace and its grand view behind us, we enter the solemn shade of the Druids' Walk, and, pursuing our way through the wood, come out upon the open country where stands Camilla Cottage, the heights of Ranmore rising beyond it. Some one is working in the meadow. Can it be General d'Arblay, with his sword for a pruning-hook? [Page 262] As the evening closes in we turn away, and, casting a last look at our loved valley, we bid it and all its associations "Farewell."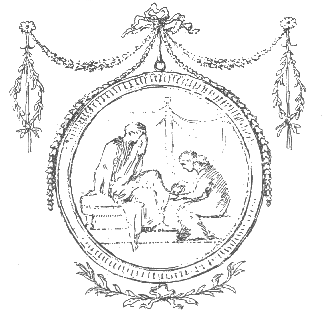 [Medallion. A Mural Decoration in Juniper Hall, and also in Norbury Park]