"Chapters XXXVI-XLVIII." by Liliuokalani, Queen of Hawaii (1838-1917)
From: Hawaii's Story by Hawaii's Queen (1898) by Liliuokalani, Queen of Hawaii (1838-1917)
MY CABINET – PRINCESS KAIULANI
ON the day following the final ceremonies of the royal funeral my cabinet was called together; and one hour before the ministers were to arrive, Mr. J. A. Cummins, who was the Minister of Foreign Affairs, made his appearance, and asked if I had any plans or purposes in regard to the approaching meeting. In reply to this I advised him of my wish that he should resign from the cabinet, and accept the appointment of governor of Oahu, to which office I thought he would be better suited, as his duties would call him out amongst the people.
I felt sure he would enjoy visiting the outside districts; while the life of a minister in the cabinet bound him to official matters of a burdensome and responsible nature not so well adapted to his character and abilities. But to this offer of consideration for him, I was told by Mr. Cummins that he preferred to remain in the ministry. "But," I suggested, "the question is, will the ministry remain?" To this he replied that he had no doubt of that; in fact, he was sure that they would not be dismissed. I did not argue the matter with him, but simply said, "Are you, then, decided, and do you decline the appointment of governor of Oahu?" "Yes," he repeated; "my determination is made, besides which I may be of use here to the down-town party."
The hour of ten arrived and the cabinet met. I inquired at the opening of the cabinet meeting what was the business of the day; to which reply was made that it was necessary that I should sign without any delay their commissions, that thus they might proceed to the discharge of their duties. "But, gentlemen," said I, "I expect you to send in your resignations before I can act." My reasoning was, that, if they were now cabinet ministers, why should they appeal to me to appoint them to the places which they already filled? They hesitated, and regarded each other. "No," I continued, "if you do not resign, I do not see how I can issue to you new commissions." This was a point to which they did not think I would call attention, a suggestion which they had not foreseen might come from me, and they scarcely knew which way to turn. They thought that, while holding their former commissions, I ought to issue to them new ones over my royal signature. As this did not agree with my views of the matter, I stated to them definitely that it must be a question for future consideration, and that it would be best to refer the point for decision to the Supreme Court. After a lengthy period of the greatest anxiety to me, it was announced by Chief Justice Judd that the decision was in my favor, and that the commissions of the present members of the cabinet expired with the death of the king.
The ground on which the ministers had based their scheme was, that the constitution distinctly stated that no change of ministry should take place except by a vote of "want of confidence" passed by the majority of the legislature. But while this was true, the document did not provide in any article for the continuance of the cabinet after the decease of the sovereign. It was, therefore, held by the chief justice that the ancient custom in this respect remained in force, and that commissions held under the deceased monarch gave no authority under his successor. Messrs. Cummins, Spencer, Brown, and Peterson, accordingly tendered their resignations, which I accepted, and then appointed: Mr. Samuel Parker, Minister of Foreign Affairs; Mr. C. N. Spencer, Minister of the Interior; Mr. H. A. Widemann, Minister of Finance; Mr. W. A. Whiting, Attorney-General; their commissions all bearing date of the 26th of February, 1891. Besides these appointments the position of chamberlain, being vacant by the absence of Hon. George W. Macfarlane, was filled by Mr. J. W. Robertson, who had been his assistant, and who subsequently proved to be a most efficient officer. Mr. Charles B. Wilson was appointed marshal.
While the matter was pending, arrangements were made for the meeting of the members of the House of Nobles for receiving the nominations of an heir apparent to the throne. On the ninth day of March, 1891, Princess Victoria Kaiulani, Kalaninuiahilapalapa Kawekiu i Lunalilo, daughter of my sister, Princess Miriam Kekauluohi Likelike and Hon. A. S. Cleghorn, was duly proclaimed heir apparent, and her nomination recognized by the United States ship-of-war Mohican by a salute of twenty-one guns.
MY HUSBAND MADE PRINCE CONSORT – HIS DEATH
IN July I made the usual royal tour of the islands. I was accompanied by my husband, Governor Dominis, and by Hon. Samuel Parker and Hon. W. A. Whiting of my cabinet. I visited Hawaii, Maui, and Molokai. At all the places in these islands where we stopped we were most cordially greeted and royally entertained by the people. Returning to Honolulu, we started out again for Kauai, but with a larger party than on the previous portion of the royal tour. I was now accompanied by Prince Kalanianaole, Hon. Samuel Parker, Mrs. C. A. Brown, Mrs. W. A. Aldrich, Mrs. C. H. Clark, Mrs. P. P. Kanoa, attended by her husband, Mrs. C. B. Wilson and her son, J. H. Wilson, Hon. E. K. Lilikalani, Hon. John K. Richardson, Mrs. Ulumaheihei, Hon. W. P. Kanealii, Hon. D. W. Pua, Mr. J. Kekipi, and Mr. and Mrs. Joseph Heleluhe. Greatly to our mutual regret, illness prevented my husband from being one of the party.
At Kauai we were most hospitably received and royally entertained by Mr. and Mrs. W. H. Rice. They took us to their handsome private residence at Lihue, to which there came all the principal people of the islands to pay respects. It was a great pleasure to me to receive these greetings, because up to this visit I had never seen so large an assembly of the principal people of that island. There were the Eisenbergs, the McBrides, the Wilcoxes, the Rices, the Smiths, some of these the living representatives of the oldest and best known of the missionary families. It seemed to me to be more like an assembling together of our societies in the city of Honolulu. Everything was done to make my arrival a most happy occasion to me by Mr. and Mrs. Rice, whose personal friends became my friends, and added their welcome to that of my genial hosts. My visit to Hanalei was made comfortable through the energy and kindness of Mr. Rice. In crossing from Hanalei through the sands of Hoohila, it was by reason of his personal guidance that the passage was made in safety, and that we reached the top of a high hill without accident.
Under the hospitable roof of Mr. and Mrs. Titcomb we spent a restful night; and on the morning following, boarding the steamer James Makee, our party bade farewell to all the kind friends at Lihue. From thence we proceeded to the island of Niihau, and landing, spent a very pleasant day on shore. Every attention was rendered to us by the manager who had charge of the island under appointment from the Gays. Horses and carriages were placed at our disposal, with which we rode through the country, and on our return found that we had been provided, by the forethought of this gentleman, with a luncheon of nice fat mutton; and as we returned with excellent appetites and were a large company, it soon disappeared. When evening came on we returned by the steamer to Kalapaki, where Mrs. Rice had preceded us and had a surprise in readiness. A grand sea-bath was proposed, to which we all gladly assented; and with scarcely an exception we refreshed ourselves in the cooling waters.
Then came the surprise, for under a grove of Hau trees growing back of their mansion-house was spread a most tempting table of good things. It was literally covered with the best of all that is produced in the whole extent of these islands. Nothing seemed lacking that could gratify the taste or tempt the appetite. Can it be possible that our genial host is the same man of whom, in narrating the events of the revolution of 1887, and the political troubles of Mr. Gibson, I have had occasion to speak, as showing later traits of an almost savage character? It is sad, but only too true. Moments sped quickly by, and time for departure came ere we were aware; so, bidding farewell to our entertainers and their numerous friends, we went on our way to Honolulu, where we arrived in the early part of the day following.
I found my husband somewhat better, but not yet able to leave his bed. He had not forgotten me during my absence, and had planned some surprises for me at our Waialua residence, which he desired to show to me himself. But he was too ill to undertake the journey. I was loth to leave him, and so hurriedly made the trip around the island of Oahu. Accompanied by Hon. Samuel Parker, Hon. J. A. Cummins, and others, we spent one night at the Kaneohe plantations, two nights at the residence of Mr. W. C. Lane, and passed only a little more time at Mr. Cecil Brown's.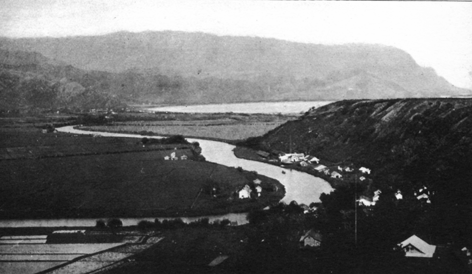 HANALEI VALLEY ON THE ISLAND OF KAUAI
At all of these places the people who came to receive us were delighted to have the opportunity to show their loyalty and manifest their love. We stopped at Kahuku, at Laie, amongst the residents of the Mormon faith, and then rode on to Waialua, where I found that my husband had indeed executed a great surprise for me. A large wooden lanai, or outer room, had been built, capacious enough to accommodate some one hundred and fifty or more persons. He had thought what a pleasure it would be to have this cool and pleasant resort, where, after the heat of the day or a row up the stream of Anahulu, I might take my comfort in sitting under the grateful shade, with all the friends I might select and invite to meet and rest with me there. It proved to be all that his kindness foresaw and desired, and also served as a reception-room for pleasant dances and other festivities.
After staying at Waialua a few days, where Mrs. Halstead and her husband, a well-known planter of that locality, entertained us, and also visiting some other prominent people of the district, we turned our steps toward Ewa, where Mrs. Kahelelaukoa Brown gave a grand luau in our honor. From thence our party returned to the city, making, as we entered its streets, quite an imposing cavalcade. At Washington Place I found my husband delighted to meet me, but I noticed with solicitude that he seemed to be very feeble. He grew weaker and weaker from this time until the morning of his death.
I was not expecting the immediate event, but watching in the room, when he motioned to me to approach his bedside, – I complied with the wish. Hon. Samuel Parker and Major W. T. Seaward entered about the same moment, and remained a few minutes with us. Out on the broad piazza at the farther end of the house were seated a few of my young lady friends, his faithful valet, Mainalulu, and the attendants, Mary Kamiki, Keamalu, and Kawelo. Dr. Trousseau, the physician in charge of the case, soon entered, and after a brief examination said that he thought the patient needed rest, and motioned to those who were present that they would be excused from the chamber. Accordingly they retired to the veranda, leaving me alone by my husband's bedside. This was at about one o'clock. I drew near to the foot of the bed, and stood where I could easily watch him while he was apparently sleeping. I had been thus standing but a few minutes when, noticing a slight quivering motion pass over his frame, I immediately went to his side, and then hastily called the friends in attendance and summoned the doctor. He examined the patient, and said that all was over. Just a few minutes before my husband passed away he made a peculiar motion of his hand which I have seen brethren of the Masonic fraternity use in the act of prayer. Was this the moment at which his spirit was taking its flight from earth, to enter that larger and grander brotherhood beyond the things which are seen?
The attending physician was quite affected by the death of Governor Dominis; for his friendship with my husband was one of many years standing, and they had the warmest esteem for each other. By this simple statement of fact, it will be noticed that I was entirely alone by the side of my husband when he died; but there have been words of the cruelest import uttered by those who were not there, and could have known nothing of the facts. May they be forgiven for the wrong done to me and to my husband's memory.
There was an immediate meeting of the ministers of my cabinet to decide what was to be done in regard to the obsequies of Governor Dominis. That evening the remains were removed to Iolani Palace, and were laid in state. This was on the twenty-seventh day of August, 1891. It was the general wish, and the decision of the cabinet ministers, that the honors customarily granted to the deceased sovereigns should be accorded to my husband. Consequently, the lying in state, the military guards, the watchers from the Masonic fraternity, the ladies in attendance bringing their leis, their garlands, their floral decorations, the kahili bearers with the plumes of office, all were employed in manner and detail as I have already described it in speaking of the funeral of my brother, His Majesty King Kalakaua. The day appointed for the final ceremonies arrived; and Governor Dominis was borne, with all the honors accorded to his brother the king, to his final resting-place, followed by many sincere mourners, who had, by the kind offices of which I have only made mention now, done all that could be done to soften my grief, and for whose sympathetic attentions I shall never cease to be grateful.
HAWAIIANS PLEAD FOR A NEW CONSTITUTION
AFTER my husband's death, my retainers at Waikiki (to each of whom I had set apart a lot of land, so that each family might have its own home, and, further, that these might be handed down for the use of their children and children's children), proposed to come and stay with me in the city. So I accorded to each family one week, that all might have a share in this kindly office. This rule was laid down by me, and carefully observed from the date of my husband's death.
This will be, perhaps, the place to mention a matter which has been made use of in an evil way by certain of my enemies. On my accession to the throne my husband had been made prince consort, and after my brother's burial I had proposed to him that he should move to the palace; but in his feeble health he dreaded the long stairs there, which he would be obliged to climb, so I proposed to have the bungalow put in repair, and that the entire house should be placed at his service.
With this proposition he was much pleased, and hopefully looked forward to the time when, recovering from his illness, he would be able to take possession of his new home. He asked that there might be a small gate opened near the bungalow, so that he might easily come and go without being obliged to go through the form of offering to the sentry the password required for entrance by the front gate. His wish was immediately granted, and instructions given to the Minister of the Interior to that effect. The bungalow was handsomely fitted up, and all things were made ready for his occupation; but owing to his continued and increasing ill-health he never moved into it.
Mr. C. B. Wilson and his wife (seeing that she was one of my beneficiaries, and in her younger days one for whom my husband and I had great consideration) asked if they might come and be near me. In response, I told them that they might take the room that had been occupied by the Princess Poomaikalani in the bungalow. That was all that passed between us about the matter. Mrs. Wilson and Mrs. Clark were in constant attendance upon me as ladies in waiting.
Mrs. Eveline Wilson from her childhood had professed a great fondness and love for me, and with two other young ladies, Lizzie Kapoli and Sophie Sheldon, had made my home theirs. Bright young girls, with happy hearts, and free from care and trouble, they made that part of my life a most delightful epoch to me. It was then that Mr. Wilson first sought the hand of pretty little Kittie Townsend. Thus we had known Mr. Wilson quite well as a young man when he was courting his wife. My husband and myself had warmly favored his suit; and, with his wife, he naturally became a retainer of the household, and from time to time they took up their residence with us. But one cannot always tell what a young man of promise may be when he arrives at full manhood.
Mr. Samuel Parker called on me one day, and, after discussing some cabinet affairs, asked me directly, if there was any truth in the report that I had called in the advice or sought the assistance of Mr. C. B. Wilson in public affairs. To this I very naturally demanded the reasons why he should ask such questions. He replied that Mr. Wilson had told persons down town that he knew of matters which were connected with the cabinet, and that it was through his advice that certain measures had been carried through. On the strength of these remarks, occasion had been taken by Mr. J. E. Bush and Mr. R. W. Wilcox to publish in their newspapers articles calculated to prove injurious to my reputation. I answered Mr. Parker that I consulted no one outside of my cabinet, and that no measures had ever been consummated excepting such as had been advised by the ministers. He recognized the truth of this statement, and communicated the substance of our conversation to his colleagues.
Mr. Bush and Mr. Wilcox at the very commencement of my regency had openly asked for billets of office; a favor I had scarcely the power, and certainly not the intention, to grant, because all the offices were then filled by men whom I thought were good, loyal, and true to the crown. Mr. Bush had further published articles in his paper which did not meet with my approval, for they were attacks upon my brother, the king. Was he at work with the opposition party at the time he solicited office? Whether this was so or not, his subsequent actions showed at least the deepest ingratitude towards myself, who had showered favors on him and on his family, educated his children, and kept them all from poverty. Mr. R. W. Wilcox I have spoken of elsewhere. It will be seen that he had also become one of my enemies.
I was recently told that Mr. Wilson, at the time of Mr. Wilcox's attempt in 1889, would enter the meetings which were held at the king's barracks, and then, leaving the assembly, would stealthily go around to the house of Mr. A. F. Judd, and report all that had transpired. I have had no experiences more painful than the evidences of ingratitude among those I have had reason to think my friends; and I sincerely hope that in this case I have been misinformed.
One evening, shortly after Mr. and Mrs. Wilson had moved into the bungalow, he presented himself at the Blue Room of the palace, and then first mentioned the idea that a new constitution should be promulgated. About two days after this suggestion I received a call from Mr. Samuel Nowlein, who alluded to the same matter. A few days after Mr. Joseph Nawahi, with Mr. William White, had an interview with me by their request, and called my attention to the same public need. Until these conversations, it had not occurred to me as possible to take such a step in the interest of the native people; but after these parties had spoken to me, I began to give the subject my careful consideration. Twice Mr. White spoke to me on the matter before I told him that I would like to have a conference with all, to listen to an expression of their views.
Accordingly a meeting was called to be held at Muolaulani Palace, at which there was to be an opportunity for them to compare their opinions and discuss them in my presence. I heard what the opinions of the gentlemen were, but gave them no intimation of my own ideas or intentions, for I had really come to no definite conclusion. When the assembly was opened, I noticed that Mr. Wilson was not present, nor did he attend any of the meetings which were held for the consideration of the matter of constitutional reform, but came singly and alone to speak to me on the subject. But it seems that all this time, while I was simply reflecting on the situation, each of them was going forward and engaging in the preparation or draft of a new constitution.
When completed, I was handed by one party a copy of that it proposed, and by Mr. Wilson I was given a copy of the one on which he had been engaged. After reading both over, I employed a young man, simply because he was a very neat penman, to make copies; his name was W. F. Kaae, but he was usually called Kaiu. This is worthy of mention, because I subsequently discovered that, while upon this work for me, he took copies to Mr. A. F. Judd for the examination of that gentleman. It can readily be seen by what kind of persons I was surrounded; it must be remembered that I now write with a knowledge of recent events, but that then I had the fullest confidence in the loyalty of those who professed to be my friends.
The election of 1892 arrived, and with it the usual excitement of such occasions. Petitions poured in from every part of the Islands for a new constitution; these were addressed to myself as the reigning sovereign. They were supported by petitions addressed to the Hui Kalaaina, who in turn indorsed and forwarded them to me. It was estimated by those in position to know, that out of a possible nine thousand five hundred registered voters, six thousand five hundred, or two-thirds, had signed these petitions. To have ignored or disregarded so general a request I must have been deaf to the voice of the people, which tradition tells us is the voice of God. No true Hawaiian chief would have done other than to promise a consideration of their wishes.
My first movement was to inquire of the parties active in the matter what they had to propose. I asked the Hui Kalaaina if they had any draft of a constitution prepared for my examination. The committee replied that they had not. After leaving my presence, they applied to Mr. W. R. Castle, and requested him to draw one out for them. Soon after the committee again entered my presence, this time bearing a neatly written document; but whether it had been drawn by Mr. Castle or by others, it is difficult for me to say. This I handed back to the committee, telling them to keep it until some future day, when I would ask them for it; because I did not intend at that moment to make any announcement of my purposes.
September 1st, 1892, witnessed the opening of the legislative assembly. There was nothing lacking of that pomp and display which had been first inaugurated in the days of Kanikeaouli, the third of the Kamehamehas. These forms and ceremonies were suggested and taught to the Hawaiian people by Dr. G. P. Judd, Mr. W. Richards, and Mr. R. Armstrong, men who originally came to Hawaii with no other avowed object than that of teaching the religion of Jesus Christ; but they soon resigned their meagre salaries from the American Board of Commissioners for Foreign Missions, and found positions in the councils or cabinets of the Kamehamehas more lucrative and presumably more satisfactory to them.
Lunalilo had an official staff, and many of his aids-de-camp were white men, as also happened with Kamehameha V., Kalakaua, and all the recent Hawaiian sovereigns. Dr. E. Hoffman, Mr. W. F. Allen, Mr. M. T. Monserrat, Mr. Prendergast, and many others whose names I might mention, have been perfectly willing to wear the uniform of the crown, to display their gilt lace and brass buttons on state occasions, and to ride richly caparisoned horses with shining accoutrements through our streets; and as long as the missionary party chose the men that were to be thus decked out, honored, and exhibited, it was never alleged that the Hawaiian kings loved display, and sought pomp and fuss and feathers. Yet what had our earlier monarchs ever done for the public good? Individually, nothing. They had acquiesced in the course laid down for them by the missionaries. The government established by these pious adventurers was the government of the day.
Those of their number who were able to get into government service drew their salaries faithfully, and spent or saved as they saw fit, but observed a truly "religious" silence as to the folly of spending money on public displays. This is the more remarkable, because there were other ways, even then, of securing treasury deficiencies. I remember that when G. P. Judd, W. Richards, and R. Armstrong were cabinet ministers, a deficiency so inexplicable occurred that the cabinet was required to resign immediately, and to one of the retiring members the popular appellation "kauka-kope-kala" subsequently adhered pretty tenaciously. I refrain from translating, as the title is not one of honor; but it still clings to the family as an heirloom.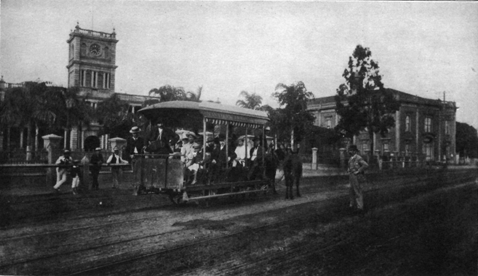 KING STREET, WITH GOVERNMENT BUILDING AND OPERA HOUSE
It is more to the point that Kalakaua's reign was, in a material sense, the golden age of Hawaiian history. The wealth and importance of the Islands enormously increased, and always as a direct consequence of the king's acts. It has been currently supposed that the policy and foresight of the "missionary party" is to be credited with all that he accomplished, since they succeded in abrogating so many of his prerogatives, and absorbing the lion's share of the benefits derived from it. It should, however, be only necessary to remember that the measures which brought about our accession of wealth were not at all in line with a policy of annexation to the United States, which was the very essence of the dominant "missionary" idea. In fact, his progressive foreign policy was well calculated to discourage it.
And for this reason, probably, they could not be satisfied even with the splendid results which our continued nationality offered them. They were not grateful for a prosperity which must sooner or later, while enriching them, also elevate the masses of the Hawaiian people into a self-governing class, and depose them from that primacy in our political affairs which they chiefly valued. They became fiercely jealous of every measure which promised to benefit the native people, or to stimulate their national pride. Every possible embarrassment and humiliation were heaped upon my brother. And because I was suspected of having the welfare of the whole people also at heart (and what sovereign with a grain of wisdom could be otherwise minded?), I must be made to feel yet more severely that my kingdom was but the assured prey of these "conquistadores."
As I have said, the legislature was opened, and began its daily sessions. The usual measures were brought in, one after another, for consideration by the representatives of the people. But all other matters were persistently thrust aside in order to give time for the repeated dismissals of cabinets. By the account given by me of the revolution of 1887, it will be noticed that the constitution forced upon my brother at that date made the sovereign inferior to the cabinet. The ministry must be appointed by the monarch, but once appointed had absolute control over every measure, nor could the monarch dismiss them, and only a vote of the legislature could deprive them of their portfolios. That provision made the cabinet, as I have shown in previous pages, a perpetual foot-ball in the hands of political parties.
Therefore, this session of the legislature, instead of giving attention to measures required for the good of the country, devoted its energies to the making and unmaking of cabinets. I think there were four rapidly commissioned by me and voted out. But at this point I call attention to the statement which I made to Hon. James H. Blount, the commissioner charged with the work of investigating the circumstances of the over-throw of the constitutional government of the Hawaiian Islands. In that statement will be found the matter which properly supplements this chapter, and need not be again detailed in this memoir. It naturally, together with some review of events already related, forms the connecting link between the opening ceremonies of the legislature and the enforced abdication of my authority.
Selected by reason of his perfect impartiality and long acquaintance with foreign affairs, this gentleman was sent out by His Excellency Grover Cleveland, President of the United States, and arrived in Honolulu on the twenty-ninth day of March, 1893. In July Mr. Blount made his final report, to which I need only allude to say that, as is well known, after digesting a mass of testimony on both sides, he decided that I was the constitutional ruler of the Hawaiian Islands. It was at this time that I made to him the statement which will be found in the closing pages of this volume. 1
Of the manner in which Hon. J. H. Blount conducted the investigation, I must speak in the terms of the highest praise. He first met the parties opposed to my government, and took down their statements, which were freely given, because they had imagined that he could be easily turned in their favor. So they gave him the truth, and some important facts in admission of their revolutionary intentions, dating from several years back. Mr. Blount afterwards took the statements of the government, or royalist side. These were simply given, straightforward, and easily understood. Compare the two statements, and it is not difficult to explain the final report of Mr. Blount. All the evidence can be reviewed by any person who may wish to do so, and a judgment formed of the men who caused this revolution, as it has been bound in volumes, and can be seen at the Library of Congress in the Capitol at Washington.
THE "CRIMES I AM CHARGED WITHAL."
THE three "intolerable" measures with which my government stands charged by those who succeeded in enlisting the aid of so powerful an ally as the United States in this revolution are as follows: –
First, – That I proposed to promulgate a new constitution. I have already shown that two-thirds of my people declared their dissatisfaction with the old one; as well they might, for it was a document originally designed for a republic, hastily altered when the conspirators found that they had not the courage to assassinate the king. It is alleged that my proposed constitution was to make such changes as to give to the sovereign more power, and to the cabinet or legislature less, and that only subjects, in distinction from temporary residents, could exercise suffrage. In other words, that I was to restore some of the ancient rights of my people. I had listened to whatever had been advised, had examined whatever drafts of constitutions others had brought me, and promised but little.
But, supposing I had thought it wise to limit the exercise of suffrage to those who owed allegiance to no other country; is that different from the usage in all other civilized nations on earth? Is there another country where a man would be allowed to vote, to seek for office, to hold the most responsible of positions, without becoming naturalized, and reserving to himself the privilege of protection under the guns of a foreign man-of-war at any moment when he should quarrel with the government under which he lived? Yet this is exactly what the quasi Americans, who call themselves Hawaiians now and Americans when it suits them, claimed the right to do at Honolulu.
The right to grant a constitution to the nation has been, since the very first one was granted, a prerogative of the Hawaiian sovereigns. The constitution of 1840 was drawn at Lahaina by a council aided by missionary graduates, but promulgated by the king without any appeal to other authority. That of 1852 was drawn by Dr. Judd, John II., and Chief Justice Lee. It was submitted to the legislature, not to the people, and, as amended by the members, became the law of the land. In 1864 there was an attempt to hold a constitutional convention: but, as I have shown in this history, Prince Lot, or, as he then was, Kamehameha V., dissolved the convention, because dissatisfied with its inaction, and in a week's time declared the former constitution abrogated; and, without asking a vote from anybody, gave the land a new and ably drawn constitution, under which the country was prosperously ruled for twenty-three years, or until it was overthrown by aliens determined to coerce my brother. Then followed their own draft of 1887, which also was never ratified by any deliberative assembly.
Such, in brief, is the history of constitution making in Hawaii; and from this mere statement of the facts it will be seen that of all the rulers of the Hawaiian Islands for the last half-century, I was the only one who assented to a modification of the existing constitution on the expressed wishes, not only of my own advisers, but of two-thirds of the popular vote, and, I may say it without fear of contradiction, of the entire population of native or half-native birth. Yet, with the above historical record before them in a book written and printed by one of their own number, the missionary party have had the impudence to announce to the world that I was unworthy longer to rule, because on my sole will and wish I had proposed to overthrow "the constitution."
Second, – I am charged by my opposers with signing a lottery bill. I have already shown, in the communication of the cabinet to my brother, and the ruling of the Supreme Court supporting their view, that, according to the "bayonet" constitution, made and enforced by the missionary party, the sovereign shall and must sign such measures as the cabinet presents for signature. This is, in another form, an absolute denial of the power of the veto. But even had I held veto power, it may be noted here that on many accounts the bill was popular. No one would have been more benefited than my accusers. The government of Hawaii was to take no part in the lottery, but was to receive a fixed and openly stated sum of money for its charter. Among the advantages guaranteed was that the projectors should build a railroad around the large island of Hawaii, thus employing the people and benefiting land-holders.
We were petitioned and besought to grant it by most of the mercantile class of the city, – shopkeepers, mechanics, manufacturers, – in fact, all the middle class of the people. Nor is the reason at all difficult to state by any one who knows our community. When the people of native and part native birth prosper, business is good and the community is prosperous. The prosperity brought by the reciprocity treaty and the sugar plantations had disappointed our expectations. The money went into the hands of the few, who safely invested in foreign interests and enterprises every dollar of it, save the amount of wages paid to foreign and Mongolian labor. But the advantages to be received from the charter of this, which in some American localities is called a "gift enterprise," would be immediately put in circulation among our own people, because spent on much-needed public works, and thus would bring some little prosperity to them parallel to that enjoyed by foreigners.
I am not defending lotteries. They are not native productions of my country, but introduced into our "heathen" land by so-called Christians, from a Christian nation, who have erected monuments, universities, and legislative halls by that method. I am simply explaining what this bill intended, because, by the reports sent to their correspondents in the United States, the missionary party represented me as a grand vender of lottery tickets, by which I was to become rich and powerful; whereas the scheme, be it good or bad, would not have been to my individual profit, but to that of my native people.
Third, – I proposed to issue licenses for the importation and sale of opium. I did think it would be wise to adopt measures for restricting and controlling a trade which it is impossible to suppress. With a Chinese population of over twenty thousand persons, it is absolutely impossible to prevent smuggling, unlawful trade, bribery, corruption, and every abuse. There were more scandals connected with the opium traffic than I have the time to notice here. Some of the most prominent citizens have been connected with these affairs, and frauds have been unearthed even in the custom-house itself. The names of Mr. Parks, of Mr. W. F. Allen, and more recently of Mr. Henry Waterhouse, have been associated with some very questionable dealings in this drug; and it may be doubted whether the practice of hushing up such matters is favorable to good morals in any community. The Provisional Government seems to have had no scruples in the matter; for the sons of the missionaries exported a large quantity of confiscated opium, and sold it for fifty thousand dollars in British Columbia.
The British government has long since adopted license instead of prohibition, and the statute proposed among the final acts of my government was drawn from one in use in the British colonies; yet I have still to learn that there has been any proposition on the part of the pious people of London to dethrone Her Majesty Queen Victoria for issuing such licenses.
I have thus, for the first and only time, reviewed the position of my opponents in regard to the only public charges which they made against my administration of government; and the reader can judge if all or any of them are of a nature to justify revolt against authority, and the summoning of aid of a foreign vessel of war, as they outrageously stated at the time, – "to protect American life and property!"
My appointments of cabinet officers were never given the test of experience; because the ministry was invariably voted out by the legislature "for want of confidence" without just cause, and in one notable instance within an hour or so from the time when I sent in the names. It is a matter of great satisfaction to me when I look back at the actions of that legislature, to reflect that none of the ministers of my selection have ever been voted out for any crime, for any defalcation in their accounts, or for failure in the exercise of their duties in public office. But it is a source of sincere regret to me that the members of that legislative assembly should have so forgotten themselves, the dignity of their position, and the responsibility with which the people had intrusted them as representatives, as to permit themselves to behave in such an unpatriotic manner.
The Macfarlane cabinet was one of the greatest popularity amongst the Hawaiian people on account of the stand Mr. Macfarlane took in the House, and his courage in replying to the false and uncalled-for speeches of J. L. Stevens, the American Minister resident.
OVERTHROW OF THE MONARCHY
AFTER the so-called Provisional Government had been recognized by Minister Stevens, and I had referred in writing my case to the United States, there was no more for me to do but retire in peace to my private residence, there to await the decision of the United States government. This I did, and cautioned the leaders of my people to avoid riot or resistance, and to await tranquilly, as I was doing, the result of my appeal to the power to whom alone I had yielded my authority. While in Washington in 1897, I had prepared for me as brief a statement as possible from official documents there of the reference of my case to the decision of the United States government as arbitrator in the matter. 1
It has been my endeavor, in these recollections, to avoid speaking evil of any person, unless absolutely demanded by the exigencies of my case before the public. I simply state facts, and let others form their own judgment of the individuals. But of Minister John L. Stevens it must be said that he was either mentally incapable of recognizing what is to be expected of a gentleman, to say nothing of a diplomatist, or he was decidedly in league with those persons who had conspired against the peace of Hawaii from the date of the "Queen's Jubilee" in 1887. Several times in my presence, to which he had access by virtue of his official position, he conducted himself with such a disregard of good manners as to excite the comment of my friends.
His official dispatches to his own government, from the very first days of his landing, abound in statements to prove (according to his view) the great advantage of an overthrow of the monarchy, and a cession of my domains to the rule of the United States. His own daughter went as a messenger to the largest one of the islands of my kingdom to secure names for a petition for the annexation of the Hawaiian Islands to the American Union, and by an accident lost her life, with the roll containing the few names she had secured. All this took place while he was presumed to be a friendly minister to a friendly power, and when my minister was under the same relation to his government. Of his remarks regarding myself personally I will take no notice, further than to say that, by his invitation, I attended a very delightful lunch party at his house a few months before the United States troops were landed.
Mr. Albert F. Willis arrived in Honolulu on Saturday, the fourth day of November, 1893. He came from San Francisco on the same steamer with Rev. Dr. C. M. Hyde, the local representative or agent of the American Board of Missions. By this gentleman Mr. Willis was approached and informed, until he became imbued with Dr. Hyde's own prejudices against the native people of the Hawaiian Islands and against their queen. That clergyman's propensity to speak evil of his neighbor may be recalled by those who read his remarks about the late lamented Father Damien. One of the first acts of Mr. Willis was to send for me to come to his residence, which I did, accompanied by my chamberlain, Mr. Robertson. Was it the place of the lady to go to the house of the gentleman, or for the latter to call on the lady? I leave it for others to decide. As for myself, I simply felt that I would undertake anything for the benefit of my people.
At this time men were going about town with firearms; shots were at times flying about the city, whistling through the air, or penetrating houses to the great danger of the occupants; and no one was responsible for the local disorder. Words of harm towards my person had been openly spoken by the revolutionists; spies were in my household, and surrounded my house by day and by night; spies were also stationed at the steps of the Congregational church opposite my residence, to take note of those who entered my gates, how long they remained, and when they went out. My respect for true religion prevents my stating the active part one of the preachers of God's Word took in this espionage. It was under these circumstances that I prepared to visit Mr. Willis in accordance with his request.
On entering the house of Mr. Willis, Mr. Mills directed me into the parlor, while he and Mr. Robertson entered the opposite room. A Japanese screen divided the apartments. I was seated on the sofa when Mr. Willis, entering, took a chair, and sat down just in front of me, near the screen. He informed me that he was the bearer of the kindest greetings from President Cleveland, and that the President would do all in his power to undo the wrong which had been done. He then asked if I would consent to sign a proclamation of general amnesty, stating that I would grant complete protection and pardon to those who had overthrown my government. I told him that I would consult my ministers on that matter. The suggestion did not seem to meet with his approval.
I well knew, and it has been conclusively shown in this history, that my actions could not be binding or in any way recognized unless supported by the ministers in cabinet meeting. This was according to law, and according to the constitution these very persons had forced upon the nation. Perhaps Mr. Willis thought that all he had to do was to propose, and then that my place was to acquiesce. But he asked again for my judgment in the matter as it stood, and seemed determined to obtain an expression of opinion from me. I told him that, as to granting amnesty, it was beyond my powers as a constitutional sovereign. That it was a matter for the privy council and for the cabinet. That our laws read that those who are guilty of treason should suffer the penalty of death.
He then wished to know if I would carry out that law. I said that I would be more inclined personally to punish them by banishment, and confiscation of their property to the government. He inquired again if such was my decision. I regarded the interview as an informal conversation between two persons as to the best thing for the future of my country, but I repeated to him my wish to consult my ministers before deciding on any definite action. This terminated the consultation, excepting that Mr. Willis specially requested me not to mention anything concerning the matter to any person whomsoever, and assured me he would write home to the government he represented.
He did so. It was a long month before he could receive any reply; but when it came he communicated the fact to me, and asked for another interview at his house. This time he also inquired if there was any other person I would like to have with me. I suggested the name of Mr. J. O. Carter, at which the American minister seemed to be highly pleased. So at the stated hour we met. This time Mr. Willis had present as his stenographer Mr. Ellis C. Mills, afterward American consul-general at Honolulu. He first read me what he said were some notes of our former interview. From whence did these come? By Mr. Willis's own proposition we were to be entirely alone during that interview, and to all appearance we were so. Was there a stenographer behind that Japanese screen? Whatever the paper was, Mr. Willis finished the reading of it, and asked me if it was correct. I replied, "Yes."
Doubtless, had I held the document in my hand, and had I been permitted to read and examine it, for the eye perceives words that fall unheeded on the ear, I should then have noticed that there was a clause which declared that I was to have my opponents beheaded. That is a form of punishment which has never been used in the Hawaiian Islands, either before or since the coming of foreigners. Mr. Willis then asked me if my views were the same as when we met the first time; and I again said "Yes," or words to that effect. Mr. Carter inquired if I rescinded so much of Mr. Willis's report as related to the execution of the death penalty upon those in revolt. To this I replied, "I do in that respect."
Yet, notwithstanding the fact was officially reported in the despatches of Mr. Willis, that I especially declared that my enemies should not suffer the death penalty, I found to my horror, when the newspapers came to Honolulu from the United States, that the President and the American people had been told that I was about to behead them all! There is an old proverb which says that "a lie can travel around the world while the truth is putting on its boots." That offensive charge was repeated to my hurt as often as possible; although I immediately send my protest that I had not used the words attributed to me by Mr. Willis in our informal conversation, and that at my first official interview with him I had modified (so far as my influence would go) the law of all countries regarding treason.
At the interview held Saturday, Dec. 16, I did decline to promise executive clemency, and gave as my reason that, this being the second offence of these individuals, they were regarded as dangerous to the community. That their very residence would be a constant menace; that there never would be peace in my country, or harmony amongst the people of different nations residing with us, as long as such a disturbing element remained, especially after they had once been successful in seizing the reins of government. But on Monday, Dec. 18, Mr. Willis came to Washington Place; and again acting under the advice of Hon. J. O. Carter, I gave to him a document recognizing the high sense of justice which had prompted the action of Mr. Cleveland, and agreeing that, in view of his wishes, the individuals setting up or supporting the Provisional Government should have full amnesty in their persons and their property, if they would work together with me in trying to restore peace and prosperity to our beautiful and once happy islands.
It was most unfortunate that the American minister should have so misrepresented me, or that I should have so misunderstood him, or that his stenographer (if there was one concealed at that interview) should have blundered, or that I should have been so overburdened by the many aspects of the painful situation as to be ignorant or unconscious of the importance of the precise words read in my presence. The only official communication made by me was to the effect that there should be perfect amnesty, and this was made in recognition of President Cleveland's courtesy and justice.
Events proved that it would not have made the least difference what I had said or what I had not said; for these people, having once gained the power, were determined never to relinquish it. Mr. Dole wrote to the American minister charging him with being in correspondence with me, and demanded of Mr. Willis if he was acting in any way hostile to his, that is, the Provisional Government. The very next day Mr. Willis sent word to Mr. Dole that he had a communication to make to him. So, Dec. 20, Mr. Willis went to President Dole, and delivered his message from President Cleveland, in which Mr. Dole was asked to resign that power which he had only obtained through the acts of Minister Stevens and the United States troops. Mr. Willis's speech is a full and explicit confession of the ground taken by my government, that it was overthrown by a conspiracy to which the United States, through its minister, was a party; and after assuring Mr. Dole that I had granted full amnesty to all parties, asked him to resign and restore the old order of things. Mr. Willis says in his latest utterance on the subject: –

"It becomes my duty to advise you of the President's determination of the question which your action and that of the queen devolved upon him, and that you are expected to relinquish to her her constitutional authority. In the name of and by the authority of the United States of America, I submit to you the question, 'Are you willing to abide by the decision of the President?'"

Could there be any plainer recognition than this that I was the constitutional ruler of my people?
And yet I cannot help calling attention to the difference in the treatment accorded to the two parties, and their reference to the United States. Three days were given to Mr. Dole to consider Mr. Cleveland's decision, as announced by Mr. Willis. The documents were placed in his hands to study over; and were he disposed he could call together his associates, compare their opinions, and then return a carefully written and diplomatic answer. This he did, under the date of the 23rd of December, at midnight, when he himself delivered his response to Mr. Willis. In contrast, I, a lone woman, was sent an order to go to the residence of a gentleman until that moment a stranger to me. Without the least warning of the nature of the communication to be made to me, and without a moment's deliberation or consultation with friendly counsellors, I was urged to give my opinion as to matters which in any government should be decided only after careful consideration; and then my first immature impressions of the claims of my people and of justice were telegraphed broadcast, while my official and subsequent proclamation of the entire amnesty was hardly noticed. And yet, all this time, by Mr. Willis's own words, I was recognized by the United States as the constitutional sovereign of the Hawaiian Islands.
The Hawaiian people almost worship the name of President Cleveland; for he has tried to do what was right, and it was only because he was not supported by Congress that his efforts were not successful. Mr. Dole's answer, as could have been predicted by any who know the men composing the missionary party, was a refusal to comply with the request of President Cleveland. But, none the less, my grateful people will always remember that, in his message to Congress and in his official acts, Mr. Cleveland showed the greatest anxiety to do that which was just, and that which was for the honor of the nation over which he had been elected chief ruler. He has always had from me the utmost respect and esteem.
SOME IMPORTANT INQUIRIES
THE first annexation commission was sent to Washington by the parties who had been prominent in the overthrow of the monarchy during the closing days of the administration of President Harrison. When Mr. Carter and his fellow-commissioners, Messrs. Thurston, Wilder, Castle, and Marsden, arrived in Washington, President Harrison and Secretary Foster had received my letter of protest, so that they had ample time to consider the situation before the so-called commissioners were presented at the executive mansion. Yet, after having been fully warned by the statements in my letter, these men were received diplomatically.
I was the constitutional ruler the last time the Department of State had heard from the Islands.
The minister bearing my commission and seal was at that moment residing at the national capital.
I had informed President Harrison and his Secretary of State of the unjust and fraudulent actions of the revolutionists, of the well-known aid and counsel they had received from Mr. John L. Stevens, the American minister, and the substantial assistance given by the forces of the United States ship Boston, under command of Captain Wiltse, through which agencies, and those alone, my government had been overthrown.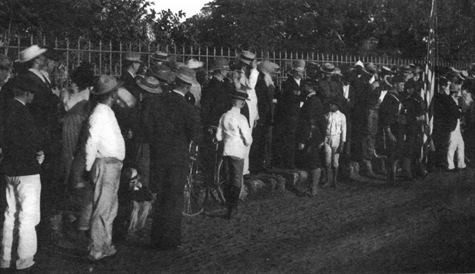 PALACE SQUARE IN FRONT OF IOLANI PALACE
ADMIRAL SKERRETT REVIEWING THE MEN OF THE U.S.S. "BOSTON"
I had asked that justice should be done, and that the rights of my people should be restored.
President Harrison chose to set aside my statement and petition, and give audience to these irresponsible commissioners, sending to the Senate a treaty which, without the least authority, they offered to him.
These commissioners were self-chosen; but even allowing that they had been selected by the missionary party, with whom they were in sympathy, yet that was a mere petty minority, – only 637 voters against 9,500 of Hawaiian birth and nationality. Yet their proposition was certainly sent to the Senate, while no action whatever was ever taken upon mine, although in this I did not represent myself individually, but the constitutional government and the real people of Hawaii. I have been informed, since I visited Washington in 1897, that the Senate decided that these acts of President Harrison amounted to a recognition of the Provisional Government. Why should this be so, when it was a mere proposal placed before the President, and by him transmitted as such to the Senate? It was there simply for their consideration. No vote was taken on the question up to the day when it was withdrawn by his successor, President Cleveland. The pretence of recognition to these irresponsible commissioners was unjust to me, as well as a wrong to the Hawaiian people.
In contrast to this, the wise step taken by President Cleveland in sending a commissioner to investigate the situation was fair to both sides, and carried out by the man of his choice in a thoroughly impartial manner. When Mr. Cleveland was finally forced into some kind of recognition of the missionary party, he used these words, that he recognized "the right of the Hawaiian people to choose their own form of government." My people have had no choice since the Provisional Government came into power.
Nothing of importance seems to have transpired during the early part of the year 1894. All this time, however, the Hawaiian people were waiting with patience to hear from the American continent that justice was to be done, and their constitutional rights restored by the great power to which they had trusted.
No messages or communications of any kind were made to me all this time by the American minister, and none were sent to me from Washington by the Department of State. Why was this? By Mr. Cleveland's decision, by Mr. Gresham's despatches to Mr. Willis, by the declarations of that gentleman publicly made to Mr. Dole, I, Liliuokalani, was the constitutional sovereign of the Hawaiian Islands; why should I have been kept in complete ignorance of all that was taking place at Washington, while the petty minority of alien residents, who had been summoned by the American minister "in the name of the United States of America to resign power and authority," should receive official despatches which ought to have been delivered to me?
Just before he left the Islands, Mr. Blount impressed upon me with great solemnity the importance of the continuance of the peaceful attitude of the Hawaiian people, assuring me that if any disturbance should take place on our part it would prompt the United States to send vessels of war to the port, men would again be landed, and the result would be the loss of the independence of our country. Believing that he spoke by authority, and that the day of release from the oppression of the stranger was near, I continued from the day of my retirement at Washington Place to impress upon all the necessity for abstaining from riot or disturbance.
The people listened to my voice, and obeyed my will with a submission that kept the community free from disorder far more than any law or restraint of that which has called itself a government. Many a time I have heard that the Hawaiians would no longer submit to their oppressors, that they were about to appeal to fire and the sword; but I have always dissuaded them from commencing any such measures. This discontent was not confined to the people of native or even part native birth. Those of foreign ancestry not in sympathy with the revolutionists, those whose daily comfort had been disturbed or whose business had been made unprofitable or ruined by the rich and powerful missionary party, appealed to me and my friends to restore the old order of things, that prosperity might again smile on the majority, instead of being locked up in the bank accounts of a very few.
It subsequently became known to me through other sources, although not until long after the date about which I now write, that the Senate had taken matters out of the hands of President Cleveland, and had conducted an independent investigation in the city of Washington, at which O. P. Emerson, Peter C. Jones, Z. S. Spalding, W. D. Alexander, Lieutenant Lucien Young, Mr. E. K. Moore, L. G. Hobbs, W. T. Swinburne, Lieutenant Laird, Mr. A. F. Judd, W. C. Wilder, J. H. Soper, A. S. Wilcox, C. Bolte, Geo. N. Wilcox, John Emmeluth, C. L. Carter, F. W. McChesney, W. B. Oleson, J. A. McCandless, Minister John L. Stevens, James F. Morgan, William R. Castle, L. A. Thurston, Dewitt Coffman, M. Stelker, William S. Bowen, P. W. Reeder, Charles L. Macarthur, Admiral George Belknap, N. B. Dalameter, Francis R. Day, Rev. R. R. Hoes, W. E. Simpson, N. Ludlow, and S. N. Castle, gave either by affidavit or in person their testimony against me.
So far as the above individuals knew anything whatever about the affairs of Hawaii, they were conspirators against my government; the obscurely known amongst the number were from those who had been, as one of them stated, simply rusticating at the Islands a while, and had been poisoned against the native people by my enemies. Not a single witness on the side of constitutional government was examined by the committee, if I except Hon. James H. Blount, who was called, and courageously repeated all the statements of his report to Mr. Cleveland.
Yet on such ex parte testimony as this, the Senate made a lengthy and partisan report, which I never had an opportunity to examine until my residence in Washington during the winter of 1897. It is altogether too long to find admittance here, but its meaning can be expressed in a very few words. It says that, rightfully or wrongfully, the native monarchy had been overthrown, the parties who succeeded in this fraud and imposition had been acknowledged as a government by the administration of Mr. Harrison, and therefore the question would not be reopened nor the facts reviewed by the United States!
Where was proper consideration given to my own statement to President Harrison, made through my commissioner, Mr. Paul Neumann? Why were not the petitions of the patriotic leagues of my people put into the inquiry? Why was not the fact that there was such an inquiry going on communicated to me? Why were my enemies informed of that which was in progress, so that they could hurry to Washington, or send their testimony, while not one of my friends was given the opportunity to raise a voice on behalf of the disfranchised Hawaiian people or their persecuted queen? Whatever may be the answers to these questions, it is true that no message ever reached me. No further communication was ever made to me by the American minister, nor did I even hear, except through the most vague kind of rumor, that probably no more would be done in the cause of justice. Even the fact of the decision of the Senate was not communicated to me; yet it seems that it was all settled the last week of February, 1894, on the testimony of the above aliens.
Since the bold admissions of members of the missionary party made to Minister Blount of their own guilt, since the confession, by those who had established themselves at the head of a provisional government, of the intended crime of which my brother was to be the victim, all of which appears in black and white on the pages of their own testimony, the scornful title of "P. G." has clung to them, to their children, and will be passed down to their children's children. After the truth was made public they became ashamed to hear themselves called "P. G.'s," and, repudiating the name, called themselves instead "Annexationists."
The so-called Provisional Government began in the spring of 1894 to consider again a change of name. So they allowed a few of their chosen tools to vote for what was called a constitutional convention, of which the original conspirators, to the number of nineteen, who had no warrant for their position save their own self-given nominations, and eighteen others in sympathy with them, enacted what they called a constitution; and in order to have some guns fired at its adoption, and to curry favor with the United States, they announced the so-called Republic on the fourth of July, 1894, and it was declared from the steps of Iolani Palace, while the vessels of war in the harbor were saluting for a totally different occasion.
During that same month, Mr. Samuel Parker had mentioned to me the necessity, in his opinion, of sending a Hawaiian commissioner to the United States to see what could be done for our people. Mr. Cornwell also consulted me upon the same matter. By conference with these gentlemen, it was decided that, instead of sending five commissioners, as we had at first designed to do, that Hon. Samuel Parker, Mr. John A. Cummins, Judge H. A. Widemann, with Major W. T. Seaward as secretary, should visit the capital of the United States, and represent those in Hawaii, whether native or foreign, opposed to the missionary party, that so the government of the majority might get a hearing in the councils of that great nation to which alone I yielded my authority.
What was the result of this commission? That is impossible for me to say. They went and they returned. They brought me no papers giving an official account of their proceedings or actions while on the mission. Each had some bit of information to communicate verbally. About the only definite remark which recurs to me now is, that Secretary Gresham had informed them that Mr. Cleveland was suffering from a slight illness, and would be unable to see them for three or four days, at which intelligence they became discouraged, and left Washington. They had absolutely nothing to show me for their time and the expenditure of my money.
A month after word was sent to me that the merchants of Honolulu, who were in sympathy with the monarchy, had decided to send Judge Widemann on a foreign mission in our interests, at which I was pleased, and acquiesced in the choice. He was gone about three months, and again returned with only a verbal statement to the effect, that, while on his way to England, he had heard that that nation was sending a message of recognition to the Republic of Hawaii. He continued on his journey as far as Germany, where he reported that the minister to whom he meant to present the statement of our side of the case was absent from the country on a tour of business or pleasure. So Judge Widemann returned without any favorable results.
All the expenses of these commissions from the very commencement, when I sent Mr. Paul Neumann to follow the original commissioners of the first supporters of the rebellion, were paid by me from my private purse. And from the seventeenth of January to the present hour, that remains true of every effort which has been made to induce the government of the United States to act under the righteous decision of its President, Grover Cleveland, supported by the impartial report of Hon. James H. Blount. No one, outside or inside the Hawaiian Islands, has contributed a cent to the repeated outlays I have made for the good of the Hawaiian people.
Further, from the date of the overthrow of the constitutional monarchy to the present day, I have never received from the Provisional Government, nor from its successor, the "Republic of Hawaii," a single cent of income from any source whatever. Even those revenues of the crown lands which had been collected prior to the seizure of the public treasury by the insurgents, and which remained in the hand of the commissioner at the time of my retirement from public life, were never paid to me. What became of these moneys I do not say, but not a dollar of it was ever handed to me.
For four years and more, now, these people have confiscated and collected the revenues reserved from all time in order that the chief highest in rank, that is, the reigning sovereign, might care for his poorer people. Never were the revenues of these lands included in government accounts. They comprised 915,000 acres out of a total extent of four millions, or about one-quarter, and yield an income of about $50,000 a year. They are by legislative act and rulings of the Supreme Court my own property at this day. But notwithstanding this, the doctrine that might makes right seems to prevail; and not content with depriving me of my income, and employing it to forward their own schemes, the present government is now striving to cede these lands, which they do not own and never can own, to the United States.
ATTEMPT TO RESTORE THE MONARCHY
AT the time of the return of Mr. Widemann from abroad, the intensity of the feeling was at its height amongst the Hawaiian people that something should be done to save the country. Of their own accord they bought rifles, pistols, and other arms, stealthily keeping these for future use. During this time, too, they were privately informed where arms belonging to the men in power were kept; for although it is generally conceded all over the world, and common sense would seem to show how one should act towards one's enemies, yet there was the strangest intermingling of those of the two parties, which were called the "Royalists" and the "P. G.'s." Instead of recognizing each other as enemies, and keeping apart as such, they associated as in former days.
Visiting went on just the same, exchanges of thought and opinion were the same. The Royalists, open hearted and free of speech, socially ignored the fact that the P. G.'s were, in every material sense, their enemies. These latter kept the situation in view, and with soft words studied to worm out of the unsuspecting all that they could in the way of information as to Royalist hopes and plans, that the particulars might be communicated to the P. G. government.
Moreover, many who swore allegiance to the "Republic of Hawaii" began to regret bitterly that they ever permitted themselves to support the revolutionary party. They had been in comfortable circumstances, had even laid aside for a rainy day, and felt that the savings of their years of prosperity would find them independent in life's decline. But since the overthrow of honest government they had lost, or been forced to spend, all they had accumulated, and the little business left to them would scarcely sustain their families.
Weary with waiting, impatient under the wrongs they were suffering, preparations were undoubtedly made amongst some in sympathy with the monarchy to overthrow the oligarachy. How and where these were carried on, I will not say. I have no right to disclose any secrets given in trust to me. To the time of which I now write their actions had been peaceful, out of respect and obedience to their queen. If, goaded by their wrongs, I could no longer hold them in check with reason; if they were now, by one accord, determined to break away, and endeavor, by a bold stroke, to win back their nationality, why should I prohibit the outburst of patriotism? I told them that if the mass of the native people chose to rise, and try to throw off the yoke, I would say nothing against it, but I could not approve of mere rioting.
On Jan. 6, 1895, came the beginning of a revolt. For three months prior to that date my physician, Dr. Donald McLelan, had been in attendance on me, and, as I was suffering very severely from nervous prostration, prescribed electricity. For two years I had borne the long agony of suspense, a terrible strain, which at last made great inroads on my strength.
The knowledge of the secreting of arms on my premises, the distribution of munitions of war amongst the people who were guarding my house and grounds, has been imputed to me. Whether any arms were brought there, where they were, or what they were, I never took occasion to inquire. I never saw a single pistol or rifle by day or by night. I remember that I had occasion to scold my gardener for the disturbed condition in which I often found my plants. It seemed as though some persons had been digging up the ground, and replacing disturbed soil. But no arms were secreted by me or by my orders about the place, from the roof to the cellar, or from one end to the other of the garden, nor were any kept there to my knowledge, save parlor rifles and harmless old-fashioned muskets.
My husband had a passion for collecting ancient specimens of firearms, and for this purpose he set apart in the yard a small cottage which had once been a favorite retreat of his bachelor days. He had everything arranged prettily, and on its walls was a formidable show of antiquated instruments of war. I recall the appearance of one very old Arabian musket, which he took special pride in exhibiting to his friends. There was also an old-fashioned flute, and a sword which, so it was said, had formerly belonged to General Washington.
There were many other relics of antiquity in this line, which had been contributed by his friends, – large pistols and small pistols, loading with ramrods from the muzzle, clubs and spears from the South Sea Islands; and, in fact, it was quite a cabinet of curiosities of obsolete warfare.
He had, during his lifetime, rifles and shotguns of modern style of manufacture, which he took with him on his visits to the estates of Hon. Samuel Parker, or when we went to our country residence at Waialua. But these latter, after his death, were appropriated by his personal friends; and there was therefore nothing on the place by which the least harm to any one could be done. Yet it was on the opening of this curiosity shop, as harmless as any gallery of family portraits, that the word was passed around town that a large quantity of firearms of different styles had been found secreted in a small house on the grounds of the queen.
I slept quietly at home the night of the outbreak. The evening before Captain Samuel Nowlein came in, and told me that his party was in readiness. This must have been about eight o'clock in the evening, as the meeting in the Congregational church had just begun as Captain Nowlein bade me farewell. He had not been gone very long when there seemed to be quite a commotion amongst the church members. They appeared to be hastening from the building. By this time it was quite dark. I retired, and heard nothing more about the uprising until the morning following. When Captain Nowlein went, he had left the premises under guard of one Charles H. Clark. The men who were usually on duty about my estate were still at their stations, without any firearms, without the least appearance of anticipated disturbance.
Now, as to the disturbance itself. At six o'clock in the afternoon of the sixth day of January, it was telephoned from Diamond Head that there was a conspiracy developed into action, and that the parties engaged therein would be found at the house of Mr. Henry Bertelmann. Captain Robert Waipa Parker took some half dozen native policemen with him, and started for the locality. On their way they stopped at the house of Mr. Charles L. Carter, son of the Hon. H. A. P. Carter, whom they informed of the nature of their errand. Upon hearing it, Mr. Carter immediately said that he would like to go with them, and "have a little fun too," and suited the action to the word by clapping two pistols into his belt. When they arrived at the Bertelmann place there was some resistance, and shots were exchanged between the police and the persons assembled there. In the course of the fray Mr. Carter was shot. It was reported that the wound was not in a locality where it would be likely to be at all dangerous, yet he soon expired. A policeman received a shot through the lungs at the same time, but he is alive and well to-day. These, I believe, were all the serious casualties of the day.
I AM PLACED UNDER ARREST
ON the sixteenth day of January, 1895, Deputy Marshal Arthur Brown and Captain Robert Waipa Parker were seen coming up the walk which leads from Beretania Street to my residence. Mrs. Wilson told me that they were approaching. I directed her to show them into the parlor, where I soon joined them. Mr. Brown informed me that he had come to serve a warrant for my arrest; he would not permit me to take the paper which he held, nor to examine its contents.
It was evident they expected me to accompany them; so I made preparations to comply, supposing that I was to be taken at once to the station-house to undergo some kind of trial. I was informed that I could bring Mrs. Clark with me if I wished, so she went for my hand-bag; and followed by her, I entered the carriage of the deputy marshal, and was driven through the crowd that by this time had accumulated at the gates of my residence at Washington Place. As I turned the corner of the block on which is built the Central Congregational church, I noticed the approach from another direction of Chief Justice Albert F. Judd; he was on the sidewalk, and was going toward my house, which he entered. In the mean time the marshal's carriage continued on its way, and we arrived at the gates of Iolani Palace, the residence of the Hawaiian sovereigns.
We drove up to the front steps, and I remember noticing that troops of soldiers were scattered all over the yard. The men looked as though they had been on the watch all night. They were resting on the green grass, as though wearied by their vigils; and their arms were stacked near their tents, these latter having been pitched at intervals all over the palace grounds. Staring directly at us were the muzzles of two brass field pieces, which looked warlike and formidable as they pointed out toward the gate from their positions on the lower veranda. Colonel J. H. Fisher came down the steps to receive me; I dismounted, and he led the way up the staircase to a large room in the corner of the palace. Here Mr. Brown made a formal delivery of my person into the custody of Colonel Fisher, and having done this, withdrew.
Then I had an opportunity to take a survey of my apartments. There was a large, airy, uncarpeted room with a single bed in one corner. The other furniture consisted of one sofa, a small square table, one single common chair, and iron safe, a bureau, a chiffonier, and a cupboard, intended for eatables, made of wood with wire screening to allow the circulation of the air through the food. Some of these articles may have been added during the days of my imprisonment. I have portrayed the room as it appears to me in memory. There was, adjoining the principal apartment, a bath-room, and also a corner room and a little boudoir, the windows of which were large, and gave access to the veranda.

THE QUEEN'S GUARDS AND THE BARRACKS
Colonel Fisher spoke very kindly as he left me there, telling me that he supposed this was to be my future abode; and if there was anything I wanted I had only to mention it to the officer, and that it should be provided. In reply, I informed him that there were one or two of my attendants whom I would like to have near me, and that I preferred to have my meals sent from my own house. As a result of this expression of my wishes, permission was granted to my steward to bring me my meals three times each day.
That first night of my imprisonment was the longest night I have ever passed in my life; it seemed as though the dawn of day would never come. I found in my bag a small Book of Common Prayer according to the ritual of the Episcopal Church. It was a great comfort to me, and before retiring to rest Mrs. Clark and I spent a few minutes in the devotions appropriate to the evening.
Here, perhaps, I may say, that although I had been a regular attendant on the Presbyterian worship since my childhood, a constant contributor to all the missionary societies, and had helped to build their churches and ornament the walls, giving my time and my musical ability freely to make their meetings attractive to my people, yet none of these pious church members or clergymen remembered me in my prison. To this (Christian?) conduct I contrast that of the Anglican bishop, Rt. Rev. Alfred Willis, who visited me from time to time in my house, and in whose church I have since been confirmed as a communicant. But he was not allowed to see me at the palace.
Outside of the rooms occupied by myself and my companion there were guards stationed by day and by night, whose duty it was to pace backward and forward through the hall, before my door, and up and down the front veranda. The sound of their never-ceasing footsteps as they tramped on their beat fell incessantly on my ears. One officer was in charge, and two soldiers were always detailed to watch our rooms. I could not but be reminded every instant that I was a prisoner, and did not fail to realize my position. My companion could not have slept at all that night; her sighs were audible to me without cessation; so I told her the morning following that, as her husband was in prison, it was her duty to return to her children. Mr. Wilson came in after I had breakfasted, accompanied by the Attorney-general, Mr. W. O. Smith; and in conference it was agreed between us that Mrs. Clark could return home, and that Mrs. Wilson should remain as my attendant; that Mr. Wilson would be the person to inform the government of any request to be made by me, and that any business transactions might be made through him.
On the morning after my arrest all my retainers residing on my estates were arrested, and to the number of about forty persons were taken to the station-house, and then committed to jail. Amongst these was the agent and manager of my property, Mr. Joseph Heleluhe. As Mr. Charles B. Wilson had been at one time in a similar position, and was well acquainted with all my surroundings, and knew the people about me, it was but natural that he should be chosen by me for this office.
Mr. Heleluhe was taken by the government officers, stripped of all clothing, placed in a dark cell without light, food, air, or water, and was kept there for hours in hopes that the discomfort of his position would induce him to disclose something of my affairs. After this was found to be fruitless, he was imprisoned for about six weeks; when, finding their efforts in vain, his tormentors released him. No charge was ever brought against him in any way, which is true of about two hundred persons who were similarly confined.
On the very day I left the house, so I was informed by Mr. Wilson, Mr. A. F. Judd had gone to my private residence without search-warrant; and that all the papers in my desk, or in my safe, my diaries, the petitions I had received from my people, – all things of that nature which could be found were swept into a bag, and carried off by the chief justice in person. My husband's private papers were also included in those taken from me.
To this day, the only document which has been returned to me is my will. Never since have I been able to find the private papers of my husband nor of mine that had been kept by me for use or reference, and which had no relation to political events. The most important historical note lost was in my diary. This was the record made by me at the time of my conversations with Minister Willis, and would be especially valuable now as confirming what I have stated of our first interview.
After Mr. Judd had left my house, it was turned over to the Portuguese military company under the command of Captain Good. These militiamen ransacked it again from garret to cellar. Not an article was left undisturbed. Before Mr. Judd had finished they had begun their work, and there was no trifle left unturned to see what might be hidden beneath. Every drawer of desk, table, or bureau was wrenched out, turned upside down, the contents pulled over on the floors, and left in confusion there. Some of my husband's jewelry was taken; but this, in my application and offer to pay expenses, was afterwards restored to me.
Having overhauled the rooms without other result than the abstraction of many memorandums of no use to any other person besides myself, the men turned their attention to the cellar, in hopes possibly of unearthing an arsenal of firearms and munitions of war. Here they undermined the foundations to such a degree as to endanger the whole structure, but nothing rewarded their search. The place was then seized, and the government assumed possession; guards were placed on the premises, and no one was allowed to enter.
IMPRISONMENT – FORCED ABDICATION
FOR the first few days nothing occurred to disturb the quiet of my apartments save the tread of the sentry. On the fourth day I received a visit from Mr. Paul Neumann, who asked me if, in the event that it should be decided that all the principal parties to the revolt must pay for it with their lives, I was prepared to die? I replied to this in the affirmative, telling him I had no anxiety for myself, and felt no dread of death. He then told me that six others besides myself had been selected to be shot for treason, but that he would call again, and let me know further about our fate. I was in a state of nervous prostration, as I have said, at the time of the outbreak, and naturally the strain upon my mind had much aggravated my physical troubles; yet it was with much difficulty that I obtained permission to have visits from my own medical attendant.
About the 22d of January a paper was handed to me by Mr. Wilson, which, on examination, proved to be a purported act of abdication for me to sign. It had been drawn out for the men in power by their own lawyer, Mr. A. S. Hartwell, whom I had not seen until he came with others to see me sign it. The idea of abdicating never originated with me. I knew nothing at all about such a transaction until they sent to me, by the hands of Mr. Wilson, the insulting proposition written in abject terms. For myself, I would have chosen death rather than to have signed it; but it was represented to me that by my signing this paper all the persons who had been arrested, all my people now in trouble by reason of their love and loyalty towards me, would be immediately released. Think of my position, – sick, a lone woman in prison, scarcely knowing who was my friend, or who listened to my words only to betray me, without legal advice or friendly counsel, and the stream of blood ready to flow unless it was stayed by my pen.
My persecutors have stated, and at that time compelled me to state, that this paper was signed and acknowledged by me after consultation with my friends whose names appear at the foot of it as witnesses. Not the least opportunity was given to me to confer with any one; but for the purpose of making it appear to the outside world that I was under the guidance of others, friends who had known me well in better days were brought into the place of my imprisonment, and stood around to see a signature affixed by me.
When it was sent to me to read, it was only a rough draft. After I had examined it, Mr. Wilson called, and asked me if I were willing to sign it. I simply answered that I would see when the formal or official copy was shown me. On the morning of the 24th of January the official document was handed to me, Mr. Wilson making the remark, as he gave it, that he hoped I would not retract, that is, he hoped that I would sign the official copy.
Then the following individuals witnessed my subscription of the signature which was demanded of me: William G. Irwin, H. A. Widemann, Samuel Parker, S. Kalua Kookano, Charles B. Wilson, and Paul Neumann. The form of acknowledgment was taken by W. L. Stanley, Notary Public.
So far from the presence of these persons being evidence of a voluntary act on my part, was it not an assurance to me that they, too, knew that, unless I did the will of my jailers, what Mr. Neumann had threatened would be performed, and six prominent citizens immediately put to death. I so regarded it then, and I still believe that murder was the alternative. Be this as it may, it is certainly happier for me to reflect to-day that there is not a drop of the blood of my subjects, friends or foes, upon my soul.
When it came to the act of writing, I asked what would be the form of signature; to which I was told to sign, "Liliuokalani Dominis." This sounding strange to me, I repeated the question, and was given the same reply. At this I wrote what they dictated without further demur, the more readily for the following reasons.
Before ascending the throne, for fourteen years, or since the date of my proclamation as heir apparent, my official title had been simply Liliuokalani. Thus I was proclaimed both Princess Royal and Queen. Thus it is recorded in the archives of the government to this day. The Provisional Government nor any other had enacted any change in my name. All my official acts, as well as my private letters, were issued over the signature of Liliuokalani. But when my jailers required me to sign "Liliuokalani Dominis," I did as they commanded. Their motive in this as in other actions was plainly to humiliate me before my people and before the world. I saw in a moment, what they did not, that, even were I not complying under the most severe and exacting duress, by this demand they had overreached themselves. There is not, and never was, within the range of my knowledge, any such a person as Liliuokalani Dominis.
It is a rule of common law that the acts of any person deprived of civil rights have no force nor weight, either at law or in equity; and that was my situation. Although it was written in the document that it was my free act and deed, circumstances prove that it was not; it had been impressed upon me that only by its execution could the lives of those dear to me, those beloved by the people of Hawaii, be saved, and the shedding of blood be averted. I have never expected the revolutionists of 1887 and 1893 to willingly restore the rights notoriously taken by force or intimidation; but this act, obtained under duress, should have no weight with the authorities of the United States, to whom I appealed. But it may be asked, why did I not make some protest at the time, or at least shortly thereafter, when I found my friends sentenced to death and imprisonment? I did. There are those now living who have seen my written statement of all that I have recalled here. It was made in my own handwriting, on such paper as I could get, and sent outside of the prison walls and into the hands of those to whom I wished to state the circumstances under which that fraudulent act of abdication was procured from me. This I did for my own satisfaction at the time.
After those in my place of imprisonment had all affixed their signatures, they left, with the single exception of Mr. A. S. Hartwell. As he prepared to go, he came forward, shook me by the hand, and the tears streamed down his cheeks. This was a matter of great surprise to me. After this he left the room. If he had been engaged in a righteous and honorable action, why should he be affected? Was it the consciousness of a mean act which overcame him so? Mrs. Wilson, who stood behind my chair throughout the ceremony, made the remark that those were crocodile's tears. I leave it to the reader to say what were his actual feelings in the case.
BROUGHT TO TRIAL
SO far was my submission from modifying in any way the course of the government, that the principal prisoners were, after all, condemned to death. Their sentences were passed the same as though my signature had not been obtained. That they were not executed is due solely to a consideration which has been officially stated: "Word came from the United States that the execution of captive rebels would militate against annexation. That about settled it."
Proceedings against me, personally, were not modified. Every day thereafter papers were brought to me from the office of President Dole, a legal service, I suppose it is called, being made on me by Major George C. Potter, an aid-de-camp of the president's staff. In the first of these I found myself charged with the crime of "treason." After about a week had gone by, the accusation was changed to "misprision of treason." The substance of my crime was that I knew my people were conspiring to re-establish the constitutional government, to throw off the yoke of the stranger and oppressor; and I had not conveyed this knowledge to the persons I had never recognized except as unlawful usurpers of authority, and had not informed against my own nation and against their friends who were also my long-time friends.
The names of those who had informed, and by whose testimony I was to be convicted, were Captain Samuel Nowlein, Charles H. Clark, W. W. Kaae, Charles Warren, Keahikaauwai, George H. Townsend, and Captain Davies of the steamer Waimanalo.
February 5th was to be the day of my trial. After the summons had been served, Mr. Paul Neumann, in consultation with Mr. Wilson, called to consult with me, as it had been a question whether or not I should personally appear in court, as it would be undignified and humiliating. Humiliation! What had I left? It was the intention of the officers of the government to humiliate me by imprisoning me, but my spirit rose above that. I was a martyr to the cause of my people, and was proud of it. So I told them that I would attend; and on the morning of the 8th, at the hour appointed, Sergeant Kenake appeared, and conducted me, attended by Mrs. Wilson, to the court-room.
It was the former throne room of the palace, and was crowded with curious spectators. The diplomatic corps, Mr. Albert F. Willis, Minister of the United States, A. G. S. Hawes, British Commissioner, Monsieur De Verlet, French Commissioner, Senior Canavarro, Portuguese Commissioner, and Mr. F. Schmibu, the Japanese Consul, were all present. There were also ministers of the gospel, and a liberal representation from all classes, including many ladies of Honolulu society. In the centre of the room was the table before which the Military Commission (as it was called) was convened. It was before such an audience and by such a tribunal that I was to be tried for treason.
At one end of the table sat Mr. W. A. Whiting, as president of the court. He had once, early in my reign, been Attorney-general, and a member of my cabinet. Opposite to him was Mr. W. A. Kinney, the Judge Advocate. Besides these there were some half-dozen young men, – Colonel Fisher, Messrs. Zeigler, Camara, Pratt, Wilder, W. C. and J. W. Jones, – none of them names of any prominence or responsibility in the community.
The trial proceeded, Mr. A. F. Judd being the first to give his testimony against me. I cannot recall all that was said or done, nor is it necessary; but I know that, to make complete the work of saving the lives of my friends, I was compelled to testify as in the statement, and to affirm that it was through the advice of other friends I abdicated.
The only charge against me really was that of being a queen; and my case was judged by these, my adversaries, before I came into court. I remember with clearness, however, the attack upon me by the Judge Advocate, the words that issued from his mouth about "the prisoner," "that woman," etc., uttered with such affectation of contempt and disgust. The object of it was evidently to humiliate me, to make me break down in the presence of the staring crowd. But in this they were disappointed. My equanimity was never disturbed; and their own report relates that I throughout preserved "that haughty carriage" which marked me as an "unusual woman."
I said nothing to their taunts and innuendoes, and showed no emotion; but when the proper time came, I denied that I had been guilty of any treasonable action, and asked my counsel to submit the following statement : –

"In the year 1893, on the fifteenth day of January, at the request of a large majority of the Hawaiian people, and by and with the consent of my cabinet, I proposed to make certain changes in the constitution of the Hawaiian kingdom, which were suggested to me as being for the advantage and benefit of the kingdom, and subjects and residents thereof. These proposed changes did not deprive foreigners of any rights or privileges enjoyed by them under the constitution of 1887, promulgated by King Kalakaua and his cabinet, without the consent of the people or ratified by their votes.
"My ministers at the last moment changed their views, and requested me to defer all action in connection with the constitution; and I yielded to their advice as bound to do by the existing constitution and laws.
"A minority of the foreign population made my action the pretext for overthrowing the monarchy, and, aided by the United States naval forces and representative, established a new government.
"I owed no allegiance to the Provisional Government so established, nor to any power or to any one save the will of my people and the welfare of my country.
"The wishes of my people were not consulted as to this change of government, and only those who were in practical rebellion against the constitutional government were allowed to vote upon the question whether the monarchy should exist or not.
"To prevent the shedding of the blood of my people, natives and foreigners alike, I opposed armed interference, and quietly yielded to the armed forces brought against my throne, and submitted to the arbitrament of the government of the United States the decision of my rights and those of the Hawaiian people. Since then, as is well known to all, I have pursued the path of peace and diplomatic discussion, and not that of internal strife.
"The United States having first interfered in the interest of those founding the government of 1893 upon the basis of revolution, concluded to leave to the Hawaiian people the selection of their own form of government.
"This selection was anticipated and prevented by the Provisional Government, who, being possessed of the military and police power of the kingdom, so cramped the electoral privileges that no free expression of their will was permitted to the people who were opposed to them.
"By my command and advice the native people and those in sympathy with them were restrained from rising against the government in power.
"The movement undertaken by the Hawaiians last month was absolutely commenced without my knowledge, sanction, consent, or assistance, directly or indirectly; and this fact is in truth well known to those who took part in it.
"I received no information from any one in regard to arms which were, or which were to be, procured, nor of any men who were induced, or to be induced, to join in any such uprising.
"I do not know why this information should have been withheld from me, unless it was with a view to my personal safety, or as a precautionary measure. It would not have received my sanction; and I can assure the gentlemen of this commission that, had I known of any such intention, I would have dissuaded the promoters from such a venture. But I will add that, had I known, their secrets would have been mine, and inviolately preserved.
"That I intended to change my cabinet, and to appoint certain officers of the kingdom, in the event of my restoration, I will admit; but that I, or any one known to me, had, in part or in whole, established a new government, is not true. Before the 24th of January, 1895, the day upon which I formally abdicated, and called upon my people to recognize the Republic of Hawaii as the only lawful government of these Islands, and to support that government, I claim that I had the right to select a cabinet in anticipation of a possibility; and history of other governments supports this right. I was not intimidated into abdicating, but followed the counsel of able and generous friends and well-wishers, who advised me that such an act would restore peace and good-will among my people, vitalize the progress and prosperity of the Islands, and induce the actual government to deal leniently, mercifully, charitably, and impassionately with those who resorted to arms for the purpose of displacing a government in the formation of which they had no voice or control, and which they themselves had seen established by force of arms.
"I acted of my own free will, and wish the world to know that I have asked no immunity or favor myself, nor plead my abdication as a petition for mercy. My actions were dictated by the sole aim of doing good to my beloved country, and of alleviating the positions and pains of those who unhappily and unwisely resorted to arms to regain an independence which they thought had been unjustly wrested from them.
"As you deal with them, so I pray that the Almighty God may deal with you in your hours of trial.
"To my regret much has been said about the danger which threatened foreign women and children, and about the bloodthirstiness of the Hawaiians, and the outrages which would have been perpetrated by them if they had succeeded in their attempt to overthrow the Republic government.
"They who know the Hawaiian temper and disposition understand that there was no foundation for any such fears. The behavior of the rebels to those foreigners whom they captured and held shows that there was no malignancy in the hearts of the Hawaiians at all. It would have been sad indeed if the doctrine of the Christian missionary fathers, taught to my people by them and those who succeeded them, should have fallen like the seed in the parable, upon barren ground.
"I must deny your right to try me in the manner and by the court which you have called together for this purpose. In your actions you violate your own constitution and laws, which are now the constitution and laws of the land.
"There may be in your consciences a warrant for your action, in what you may deem a necessity of the times; but you cannot find any such warrant for any such action in any settled, civilized, or Christian land. All who uphold you in this unlawful proceeding may scorn and despise my word; but the offence of breaking and setting aside for a specific purpose the laws of your own nation, and disregarding all justice and fairness, may be to them and to you the source of an unhappy and much to be regretted legacy.
"I would ask you to consider that your government is on trial before the whole civilized world, and that in accordance with your actions and decisions will you yourselves be judged. The happiness and prosperity of Hawaii are henceforth in your hands as its rulers. You are commencing a new era in its history. May the divine Providence grant you the wisdom to lead the nation into the paths of forbearance, forgiveness, and peace, and to create and consolidate a united people ever anxious to advance in the way of civilization outlined by the American fathers of liberty and religion.
"In concluding my statement I thank you for the courtesy you have shown to me, not as your former queen, but as an humble citizen of this land and as a woman. I assure you, who believe you are faithfully fulfilling a public duty, that I shall never harbor any resentment or cherish any ill feeling towards you, whatever may be your decision."

What follows is a partial report of the court's proceedings regarding my statement.

"After deliberation the court requested that the following portions of the statement be withdrawn: –

"A minority of the foreign population made my action the pretext for overthrowing the monarchy, and, aided by the United States naval forces and representative, established a new government."
"I owed no allegiance to the Provisional Government so established, nor to any power or to any one save the will of my people and the welfare of my country."
"The wishes of my people were not consulted as to this change of government, and only those who were in practical rebellion against the Government were allowed to vote upon the question whether the Monarchy should exist or not."
"This selection was anticipated and prevented by the Provisional Government, who, being possessed of the military and police power of the kingdom, so cramped the electoral privileges that no free expression of their will was permitted to the people who were opposed to them."
"All who uphold you in this unlawful proceeding may scorn and despise my word, but the offence of breaking or setting aside for a specific purpose the laws of your own nation, and disregarding all justice, may be to them and to you the source of an unhappy and much to be regretted legacy."

"Mr. Neumann replied, that the paragraph, relating to the establishment of the Provisional Government was made as a statement from the accused, was claimed as an actual fact, reflected upon no one. It set forth her views, and he must decline to ask his client to withdraw it. The words, 'and only those who were in practical rebellion against the constitution of the state,' etc., Mr. Neumann agreed should be stricken out. As to the passage setting forth that the accused owed no allegiance to the Provisional Government, counsel made the same answer as to the first item.

THE THRONE ROOM, IOLANI PALACE
"The court retired, and returned with the decision that the objectionable passages should be stricken out. Colonel Whiting read them, and ordered that they be stricken from the record."
During the course of my trial, I noticed, in one of the seats behind those occupied by the foreign ministers a peculiar-looking man, who wore top-boots, and had long, flowing hair. I was afterwards told that this was Joaquin Miller, the "poet of the Sierras," and was shown specimens of his poetry, especially that which he had written on my deposition, and in which he had alluded to me in the most favorable terms. I have been told that he was sent out as a press correspondent, with the expectation that he would take the opposite view, and that when the "government" found out his real sentiments he was forced to leave Honolulu.
There was also one lady frequently present, who seemed to take a great interest in the proceedings of the court-martial. I recognized in her the wife of Lieutenant Werlich of the United States ship Philadelphia.
A few days after these events there was a parade of the men of the steamship on shore. After drilling out on the plains, they marched into the city, and made use of the walls of the Kawaiahao church, directly opposite my place of imprisonment, to show their agility and skill in scaling ramparts. In the yard about this great edifice lie buried the remains of many members of the old missionary families. But entirely without consideration for the sacredness of the spot, the troops were practised and cheered on at these walls; they clambered back and forth, came tumbling down one over the other, and showed their superior strength or quickness, while an officer was taking the time required for the drill. From thence they were called to order by the bugle, then marched in front of my windows with their guns pointing towards the building itself.
But while all this was going on, I saw a lady approach the palace until she stood beneath my window; there she stopped, and, looking up, kissed her hands to me. She remained, making no motion to leave, for perhaps ten minutes. Just as she was turning to depart, she raised her veil, and I at once recognized the countenance of the same lady who had been so faithful an attendant at my trial. As I stood watching her friendly attitude, kindly tears of sympathy rolled down her cheeks. I had known Mrs. Werlich as a welcome visitor at my own house in the days of my freedom, and it was a consolation for me to think that she had remembered me at the hour when I was a prisoner.
SENTENCED – MY PRISON LIFE
AT two o'clock on the afternoon of the 27th of February I was again called into court, and sentence passed upon me. It was the extreme penalty for "misprision of treason," – a fine of $5,000, and imprisonment at hard labor for five years. I need not add that it was never executed, and that it was probably no part of the intention of the government to execute it, except, perhaps, in some future contingency. Its sole purpose was to terrorize the native people and to humiliate me. After Major Potter had read to me my sentence, and carefully pocketed the paper on which it was written, together with other papers in the case ( I might have valued them, perhaps, as souvenirs), I was conducted back to my place of confinement.
No especial change was perceptible in my treatment or mode of life by reasons of my trial and sentence. Though I was still not allowed to have newspapers or general literature to read, writing-paper and lead-pencils were not denied; and I was thereby able to write music, after drawing for myself the lines of the staff. At first I had no instrument, and had to transcribe the notes by voice alone; but I found, notwithstanding disadvantages, great consolation in composing, and transcribed a number of songs. Three found their way from my prison to the city of Chicago, where they were printed, among them the "Aloha Oe" or "Farewell to Thee," which became a very popular song.
I was notified that I might be permitted to walk the veranda for my relaxation after the business hours of the day. My friends were allowed to send me tokens of sympathy, so bouquets of flowers and baskets of fruit of all varieties came in almost every day. I had also, at pleasure, the flowers of my own gardens at Uluhaimalama. In good things for my table I did not suffer. Rich cakes, clear jellies, and many other delicacies arrived every day of my imprisonment. Where so many were attentive, it seems hardly possible to mention individuals; yet the names of Mrs. S. C. Allen, Mrs. Mary Carter, Mrs. Samuel Parker, Mrs. Haalelea, Mrs. Coney, Mrs. James Campbell, Mrs. Minerva Fernandez, Mrs. Victoria Ward, and Mr. and Mrs. Mana recur to me at this moment, and besides, many other ladies, to whom I am sure I have never ceased to be grateful for their kind remembrance
It was the duty of the guards to search whatever was sent to me before it was delivered into my hands; so the baskets, whether of food, flowers, clothes, or papers, went to them first, and at least at the start were closely examined; yet there were some kindly disposed towards me and not over-critical. Every newspaper, however, had to come through the hands of Mr. Wilson; and if he detected in it anything whatever relating to the government, he would take it away, not permitting me to see it. I used to find great comfort in the bits of newspaper that were wrapped around my bouquets which were brought to me from my own garden at Uluhaimalama.
These were generally wrapped in the newspapers, foreign and local, obtained from Mr. Whiting's house, near my own; and I cannot resist adding that even in my imprisonment the humor of the thought occurred to me, that, if any person ever literally fulfilled the ancient proverb about "living in glass houses," it was this so-called judge who had been called to pass sentence upon me. Some of the very wealthy under the monarchy had retreats in the suburbs of the town, somewhat answering to what Americans call "summer residences;" and these were called "glass houses," because so open, or largely composed of glass. Under the oligarchy several in the government are not content with less than two such pleasure houses.
Flowers from home I unwrapped myself, so as to be sure to save these bits of news which I sought opportunity at intervals to read. There were times when I saw something of such interest that I could not resist the temptation to mention it to my companion, Mrs. Wilson. Then it seems she would faithfully report all that I said to her husband, whose custom it was to call every other day, sometimes at longer periods, for the purpose of ascertaining if there was anything required. At such times he would withdraw with his wife to the boudoir, where she would repeat to him what had been said by me, telling him also what had been received in the prison through her. By some things she occasional mentioned he thought that newspapers had been secretly sent in; but when finally he discovered that they had come as wrapping-paper, it made him very angry, and his poor little wife had to suffer for it, even bursting into tears at his sharp reproaches. For this reason I became quite guarded in what I said to her.
Our first duty in the morning after the regular devotions of the day was to arrange our flowers and decorate our apartments. At half-past seven the military companies would return from their parade; and at eight precisely Captain Good, attended by one of the officers, would knock at my door, which was always opened by Mrs. Wilson, unless Mrs. Milaina Ahia were with me. (Mrs. Wilson usually went out on Saturday evening and returned to me on Monday morning. During this absence her place was taken by Mrs. Ahia.) On opening the door Captain Good inquired what there was he could do for us, and if the prisoner was within and safe. On being answered in the affirmative, he would touch his cap, and return to report to his superior officer, Colonel McLean, and then rejoin his company. After their departure I occupied my time in crochet-work, in attending to my ferns or pots of flowers, or in reading the books allowed me. I also found much pleasure in the society of my canary-birds, and in practicing on my autoharp and guitar. These luxuries had, after the first severity, been permitted to me.
I received letters; but they were always opened, and, I presume, read, before being delivered. Rt. Rev. Alfred Willis, the Anglican Bishop of Honolulu, sent me a Book of Common Prayer. Sisters Beatrice and Alpertina offered little acts of tenderness and kindness which brought anew to my mind that passage in Scripture, "I was in prison and ye visited me." Although my Christian (?) jailers denied to me their sacred ministration and actual presence, yet none the less were these good and true Christians there in the loving tokens of kind remembrance, and in the spirit of the Divine Lord, during my bondage.
In June of 1895 there was a rumor that I was to be released; but day after day went by, July came and went, and I was still a prisoner. My health was not strong, and my regular medical attendant had gone to San Francisco. It was proposed by Dr. Cooper and Colonel McLean, that I should take a drive somewhere or somehow every day; but I did not feel inclined to go about town under guard of soldiers, and preferred to take long walks on the veranda by night, always, of course, under the inspection of the guard or sentry on duty there.
In August an epidemic broke out, to which Mrs. Wilson was one of the first to succumb. She had to leave me for a few days, but returned on her recovery. While she was away, I was stricken with the disorder; but I used such remedies as I happened to have with me, and recovered without serious consequences. After this we heard that the whole city was suffering. It was said to be a form of Asiatic cholera. Many deaths occurred, and it was some three months before normal conditions were restored. It was at this time that the ladies of Honolulu, both native and foreign, organized a society for the relief of the poor, who, under the circumstances, were unable to support themselves. There were relief stations in the outskirts all around the city, where ladies who had been assigned to each district assembled to supply necessary provision to those who were in need. It was a most praiseworthy mission; and although I could not be present personally, I provided a house and lot on my place at Waikiki for carrying on the benevolent enterprise under the care of Mrs. James Campbell and Mrs. Douglas, who had charge of that district.
RELEASED ON PAROLE
ON the 6th of September, about eight months after my arrest, I was notified by Colonel McLean that he was no longer responsible for my custody, and that at three o'clock that afternoon I might leave the palace. So a carriage was called, and I was driven from the doors of the beautiful edifice which they now style Executive Building, and was assured that I was under no further restraint. My pardon, as it was called, arrived at a later day. All the intervening time I was supposed to be under parole, and could have been arrested and recommitted at any moment.
As, in company with Mr. and Mrs. Wilson, I was driven from my prison – once my palace – to the gateway at Washington Place, my earlier home, it seemed as though Nature, our kind mother, smiled on my return. The flowers, the shrubs, the trees, had never to me looked so charming. How I enjoyed their welcome! Surely they could not have been so beautiful when I saw them daily in previous years! The orchids, the violets, the chrysanthemums, the geraniums, were still in bloom, and seemed to greet me with joy, expressive as silent. Bunches of red bananas hung from their stalks, clusters of yellow Loquot plums danced in the sunshine, and the bright red berries of the coffee-tree drooped down gracefully, waiting to be gathered. But my welcome was not altogether from the silent, waving leaves. Those of my people who had been released from imprisonment were here to greet me also with their fond Aloha.
On the morning following Mr. Wilson informed me that I had been released only on parole, and had been placed in his charge by President Dole. My custodian further notified me that but sixteen servants were allowed to me, and that my retainers (accustomed to maintain a system of watches for my protection ever since the death of my husband) were not to be permitted to come near me again. I was also prohibited from going where there was any concourse of the people, nor could I have any gathering at my own house. In consequence of these regulations I never went to church or to any public place. But I was not forgotten by his lordship, the bishop, who with Mrs. Willis was one of the first to call on me. Other friends expressed their sympathy in person; amongst these Mrs. J. S. Walker, who had lost her husband by the treatment he received from the hands of the revolutionists. He was one of many who from persecution had succumbed to death.
It was at this time that Bishop Willis invited me to be confirmed as a member of his church; to which proposal I very gladly assented, and I find much comfort in its fellowship.
The duties of Mr. Charles B. Wilson could not have been very irksome. I do not remember requiring him to do anything, or asking a favor at his hands. He took good care to keep my gates under lock and key, that no visitors might enter without his knowledge, because he was oblidged – he said – to give to Mr. Dole a faithful report of all my visitors and doings each day. Some of my friends who prayed to be allowed to visit me were denied. I was very conveniently spared, however, the calls of strangers, who would have encroached upon my retired life simply from motives of curiosity.
Two events of some interest to me should be mentioned as related to these days. While the Philadelphia was the flag-ship of the squadron of the Pacific, the time of Admiral Irwin expired, and he was daily expecting his successor. Before he left, he very courteously called on me at Washington Place. He was accompanied by a member of his personal staff. I appreciated this mark of his attention, and it has never been forgotten by me; for it showed a kindly spirit on his part towards one who had received many officers of the navy in other days and under different circumstances.
On another occasion Admiral Walker visited the Islands. Exactly on what mission I have never been informed. If, as I have sometimes heard, and if one is to judge from the long report he made to the Department of the Navy on his return, it was for investigating the political situation, he certainly did not adopt the method of fairness and equal treatment to both sides pursued by Hon. James H. Blount. He was scarcely in position to have any but the most prejudiced ideas; for he was an old friend and guest of one of my enemies, and immediately on his arrival the missionary party took possession of him, and scarcely allowed him to move unless some one of their number was at his elbow.
On the 6th of February, 1896, while at dinner with Mrs. Wilson and Mr. Kamakau, we were informed that a messenger from the office of Mr. Dole was waiting to enter my presence in order to deliver a document; but Mrs. Wilson went for the paper, and took it from the young man, Mr. Alexander St. Maur McIntosh. I did not see him; but the document proved to be my release from parole as a prisoner, although I was still forbidden to leave the island of Oahu. Mrs. Wilson said that this could not possibly be genuine; because her husband had not been made aware of it, and that everything like this had to come to me through him. I re-read the document to be assured there was no mistake. Mrs. Wilson immediately started to notify her husband, who sent her back for the paper, which I allowed her to take. It convinced, but much astonished, Mr. Wilson, for he made the comment that he ought to have been notified first; but it would appear that the president thought otherwise, and, without advising the custodian, had released the prisoner from his unwelcome custody.
Some days later, in company with Mr. and Mrs. Joseph Heleluhe, I took a drive out to my residence at Waialua, where we spent two very delightful weeks with the Rev. Mr. Timoteo and his agreeable wife. We had a quiet little celebration all to ourselves, fishing and riding, and the time sped by so pleasantly that we forgot to count the hours. While there we received a visit from Hon. Samuel Parker; Mr. Boyd, Secretary of American Legation; Mr. Lanse (who has since married Miss Widemann); Mr. J. S. Walker, the younger; and others – who spent a pleasant day with us on the beach. We caught fish, and placed them immediately on hot coals, supplementing our picnic with bread and butter, and our native poi. Then, a week or so later, I went to my residence at Waikiki; and in this, my ocean retreat, I lived until my recent visit to the United States, only now and then, for a change, making a trip to my estates at Kahala. My life at the seashore was a tranquil and uneventful one, although while I was there a circumstance transpired pf grave importance to my people.
MR. JOSEPH KAHOOLUHI NAWAHI
ONE morning, in the month of October, 1896, I heard of the death of Mr. Joseph Kahooluhi Nawahi o Kalaniopuu; and I shared the common sorrow, for this was a great blow to the people. He had always been a man who fearlessly advocated the independence of Hawaii Nei. He was for twenty years a legislator, and was one of the most active members of the legislative session of 1892-1893; with Mr. William White he had maintained a strict fidelity to the wishes of the people by whom he had been elected. The behavior of these two patriots during the trying scenes of this session, in such marked contrast to that of many others, won them profound respect. They could never be induced to compromise principles, nor did they for one moment falter or hesitate in advocating boldly a new constitution which should accord equal rights to the Hawaiians, as well as protect the interests of the foreigners. The true patriotism and love of country of these men had been recognized by me, and I had decorated them with the order of Knight Commander of Kalakaua.
When the vessel drew near on which were the remains of the dead patriot, the people turned out en masse to draw the carriage, on which the casket was placed, to his late home. No private individual in our land had ever received such a demonstration of love and respect as was now shown to the lamented member of the House. High honors were accorded to him. The services were read by the Rev. E. S. Timoteo, after which there was a long procession in line. The casket was accompanied by all the members of the Hui Kalaaina, and also of the Hui Aloha Aina, which last society was of his own establishment. Then followed the chief mourners and the ladies of the Patriotic League. The long, sorrowful escort conducted the body on board the steamer Keauhou; and after some last impressive services, the crowd watched the little steamer bearing off all that was mortal of the Hon. J. K. Nawahi towards Hilo, where on arrival another grand demonstration was made. He was laid in state at the Haili church in obedience to the expressed wish of the people.
He was a member of the legislature when I appointed him as a cabinet minister, and was voted out with the ministry on the motion of "lack of confidence." He then consulted me as to his future, and stated that if he should run for the district of Hilo he felt confident of his election. Acting upon my advice, he left at the first opportunity for Hilo, arriving just in time to appear as a candidate in opposition to the candidate of the missionary party. He was returned by a large majority. Then it became necessary for him to leave on this same evening for the port of Honolulu, and the only vessel or means of reaching there was at Hamakua; but he was falsely informed by those in sympathy with his enemies that there was no way by which he could go.
Nevertheless he fitted out two whaleboats with sails, compass, provisions, and water, and sailed immediately for the island of Mauai. At two o'clock next morning, as they were passing off Hamakaua, they saw the red light of the steamer Iwalani, and recognized that they had been purposely deceived so as to prevent the people's delegate from taking part in the deliberations at the legislature. All next day they were crossing the channel of Alenuihaha, but by evening the two boats reached Hana in safety. They awaited at the hospitable home of Judge Kaai the first vessel for Oahu, which landed them duly at Honolulu. Thus, by the One who rules the wind and the waves, Mr. Nawahi had been favored with a most prosperous voyage; and much to the surprise of his enemies, arrived in time to take his seat in the legislature amongst those of his party and his personal friends, by whom he was warmly congratulated on his election and his prompt appearance.
At his death the Provisional Government, whose agents control all the despatches sent to the United States, caused it there to be promulgated that the liberal party had, since the loss of Mr. Nawahi become discouraged, and were ready to vote for annexation. This was expressly to deceive the people of the United States. The cause of Hawaiian independence is larger and dearer than the life of any man connected with it. Love of country is deep-seated in the breast of every Hawaiian, whatever his station. Yet the above fact is worthy of notice as the testimony of our enemies to the sturdy patriotism of Mr. Joseph Kahooluhi Nawahi.
After the obsequies were over, and the remains of the deceased legislator were borne to Hilo, notice was given by the members for a new election of president to the two patriotic societies at whose head he had stood. This action was a great astonishment to the Provisional Government and all the friends of the missionary party, for it was hoped that the loss of such a leader would cause these organizations to dissolve. The Hui Aloha Aina and the Hui Kalaaina, with the sister organization of the Women's Patriotic League, are societies much dreaded by the oligarchy now ruling Hawaii. Sufficient time was given to reach the members in the most distant parts of the Islands, who were notified to meet in convention, which they did. Perfect harmony prevailed; and James Keauiluna Kaulia was elected president of the Hui Aloha Aina, while David Kalauokalani was chosen as the head of the Hui Kalaaina; and both these societies are still intent on their patriotic work.
One day in the month of October, 1896, while with trowel in hand I was separating and transplanting my ferns at my Waikiki residence, Major George C. Potter entered, bearing a document, which on examination I found purported to be an entire release of all restrictions, an absolute pardon, and a restoration of my civil rights. This, to be sure, places me in the same position as before my arrest and trial; but let me ask, if I was deprived of my civil rights at the moment of my imprisonment, of what value was the signature procured to my supposed or alleged act of abdication? Was it legal, of binding force, or effective? This question I will leave for decision to all those learned in the law; they can draw their own conclusions as to the probable worth of an acknowledgment of that document as my free act and deed, or of the proper value of the form of signature not my own which at the request of others was attached thereto.
Footnotes:
1 See Appendix B.
1 A copy will be found in Appendix C.
This chapter has been put on-line as part of the BUILD-A-BOOK Initiative at the
Celebration of Women Writers.
Initial text entry and proof-reading of this chapter were the work of volunteers
Jessie Hudgins, Amy E. Zelmer, Sue Farley, Jim Fritzler, and Joan Hughes.
This chapter is dedicated by Jessie Hudgins:
"With a little love and a little work... for my grandchildren."