Mary Darby Robinson (1758-1800)

Mrs. Robinson
from an Engraving by Birch after Reynolds
"Every event of my life has more or less been marked by the progressive evils of a too acute sensibility. "
(Mary Darby Robinson, The Memoirs of Mary Robinson, p. 8)
If Mary Darby Robinson's life was marked by the acute sensibility which she claimed for herself, it was also marked by a degree of instability and unpredictability that would have encouraged many people to indulge in strong hysterics, whatever their sensibilities!

Mary Darby was born November 27th, 1758. She was the third of five children born to John Darby and his wife Hester Seys. When Mary was seven, Captain Darby went to Labrador to try to establish a whaling station, leaving his wife and family in Bristol, and taking his mistress with him. Financial support from Captain Darby was infrequent, reflecting both the failure of his business speculations, and a lack of interest in his wife and family that eventually culminated in a formal separation.

The family's uncertain finances were a cause of frequent relocations which affected Mary's education. She was a precocious child, professing a love of melancholy poetry by age seven. In Bristol, she attended a school run by the sisters of Hannah More. When the family removed to London, she went to the seminary of Meribah Lorrington in Chelsea. Mary Darby's recollections of Lorrington were fond ones, and she later considered Lorrington a formative influence in her life. Unfortunately, while Meribah Lorrington was a teacher of many accomplishments (lessons included Latin, French, Italian, arithmetic, astronomy, and painting on silk), she had an 'unfeminine propensity' for alcohol, which eventually led to the closure of the school. Mary was briefly sent to another school, but returned home when her father failed to pay his expected remittence.

Mrs Darby, in desperation, started her own school to support the family. She took in between 10 and 12 boarders, all girls. Mary Darby taught English at her mother's school by age fourteen. However, Captain Darby disliked the scheme, and during one of his brief returns, closed the school. According to English law (See Caroline Norton, English Laws for Women) any property or business under his wife's control was legally his to do with it as he chose. Mary was sent to a finishing school in Oxford St., Marylebone, run by a Mrs. Hervey. While there, she was brought to the attention of David Garrick, the famous actor. (See "Elegy to the Memory of David Garrick, Esq.") Although she was only fifteen, it was proposed that Mary go on stage.
"Garrick was delighted with everything I did. He would sometimes dance a minuet with me, sometimes request me to sing the favourite ballads of the day; but the circumstance which most pleased him was my tone of voice, which he frequently told me closely resembled that of his favourite Cibber.

Never shall I forget the enchanting hours which I passed in Mr. Garrick's society; he appeared to me as one who possessed more power, both to awe and to attract, than any man I ever met with. His smile was fascinating, but he had at times a restless peevishness of tone which excessively affected his hearers; at least it affected me so that I never shall forget it. " (Mary Darby Robinson, The Memoirs of Mary Robinson, pp. 37-38.)
While Garrick's proposal was attractive in many ways, Mary had already received more than one proposal of another sort. Though her suitor believed her to be older, she had received her first proposal of marriage at age 13. She was now being courted by a young man named Thomas Robinson. He was presented to the Darbys as a man of good family, and he eventually won Mary's mother's support, as much as hers, for the marriage.
"Opposite to the house in which I resided lived John Vernon, Esq., an eminent solicitor. I observed a young inmate of his habitation frequently watching me with more than ordinary attention. He was handsome in person, and his countenance was overcast by a sort of langour, the effect of sickness, which rendered it peculiarly interesting. ... During the remainder of the evening, Mr Wayman expatiated on the many good qualities of his friend, Mr. Robinson: spoke of his future expectations from a rich old uncle; of his probably advancement in his profession; and, more than all, of his enthusiastic admiration of me." (Mary Darby Robinson, The Memoirs of Mary Robinson, pp. 38-39)
The marriage took place on April 12, 1774. Thomas Robinson convinced the Darbys to keep the marriage secret even after the ceremony, supposedly because his articles to Mssrs. Vernon & Elderton had not yet expired. It soon became apparent that much of what they had been told was fabricated. Thomas Robinson was an illegitimate son with few, if any, expectations. When Mary became pregnant, Mrs Darby insisted that the marriage be made public. The young couple travelled to Wales to see Robinson's family, and then returned to London.

There, the Robinsons settled into a lifestyle far beyond their means. Mary bought expensive clothes, and wandered to Vauxhall and Ranelagh Gardens. Thomas Robinson gambled for high stakes with a set of fast-living, hard-drinking friends. They included Lord Lyttelton, a notorious libertine who made no secret of his interest in Mary Robinson. Thomas Robinson had quickly acquired a mistress, one Harriet Wilmot, and seemed unconcerned about the possibility of his wife becoming involved with his wealthy friend.

Eventually, Robinson's creditors became so demanding that he fled to his father's in Wales, taking Mary with him. There, their daughter Maria Elizabeth was born, on November 18th, 1774. (See "Sonnet. To My Beloved Daughter. ") When creditors learned of Thomas' whereabouts some weeks later, the family fled to Mary's grandmother in Monmouth. Thomas temporarily appeased his creditors, but was finally arrested for debts of about £1200.

Thomas, Mary and the baby lived in King's Bench prison for over a year. Thomas became involved with an Italian woman in the prison. Mary cooked, cleaned, and looked after the baby. She earned a little money by copying legal documents, work that was offered to Thomas by friends. She also obtained assistance from Georgiana, the Duchess of Devonshire. Mary had already planned a volume of Poems (1775). She sent a copy to the Duchess of Devonshire, who invited her to visit. Though Poems received little critical support, and made little money, Mary Robinson continued to write, dedicating Captivity, A Poem: and Celadon and Lydia, A Tale (1777) to the Duchess of Devonshire. While Mary later professed a general dislike of her own sex, she remembered with fondness the kindness of this patron. (See "Sonnet Inscribed to Her Grace the Dutchess of Devonshire. ").

After 15 months in prison, Thomas Robinson finally negotiated his release. Mary returned to the theatre in hopes of supporting her family by acting. After meeting with William Brereton, David Garrick, and Richard Brinsley Sheridan, she was engaged at Drury Lane. In her initial appearance as Juliet in December 1776, she was recognized as a promising new actress. She continued to act for the next four seasons, to increasing acclaim. She took on a range of roles, sometimes playing multiple parts in the same week, or even night. She even appeared in a musical farce of her own writing, The Lucky Escape (1778). However, mixed with her success were sadness and distress: her second child, Sophia, died when only a few months old; and her husband's debts and the possibility of imprisonment were a continuing source of concern.

Mary Robinson appeared in her most famous (and infamous) role at age 21, a four-year veteran of the stage. Her success as Perdita in A Winter's Tale led to a royal request for a command performance. On December 3, 1779, the 17-year-old Prince of Wales (later King George IV) determined to make her his mistress. Lord Malden was sent to negotiate with her on the Prince's behalf. A hot exchange of letters ensued between "Perdita" and "Florizel", and the prince paid her marked attentions in public. Papparazzi of the time, such as the Morning Post and Morning Herald, were quick to scent a scandal, and began to link her with both the prince and Lord Malden.

In addition to letters vowing eternal affection, the prince sent gifts which included a miniature portrait, set in diamonds, and a bond of £20,000, to be paid when he came of age. At one point, Mary Robinson became ill, something that often happened when she was under severe stress. Eventually, however, she agreed to become the Prince's mistress. The newspapers followed the relationship with glee, publishing sometimes daily notes on its suspected progress.
"The writer has paid the highest compliments to the young lady in question, who could make a conquest in the heart of a young and illustrious personage, at the very moment when he is surrounded by all the beauties of the British Court, vying with each other to capture and ensnare him." (anonymous, Morning Post, July 22, 1780).
"A certain illustrious young personage is said to have promised that Mrs. R---'s establishment should immediately succeed his own; which, however, remaining still unsettled, though the former arrangement is made, has occasioned some severe reproaches on the part of the now suspicious Perdita. " (Morning Herald, January 4, 1781).
"Mrs. Arm----d has certainly been gratified at last in an amour with a certain young personage; and now flatters herself that her charms will not be so soon unrivetted, as were those of the once exalted and enviable Perdita." (Morning Herald, February 8, 1781).
Although the affair lasted less than a year, 'the Perdita' was notorious from then on; her gowns, her carriages, and her alliances became a constant source of discussion and speculation in the newspapers.
"Fortune has again smiled on Perdita; on Sunday she sported an entire new phaeton, drawn by four chestnut-coloured ponies, with a postillion and servant in blue and silver liveries. The lady dashed into town through Hyde Park turnpike at four o'clock, dressed in blue great coat prettily trimmed in silver; a plume of feathers graced her hat, which even Alexander the Great might have prided himself in." (Morning Herald, June 12, 1781).
The Prince's defection left Mary Robinson in a difficult position. Both the Robinsons were living on borrowed money, deeply in debt. She had ruined her reputation and given up a promising career as an actress, and received only promises in return. The Prince might have been expected to make some provision for his ex-mistress, but he did not. Her reputation already destroyed, Mary Robinson seems to have cared little about causing further scandal. She demanded £25,000 for the return of the prince's letters. She apparently settled for £5,000, paid by George III "to get my son out of this shameful scrape." It was enough to stave off her creditors. In 1782, Mary obtained a further £500 annuity for herself, and a £200 annuity during the life of Maria Elizabeth, in return for the surrender of the Prince's bond.

Lord Malden, the Prince's original emissary, was now Mary's most frequent companion, and her lover. Rumour also associated her with Charles James Fox, who negotiated the annuity settlement for her. So long as the men she associated with were attractive and attentive, she seemed willing to befriend them. (Thomas Robinson, though still alive, was uninvolved in her later life.)

In 1782, a poor army officer named Banastre Tarleton joined the Prince's circle. Tarleton had achieved considerable fame, but little financial reward, for his military service in the Americas. He had only a half-pay income of £173 per year to live on. Like the Robinsons, he was involved in an elegant but ruinous way of life which he could not support, gambling fortunes with the Prince, Lord Malden, and other cronies. Their bets were often absurd ones; they were as likely to race geese and turkeys as horses.

One night Lord Malden, Mary's 'protector', bet 1000 guineas that Mary would be true to him if Banastre Tarleton tried to seduce her. Several weeks later, Tarleton won both Mary's affections and the bet. Mary, when she learned what they had done, was furious with both men. Lord Malden, feeling himself betrayed when he had believed in her, rejected her. Tarleton seemed to care little for what happened. But after an accident in her phaeton, it was Banastre Tarleton who hurried to Mary's side - and she forgave him. Their seemingly unlikely relationship was to continue for the next 15 years. They were soon the talk of the town.
"Yesterday, a messenger arrived in town, with the very interesting and pleasing intelligence of the Tarleton, armed ship, having, after a chace of some months, captured the Perdita frigate, and brought her safe into Egham port. The Perdita is a prodigious fine clean bottomed vessel, and had taken many prizes during her cruize, particularly the Florizel, a most valuable ship belonging to the Crown, but which was immediately released, after taking out the cargo. The Perdita was captured some time ago by the Fox, but was, afterwards, retaken by the Malden, and had a sumptuous suit of new rigging, when she fell in with the Tarleton. Her manoeuvering to escape was admirable; but the Tarleton, fully determined to take her, or perish, would not give up the chace; and at length, coming alongside the Perdita, fully determined to board her, sword in hand, she instantly surrendered at discretion. " (Morning Post, September 21, 1782).
Tarleton's family viewed both extensive gambling and the notorious Perdita as dangers attendant upon London society. They offered to pay Banastre's most pressing debts of honour (more than they could readily afford) on the condition that he leave for the Continent - alone. Faced with social ruin otherwise, Tarleton set out for France on July 24, 1783. Mary desperately borrowed money for his debts, in hopes that he would stay in England, and set out in a post-chaise for Dover to intercept him. She was pregnant, and the rough travel caused a miscarriage. Mary suffered further injuries as a result of the incompetence of the midwife who attended her. Her legs became partially paralyzed, and she was affected by increasing paralysis and acutely painful rheumatism for the rest of her life. Tarleton, in France, was distracted at the news of her illness.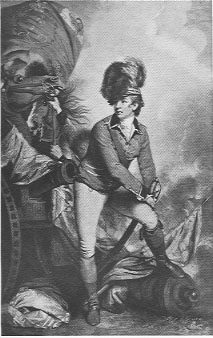 Colonel Tarleton.
Mezzotint by John Raphael Smith, after Sir. Joshua Reynolds.
As she recovered, Mary Robinson visited baths and spas on the advice of her doctors, and found comfort in writing poems such as "Ode to Valour. Inscribed to Colonel Banastre Tarleton.". In France, Banastre Tarleton decided to write a history of the military campaigns of 1780 and 1781, in which he had been involved. The possibility of an election in the spring of 1784, brought Tarleton back to England to campaign in Liverpool. He moved in with Mary Robinson, and they plunged into the excitement of the campaign. However, Tarleton was not elected, and did not receive an appointment from those who were elected to power. Creditors began to gather once again: Mary's possessions were seized and auctioned off. She saved only the diamond-studded portrait of the Prince of Wales. When the Duc de Lauzun offered his hospitality in the fall of 1784, Ban and Mary quietly left for France.

Tarleton and Robinson spent the next few years living intermittently in France and in Germany. They worked together composing and revising Tarleton's History of the Campaigns of 1780 and 1781 (1787). Mary verified and augmented Banastre's memories of the campaigns, using letters, dispatches, and newspaper accounts. In 1787, Tarleton returned to London for the book's publication. It gained him some prestige, but little income. Fortunes were changing hands in gambling hells, so he and a partner opened a faro-bank in hopes of making theirs. Mary continued to write poetry, and was reportedly working on an opera. By the fall of 1787, her health had improved enough that she considered returning to England. Ban Tarleton went to Aix-la-Chapelle to meet her, and in 1788, Mary Robinson returned to England, settling at 42 Clarges Street. Tarleton lived just down the street, at number 30.

Though they experienced several breakups and reconciliations, which prompted Mary Robinson to write poems such as "Lines to Him Who Will Understand Them.", and the sonnet sequence Sappho and Phaeon , Mary Robinson's relationship with Tarleton continued until 1798. During that time, Banastre Tarleton pursued his interests in politics. He became a member of Parliament, and was promoted to Colonel and later General. During the same time, Mary Robinson wrote prolifically. Her poetry and fiction achieved considerable acclaim. (Her attempts at writing for the theatre were less successful.)

On her return to England in 1788, Mary Robinson became involved in the florid Della Cruscan movement. She contributed poems to The World and The Oracle under the pseudonyms "Laura" and "Laura Maria". (See "Ode to Della Crusca."). Their authorship sparked considerable curiousity, and in time, she became confident enough to claim them publicly under her own name.

A collection entitled Poems by Mary Robinson was published on May 12, 1791. The book was handsomely produced in a leather binding, with gold details. The subscription list of 600 people was headed by His Royal Highness, George, Prince of Wales, and included many other members of the nobility. Some people subscribed because of her writing, some because of her notoriety, and some perhaps out of pity for the former actress, now crippled and ill. Reviews were generally kind, and noted traces in her poems of a sensibility that would later be termed Romanticism.

Her later poetical works included a second volume of Poems (1794); a sonnet sequence, Sappho and Phaeon (1796); and finally Lyrical Tales (1800). Mary Robinson frequently contributed poetry to the Morning Post, and eventually edited their poetry page. This increased her contact with the other poets and their work.

Over time, Robinson rejected her early Della Cruscan style, and strove for less florid, more elegant verse. In poems such as "All Alone", she reacted to the work of Southey and Wordsworth. She experimented with a variety of forms, including blank verse, of which "The Widow's Home" is a distinctive example. Her later work in particular shows considerable expertise, and a sensitivity to sound and metre (c.f. "The Haunted Beach"). Her mature work excited the admiration of Coleridge, who showed her parts of his as-yet unpublished "Kubla Khan".

Many of Robinson's poems have a tone of sadness and alienation. Some later works communicate an awareness of systemic abuses of power (e.g. imperial racism in "The Lascar"). To publish her more assertive, overtly sexual, and comedic verses (e.g. "Mistress Gurton's Cat. A Domestic Tale."), Mary Robinson tended to publish under pseudonyms such as 'Tabitha Bramble' (a feisty spinster), 'Oberon' (a male voice), and 'Bridget'.

More lucrative than Mary Robinson's poetry, was her prose. The money helped to support herself, her mother and daughter, and often Banastre Tarleton. Novels such as Vancenza (1792), The Widow (1794), Angelina (1796), and Walsingham (1797) went through multiple editions and were often translated into French and German. They owed part of their popularity to their suspected autobiographical elements. Even when her characters were placed in scenes of gothic horror, their views could be related to the experiences of their author.

Her later novels were more poorly written than her early work, and less successful. In both The False Friend (1799) and The Natural Daughter (1799) she responded to the defection of Banastre Tarleton. The death of his mother in 1797 catalyzed him to end his 15-year relationship with Mary. Within a year, he met and married a young heiress, Susan Priscilla Bertie. Mary Robinson revenged herself as best she could by writing a savage characterization of Tarleton in The False Friend. The Natural Daughter was an attempt to remind readers of an old scandal concerning Tarleton's young wife: Susan Bertie was an illegitimate child of the Duke of Ancaster. She had been recognized by him in his will, and his family had adopted and raised her after his early death.

In her final writings, Mary Robinson sought to describe and justify her life. She expressed her disillusionment with marriage in a work of social criticism, entitled A Letter to the Women of England, on the Injustice of Mental Subordination (1799). First published under the name of Anne Frances Randall, it reflected the thinking of her friends Mary Wollstonecraft and William Godwin. Mary argued for the choice of a wife to leave her husband, as she had done years before.

Mary Robinson also began to write her autobiography. However, her health became increasingly poor, and she died on December 26, 1800, leaving it unfinished. Her daughter Maria Elizabeth edited and published her memoirs (Memoirs of the Late Mrs. Robinson, Written by Herself, With Some Posthumous Pieces, 1801) and a collected edition of her Poetical Works (1806).

Though Mary Robinson's reputation may have helped to sell her writing during her lifetime, it seriously limited her popularity after her death. From the Regency to the Victorian age, increasing strict attitudes led to a rejection of the literary work of such a notorious woman. Currently, increasing awareness of women writers is leading to the examination and re-evaluation of her work, particularly her later poetry. As well, her autobiography continues to be of interest as a historical record of her life and the times in which she lived.
Poetry

Poems by Mrs. Robinson, 1775.
Captivity; a Poem. And Celadon and Lydia; a Tale., 1777.
Poems, Volume I., 1791.
Poems, Volume II., 1794.
Modern Manners by "Horace Juvenal". London: Evans, 1793.
Sight, The Cavern of Woe, and Solitude. London: Evans and Becket, 1793.
Audley Fortescue London: William Lane, 1795.
The Sicilian Lover, London: Hookham and Carpenter, 1796.
Sappho and Phaeon. In a Series of Legitimate Sonnets. London: privately printed, 1796. (illustrated HTML at Virginia.)
Lyrical Tales. London: Longman, 1800.
The Poetical Works of the Late Mrs. Mary Robinson, London: Phillips, 1806.
Complete Poetry. Providence, R.I.: Brown University/National Endowment for the Humanities Women Writers Project, 1990.

Plays

The Lucky Escape, 1778.

Fiction

Vancenza, or the Dangers of Credulity London: 1792.
The Widow, or a picture of modern times. London: Hookham and Carpenter, 1794.
Angelina. 1796.
Hubert de Sevrac , 1796.
Julie St. Laurence Leipzig: Nauck, 1797.
Walsingham; or, The Pupil of Nature. London: Longman, 1797.
The False Friend: A Domestic Story London: T. N. Longman and O. Rees, 1799.
The Natural Daughter London: T. N. Longman and O. Rees, 1799.

Non-Fiction

Impartial Reflections on the Situation of the Queen of France, 1791 [pamphlet].
A Letter to the Women of England, on the Injustice of Mental Subordination, 1799. [later retitled Thoughts on the Injustice of Mental Subordination]

Biography

Memoirs of the Late Mrs. Robinson, Written by Herself. Edited by her daughter, Maria Elizabeth Robinson. London: Phillips, 1801.
The Memoirs of Mary Robinson by Mary Darby Robinson & Mary Elizabeth Robinson, with an introduction and notes by J. Fitzgerald Molloy. London: Gibbings and Company, Ld., 1895.
The Green Dragoon: The Lives of Banastre Tarleton and Mary Robinson by Robert D. Bass. New York: Henry Holt and Company, 1957.