Anna Lætitia Aikin Barbauld (1743-1825)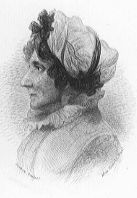 Anna Lætitia Aikin was born on June 20th, 1743. Her family lived near the village of Kibworth Harcourt, in Leicestershire. Her father, John Aikin, was a Presbyterian minister and schoolteacher. Both he and her mother, Jane Jennings Aikin, were Presbyterian Dissenters. As a child, Anna received a conventional domestic education from her mother. She later convinced her father to teach her some Latin and Greek.
In 1758 Mr. Aikin moved to Warrington to act as theological tutor at a dissenting academy. In 1761, Joseph Priestley also moved to Warrington to teach. Anna Lætitia Aikin became a close friend of Priestley and his wife. Reading Priestley's verse is believed to have inspired her to write her own. One of her earliest dateable poems was written to Mrs. Priestley, when the Priestleys moved from Warrington to Leeds, in 1767. During the next few years, Corsica and other poems were increasingly circulated in manuscript form, mostly among teachers and students at Warrington Academy.
Anna's younger brother, John Aikin, strongly encouraged her to write and to publish. Her first published pieces were six poems in his book Essays on Song-Writing, 1771. In 1772, William Enfield included five of her hymns in his collection Hymns for Public Worship. In 1773, Miss Aikin published a major collection of her own Poems, which was very successful. The Poems are often quite personal, and show a number of sides to her character. Several reveal her affection for friends and family (cf. The Invitiation to Miss B. and On the Death of Mrs. Jennings); others display her religious (cf. Hymns ) and political convictions (Corsica). Poems also includes an important statement about what it meant to her to be a woman and a poet, in her tribute to Elizabeth Singer Rowe (1674-1737). In Verses on Mrs. Rowe, Aikin seeks a model for both life and poetry.
In 1774 Anna Lætitia Aikin married Rochemont Barbauld, a descendant of the French Huguenot refugees. He had come to Warrington Academy in 1767, and while there converted from the Church of England to Presbyterian Dissent. At the time of their marriage, he was the minister of a church in Palgrave, Suffolk. A number of Barbauld's poems celebrate the love and friendship that she and her husband found in their marriage. To Mr. Barbauld, November 14, 1778 playfully chides him for his "studious looks" when the two of them can employ "a thousand pleasant arts" to pass away the time, and be happy together in spite of the world and its cares and concerns.
Together, the Barbaulds established a boarding school, which they managed until 1785. They had no children of their own, and in 1777 adopted her brother's third son, born in 1775, to raise as their own. Anna Barbauld drew heavily on her experience with children in her writing: publishing Devotional Pieces (1775) and Hymns in Prose for Children (1781), as well as several books on the education of small children. The Hymns are notable for their use of the natural world as a focus for awareness and celebration of God. Barbauld's stated intent is to encourage the child to love and praise God, through his creation (e.g. Hymn IV). She also deals sensitively with childhood fears of darkness (Hymn V) and death (Hymn XI.)
By 1790, however, Barbauld's published writing was focusing primarily on political and social concerns. She was strongly in favour of abolition, as shown by her Epistle to William Wilberforce, Esq. on the Rejection of the Bill for Abolishing the Slave Trade of 1791. Other concerns included freedom of religion, revolutionary politics, and international policy. It was a difficult time: Dissenters and other reformers were under attack from both the public and the government. (See "To Dr. Priestley, December 29, 1792".) The Barbaulds received both public criticism and threatening letters for Rochement Barbauld's refusal, as a Dissenter, to sign loyalty oaths to the government. In May 1792, a "Royal Proclamation against Seditious Writings and Publications" was issued. In spite of the hostile political climate, Anna Barbauld published the book Sins of Government, Sins of the Nation in 1793, in response to England's declaration of war against the French Republic .
Over the next few years, Anna Barbauld collaborated with her brother John Aikin in Evenings at Home and contributed to his Monthly Magazine. In 1802 the Barbaulds moved to Stoke-Newington, to be near John Aikin. Mrs. Barbauld became increasingly active in London literary circles. She edited the six volumes of Samuel Richardson's Correspondence (1804), and published a 50 volume collection, The British Novelists (1810), which included biographical essays and critical reviews.
Unfortunately, the Barbauld's home life deteriorated tragically during this time. Rochemont Barbauld became mentally ill, and increasingly violent. By January 1808, he had attacked Anna Barbauld, grabbing a knife from the dinner table, and pursuing her about the room. She escaped by leaping through a window into the garden. The once-happy couple separated in March, due to concerns for Anna Barbauld's safety. On November 11, 1808, Rochemont escaped from a keeper to whom he had been committed, and drowned himself in the New River. Anna wrote of her grief and loss, seeking comfort in religious faith, in Dirge.
The last of Mrs. Barbauld's writings to be independently published was Eighteen Hundred And Eleven, A Poem. In it, Barbauld criticized the continuing war between Britain and France, prophesying that England, like other major powers of the past and future, would eventually dwindle and be surpassed. Her words, as applicable to major nations today as to England in 1811, provoked widespread, often vitriolic, criticism from those "who think their country just in all her projects, & inexhaustible in her resources" (John Aikin, in a letter to James Montgomery, 1812). Barbauld continued to write after this time, but did not attempt to publish further volumes of her work.
After her death in 1825, her niece, Lucy Aikin, published two collections of her works: The Works of Anna Lætitia Barbauld, with a Memoir by Lucy Aikin (1825) and A Legacy for Young Ladies (1826). She selected material for the collections from Barbauld's manuscripts. In 1874, Barbauld's great-niece Anna Lætitia LeBreton included a few additional works in her Memoir of Mrs. Barbauld. Unfortunately, Barbauld's papers, which included a number of unpublished manuscripts, were destroyed in the bombing of London in September 1940. The most complete collection of Barbauld's work is the recent The Poems of Anna Letitia Barbauld (1994), which includes previously uncollected poems from journals and letters, and extensive footnotes on many poems.
Anna Lætitia Aikin Barbaud's writing spans a wide range, from the poetry that brought her both acclaim and rebuffs, to her essays, literary reviews, educational writings, and political works. During her own lifetime, she was acclaimed for her genius and talent. Oliver Goldsmith, the young Samuel Taylor Coleridge, and William Wordsworth all admired her poetry. Wordsworth regreted that he had not composed the final lines of her poem Life. Poems such as "Ode to Spring" and "A Summer Evening's Meditation" were particularly noted for their elegance of structure and strength of expression.
In tone, Anna Lætitia Barbauld's poetry expresses a wide variety of emotions, from the light-hearted playfulness of Washing-day and An Inventory of the Furniture in Dr. Priestley's Study, to the joyful piety of The Epiphany, and the more sombre and reflective tone of On the King's Illness. Barbauld often wrote of home, of children, and of her faith, but she did so in an individual voice, speaking from personal conviction and generally avoiding cliches. Her educational and political writing also reflects her independence of thought, and strength of conviction. Clearly, she deserves more credit than she has received these past one hundred and fifty years.
Miscellaneous Pieces in Prose. by John Aikin and Anna Barbauld. London: J. Johnson, 1773.
Poems. by Anna Lætitia Aikin. London: Printed for Joseph Johnson, in St. Paul's Church-Yard,1773.
Devotional Pieces.1775.
Lessons for Children of Two to Three Years Old. London: J. Johnson, 1778.
Lessons for Children of Three Years Old. London: J. Johnson, 1778.
Lessons for Children from Three to Four Years Old. London: 1779.
Lessons for Children (part 3) London: 1787.
Lessons for Children (part 4) London: 1788.
Hymns in Prose for Children London: J. Johnson, 1781.
An Address to the Opposers of the Repeal of the Corporation and Test Acts. 1790.
Epistle to William Wilberforce, Esq. on the Rejection of the Bill for Abolishing the Slave Trade. London: Printed for J. Johnson , No. 72, St. Paul's Church-Yard, 1791.
Remarks into Gilbert Wakefield's Enquiry into... Public or Social Worship. 1792.
The Religion of Nature, a short Discourse ... with a short Address to the Jurymen of Great Britain, by Bob Short. Printed for the Benefit of the Distressed Spital-Field Weavers.... , 1793.
Sins of Government, Sins of the Nation Printed for J. JOHNSON, No. 72, St. Paul's Church-Yard, 1793.
Evenings at Home, or the Juvenile Budget Opened. by John Aikin and Anna Barbauld. (six volumes) London: 1792-1796.
The Correspondence of Samuel Richardson. by Samuel Richardson. (6 vols.) Ed. Anna Lætitia Barbauld, 1804.
Selections from the Spectator, Tatler, Guardian, and Freeholder with a Preliminary Essay. Ed. Anna Lætitia Barbauld. 1805.
The British Novelists: with an Essay, and Prefaces, Biographical and Critical. (50 vols.) London: Rivington,1810.
The Female Speaker: or Miscellaneous Pieces in Prose and Verse, Selected from the Best Writers and Adapted to the Use of Young Women. London: 1811.
Eighteen Hundred And Eleven, A Poem. London: Printed for J. Johnson & Co., St. Paul's Churchyard., 1812.
The Works of Anna Lætitia Barbauld, with a Memoir by Lucy Aikin. 2 vols. Ed. Lucy Aikin. London: Longman, Hurst, Rees, Orme, Brown, and Green, 1825.
A Legacy for Young Ladies, Consisting of Miscellaneous Pieces, in Prose and Verse. Ed. Lucy Aikin. London: Longman, 1826.
Memoir of Mrs. Barbauld by Anna Lætitia LeBreton. London: G. Bell, 1874.
Anna Lætitia Barbauld: Memoir, Letters, and a Selection from the Poems and Prose Writings. Ed. Grace Ellis. Boston: 1874.
The Poems of Anna Letitia Barbauld. Eds. William McCarthy and Elizabeth Kraft. Athens & London: The University of Georgia Press, 1994.