CHAPTER VIII
THE AUTHORESS OF "EVELINA"
WE left Fanny Burney a short time since at Bradfield Hall, where she was staying with her friends Mr. and Mrs. Arthur Young, and where she had enjoyed the society of the good Duc de Liancourt.
Fanny, as the reader will know, had but recently escaped from a prison life, not indeed resembling that of our friends the émigrés, but one of five long years' duration, which had taken her away from her family, her friends, and her literary career, and had kept her within a narrow circle, hemmed in by restraints of all kinds.
When, in 1786, the post of Second Keeper of the Robes to Queen Charlotte had been offered to Miss Burney, the affair was looked upon as a piece of great good fortune. Her father was delighted, her friends triumphant. "I am glad for her interest," wrote Horace Walpole, "though sorry for my own, that Evelina and Cecilia are to be transformed into a Madame de Motteville, [Page 80] as I shall certainly not live to read her memoirs, though I might another novel."
Amidst the general joy, Fanny alone had felt some misgivings. Her nature was too shy and too sensitive for a Court life. And how was it possible for the ladies and gentlemen of the Court to make amends to her for the loss of such friends as Johnson and Burke and Sir Joshua Reynolds? And the dull routine of her evenings at Windsor, for the delightful gatherings at Mrs. Thrale's, at Mrs. Crewe's, and at Mrs. Montague's? Not to mention the happy visits, now abandoned, to her "Daddy Crisp" at Chesington, and to her warm friends, the Locks, at Norbury Park?
Indeed Fanny's misgivings were amply fulfilled if only in the sufferings she was soon to endure from the tyranny of the vulgar and violent-tempered Madame Schwellenberg, her superior in office.
It is pleasant, however, to reflect that in the midst of all her trials there were alleviations. The "most popular novel-writer of her day" had a keen sense of humour and a ready pen. How she must have laughed to herself as each evening she jotted down the events and reported the conversations of the day, in her dramatic diaries - diaries that are far more valuable at the present day than any further novels from her pen could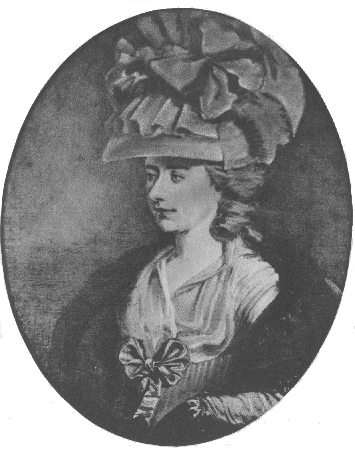 Fanny Burney
[Page 81] possibly have been! It is through Fanny Burney that "Queen Charlotte and stout King George are better known to us than any other royal pair mentioned in English history," and that all the characters of their Court, from the little Princess Amelia, the darling of the household, to the insolent First Keeper of the Robes, are as real to us as if we met them every day of our lives.
It was in July 1791 that Fanny, after several vain efforts to carry her point, obtained the Queen's sanction to her resignation of office. Though looked upon as inefficient in the capacity of lady's maid, she was, at any rate, considered both interesting and entertaining as a converser, and her kindly nature had won the affection of many members of the Royal Household, especially of the young princesses. These could not see her depart without sorrow - a sorrow sincerely shared by Fanny herself. When the Queen announced her intention of bestowing upon Miss Burney a pension amounting to half her salary,[1] the King exclaimed, "It is but her due. She has given up five years of her pen."
Upon Fanny's return, at last, to her home and to her friends, Edmund Burke, it is said, remembering his delight at her appointment, observed that the story of those five years of her Court life [Page 82] would have furnished Johnson with another vivid illustration for his "Vanity of Human Wishes."
An illness followed upon Fanny's release from office, through which she was tenderly nursed by her family. When sufficiently recovered she passed some months in travelling about the south of England with a friend, enjoying the beauties of Devonshire, and visiting many a fine cathedral; till, at last, she found herself once more in her father's house,[1] among her own people, with health restored, and "with a satisfaction, a serenity of heart immeasurable."
A warm welcome awaited Miss Burney's return to social life. We are tempted to give an account, in her own words, of a pleasant gathering at Mrs. Crewe's house at Hampstead which took place in June 1792. Mrs. Crewe, so celebrated, as the reader will remember, for her beauty and her talents, was the daughter of Dr. Burney's early patron - Fulk Greville. She had invited Edmund Burke on this particular occasion to meet the Burneys, but Fanny was looking forward with some anxiety to the meeting, for the great trial of Warren Hastings was fresh in the minds of all, and she and her father were known to have espoused the cause of the man impeached by Burke. [Page 83]
"The little villa at Hampstead," writes Miss Burney to her sister Mrs. Phillips, "is small but commodious. We were received by Mrs. Crewe with great kindness." Soon company began to arrive, among them, "Mr. Richard Burke; that original, humorous, flashing and entertaining brother of THE Burke . . . . At length Mr. Burke himself was announced and made his appearance, accompanied by the tall keen-eyed Mr. Elliot, one of the Twelve Managers of the Impeachment.
"The moment Mr. Burke had paid his devoirs to Mrs. Crewe, he turned to shake hands, with an air the most cordial, with my father . . . . I thought this the happiest chance of obtaining his notice, and I arose, though with a strong inward tremor, and ventured to make him a curtsey; but where was I, my dear Susan, when he returned me the most distant bow, without speaking or advancing? . . .
"Grieved I felt - O how grieved and mortified - not only at the loss of so noble a friend, but at the thought of having given pain and offence to one from whom I had received so much favour, and to whom I owed so much honour!
. . . "Whilst I hesitated - all sad within - whether to retire to my retreat in the background or to abide where I stood, obviously seeking to move his returning kindness, Mrs. Crewe [Page 84] suddenly said, 'I don't think I have introduced Mr. Elliot to Miss Burney?' . . . The moment I was named, imagine my joy, my infinite joy, to find that Mr. Burke had not recollected me! He is more near-sighted, considerably, even than my father or myself. 'Miss Burney!' in a tone of vivacity and surprise, he now exclaimed, coming instantly, courteously, and smilingly forward, and taking my willing hand, 'and I did not see - did not know you!' . . . I felt a glow the most vivid tingle in my cheeks and my whole face . . . . Mr. Burke took the colour for reestablished health, and began to pour forth the most fervent expressions of satisfaction at my restoration. 'You look,' said he, still affectionately holding my hand, 'quite renewed - revived! - in short, disengaged!' . . . My father soon afterwards joined us, and politics took the lead. Mr. Burke then spoke eloquently indeed, but with a vehemence that banished the graces, though it redoubled his energies. I assented tacitly to all that he addressed to me against the revolutionary horrors; but I was tacit without assent to his fears for stout old England. Surely with such a warning before us, we cannot fall into similar atrocities. We have, besides, so little comparatively to redress!
"After expatiating copiously and energetically upon the present pending dangers . . . he [Page 85] abruptly exclaimed, 'This it is, the hovering in the air of this tremendous mischief, that has made ME an abettor and supporter of kings and courts!' . . . At dinner Mr. Burke sat next to Mrs. Crewe; and I, my dear Susan, had the happiness to be seated next to Mr. Burke, and that by his own smiling arrangement . . . . How I wish my dear Susanna and Fredy[1] could meet this wonderful man when he is easy, happy, and with people he cordially likes. But politics, even then, and on his own side, must always be excluded. His irritability is so terrible upon politics that they are no sooner the topic of discourse than they cast upon his face the expression of a man who is going to defend himself against murderers!
. . . "Mr. Richard Burke narrated very comically various censures that had reached his ears upon his brother, concerning his last and most popular work,[2] accusing him of being the Abettor of Despots, because he had been shocked at the imprisonment of the King of France; and the Friend of Slavery, because he was anxious to preserve our own limited monarchy in the same state in which it so long had flourished.
"When . . . the general laugh was over, [Page 86] the Burke, good-humouredly turning to me and pouring out a glass of wine, cried, 'Come, then, Miss Burney, here's "Slavery for Ever!"'
. . . "'This would do for you completely, Mr. Burke,' cried Mrs. Crewe, laughing, 'if it could but get into a newspaper. Mr. Burke, they would say, has now spoken out! The truth has come to light over a bottle of wine! and his real defection from the cause of liberty is acknowledged. I should like,' added she, laughing quite heartily, 'to draw up the paragraph myself.'
"'Pray, then,' said Mr. Burke, 'complete it by putting in that the toast was addressed to Miss Burney! - in order to pay my court to the Queen!'"
After dinner the party is increased by the accidental arrival of Mr. and Mrs. Erskine, who have been taking a stroll across the heath from their house near the fir-trees, in company with Lord Loughborough. The conjunction causes some embarrassment, and Burke, desiring to avoid a conversation with Lord Erskine, throws himself on a settee at a distant part of the room and, taking up a book, begins to read aloud! "What to me," continues Fanny, "made this seem highly comic was that the work was French, and he read it not only with the English accent, but exactly as if the two [Page 87] nations had one pronunciation in common of the alphabet.
"The company having dispersed, we finished this charming evening in a little trio of our three selves, and retired to rest in very serene good-humour, I believe, with one another."

[The "Whitestone" on Hampstead Heath]
---
Footnotes
1 Her salary was only £200 a year.
1 Dr. Burney occupied a suite of apartments in Chelsea Hospital, where he held the post of organist.
1 Frederica (Mrs. Lock), so named after Frederick the Great, who was her godfather.
2 "Reflections on the French Revolution."