---
[Cover]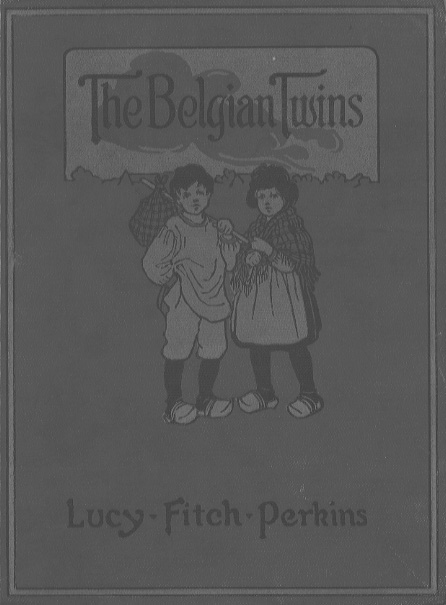 ---
THE BELGIAN TWINS
By Lucy Fitch Perkins
ILLUSTRATED BY THE AUTHOR
BOSTON AND NEW YORK
HOUGHTON MIFFLIN COMPANY
The Riverside Press Cambridge
---
[Page]
COPYRIGHT, 1917, BY LUCY FITCH PERKINS
ALL RIGHTS RESERVED
Published November 1917
---
[Page]
---
[Page]
PREFACE
In this sad hour of the world's history, when so many homes have been broken up, and so many hearts burdened with heavy sorrows, it is comforting to think of the many heroic souls who, throughout the struggle, have gone about their daily tasks with unfailing courage and cheerfulness, and by so doing have helped to carry the burdens of the world, and to sustain other hearts as heavy as their own.
It is comforting, also, to know that there are many instances of happy reunions after long and unspeakable anxieties, adventures, and trials.
This story of two little Belgian refugees is based upon the actual experience of two Belgian children, and the incident of the locket is quite true.
The characters of the eel-woman and the mother of the Twins have also their living originals, from whose courage and devotion the author has received much inspiration.
---
[Page]
---
[Page]
CONTENTS
---
[Page]
The Riverside Press
CAMBRIDGE . MASSACHUSETTS
U.S.A
---
[Inside Cover]
Provenance of the Text.
The copytext for this on-line edition is The Belgian Twins, by Lucy Fitch Perkins, Boston and New York: Houghton Mifflin Company, & The Riverside Press Cambridge, 1917.
First printed in 1917, The Belgian Twins is in the public domain in the United States. By U.S. law, it entered the public domain 75 years after its first publication. Both The Belgian Twins and Lucy Fitch Perkins' other works are in the public domain in Canada, since Lucy Fitch Perkins lived from 1865-1937. Under Canadian copyright law, all of an author's published works enter the public domain 50 years after the author's death. Her works are NOT in the public domain in Britain, where works remain under copyright until 70 years after the author's death.
The original page breaks have been indicated by placing the notation [Page xx] at the start of each numbered page. Where numbers did not appear on the original pages, a notation such as [Title Page] or [Page] appears without a number.