"Arthur Stringer" [Arthur John Arbuthnott Stringer] (1874-1950) by John Garvin, (1872-1934)
Garvin, John William, ed. Canadian Poets. Toronto, Canada: McClelland, Goodchild & Stewart, Publishers, 1916. pp. 313-322.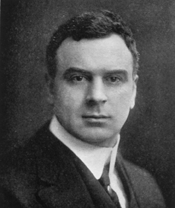 Arthur Stringer
In running the entire gamut of human emotions, in his volume, 'The Woman in the Rain,' Mr. Stringer takes us from the old and ever loved legends of Greece to the intensely modern figure of a city square, leading us from the sensuous beauty of the opening verses, 'The Passing of Aphrodite,' to the grim truth of the title-poem, and displaying at each step boundless sympathy, ready knowledge, serious treatment of his subject, and that philosophic aloofness not usually associated with the Lyricist. He never appears to take his work lightly. He is a deep thinker, getting always to the core of things, making sure of his ground before he steps, and then planting his feet firmly, as it were, until he has made a masterstroke with his pen. . . . . 'Sappho in Leucadia' is perhaps the most serious and ambitious effort Mr. Stringer has ever made. The drama, which embodies the conflict between the austere-minded Pittacus and the song and joy loving Sappho, is replete with sensuous movement and melody.–FLORENCE V. HENDERSON, in the 'Book-News Monthly.'
ARTHUR JOHN STRINGER, poet and novelist, of Cedar Springs, Ontario, has already achieved greatly. His blank-verse drama, 'Sappho in Leucadia,' is an imaginative, passionate, artistic work of surpassing quality. He has published several books of verse, of which The Woman in the Rain and Other Poems, 1907, is the most notable. In these, as Arthur E. McFarlane has said, 'there is maintained a standard of beauty, depth of feeling and technical power, which in Canada have had all too little recognition.' His novels and short stories, however, have had a wider vogue and a more lucrative return.
His first novel, The Silver Poppy, 1903, a cleverly written romance of passion, brought him prominently into the limelight, and since then he has published many volumes,–The Wire Tappers, 1906; Phantom Wires, 1906; The Under Groove, 1908; The Gun Runner, 1909; The Shadow, 1913; The Prairie Wife, 1915: The Hand of Peril, 1915: and The Door of Dread, 1916, among the number–all containing vital, gripping work.
Arthur Stringer was born in London, Ontario, February 26th, 1874,–son of Hugh Arbuthnott Stringer. Having passed through public school and collegiate institute, he attended University College, Toronto, and later, for one academic year, the University of Oxford.
For several years he was engaged in editorial work, first, with the Montreal Herald and second with the American Press Association.
This quotation from McFarlane's 'Appreciation,' in the Globe Magazine, will be of interest:
In 1901, Mr. Stringer . . . . threw up his editorial position and its regularity of salary together. It may be said at once that he has never had to regret such apparent rashness . . . . . The variety of Mr. Stringer's work, during recent years, must seem at first a little bewildering. He was getting his inspirations from months of roughing it in the North-West, from cruising the West Indies in fruit steamers, from working a small but highly productive Sabine farm at Cedar Springs, on Lake Erie, and from touring southern Europe and the Mediterranean . . . . . Mr. Stringer has given us poetry as full of beauty as a garden, and prose which affords the same delight as a rapier in the hands of a finished swordsman.
The Lure o' Life
WHEN my life has enough of love, and my spirit enough of mirth,
When the ocean no longer beckons me, when the roadway calls no more,
Oh, on the anvil of Thy wrath, remake me, God, that day!

When the lash of the wave bewilders, and I shrink from the sting of the rain,
When I hate the gloom of Thy steel-gray wastes, and slink to the lamp-lit shore,
Oh, purge me in Thy primal fires, and fling me on my way!

When I house me close in a twilit inn, where I brood by a dying fire,
When I kennel and cringe with fat content, where a pillow and loaf are sure,
Oh, on the anvil of Thy wrath, remake me, God, that day!

When I quail at the snow on the uplands, when I crawl from the glare of the sun,
When the trails that are lone invite me not, and the halfway lamps allure,
Oh, purge me in Thy primal fires, and fling me on my way!

When the wine has all ebbed from an April, when the Autumn of life forgets
The call and the lure of the widening West, the wind in the straining rope,
Oh, on the anvil of Thy wrath, remake me, God, that day!

When I waken to hear adventures strange throng valiantly forth by night,
To the sting of the salt-spume, dust of the plain, and width of the western slope,
Oh, purge me in Thy primal fires, and fling me on my way!

When swarthy and careless and grim they throng out under my rose-grown sash,
And I–I bide me there by the coals, and I know not heat nor hope,
Then, on the anvil of Thy wrath, remake me, God, that day!
At the Comedy
LAST night, in snowy gown and glove,
I saw you watch the play
Where each mock hero won his love
The old unlifelike way.

(And O were life their little scene
Where love so smoothly ran,
How different, Dear, this world had been
Since this old world began!)

For you, who saw them gaily win
Both hand and heart away,
Knew well where dwelt the mockery in
That foolish little play.

('If love were all–if love were all,'
The viols sobbed and cried,
'Then love were best whate'er befall!'
Low, low the flutes replied.)

And you, last night, did you forget,
So far from me, so near?–
For watching there your eyes were wet
With just an idle tear!

(And down the great dark curtain fell
Upon their foolish play,
But you and I knew–oh, too well!–
Life went another way!)
The Old Garden
I
WHERE the dim paths wind and creep
Down past dark and ghostly lands
Lost this many a year in sleep,
Still an ivied sun-dial stands.

Still about the moss-greened urns
Fall the rose-leaves ghostly white;
Still the sunset flames and burns
In the basin's ghostly light.
Still the Satyr by its rim
Holds the marble reed he bore,
And the brazen dolphins swim
On the fountain's broken floor.

Still afar some evening bell
Creeps and fails, and sounds and dies,
Where the ghostly shadows dwell
Here beneath the quiet skies.

Here within the lichened walls
Sleeps a land forever old,
Where untroubled twilight falls
On the casements touched with gold.

Here the quiet hours flow,
And the years take languid breath,
Where the grasses only know
Dusk and Silence, Sleep and Death.
II
Yet in some remembered June
When the bird-notes ceased to ring
Down the echoing afternoon,
Here a woman used to sing.

Once where still the roses climb
Round her casements framed with green,
Wrapt in thought, O many a time
From her window she would lean,

And when sun and birds were gone,
With her cheek still in her hand,
Gazed across this shadowy lawn,
To a dim-grown valley land,

Where a white road twined and curled
Through black hills that barred the West,
And the unknown outer world
Filled her with a strange unrest.

Here she wandered, brooding-eyed,
Down each pathway fringed with box,
Where the hyacinths still hide,
Where still flame the hollyhocks.
And across the whispering grass
Where the ring-doves murmured low,
Oft her singing heart would pass
In that Lyric Long Ago.

Here tuberose and poppy red
Saw her pause with lingering feet,–
On the sun-dial lean her head,
Crying out that life was sweet,–

Asking Time, if Spring by Spring,
When she walked no longer there
Other roses still could swing,
Other blossoms scent the air?–

Weeping that she needs must leave
Warmth and beauty, for the grave–
Hush, what ghostly Voices grieve
Where the regal lilies wave?
III
Still it sleeps, this lonely place
Given o'er to dusk and dreams;
But her sad and tender face
Never from the casement gleams.

Still the ivied dial shows
In its old-time wash of light
Noonday open like a rose,
Though a shadow mark its flight.

Still the blossoms cling and bloom
Deep about her window-square,
Still the sunlight floods the room,
Still the tuberose scents the air;

Still it waits, her garden old,
Still the waning sunlight burns
On the casements tinged with gold,
On the green and muffled urns.

Still along the tangled walks,
Though she knows them not again
Wait the patient rows of phlox,
Pipes the Satyr in the rain.

Though she comes no more to dream
Here where she and Youth were one,
Faint and ghostly voices seem,
Still to frighten back the sun.
IV
Can it be that in some gray
Twilight She shall swing the gate?–
Where in eager disarray
Still her asters brood and wait?

Where her wiser poppy knows,
And her valiant violets
Look and wonder, and the rose
Round her darkened window frets?

And these things that temporal seem,
Rapture, Music, Loveliness,
Beauty frail, and passing Gleam,
Shall outlive the hearts they press?

Since, we trust, each glory strange,
Each vague hope Regret once gave,
Shall outlive all death and change,
As earth's love outlasts the grave!
Destiny
HE sat behind his roses and did wake
With wanton hands those passions grim
That naught but bitter tears and blood can slake,
And naught but years can dim.

So o'er their wine did Great Ones sit and nod,
Ordaining War . . . . as it befell:
Men drunk with drum and trumpet mouthed of God
And reeled down blood-washed roads to Hell!
The Keeper
WIDE is the world and wide its open seas,
Yet I who fare from pole to pole remain
A prisoned Hope that paces ill at ease,
A captive Fear that fumbles with its chain.

I once for Freedom madly did aspire,
And stormed His bars in many a burst of rage:
But see, my Keeper with his brands of fire
Has cowed me quite . . . . and bade me love my cage!
The Seekers
KNOCK, and the Door shall open: ah, we knocked
And found the unpiteous portals locked.
Waiting, we learned us croons to while along
Those dreary watches–and ye call it Song!

Seek, and thine eyes shall find: oh, we have sought
The Vision of our Dream, yet found it not.
We limn its broken shadow, that our heart
May half remember–and ye call it Art!
War
FROM hill to hill he harried me;
He stalked me day and night;
He neither knew nor hated me;
Nor his nor mine the fight.

He killed the man who stood by me,
For such they made his law;
Then foot by foot I fought to him,
Who neither knew nor saw.

I trained my rifle on his heart;
He leapt up in the air.
The screaming ball tore through his breast,
And lay embedded there.

Lay hot embedded there, and yet
Hissed home o'er hill and sea
Straight to the aching heart of one
Who'd wronged not mine nor me.
Morning in the North-West
GREY countries and grim empires pass away,
And all the pomp and glory of citied towers
Goes down to dust, as Youth itself shall age.
But O the splendour of this autumn dawn–
This passes not away! This dew-drenched Range,
This infinite great width of open space,
This cool keen wind that blows like God's own breath
On life's once drowsy coal, and thrills the blood,
This brooding sea of sun-washed solitude,
This virginal vast dome of opal air–
These, these endure, and greater are than grief!
Still there is strength: and life, oh, life is good!
Still the horizon lures, the morrow calls,
Still hearts adventurous seek outward trails,
Still life holds up its tattered hope!

For here
Is goodly air, and God's own greenness spread.
Here youth audacious fronts the coming day
And age on life ne'er mountainously lies.
Here are no huddled cities old in sin,
Where coil in tangled langours all the pale
Envenomed mirths that poisoned men of old,
Where peering out with ever-narrowing eyes
Reptilious Ease unwinds its golden scales
And slimes with ugliness the thing it eats.
Here life takes on a glory and a strength
Of things still primal, and goes plunging on.
And what care I of time-encrusted tombs,
What care I here for all the ceaseless drip
Of tears in countries old in tragedy?
What care I here for all Earth's creeds outworn,
The dreams outlived, the hopes to ashes turned,
In that old East so dark with rain and doubt?
Here life swings glad and free and rude, and I
Shall drink it to the full, and go content!
From 'Sappho in Leucadia'
Phaon (bitterly)
Thus women change–and in their time forget!
Sappho
THERE lies the sorrow–if we could forget!
For one brief hour you gave me all the love
That women ask, and then with cruel hands
Set free the singing voices from the cage,
And tore the glory from the waiting rose;
And through life's empty garden still I dreamed
And called for Love, and walked unsatisfied.
Love! Love! 'Tis we who lose it know it best!
By day a fire and wonder, and by night
A wheeling star that sinks in Mystery.
Love! Love! It is the blue of bluest skies;
The farthest green of waters touched with sun!
It is the calm of moonlight and of leaves,
And yet the troubled music of the Sea!
It is the frail original of faith,
The timorous thing that seems afraid of light,
Yet, loosened, sweeps the world, consuming time
And tinsel empires, grim with blood and war!
It is the voiceless want and loneliness
Of blighted lands made wonderful with rain!
Regret it is, and song, and wistful tears;
The rose upon the tomb of afterthought,
The only wine of life, that on the lip
Of Thirst turns not to ashes! Change and time
And sorrow kneel to it, for at its touch
The world is beautiful, . . . the world is born!
The Final Lesson
I HAVE sought beauty through the dust of strife,
I have sought meaning for the ancient ache,
And music in the grinding wheels of life;
Long have I sought, and little found as yet
Beyond this truth: that Love alone can make
Earth beautiful, and life without regret!