[Contents] [Illustrations] [Index]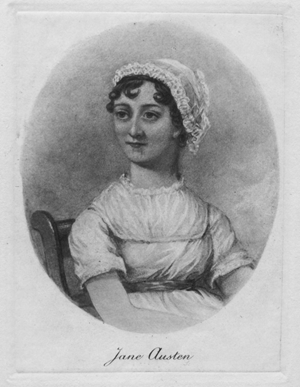 [Title Page]
JANE AUSTEN
HER HOMES & HER FRIENDS
---
BY
CONSTANCE HILL
---
ILLUSTRATIONS BY ELLEN G. HILL
TOGETHER WITH
CONTEMPORARY PORTRAITS, &c.
---
JOHN LANE
THE BODLEY HEAD LIMITED
[Page ]
First Published 1901
Crown 8vo Edition 1904
Reprinted 1923
Made and Printed in Great Britain. Richard Clay & Sons, Ltd., Printers, Bungay.
[Page ]
PREFACE TO THIRD EDITION
IN introducing a third edition of this work to the public, it is a satisfaction to reflect that since its first appearance, followed by other works by other authors on the same subject, the love and appreciation of Jane Austen's writings have spread wider and wider throughout the English-speaking world.
On the centenary of Miss Austen's death, which occurred on July 18th, 1917, an interesting little ceremony took place at Chawton, Hants, where a Tablet had been placed on the walls of Chawton Cottage, her last home, and whence all her works were sent into the world.
The Tablet of solid oak, designed by my sister, Miss E. G. Hill, suggests by its ornamentation subjects connected with the life of the authoress. Thus its framework represents that of a window in 4 Sydney Place, Bath, where the Austen family lived from 1801 till 1804, and the delicate, raised pattern that encircles the bronze plate bearing the inscription is copied from embroidery on a muslin scarf worked by Jane herself. [Page vi]
The inscription runs as follows:-
JANE AUSTEN
lived here from 1809 to 1817
and hence all her works
were sent into the world.
Her admirers in this country
and in America have united
to erect this Tablet.

. . .

"Such art as hers can never grow old."

Happy were those of us who were able to be present at the unveiling of the Tablet! Several members of the Austen family were there, including the present owner of Chawton House, a descendant of Jane's brother Edward, who took the name of Knight.
We found the little parlour on the right-hand side of the entrance door gay with country flowers in honour of the day. There in that room were written "Mansfield Park," "Emma," and "Persuasion," so that we, her grateful readers from far and near, were standing on the very spot where Jane sat at her little mahogany desk and brought into being the gentle Fanny Price, the spirited Emma, and the sweet Anne Elliot. The speeches were from the heart, and warm in [Page vii] appreciation of one who had bestowed upon us a "perennial joy."
The subscriptions for the Memorial were so numerous and generous that after the expenses of the Tablet were defrayed there remained a goodly sum in our hands with which to benefit the village of Steventon, Miss Austen's birthplace. Accordingly an excellent "Young People's Library," bearing her name, was presented to that place, to which several publishers kindly contributed books.
I should like to close this short Preface with some words of Dr. Johnson's, peculiarly applicable to Jane Austen:
"To be able to furnish pleasure that is harmless pleasure, pure and unalloyed, is as great a power as man can possess."
CONSTANCE HILL.
GROVE COTTAGE, FROGNAL, HAMPSTEAD.
March 1923.
[Page viii]
PREFACE TO FIRST EDITION
IT has been remarked that "in works of genius there is always something intangible - something that can be felt but that cannot be clearly defined - something that eludes us when we attempt to put it into words." This "intangible something" - this undefinable charm - is felt by all Jane Austen's admirers. It has exercised a sway of ever-increasing power over the writer and illustrator of these pages; constraining them to follow the author to all the places where she dwelt and inspiring them with a determination to find out all that could be known of her life and its surroundings.
Such a pilgrimage in the footprints of a favourite writer would, alas! in many cases lead to a sad disenchantment, but no such pain awaits those who follow Miss Austen's gentle steps. The more intimate their knowledge of her character becomes the more must they admire and love her rare spirit [Page ix] and the more thorough must be their enjoyment in her racy humour - a humour which makes everything she touches delightful, but which never degenerates into caricature nor into "jestings which are not convenient." Elizabeth Bennet is speaking in the author's own person when she says to Darcy: "I hope I never ridicule what is wise or good. Follies and nonsense, whims and inconsistencies do divert me, I own, and I laugh at them whenever I can." We read in a short memoir of Miss Austen written by her brother Henry, "Though the frailties, foibles and follies of others could not escape her immediate detection, yet even on their vices did she never trust herself to comment with unkindness . . . . She always sought in the faults of others something to excuse, to forgive or forget."
"Her own family were so much and the rest of the world so little to Jane Austen" that it is in the centre of that family that we can best study her character and learn to recognise the influences which affected her as a writer. For she was not amongst those authors who have unveiled in their letters their innermost thoughts and feelings. "With all the playful frankness of her manner," writes a niece, "her sweet sunny temper and enthusiastic nature, Jane Austen was a woman most reticent as to her own deepest and holiest feelings." And it is, therefore, by seeing her [Page x] nature reflected, as it were, in those around her, and by finding out gradually the place she held in their midst, that we learn to know her better. We are thus enabled, too, to trace the connection between the author's individual experience and that of the personages in her novels - personages who are so real to her readers that their characters and actions are debated by admirers and non-admirers alike as those of beings who have actually walked this earth. "Is there any other writer," asks a critic, "in whom men and women can take an equal interest and discuss on equal terms?" But her charm, as we have said, is too impalpable to be argued about and so, as another critic remarks, "the only homage her vassals can pay her in the face of the enemy is to lose their tempers."
Through the kindness of members of various branches of the Austen family we have had access to interesting manuscripts recording the home life at Steventon, at Chawton and elsewhere, and giving a picture also of the happy intercourse between "Aunt Jane" and the many young nephews and nieces with whom she was always "the centre of attraction." In addition to this we have had the loan of family portraits and pictures, as well as of contemporary sketches representing places associated with her which either no longer exist or are greatly altered. With this help it has been [Page xi] possible to reconstruct much which at first sight seemed to be irrecoverably lost.
We would now request our readers, in imagination, to put back the finger of Time for more than a hundred years and to step with us into Miss Austen's presence. "No one," writes her brother, "could be often in her company without feeling a strong desire of obtaining her friendship, and cherishing a hope of having obtained it." That friendship seems to be extended to all who, whether through her works, her biographies or her letters, can "hold communion sweet" with the mind and with the heart of Jane Austen.
CONSTANCE HILL.
GROVE COTTAGE, FROGNAL, HAMPSTEAD.
September 1901.
LIST OF ILLUSTRATIONS

PAGE
Portrait of Jane Austen (From a water-colour drawing in the possession of the late W. Austen Leigh, Esq.)
Frontispiece
The Deane Gate
6
Site of the old Parsonage, Steventon
9
Steventon Parsonage (Front view) (After a contemporary sketch)
11
Entrance to Steventon Church
13
The Squire's Pew
15
The old Manor House
19
Steventon Church
22
Steventon Parsonage (Back view) (After a contemporary sketch)
29
Thatched Mud-Wall
32
A Holiday Feast
34
The Abbey Gateway and Abbey School
36
Action between the Unicorn and La Tribune (From a Painting in the Possession of Captain Willan, R.N., and Mrs. Willan)
To face 42
Rev. George Austen presenting his son Edward to Mr. and Mrs. Thomas Knight (From a contemporary silhouette in the possession of the late Montagu Knight, Esq.)
To face 48
The County Ball-room at Basingstoke
54
Manydown Park
To face 60
Stair-rails in Manydown House
61
Deane House
67
The Panelled Room in Deane House
68
Ashe Rectory (From a sketch by the Rev. Ben. Lefroy)
71
Doorway in Kempshott House
78
Portraits of Madame de Feuillade and of the Rev. James Austen (From miniatures in the possession of the late Mrs Bellas)
To face 82
Edward Austen (afterwards Knight) (From a portrait in the possession of the late Montagu Knight, Esq.)
To face 86
The Pump Room, Bath
99
Archway opposite Union Passage
103
The "Minerva Helmet"
107
The Musicians' Gallery in the Upper Rooms, Bath
110
The Lower Rooms, Bath (From an old print in the possession of Mr.J. F. Meehan of Bath)
115
The old Theatre, Bath
117
The "high feathers of the ladies"
121
A Corner of the Drawing-room at 4 Sydney Place, Bath
123
Vestibule at 4 Sydney Place
127
Canal Bridge in the Sydney Gardens
132
House at Lyme Regis in which Miss Austen lodged
136
"Captain Harville's house"
138
The Assembly Ball-room
143
The old Steps on the Cobb
147
Old City Wall, Southampton
152
Lamp on Walcot Church, Bath
160
Stoneleigh Abbey
162
Old Gate-house, Stoneleigh Abbey
168
Chawton Cottage
To face 170
Parlour in Chawton Cottage, with Jane Austen's Desk
173
Portrait of Mrs. Austen (From a silhouette in the possession of the late Mrs. Bellas)
179
Turf Walk and Sundial in Grounds of Chawton House
182
Facsimile of Title-page of first edition of "Sense and Sensibility"
185
Chawton House
To face 190
View from Chawton Cottage
To face 194
Hall in Godmersham House
To face 198
"A Young Girl of Spirit"
To face 200
Portrait of Mr. Thomas Knight (From a painting by George Romney in the possession of the late Montagu Knight, Esq.)
To face 202
Portrait of Mrs. Thomas Knight (From a painting by George Romney in the possession of the late Montagu Knight, Esq.)
To face 204
Bartlett's Buildings, Holborn
209
Houses in Hans Place (From an old print)
213
The Oak-room in Chawton House
To face 228
Facsimile of Autograph Letter of Jane Austen
To face 230
Ivory Cup-and-Ball used by Jane Austen
231
"Wyards" (From a sketch by the Rev. Ben. Lefroy)
243
The "Shrubbery Walk," Chawton Cottage
252
The House in College Street, Winchester
255
The Parlour in College Street
259
Jane Austen's Grave in Winchester Cathedral
263